I love making my own gifts – don't you? I mean, I love everything about it, even creating my own gift baskets. I've been making gift baskets for a while and they are normally a huge hit.
The best thing about DIY gift baskets is you can totally customize them for the person you're giving them to.
I mean, store-bought gift baskets are nice and all, but you rarely get exactly what you want in them.
So, I've collected 30 easy and very affordable gift baskets that you can totally DIY.
Jump to:
There are baskets in here for every occasion from kids' birthdays to Mother's Day and Father's Day, even Christmas, baby showers, and housewarming gifts.
Whatever occasion you're celebrating, there is sure to be a DIY gift basket in here that will perfectly fit what you need.
1. Baby Essentials Basket
This little baby shower basket really does have all of the essentials new moms need. You just take a laundry basket – or one of those plastic storage crates – and fill it with blankets, baby detergent, stain remover, closet organizers, and even baby hangers.
You could throw in any number of other goodies, but you get the idea. The basket is perfect for doing baby's laundry and chances are no one else at the baby shower is going to offer the same gifts.
Source/Tutorial: theinspiredhive
2. New Mama Gift Basket
Who says the baby shower gifts all have to be for the baby? I love the idea of presenting this new mama gift basket to an expecting mother. Grab a nice basket and fill it with things that the new mom will need.
Nipple cream, wine – if she's not nursing, gossip magazines, protein bars, stretchy headbands, bubble bath, just anything that you know a new mother can use to relax and soothe some of the soreness brought on by childbirth.
Source/Tutorial: mommylikewhoa
3. New Baby Basket
This basket is filled with tons of new baby things, and many that baby will need as he or she grows older. Most people at baby showers think about newborn needs. I love the idea of providing for baby at a later date.
Fill your basket with things like size 2 diapers and even baby's first sippy cup. Chances are, the new mom will get plenty of newborn diapers and outfits – think a little older and give her something that she'll really need.
Source/Tutorial: fantabulosity
4. Coffee Lover Basket
Okay, so this coffee lover basket could be for her or him – but in my house it's definitely for her. Choose a cute little basket and fill with a variety of K-Cups. You can even add mugs or treats for the coffee lover in your life.
This is of course assuming that they have a Keurig style coffee maker. If not, you could do single serve packs of coffees instead of the K-Cups or even throw a new Keurig into your basket.
Source/Tutorial: thebellevieblog
5. Cozy Slippers Basket
This gift is perfect for Mother's Day – which is coming up by the way – and is so easy to make. The slippers themselves act as the basket and you fill them with wonderful mom things like nail polish, chocolates, and even a gift card to her favorite spa or hair stylist.
She'll love the slippers and definitely adore everything in them.
Source/Tutorial: prettyprovidence
6. DIY Spa Basket
Some nice smelling lotions – you can even make these yourself – along with a new loofah, fuzzy slippers and even some bath salts make for a wonderful spa basket.
This is a great idea for Mom's birthday or any time of the year that you want to treat her to an extra-special day. You could put any number of spa related items into the basket and she's sure to love it.
Source/Tutorial: diynetwork
7. Bundt Cake Basket
If you need a gift for a special lady who really enjoys baking, this bundt cake basket is perfect. You fill a bundt cake pan with whatever you want, really. You could add a cake mix and frosting or spices or even general kitchen necessities.
Anything that has to do with baking is great. This would make an excellent bridal shower gift or a great gift for Mother's Day.
Source/Tutorial: darlingdoodlesdesign
8. Spa In A Jar
The basket for this particular gift is actually a mason jar – and you know how much I love mason jar DIYs.
You just take the jar and fill it with smaller spa items like some homemade sugar scrub, lotion, some hand cream and even a nice manicure set – whatever will fit inside the jar. Then just add a nice ribbon and you're done.
Source/Tutorial: thegunnysack
9. Colander Basket
I love the thought of using a stainless steel colander for a basket. Then you just fill the colander with things that you know she'll love like wooden spoons, tea towels, and anything else that's kitchen related.
This is another wonderful idea for a bridal shower, especially for a bride who doesn't have her kitchen together yet. You could also add dinner for two to treat mom to something really special.
Source/Tutorial: bhg.com
10. Gardening Basket
I love this basket that's made from a garden hose! It's the most creative thing I've seen and it's filled with wonderful spring gardening supplies like seeds, gloves, gardening tools, and even a live plant.
This is perfect for Mother's Day, Easter, or any day that you want to give the gardener in your life a special gift.
Source/Tutorial: Pinterest Originals
11. DIY Bloody Mary Kit
This Bloody Mary gift basket is the perfect Father's Day gift – if he enjoys Bloody Marys that is. You just fill a wooden basket with pickled veggies, add a bottle of Bloody Mary mix and your favorite brand of vodka and you're all set.
You could also add glasses and other things that he would love as well.
Source/Tutorial: myrecipes
12. Father's Day Grill Basket
What dad could possibly turn down this amazing grilling basket? You fill it with everything he'll need to keep grilling all summer long.
Think outside the box and instead of just giving him a basket filled with sauces and rubs, add some grilling utensils and maybe even a burger press. He'll get so much use out of this – and you'll get to enjoy some great grilled foods from it, too.
13. Sports Themed Basket
For the baseball fan – or football or basketball or any other sport – you can easily put together a great sports themed basket for Father's Day, birthdays or even Christmas.
Add in some snacking essentials that he will want on hand during the big games and you could even add game tickets if you wanted to spend a bit more. A cap from his favorite team or a t-shirt would finish the basket off nicely, and you can house it all in a sports themed bucket.
Source/Tutorial: hoosierhomemade
14. Bar Essentials Kit
If dad is normally the one tending bar, you can put together this great bar essentials kit with a few key ingredients. This would also be a great hostess gift if you are planning to attend a dinner party anytime soon.
The "basket" is actually a lantern, which you can pick up at the Dollar Store for under $10. Then you just fill it with a few bar necessities and tie it all up with a pretty bow.
Special Occasion Gifts
15. Get Well Soon Lemon Basket
If you know someone who has suffered through the flu this season or generally feels down and out, this get well soon basket is perfect. You can get a cheap plastic basket from the Dollar Store or use a plastic tote or tub.
Fill it with wonderfully yellow things – yellow is an instant pick-me-up. Some lemon body scrub and even lemonade packets would be perfect to help your special someone feel better.
Source/Tutorial: mellymoments
16. Happy Birthday Balloon Basket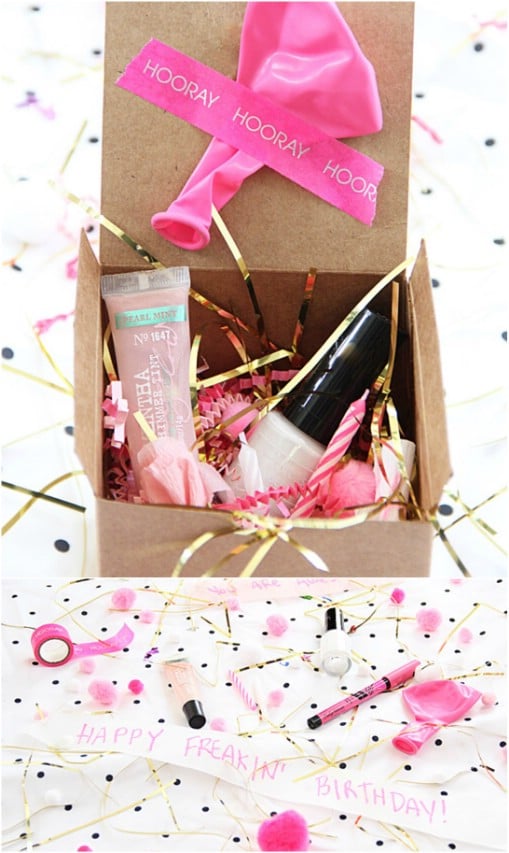 A small cardboard box becomes a wonderful gift basket when you fill it with birthday blessings.
A small bottle of pink champagne and some nail polish and other goodies are the perfect birthday gift – especially when you add little messages tied in gold ribbon and a cute little balloon. You could even add a gift card to their favorite store or restaurant.
Source/Tutorial: abubblylife
17. Pet Basket
Yes, even pets deserve a nice DIY gift basket! Use a little pet bed and fill it with dog treats, pet toys, and whatever else your pet would love – or your pet lover.
This is a great gift idea for anyone you know who has recently adopted a pet. What a wonderful way to introduce new pet owners to the joys of pet-parenthood. You can totally adjust this to the pet – add cat toys for cats and cage toys for hamsters or other pets.
Source/Tutorial: emilyreviews
18. Office Appreciation Day Basket
I love this DIY basket idea for office appreciation day. Whether it's Boss day, Secretary day, or any other occasion, you can fill a soft lunch tote with goodies and completely make their day.
This would also make a wonderful teacher's gift for Christmas or the end of the year. Fill it with s'mores supplies for a summer treat or add whatever you think your gift recipient would love.
Source/Tutorial: drivenbydecor
19. Berry Basket Teacher's Gift
Any teacher will love receiving this wonderful DIY gift basket. You can get these little berry baskets for about $1 each at Hobby Lobby and then just fill it with wonderfully berry scented goodies like lotions, hand gels, and even lip balms, most of which you can pick up at the Dollar Store for around $1 each or less.
Depending on your berry of choice, you can really add some stuff to this one.
Source/Tutorial: ourfamilyofseven
20. Polka Dot Mug Basket
You can take a dollar mug from the Dollar Store, paint it, and turn it into the perfect basket for giving a wonderful gift to teachers, bosses, or anyone on your special occasion list.
Just add paper filler, some flavored coffee and maybe some chocolates. Gift cards are always a good idea, as well. Then place your mug inside clear cellophane and tie it all up with some ribbon. You could also add teas or hot chocolates instead of coffee to personalize it just a bit.
Source/Tutorial: apumpkinandaprincess
For Kids
21. Hello Kitty Towel Basket
Who knew you could make an adorable gift basket from a towel? I adore this DIY basket idea and the Hello Kitty theme is perfect for girls of all ages. You could even do this for a grown up if you add the right goodies, but it's perfect for kids.
Since the basket is actually a towel, add some themed shampoos and bath gels. You could also do other themes – Batman, Mickey Mouse, whatever you need.
Source/Tutorial: merchantcircle
22. Craft Supply Basket
My kids used to love getting craft supplies for Easter – when they were younger of course. I would take a plastic caddy and fill it with all sorts of colored pencils, crayons, and anything else craft related along with some chocolate Easter candies.
You can do this for Easter or for any holiday or other special occasion. Just add all sorts of fun art supplies and you're all set!
23. Tackle Box Basket
This is another great idea for the little artist in your life. Not only does it include tons of arts and crafts supplies, it's all housed in a little tackle box "basket" that is perfect for keeping those supplies organized.
I love the idea of using things other than actual baskets as gift baskets and you can pick these little plastic tackle boxes up at Wal-Mart for around $5 each.
Source/Tutorial: mamapapabubba
Housewarming Gifts
24. Welcome Home Bucket
This little galvanized bucket is filled with wonderful things a new homeowner may need. You can add everything from nails and screws to extension cords, surge protectors, and anything else that you think the new homeowner may use.
Add a hammer and even a welcome home rug if your bucket is large enough. Then seal it all up in cellophane and add a twine or burlap ribbon.
Source/Tutorial: justmakestuff
25. Housewarming Tote
Take a tote bag and fill it with wonderful things to welcome your loved ones into their new home. Cleaning supplies are always a plus – at least they would be for me, or you could add any number of things from air fresheners to new kitchen towels.
Although, I really do like the idea of creating a cleaning supply tote – they could use the tote to house all their cleaning supplies!
Source/Tutorial: howtonestforless
26. Summer Party Gift Basket
If you know someone who is moving into a new home during the summer, this party gift basket is the perfect housewarming present. Just fill it with things that they may need while enjoying their new backyard like sunscreen and bug sprays.
Or, you could add some colorful plastic dishes and help them set up their new outdoor eating area.
Source/Tutorial: ohmy-creative
27. Pancake Breakfast Gift Basket
Give someone the gift of a delicious breakfast. This awesome breakfast gift basket is perfect for someone who has just moved into a new home.
It will make their first breakfast so much less stressful with all the ingredients they need right there in their basket. Let's face it – moving is stressful. Help to relieve that stress by treating them to a wonderful breakfast gift.
Source/Tutorial: curlyqpaper
28. Sundae Gift Kit
This is a great gift basket idea for someone with children who is moving into a new home. They can enjoy delicious ice cream sundaes on their first night in that new home and create a memory that they'll always remember.
You can pack your sundae supplies in a box or a basket – think those $1 plastic crates at the Dollar Store – and even supply the ice cream, too if you want. Although, I wouldn't put that inside the basket.
Source/Tutorial: bloomdesignsonline
29. Dinner's On Me Basket
I love the idea of food baskets for people who are moving. It makes it so much easier for them to settle in for a delicious meal – especially when all of their stuff is still packed away. This dinner basket is a plastic tub filled with all of the essentials for a good dinner – like spaghetti supplies or even a boxed pizza dinner.
Think things that don't require refrigeration when adding to your basket. This is also a wonderful idea if you just wanted to offer a random act of kindness to a neighbor or family in your community.
Source/Tutorial: b-inspiredmama
30. Crock Pot Basket
Okay, who wouldn't just love getting a new crock pot? I have a couple and I would really love another one, so this crock pot basket is the perfect housewarming gift, right?
You just load some dinner supplies into a new crock pot – I mean, if you're getting them a gift anyway, why not make it dinner as well as a new appliance? You can wrap this up in cellophane and add a nice ribbon to make it extra-special.
Source/Tutorial: tonyastaab