You want to add some cute Easter decorations to your home but you don't want to pay the boutique prices. We know all about that, but sometimes you can do something totally unique with limited supplies. This adorable little yarn sheep Easter wreath is one of those ideas! It's simple, affordable, and most of all, it's cute! This simple sheep wreath is so cute and just adds a bit of fun to any space. Since it is easy to make, adults and kids alike will love making this project and seeing it hang on your front door!
Yarn Sheep Easter Wreath
Wreaths are a simple way to add a bit of the holiday or season to your front door. You've probably seen similar wreaths in boutique stores or craft stores for a high price. Nobody wants to pay $50 for a wreath that will only hang outside a few weeks a year. So, now you don't have to! Instead, you can gather up a bit of yarn, some felt, and a glue gun to make your own!
If you want something for the younger kids to make, you can check out this paper plate sheep craft or this cute little pom pom sheep idea. Both are adorable, easy to make, and ideal for the little ones to help you create.
Can Kids Make this Easter Wreath?
Yes, this wreath can easily be made by kids. Adults might need to help younger kids get the right tension to the yarn, but kids can easily make these wreaths. This sheep Easter wreath is also a great craft for adults.
The biggest concern when making this wreath with kids is the gluing portion of the project. Instead of hot glue, you can invest in a cool glue gun and glue. Those can be pricey, so another option would be a good tacky glue or similar craft glue. Of course, you can always work alongside your kids and help them to make the wreath with them doing the bulk of the work and you handling the glue.
What Kind of Yarn is Best for this Easter Wreath?
You can use whatever white or gray yarn you have. I like to use a soft, fluffy white yarn because it reminds me of the real fluffy sheep getting ready for spring. There are a lot of yarns that will work well, from a lightweight worsted yarn to a heavier blanket yarn. I recommend a yard you have on hand or, if you need to buy the yarn, go for something that is on sale, to make this an inexpensive project.
A thick yarn that is fairly wide and flat works nicely if you want the flatter look we show here. A traditional yarn will take a bit longer to make but will result in a beautiful sheep look too. You can even mix and match gray, white, and crema in different sizes and textures so it looks a bit more realistic.
What Can I Use as the Wreath Base?
There are many types of wreath bases that you can use. Crafts stores sell foam bases that will work well for this wreath. Depending on the size of the wreath you want to make, you can sometimes find foam wreath bases at the dollar store. If you want to bring the overall cost down even further for this project, you can use cardboard and cut a circle. This will create something similar to the wreath bases that you can buy, for no extra cost and recycling materials you have on hand.
How to Hang the Easter Wreath?
There are a couple of ways that you can hang your wreath. Whether you are hanging from a wall, door, or even the ceiling will change how and what you use. Below are some basic ideas that work well with this particular wreath.
Hang using a traditional wire or wooden wreath hanger over your door.
Use a small metal hook to hang on a nail above the mantle or on a wall.
A wire hanger can be twisted into a hook for the back of the wreath to make it easier to hang.
Thinner wreaths can easily be hung using a simple bit of jewelry wire or floral wire.
On walls, a Command hook or similar product works great to keep the wreath on the wall without marking the paint or drywall.
Remember, that no matter what you happen to use for hanging the wreath, the yarn can stretch or move a bit with different hooks. In that case, you'll want to be very careful how you attach them to the wreath so you aren't pulling apart all of your hard work.
Can This Be Displayed Outside?
You can display this wreath outside if you make a few changes to the materials. Also, if you want to display this wreath outside, it will not last as long because the weather will beat down the materials and cause them to not look as nice as it does when you first make the wreath.
To display the wreath outside, you want to use a sturdy wreath base, like foam. Do not use cardboard or other materials that will break down in the rain. You will also want to use something other than paper for the face of the wreath. I recommend using foam, which will not be ruined by the rain.
While yarn can be okay, you'll notice that it can also mold or droop when wet, so you may prefer to use something like twine or raffia as the base instead of yarn on this wreath.
Supplies Needed
How to Make This Easter Wreath
Begin by securing the end of white or cream yarn to the styrofoam wreath form.
Continue, wrapping the yarn around the wreath until it is completely covered and no styrofoam is showing. Secure the end with glue.
Next, use the gray yarn to wrap around the wreath looping every few inches so it acts as an accent to the cream yarn. Secure it with glue.
Now, fold a piece of felt and cut it into a rounded shape with a longer piece on the top. This should look like a sheeps head with an oval face and two ears on the top.
Cut out two small ovals and a smile shape from the white felt.
Twist together gray and pink yarn then loop a few times and cut so you have several 2" pieces of yarn together.
Glue the yarn on the top of the sheep's head as hair.
Then add a fake flower in the middle as a "bow" of sorts.
Glue on the eyes and mouth.
Then color in the eyes with a black marker.
Cut four legs from the felt and glue them onto the bottom of the wreath.
Glue the face to the upper side of the wreath.
Now you can hang your wreath.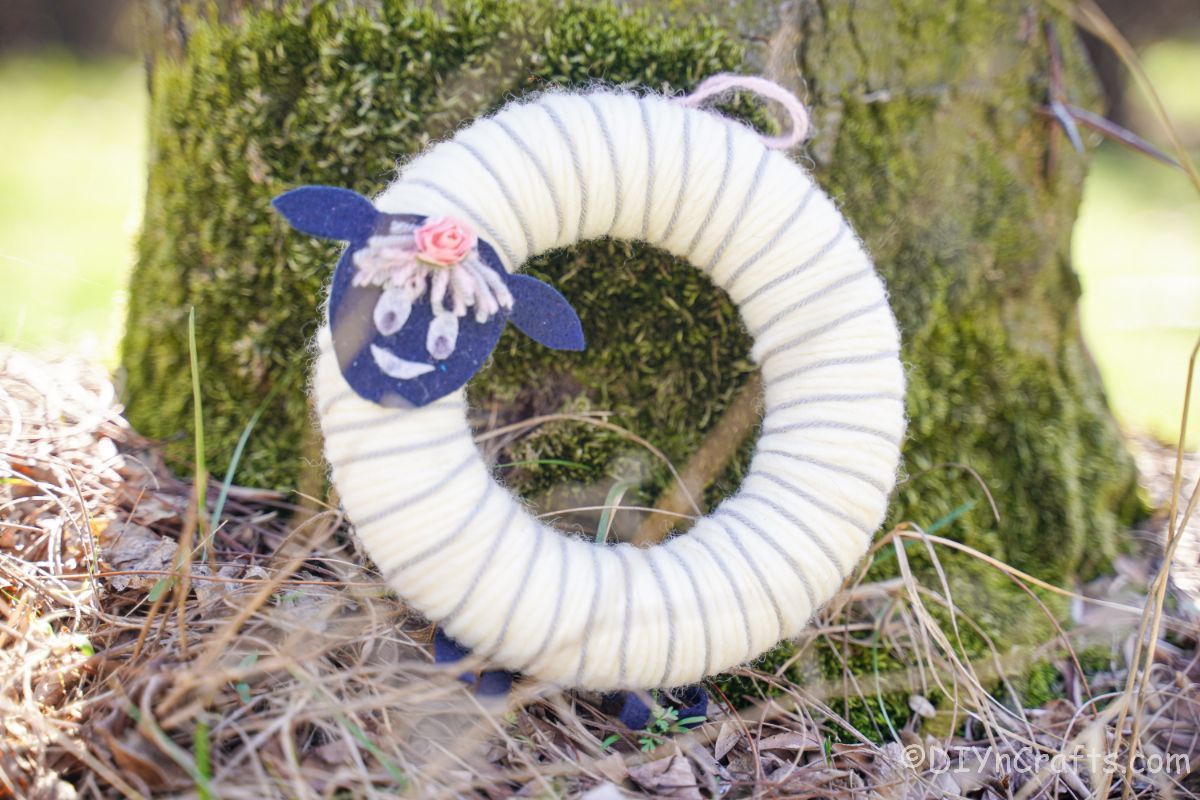 More Easter Wreath Ideas
If it's time to decorate for Easter and you want more ideas, don't miss our favorite wreaths below. These are the perfect addition to a front door just in time for greeting Easter guests. Make sure that you bookmark or print out these tutorials to make them soon!
Yield: 1
Cute Yarn Sheep Easter Wreath
This adorable yarn sheep Easter wreath is a great addition to your front door for the spring and Easter season!
Materials
Instructions
Attach the end of your white/cream yarn to the styrofoam wreath form.
Wrap the yarn around, gluing in place as needed, until the entire form has been covered in the thick yarn. Secure the end with additional hot glue and cut.
Using the smaller grey yarn, attach where the other yarn ended, and wrap around the wreath form, looping every 2 to 3 inches. This is just to add an accent, and not to cover it completely.
Fold over a piece of black felt and cut out the curve of a sheep's head. Cut out completely and set aside.
Cut two small ovals and a small half-moon from the white felt and set them aside.
Hold the gray and pink yarn together and wrap around two fingers 5 or 6 times then cut.
Separate out into a 2" long mixture of the two colors of yarn.
Glue the yarn "hair" to the top of the sheep's head.
Add a small fake rose on top of the hair.
Then glue the white eyes and mouth in place.
Use the black marker to draw pupils onto the eyepieces.
Cut 4 "legs" from the black felt that are around ½" wide and 3" long.
Glue the legs onto the bottom of the wreath spacing them out so two are on each bottom side.
Lastly, glue the head on the upper left side of the wreath creating the sheep look.
Hang on the door or over your mantle!
Notes
Use any color yarn you want to create your own custom sheep!
Recommended Products
As an Amazon Associate and member of other affiliate programs, I earn from qualifying purchases.
Finished Project Gallery
Use gray, white, or cream yarn to create a unique sheep look.
You can add spring flowers or babies' breath to the wreath for a little springtime look.