Oh my goodness! What a precious idea this little pom pom sheep is for Easter! I love crafts that are easy for kids to make, and this one is reminiscent of my childhood. A bit of glue and some yarn, and you have the perfect fun craft for kids. In fact, I remember making something similar not just at school but at church around Easter So much fun and great memories with this project.
DIY Pom Pom Sheep
It's so fun to see something so basic and ordinary turn into such a cute idea. Especially when you see the joy in your kid's eyes as they make this come to life. As a mom, there is nothing as precious as seeing my child create something and look proud of their work. This simple little pom pom sheep is just such a project. Easy to make, incredible to see come to life, and super fun for them to play with later.
If you have leftover scrap yarn and want to make some more pom poms, I have tons of ideas for using them. From this beautiful pom pom flower bouquet, to my tutorial for how to make a beautiful rug out of pom poms, you'll love this fun crafting resource.
Can I Make This With Regular Pom Poms?
You sure can! While a regular pom pom won't be as fluffy, you can definitely make these little sheep with a pom pom you bought in the craft store. Look for the largest ones possible to give this more lifelike appearance.
If you can't find larger pom poms, then you can glue a few together to make it look fluffier and fit the basic template of this yarn pom pom sheep. Kids will be excited about making it no matter what you use as the body for your sheep.
If using regular pom poms, you'll love this cute idea for making an Easter chick out of pom poms. You might also want to check out this tutorial for an adorable pom pom Easter bunny. So cute and easy to make!
What Can My Kids Do With This Sheep?
So, they made sheep, now what? Often I get this question from moms and crafters on our Facebook page. A craft looks super cute, but what is it for How can you use it? Where should it be displayed? Below are a few of my ideas for using them around the house.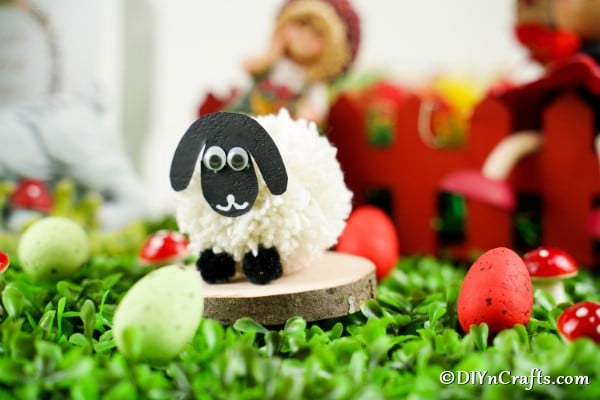 Let your kids add them to their playhouses and play farms.
Add them to your table decor at Easter along side other little crafts like these rice filled sock bunnies, chickens, and decorative plastic Easter eggs.
Make several and glue to cardboard and put inside a shadowbox to display.
Add them to a flower bouquet or wreath. Check out this list of Easter wreaths for inspiration.
Stick them in random places around the house as a simple additional decoration for Easter.
Include them in your kids Easter basket this year along with some of these other non-candy Easter treats.
Glue to a stick or dowel and place in potted plants in your house to be a cute display.
Supplies Needed
How to Make a Pom Pom Sheep
Begin by wrapping yarn around your fingers in a circle several times to create the pom pom. I usually wrap until it feels right, but you could do 20 times and see if that is enough.
Now, you will cut the end, and gently slip the yarn off your fingers, then tie a piece of the yarn around the center as shown below.
Next, you will slip your scissors through the loop of yarn on each side, and cut through as shown.
Once you have cut the sides, you will then use your scissors to trim around the sides as shown to make your pom pom even.
Now, use a pen to draw a head and ear shape for your pom pom sheep face then cut it out.
Glue your googly eyes to the sheep face, and then use a white marker or paint pen to add a smile as shown.
Glue your face onto the pom pom, then position the two mini pom poms below the face to create feet on your sheep.
Now, you can add this cute pom pom sheep to your Easter decorations!
Crafters Tips
I stock up on things like craft glue, craft paper, and googly eyes on Dollar Tree's website. The bulk boxes are much cheaper than the hobby stores, and they ship directly to my house!
Step by Step Printable Tutorial:
Yield: 1
Cute DIY Pom-Pom Sheep With Video Tutorial
A bit of yarn, some craft paper, and time are all you need to make this adorable little pom pom sheep! This is a perfect choice for kids to make for Eater decorations!
Instructions
First, you will wrap your yarn around your hand several times until you have made a sizable pom pom;
Pull the yarn off your hand gently and then cut the end and wrap a small piece of yarn around the center and tie;
Using your scissors, cut through each side of the yarn loop to create tons of small pieces of yarn on all sides;
Fluff the yarn up into a ball shape, then trim off excess edges to shape;
Now, you will draw and cut out a simple sheep face shape as shown;
Glue your googly eyes onto the face shape and use your paint pen to draw on a mouth;
Now, you will glue your two black pom poms on the bottom to create the sheep feet;
Display or add to an Easter basket as desired!
Notes
Make these in various sizes to create a fun little sheep family!
Recommended Products
As an Amazon Associate and member of other affiliate programs, I earn from qualifying purchases.