Thanksgiving is always such a huge holiday in my family. We spend days cooking and preparing such a huge dinner and it's always so much fun. Many of the recipes that we use have been handed down for generations but I've noticed that as we've grown older and added new members to our family, some of those recipes just don't work any longer. We have a few people in the family now who can't tolerate gluten, which means that we have had to redo some of our recipes to make them gluten free.
Whether you are gluten intolerant or you're just watching your intake, there are so many wonderful recipes that you can try. I know because I was looking for a new stuffing recipe for this year and ended up with 40 different Thanksgiving side dish recipes that are all completely gluten free. I was amazed that there are so many recipes that don't contain gluten! Like I said, Thanksgiving is a huge deal in my family, from the food to the decorations and we want everyone to be able to enjoy the wonderful meal that we prepare. Oh, and speaking of Thanksgiving decorations, you really do need to check out these 25 Thanksgiving decorating DIYs.
I've got such a list of favorite recipes. I seriously have run out of room in my dining room for all of the recipe books, but I've never found any until now that are gluten free. If you need to prepare a gluten free side or several for your Thanksgiving dinner, you're going to be really pleased with this recipe collection. There's everything in here from gluten free green bean casserole to scones and everything in between. And, while you're preparing your Thanksgiving goodies, be sure to take a look at these 40 holiday fudge recipes for your Christmas candy making.
1. Almond And Goat Cheese Scones
These delicious scones use almond flour instead of wheat flour to make them gluten free. They also have a cup of cubed goat cheese (although you could substitute that if you wanted) and honey that give them a wonderful flavor. They're perfect for pairing with all of your Thanksgiving dishes and there is a wonderful red wine cranberry sauce that accompanies them.
Recipe: kitchen-tested
2. Apple, Bacon and Cheddar Cheese Stuffing
Who says you can't have stuffing on a gluten free diet? This apple, bacon and cheddar cheese stuffing uses gluten free stuffing mix and combines the deliciousness of bacon with apples and cheddar cheese. What more could you possibly want from a stuffing?
Recipe: cupcakesandkalechips
3. Quinoa Salad With Asparagus And Feta
Feta cheese is one of my all-time favorites, which is why this recipe caught my eye. It's a colorful side dish with tomatoes, asparagus and red onion and has so many wonderful flavors. The dressing is made with olive oil, Dijon mustard and balsamic vinegar and the flavors meld so well together. This is definitely going to become your go to gluten free salad recipe.
Recipe: kraftedkoch
4. Asparagus With Lemon Mint And Red Peppers
I just love asparagus and am always looking for new ways to prepare it. This gluten free version combines asparagus with red peppers and lemon mint to give it a wonderful flavor. It's also a really pretty dish with the dark green of the asparagus and is the perfect accompaniment to your turkey.
Recipe: karenskitchenstories
5. Autumn Harvest Salad
This lovely salad has all of the wonderful colors of fall and is topped off with a delicious maple and Dijon vinaigrette. The salad itself has butternut squash, kale, apples, shallots and seasonings. It's a gorgeously colored dish and has so many wonderful fall flavors. It's also really easy to make and won't take up much of your time.
Recipe: tasty-yummies
6. Avocado Bacon Deviled Eggs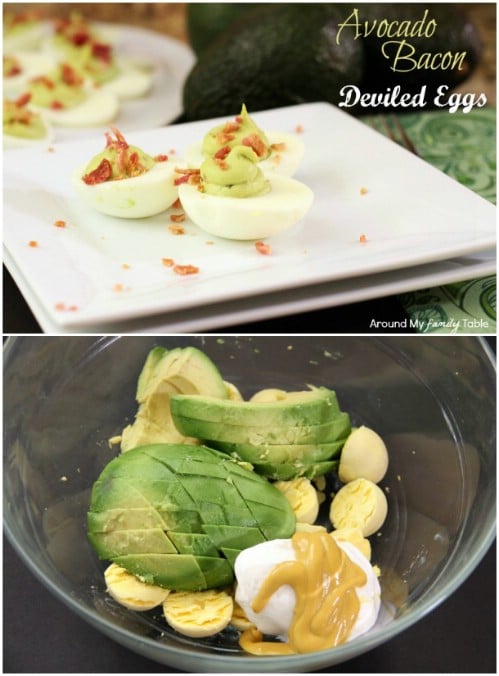 Bacon and eggs simply go together…even in this deviled egg recipe. These tasty eggs are a great alternative to traditional deviled eggs and are super easy to put together. You prepare these just as you would traditional recipes, but add avocado in when you're mixing up the yolks and then top them with crumbled bacon. They're completely free of gluten and are sure to be a hit at your Thanksgiving dinner table.
Recipe: aroundmyfamilytable
7. Acorn Squash With Maple Glaze
Do you serve squash at Thanksgiving? It's sort of a tradition here in the south and this baked acorn squash with maple glaze may just be my newest tradition. This one is filled with flavor from the tasty squash to the wonderful glaze that you make with maple syrup and butter. It's a really easy recipe too and won't take long at all to prep.
Recipe: thekitchenismyplayground
8. Balsamic Garlic Roasted Cauliflower
I love roasted cauliflower! And, this balsamic garlic roasted cauliflower looks absolutely delicious. You just toss the cauliflower in with balsamic vinegar, olive oil, garlic, rosemary and salt and pepper and then bake. It only takes about 25 minutes total to cook and it's a really easy dish to prep. It's also perfect for joining those other sides in the dinner table.
Recipe: thejoyfulfoodie
9. Balsamic Glazed Carrots
Glazed carrots are a must in my house for the holidays but I must say, I have never done them with a balsamic glaze. This one is super easy and has so many wonderful flavors including balsamic vinegar, honey, and fresh thyme. It's also a really colorful dish so you can add a host of colors to your Thanksgiving dinner table.
Recipe: cookingwithjax
10. Beet Salad
This is no ordinary beet salad. This one has beets, jicama, avocado and arugula to give you a colorful and delicious salad that is sure to be a hit at the dinner table. It's completely vegan and so easy to make. You make the balsamic dressing yourself and it has vinegar, olive oil and a number of seasonings. The flavor of this one is perfect for fall and will beautifully complement that turkey.
Recipe: healyeatsreal
11. Broccoli Cheese Casserole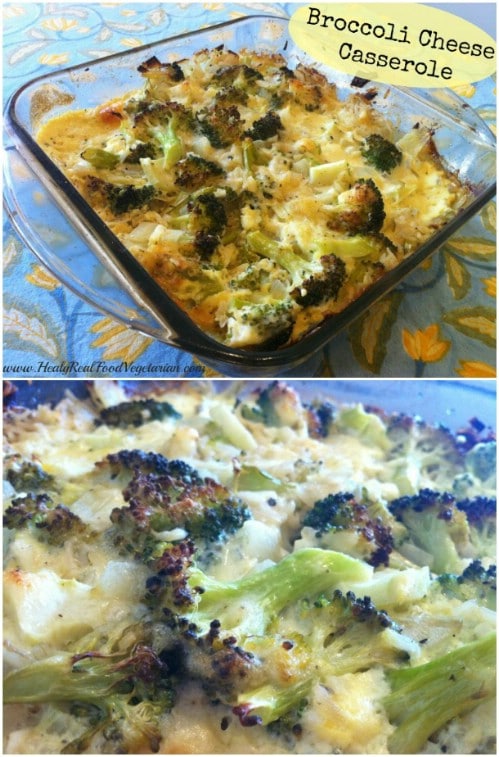 Broccoli cheese casserole is one of my favorite dishes and it's a great way to add some veggies to your meal. This particular recipe is completely gluten free which means that it doesn't have the traditional crackers on top, but you'll never know it. It's cheesy and delicious and filled with wonderful flavor.
Recipe: healyeatsreal
12. Whipped Butternut Squash
Butternut squash is really tasty – I bake several every year just because I love the flavor. This whipped butternut squash looks like mashed sweet potatoes and has butter and sage for a really great flavor. This one is really easy and could be a wonderful substitute for mashed potatoes if you're also watching your carbs this Thanksgiving.
Recipe: cupcakesandkalechips
13. Brussel Sprout Slaw With Tahini Dressing
Slaw from Brussel sprouts? Yes! I love cole slaw but I've never dreamed of making it from anything other than cabbage. This Brussel sprouts slaw is made from shredded Brussel sprouts and contains pine nuts, cherries and so many other wonderful flavors. It's a great slaw for fall and a wonderful way to get your little ones to eat their Brussel sprouts.
Recipe: thelemonbowl
14. Caramelized Brussel Sprouts
Here's another great way to get your family to eat Brussel sprouts. There are so many flavors in these caramelized Brussel sprouts that they won't even know they're eating them. This is such a tasty dish, with a dark cherry sauce and hazelnuts and the colors are fabulous for decorating your Thanksgiving dinner table.
Recipe: anediblemosaic
15. Cauliflower Rice
This cauliflower rice is not only gluten free, it's a great dish for those of you on the paleo diet. There are so many creative ways to prepare cauliflower and this is one of them. This one is really simple, too. You just chop the cauliflower until it looks like rice and then cook. You can serve this plain or add any of your favorite toppings…or substitute it for recipes that use rice. It's really versatile!
Recipe: hollywoodhomestead
16. Broccoli Salad
This broccoli salad has a healthy serving of veggies as well as fruit. That's right – it has diced apples and with a dressing made from yogurt, mayonnaise and apple cider vinegar, it's simply filled with flavor. This is a wonderful side dish for Thanksgiving or anytime you need something gluten free and tasty. The cheddar cheese and raisins make it delicious and the apples and broccoli give it just the right crunch.
Recipe: insidebrucrewlife
17. Citrus Brown Rice With Butternut Squash
Butternut squash should definitely be part of your Thanksgiving menu. Not only because it's the perfect fall vegetable, but because it tastes so good. This dish uses butternut squash to flavor brown rice and it has cinnamon, walnuts, goat cheese and pomegranate that all work together to make it a flavorful dish that everyone at your table is sure to love.
Recipe: theroastedroot
18. Creamed Onions
I've eaten creamed potatoes and creamed corn, but never creamed onions. This recipe caught my eye not only because it's gluten free but because it looks so tasty. You need four or five large onions as well as butter, gluten free flour and milk. This also has a tasty bread crumb topping – made from gluten free bread crumbs and has the wonderful consistency of mashed potatoes…but with a kick.
Recipe: onecreativemommy
19. Eggplant Tomato Bake
If you have never tried eggplant you are seriously missing out on a delicious food. You can make this eggplant tomato bake for Thanksgiving and get your first taste, and this is a great recipe for that. It's pretty simple to make and filled with flavor. It's very cheesy and delicious and has a great crumb topping made from coconut flour, parmesan cheese and several tasty seasonings.
Recipe: primallyinspired
20. Garlic Scalloped Potatoes
Potatoes are always on my Thanksgiving dinner table, sometimes in more than one form. I love these garlic scalloped potatoes that by the way, have four different cheeses. Throw out those boxed scalloped potatoes and make these instead. They're pretty easy to make and taste so much better than anything you can buy in a box. Plus, there's no gluten so they're much better for you.
Recipe: bakedbyrachel
21. Gluten Free Green Bean Casserole
Green bean casserole is always on the menu for Thanksgiving around here, as well as Christmas and any other time I can get away with making it. I just love this traditional dish so much! I also love this gluten free version that uses homemade cream of mushroom soup and a topping of gluten free bread crumbs mixed with butter and gluten free crispy fried onions.
Recipe: glutenfreeonashoestring
22. Gluten Free Cornbread
Here in the South, cornbread is a staple. Who knew that you could make it gluten free? This recipe is so easy and it comes out perfectly if you bake it in a cast iron skillet. Is there any other way to bake cornbread? This one uses sprouted corn flour, which you can get at most stores that sell gluten free products, and coconut flour. Apple cider vinegar and maple syrup give it such a unique taste.
Recipe: healyeatsreal
23. Vegetarian Mushroom Stuffing
Here's another wonderful gluten free stuffing recipe. This one is super easy to make and combines gluten free bread, mushroom broth, cremini mushrooms, wild mushrooms and a number of delicious seasonings. Seriously this may replace your traditional stuffing recipe. It's tasty, easy to make and will perfectly complement your turkey and mashed potatoes.
Recipe: tasty-yummies
24. Golden Beet Soup
This caramelized beet soup has fall roots and garlicky yogurt for a taste that you just won't believe. It's a beautifully colored dish that only takes about 10 minutes to prep and less than an hour to cook. You'll need yellow onions, carrots, golden beets, parsnips and sweet potatoes to make this along with a few key seasonings. It's a delicious soup and a great way to add some veggies to your dinner table.
Recipe: withfoodandlove
25. Homemade Cranberry Sauce
I love making my own cranberry sauce and have done it on several occasions. If you want to avoid gluten, as well as other preservatives that come along in canned foods, this is a great recipe for you, and it's super easy. Plus, homemade cranberry sauce tastes better than store bought every time, and you can add ingredients if you want to customize it and make it your own.
Recipe: eatthelove
26. Loaded Sweet Potato Skins
I love these sweet potato skins for an appetizer. You know, while the guys are watching football and they need something to munch on while dinner is cooking? Not only are these gluten free, but they are also low in carbs and they're a cinch to bake. Just bake your sweet potatoes so that the insides scoop out easily and then add olive oil, cream cheese and sweet potato filling.
Recipe: thecookierookie
27. Mashed Parsnips And Carrots
This parsnip carrot mash is really easy to make and it's a great low carb and gluten free alternative to mashed potatoes and other sides. You just cook your parsnips and carrots until they are soft and then mash them together. Add in butter, salt and pepper and a bit of milk to make them just like mashed potatoes, but with a much richer and more unique flavor.
Recipe: dessertnowdinnerlater
28. Pumpkin Muffins
You have to have pumpkin on Thanksgiving but pies and pumpkin rolls typically have gluten. These pumpkin muffins don't and these are really easy to make. They're gluten and dairy free. You use quinoa flour instead of wheat flour and add canned pumpkin, ginger, nutmeg and other things that you would expect pumpkin muffins to have. They're moist and delicious and will only take you about an hour from start to finish.
Recipe: keepitsweetdesserts
29. Roasted Lemon Broccoli
Need a great broccoli recipe that doesn't contain gluten? This roasted lemon broccoli is a real winner. You can have this one ready for the oven in about 10 minutes and it only bakes for about half an hour, so it's really fast and easy to prepare. You don't need a lot of ingredients for this one either, just broccoli, olive oil, lemon zest, lemon juice and salt and pepper to taste.
Recipe: kraftedkoch
30. Roasted Pear, Walnut, And Kale Salad
This salad could easily double as a gluten free dessert or you could serve it as a pre-dinner salad. Aside from the kale, which is really good for you, it's also got shallots, honey, pears, walnuts, cranberries and so many other wonderful flavors. It's pretty fast and easy to put together and is filled with beautiful colors.
Recipe: tastingpage
31. Roasted Pumpkin With Maple Syrup And Apples
Roasted pumpkin is a wonderful dish all on its own, but when you add maple syrup and apples, you get a delicious side dish that is perfect for Thanksgiving. This is such a wonderful dish for autumn and is filled with wonderful flavors like cinnamon, ginger, and fresh cranberries.
Recipe: foodfaithfitness
32. Sautéed Beets And Greens
Beets are always a hit at my house. Everyone just loves their unique flavor and this recipe combines those tasty beets with greens…and you can use any greens that you like or whatever you can find in season. This one also has coconut oil, garlic and parmesan or shredded cheddar cheese for a dish that is sure to make it a huge hit.
Recipe: healyeatsreal
33. Sauteed Zucchini With Walnuts
This zucchini dish looks beautiful with its fall colors and it has so many tasty ingredients. It only takes about 15 minutes to prepare it from start to finish so it's a really quick and easy side dish that is sure to complement your Thanksgiving dinner well. With zucchini, garlic, walnuts and parmesan cheese, this is one that is sure to please even your pickiest dinner guest.
Recipe: dizzybusyandhungry
34. Spinach Feta Potato Gratin
This savory potato dish is completely gluten free and such a great alternative to traditional au gratin potatoes. This one has spinach, so it's a wonderful way to introduce some healthy greens into your meal. It also has feta cheese, heavy cream and eggs that work together to give it a creamy texture and a wonderful taste.
Recipe: diethood
35. Gluten Free Sweet Potato Casserole
Sweet potato casserole is a must for Thanksgiving dinner and this one is completely gluten free. With coconut milk, vanilla, cinnamon and nutmeg, it has the wonderful traditional taste of sweet potato casserole and it's a bit healthier than its traditional counterpart. You don't use canned sweet potatoes for this one…it's completely made from scratch and only takes about an hour to prepare from start to finish.
Recipe: neighborfoodblog
36. Creamy Mashed Potatoes
You have to have mashed potatoes for Thanksgiving dinner, right? These mashed potatoes are quite possibly the creamiest that you have ever tried and they're super easy to make. You use Yukon gold potatoes to make these, which gives them a beautiful color. Then add milk, butter an egg and salt and pepper to taste. You just won't believe how creamy and delicious they are.
Recipe: bunsinmyoven
37. Toasted Whipped Garlic Cauliflower
If you want something really gluten free, really healthy and really delicious, substitute your mashed potatoes for this toasted whipped cauliflower. It's really low in carbs and has absolutely no gluten. It's also a delicious side to serve with any meal, particularly your Thanksgiving feast. With sea salt, garlic and butter, it's delicious and can be topped with anything that you would put on top of mashed potatoes.
Recipe: empoweredsustenance
38. Wild Rice Pilaf
Rice pilaf is a delicious side dish and one that is a tradition for many homes on Thanksgiving. If you want a healthier option, this wild rice pilaf is a good one to try. It has wild rice as well as onions, mushrooms, celery, vegetable broth and other flavorings that make it delicious and it is completely gluten free, as well as low in fat.
Recipe: overtimecook
39. Gluten Free Garlic Dinner Rolls
So you have to have rolls, right? These garlic dinner rolls are made with gluten free flour and have just enough dill and garlic to give them wonderful flavor. You make them like you would make traditional yeast rolls but you use gluten free flour instead of all purpose wheat flour. Plus, the additional flavors make them really tasty and they're pretty simple to make, even if you've never made your own dinner rolls before.
Recipe: allrecipes
40. Kabocha Squash Pilaf With Coconut
Coconut gives this squash pilaf a bit of sweetness that makes it delicious. I love any squash dish and this one is the perfect Thanksgiving side dish. It's a light and flavorful dish that is not at all difficult to make and will deliciously complement your turkey and cranberry sauce. Apple cider vinegar, dried currants and ginger simply add to the flavor.
Recipe: bonappetit