I grew up in the ear of side ponytails, but this ribbon braided side swept low ponytail is a huge improvement on the ones of my childhood. I love how this look is so simple but looks pulled together and professional. Use different colors of ribbon or beads to create a unique look and turn it from everyday to event ready!
Braided Side Swept Ponytail
If you've been waiting for a fun way to add ponytails to your hair routine, then this is one for you. It's a bit more than a basic side ponytail, and takes a few minutes more than some styles, but is still very easy to manage. It's a cute look for kids and adults and can be customized super easily with different colors or styles of ribbon.
Need something a bit more elegant? Check out these braided updo styles that are gorgeous. Alternatively, you could use one of these waterfall braid ideas for a fun new look that is elegant but not an updo.
What Do I Need to Create This Side Ponytail?
A ponytail is a classic look that usually only needs an elastic hair band or ponytail holder. This look, however, is just a bit different. You'll need some of the small elastic hairbands, a few colored ribbons, and of course, a good detangling hairbrush.
Tools I Use
While the items below are not necessary for this style, they are some of my favorites that come in handy on a regular basis. Make sure that you take a look at these and add the ones you need to your list. They come in handy for many different looks and styles and are always a good idea to have on hand.
Other Items I Love:
These items aren't necessary for this particular style but are recommended to keep on hand for regular hair styling of longer hair.
Ribbon Braided Side Swept Low Ponytail Tutorial
This hairstyle is best on medium to long lengths of hair. Since you are braiding and pulling to the side, you will need more length. While you could adapt for shorter hair, it would be a bit more work involved.
This hairstyle works with both clean and slightly dirty hair. Just make sure you have combed out all tangles and parted your hair before you begin.
Step 1
Comb and part your hair on the side. Then, on the opposite side of your head from the part, pull back a section of hair from the forehead to just behind the ear.
Tie this with an elastic hair band, tying in just the hair you pulled back and not from beneath or below. You will have the hair on top of the head and sides in this but will leave hair hanging down the back of your head.
Step 2
Now, you will create 5 small braids in this ponytail. To do this, you will divide the hanging hair into 5 sections. Each of these sections will then be divided into two or three sections and braided in with ribbon.
Wrap and tie a length of ribbon around the main ponytail.
Divide one of the small sections into two or three sections, and use the ribbon to pull into the braid as you work it downward. You can add it to one of 3 sections, or you can add it as the third.
Step 3
Now, tie another color of ribbon onto the main ponytail, and do the same thing with one end of this ribbon, and a small section of your hair. Weave in the ribbon as you braid it downward.
Repeat this process with all 5 sections using a different color ribbon for each as you move over.
Once done with a braided section, secure the hair and ribbon in place with a small elastic hair band.
Step 4
Once you have all 5 sections braided, pull the hair from the other side and below into a low ponytail on the side opposite the braids.
Step 5
Pull the braids into the ponytail, and then wrap a hair tie around all of the hair to secure this.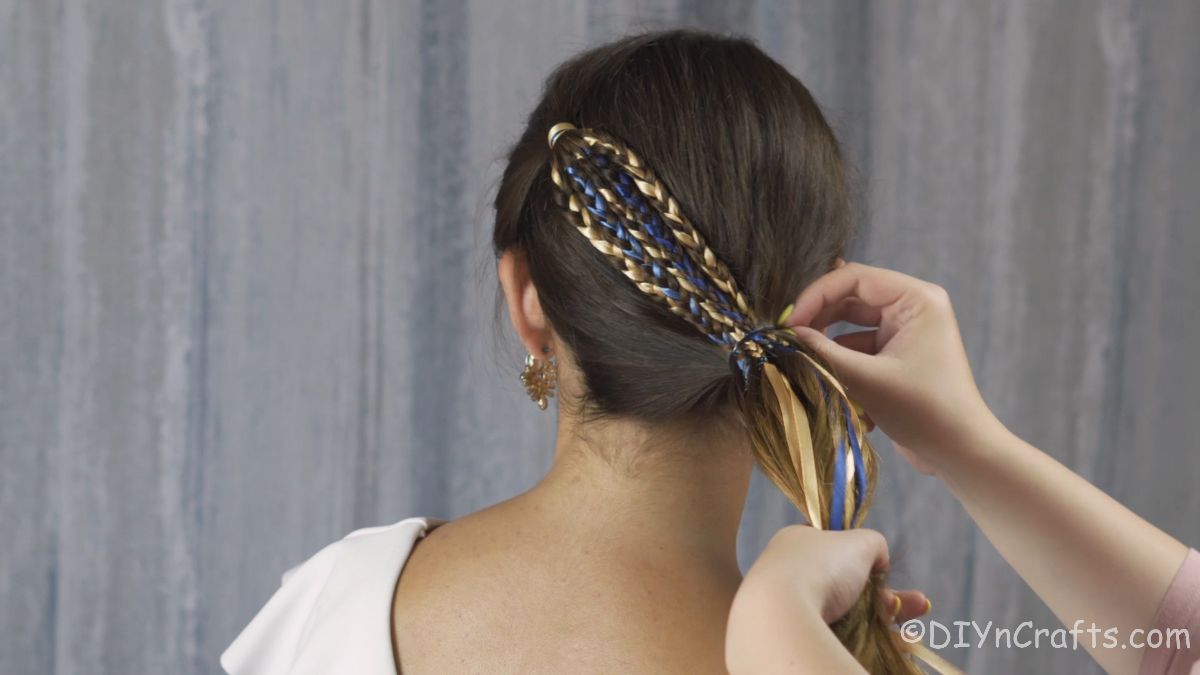 Loosen the braids a bit so they aren't flat against the back of your head.
Step 6
Now, pull the ribbons that are hanging down in the larger ponytail altogether and wrap them around the ponytail holder.
Wrap the ribbons until they are covering the hair tie, or until they are all around it, then secure them with another hair tie.
What Other Ways Can I Accessorize This Ponytail?
I love this look because it is pretty but can also be a bit whimsical or allow you to dress your hair for different holidays. Just by using a different color of ribbon, you can take this from neutral to matching an outfit or celebrating a holiday. Aside from this, below are a few more ideas that can help you make this ponytail even more unique.
Add a bow at the main side ponytail at the bottom. Instead of just wrapping the ribbon, create a bow there.
Add a decorative comb or bobby pins on the front of the main top braid.
Instead of plain ribbons, use embroidery thread, beaded ribbon, or even lace ribbon for the braids for a unique look.
Curl the end of the main side ponytail to add some texture and a little extra pizazz to the style.
More Easy Braided Hairstyles
There is nothing easier than pulling your hair into a ponytail, unless that is to braid it to keep it out of your face. If you need more ideas for braiding your hair without sacrificing style, below are some great ideas. I love these braided styles and know you will too. Make sure you bookmark your favorites. You can also print out the tutorial with images or just pin them to a hairstyle board on Pinterest, so they are handy.
Stunning Ribbon Braided Side Swept Low Ponytail
This stunning ribbon braided side swept low ponytail is a gorgeous look that can be casual or updated for any event!
Materials
Tools
Instructions
Part your hair on the side and then pull the section on the side opposite the part, back to the crown of your head, and secure it with a ponytail holder.
Then, divide this ponytail into 5 sections.
Wrap a ribbon around the main ponytail holder, then add it to the smaller section braiding it into the section of hair. Secure the end with a hair band.
Repeat this with all 5 sections, weaving a different colored ribbon into 2 of the 3 strands of each braid.
Once all braids are done, gather the rest of the hair back and under to create a side ponytail.
Pull the braided pieces into the ponytail and secure it all together with a hair band.
Pull the end of the ribbons out and wrap around the hair band to cover it then secure it underneath.
Notes
Replace the ribbon with beaded ribbon or lace.