This tissue paper rose bouquet is such a simple thing to make to decorate your home. It looks absolutely beautiful on a table, as a centerpiece, or even as a part of a bouquet for a wedding! A simple practice of folding and rolling tissue paper makes a simple but truly beautiful flower. I've added accents that make the roses look incredible in a bouquet, but you can leave as they are if you prefer. Add this to your upcoming projects list!
Tissue Paper Rose Bouquet
Flowers are my favorite natural pieces of beauty. I love roses especially, so turning tissue paper into a rose was obvious. You can make all of the roses a single color, or you can make them a variety of colors if you prefer. Turning them into a bouquet is easy once you have a pattern of colors. You can add beautiful beads like pearls or miniature opals to the center of the roses for added decor. Another way to change the look of these roses is to add things like a butterfly, dragonfly, or even a hummingbird on the bouquet.
Whether you make this to add to your own home decor, use as a centerpiece at a party, or as a wedding bouquet, you will love learning a new way to make flowers. Add these roses to your crafting project routine this week as a simple project that adds tons of beauty to any room.
How to Cut Tissue Paper Without it Tearing?
There are several ways that you can use to cut tissue paper to prevent it from tearing into a jagged edge. I have been working with tissue paper for projects all of my life, and trust me, it can be tough to cut straight at times. There are a few methods that almost always work perfectly for me.
Using my sharpest craft scissors on folded tissue paper that is stacked together is easiest. This is harder to do with a single sheet of tissue paper unless it has been folded.
A rotary cutter on a cutting mat is ideal for cutting through single or multiple layers.
Folding along an edge and creating a crease then gently tearing it against the edge can be done with thicker papers.
Can This Be Used As a Wedding Bouquet?
If you want to have a wedding bouquet that lasts long after the wedding day this is the one for you. It's simple to make, can be made in multiple colors to match your theme, and is inexpensive. This combination makes it ideal for anyone who is looking for budget tips for their wedding.
Another bonus is that, not only is it beautiful, you can keep it and even display it for years to come. There is no worry about the flowers drying out and being hard to recognize. This can be placed inside a glass cloche and stored or displayed for the long term. That makes it even easier to share with your daughter for her wedding down the road.
Tip: If you happen to be planning a wedding, check out this list of hacks for an outdoor wedding. You may also find this list of wedding decor ideas, wedding bouquet ideas, or even this list of wedding party gift ideas.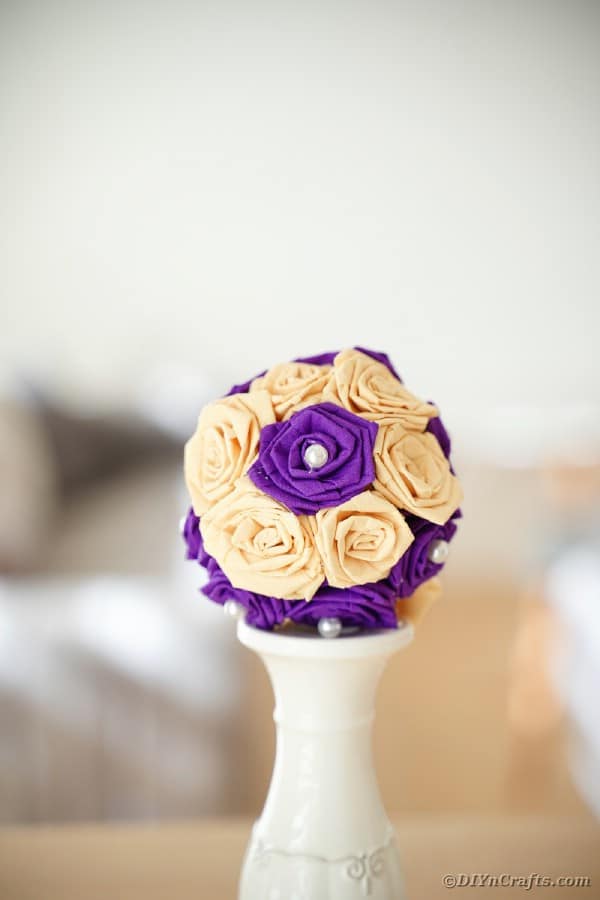 Supplies Needed
How to Make a Tissue Paper Rose Bouquet
Cut a 4" wide strip of tissue paper.
Fold the tissue paper over itself 2-3 times until it is only 1" wide.
Twist the end over at an angle, then begin rolling the paper.
As you roll, it will begin to look more like a rose.
Every inch you roll, twist it over at an angle again. This gives a bit more natural look to the rose.
Continue the process wrapping the tissue paper around in a circle to create the rose petals.
Once you are satisfied with the size of the flower, cut the end of the loose tissue paper and glue the end to the flower.
Add a small pearl or bead to the center of the rose if desired.
Glue the rose onto the Styrofoam ball and hold to secure.
Continue this process repeating with cream and purple flowers until the Styrofoam ball is covered and you are happy with the look.
You may add a few artificial flowers between the tissue paper flowers if desired.
To display, you can attach to the top of a candlestick or plant stand. You can also add the rose bouquet to a table, inside a glass cloche, or in a large bowl on your table.
If you enjoyed this project, then you will also love this beautiful handmade paper flowers tutorial. There is another beautiful tissue paper flowers option if you are looking for something more traditional. I've also made tons of paper flowers from old book pages. There are paper flower balls, fabric flowers, and even some paper button flowers.
Crafter's Tip

If you plan to display this rose bouquet on a stand, I recommend grabbing unfinished candlesticks when on sale at your local craft store. You can paint or stain them any color to match your home decor and the bouquet. Of course, you can also pick up unique custom painted candlesticks on Etsy if you want something a bit more upscale.
Yield: 1
Stunning Tissue Paper Rose Bouquet
This simple tutorial is a perfect place to begin learning how to make simple tissue paper roses for a bouquet! These beautiful paper flowers are sure to please!
Materials
Instructions
Cut a strip of tissue paper about 4" wide;
Fold the tissue paper over until it is 1" wide;
Twist the end of the paper over at an angle, then begin rolling into a flower shape;
As you roll the paper, twist slightly every inch or so to give the paper more texture;
Continue twisting and wrapping until you are happy with the size of the rose;
Next, cut the end of the tissue paper off and glue it in place on the bottom of the flower;
Add a pearl or bead to the center of the flower;
Now, glue the flower onto your Styrofoam ball;
Continue making roses and gluing them onto the ball until you are satisfied with the look;
Add artificial flowers between the paper flowers as desired;
Use your rose ball as a centerpiece or place on a candlestick if desired.
Notes
Use any colors of tissue paper you prefer to make your rose ball.
Recommended Products
As an Amazon Associate and member of other affiliate programs, I earn from qualifying purchases.
Finished Project Gallery