Don't you just love weddings? I do and I especially love outdoor weddings.
There's just something about getting back to nature that soothes the soul and that's the perfect feeling for a wedding, don't you think?
So, because I love outdoor weddings, I started looking for ways to make decorating those outdoor venues a bit easier.
You know, you have so much to do before the big day that decorating the outdoor venue should be easy, right? Well, with these 25 DIYs and hacks, it will be!
Jump to:
1. Paper Cup Wreath
You would never believe that this beautiful wreath is made from paper cups. It's gorgeous with its wide white ribbon and perfect for hanging as décor for your outdoor wedding.
Use it wherever you need it – or make several. It's cheap – paper cups are really inexpensive – and you just have to feed the cups into each other in a round to make it.
Tutorial/Source: twigandthistle
2. DIY Butterfly Rice Tossers
Your guests are going to need rice, right? And, you want great décor for your outdoor wedding that is cheap and easy so…make these butterfly rice tossers.
They're super easy and will help to decorate your wedding up until it's time for you to head out on the honeymoon. Lay them on a table or organize them in mason jars to serve as wedding décor until it's time to throw the rice.
Tutorial/Source: stylemepretty
3. DIY Chicken Wire Seating Chart
This seating chart is not only inexpensive, but it's also perfect for a backyard wedding. If you're looking for rustic wedding décor, this is definitely something you should try.
You create your seating charts for the reception on cardstock and pin them up with clothespins onto a chicken wire frame. It's really easy and so perfect for outdoor weddings!
Tutorial/Source: theknot
4. Cozy Guest Blankets
I love this idea of leaving out blankets for guests. It's perfect for evening weddings or outdoor weddings in the fall.
An old wooden basket or crate would be perfect for keeping the blankets organized and you can find really cheap blankets at the Dollar Store or Wal-Mart for just a couple dollars each. Plus, the coloring of the blankets adds extra décor for the wedding.
Tutorial/Source: weddingwire
5. DIY Outdoor Pallet Tables
If you want to decorate with vases, you'll need a table, right? Or something that has a flat surface at least. These outdoor pallet tables are so easy to put together and they take very little time.
Just stack a few old pallets on top of each other to create a table in the height that you need. You can use this for your unity candle during the ceremony or to hold wedding favors for your guests.
Tutorial/Source: stylemepretty
6. Streamer Outdoor Chair Decorations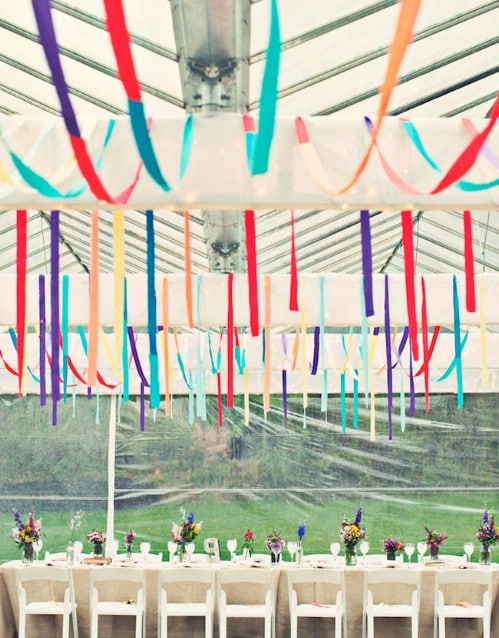 Turn cheap streamers into beautiful decorations for the chairs at your outdoor wedding. You just have to tape the streamers onto the backs of the chairs and you're all done.
You can also use long strips of fabric if you have them. This is a great way to use up some of that leftover fabric from other DIY projects or you can buy streamers at the Dollar Tree for just a dollar for two.
Tutorial/Source: greenweddingshoes
7. DIY Rustic Ribbon Backdrop
If you're getting married outdoors and you want a colorful backdrop, this DIY ribbon backdrop is super easy to make and it looks really rustic. Take some long sticks and create an arch.
Then just tie your streamers to the top so that they flow down. You can use paper streamers, ribbon or strips of fabric to create this and make it in colors that match your wedding décor.
Tutorial/Source: weddingchicks
8. Rustic DIY Wedding Ceremony Directional Sign
Give your guests an easy path to your ceremony with this DIY directional sign that you can make from scraps of wood. If your ceremony and reception are not being held side by side, this sign would be perfect for getting guests to where they need to go.
You could also use it for other purposes – add your names or just a cute little message for your guests if you don't really need a directional sign.
Tutorial/Source: 100layercake
9. Easy Outdoor Wedding Lighting
A few strings of clear Christmas lights will give you all the lighting you need for an outdoor ceremony at night. This is also a great idea for receptions, just in case the festivities last past daylight.
Just string them up from trees or other structures to give off the perfect romantic glow for your wedding.
Tutorial/Source: stylemepretty
10. Rustic Ladder Cocktail Display
If your outdoor wedding also includes an outdoor reception, this rustic ladder drink station is perfect. It's easy to set up with just an old wooden ladder and a few boards and your guests are going to love it.
The boards hold loads of glasses so you have more than enough space to keep all of your guests hydrated and it's just a really nice rustic looking decoration throughout the ceremony.
Tutorial/Source: 100layercake
11. Pinecone Favors/Décor
Your wedding favors can certainly double as décor, especially when you make these adorable little pinecone fire starter favors. These are so easy to make and really inexpensive.
They're also perfect for outdoor fall weddings and add beautiful décor to the ceremony before guests take them home as favors. Stack them on a table during the ceremony to add rustic charm before your guests take them home.
Tutorial/Source: evermine
12. Gatsby Inspired Easel Sign
If you love Gatsby or the roaring 20s in general, this easel is perfect for your outdoor wedding. You can build this yourself and then just dress it up for the ceremony.
Add mason jars with flowers and whatever you want to say on the chalkboard. Add the names of the bride and groom or even use it to instruct guests where to head for the reception.
Tutorial/Source: etsy.com
13. Rustic Pallet Timeline Sign
Keep your guests informed of when the festivities may be changing with this lovely pallet sign. You can use an old pallet – which you can get really cheap at most lumber yards or home improvement stores – to announce the timeline for your ceremony and reception.
This also doubles as décor as it stands up somewhere near all the festivities. It's such a simple yet adorable decoration idea.
Tutorial/Source: myhotelwedding
14. Hanging Upcycled Tin Can Vases
Really decorate those outdoors with hanging vases that are made from upcycled tin cans. Whether you are decorating for the ceremony or reception…or both…these tin can vases are perfect.
They're really cheap and you can have several of them made in an hour. Just paint them colors that coordinate with your wedding and then use them to display flowers all around your wedding venue.
Tutorial/Source: elizabethannedesigns
15. Hanging Sunflower Pendants
Outdoor weddings need flowers and sunflowers are the perfect choice for the summer season.
If you're looking to decorate an outdoor wedding venue, these little sunflower pendants are perfect.
They're easy to make and really inexpensive. Instead of having your flowers in vases, you could simply hang them up and still get the decoration that you want without the worries of buying or making vases to hold them.
Tutorial/Source: alwaysorderdessert
16. Painted Flower Pot – IKEA Hack
IKEA Reko glasses are small and perfect for decorating your outdoor venue. What's even better is that they paint easily so you can turn them any color that you need to match your existing wedding décor.
Just paint the glasses and then use them to display flowers all over your outdoor wedding. You could even use clamps to hold them right to the side of your aisle chairs.
Tutorial/Source: diy-decorator
17. DIY Lavender Candles
Take a few narrow glasses and add cut lavender stems that will both decorate your wedding and give off a wonderful scent.
You can tie the stems onto your glasses with twine and then just add a little candle and you'll have a romantic look with the pleasing scent of lavender.
The candle will help the scent to waft throughout your outdoor wedding and these are really cheap and easy to put together.
Tutorial/Source: abitofbeesknees
18. Large Lighted Star Décor
If you want to add a backdrop or just a larger piece of décor to the outdoor decorations, this star is really easy to make and you can create it from scraps of wood. Just make the star and then add clear lights to light it up.
This would be perfect for hanging above the bride and groom during the ceremony or you could use it just anywhere that you want a little light and décor.
Tutorial/Source: littlebitfunky
19. DIY Pom Pom Vines
Turn tissue paper into beautiful backyard wedding decorations. These pom pom vines are pretty easy to make and provide a gorgeous backdrop for your nuptials.
They'll work to help decorate your aisles as well and you can use them throughout your reception decorating to add color and style. They're so versatile and so very inexpensive to create.
Tutorial/Source: oncewed
20. Brilliant Backyard Wedding Photo Display
I really love this outdoor photo display that is perfect for showing off pictures of the bride and groom or family and friends. You just take tiny clothespins and attach your pictures to a backyard volleyball or badminton net.
How creative is that? You don't even have to move your net out of the way before your backyard nuptials begin. Just utilize it and turn it into the world's largest photo album.
Tutorial/Source: countryliving
21. Wedding Day Rope Words
If you're getting married outdoors, rope is certainly likely to make an appearance at some point in your decorations, especially if you're going for the rustic look.
You can turn rope into a beautiful message of love when you wind it into words.
This is such an easy project and one that is sure to add just the right touch to your backyard wedding décor. You can make the rope stiff with a glue mixture so even after your ceremony, you'll have your message to have and hold forever.
Tutorial/Source: greenweddingshoes
22. DIY Outdoor Sparkle Branches
This is one of my favorite tips – turn ordinary branches into beautiful wedding decorations with just a little glitter paint. So, if you're going to have to clean up the yard and remove sticks anyway, you may as well make good use of them, right?
You can turn those sticks and twigs into beautiful décor with just a little spray paint and use them to decorate your reception tables or the chairs for your wedding.
Tutorial/Source: momtastic
23. Easy DIY Wedding Arch
Just because your wedding is outdoors doesn't mean that you don't want some of the more traditional indoor wedding decorations. Take the arch for instance.
You may want a great arch behind you as you say your "I do's" and this one is really easy. It's made from 2X4s and when it's constructed, you just add lace or sheer fabric and maybe even a few flowers to give it a really decorated look.
Tutorial/Source: stylemepretty
24. DIY Tulle Wrapped Balloons
If you order wedding decorations from a florist, there's a good chance you're going to end up with tulle wrapped balloons. They're really great for decorating outdoor weddings but if you're on a budget, they may be a bit too expensive.
You can do them yourself and save a fortune. Just blow up your balloons and then wrap tulle, which you can buy at Wal-Mart pretty cheap, around them. Tie them up and hang them or stick them on your outdoor chairs.
Tutorial/Source: meliseamour
25. DIY Floral Paper Fans
These little fans not only help to decorate the wedding, they also provide needed relief from the heat for your guests. If you're getting married outside during the summer, these fans are a must.
They are super easy to make and your guests will really appreciate the thought. Plus, you can use them to note your favorite romantic poem or quote and store them in a wicker basket or rustic crate for added décor.
Tutorial/Source: marthastewartweddings
Conclusion
From paper cup wreaths to wedding favors that double as décor, you're sure to save time and money with these ideas and hacks.
And, you should also check out these beautiful rustic wedding decorations that are perfect for outdoor wedding decorating.
Weddings should be a time of joy but all too often the decorating takes its toll. If you're planning an outdoor wedding or any wedding for that matter, you want to be relaxed.
You want to revel in the joy that you are feeling, not worry about the decoration budget.
With these tips and tricks, you won't worry about spending too much. In fact, you'll have money left over for the honeymoon. And, if you want to save even more, be sure to take a look at these floral decorations.
So, if you're ready, take a look at these amazing ways that you can save time and money when planning your outdoor wedding. You'll be glad you did!