This rustic folded book page wreath is absolutely stunning! It's a gorgeous choice to use those scrap pieces of paper, pages from a book that otherwise would have been thrown away, or any craft fabric you have on hand. This makes an elegant decoration for any room and is ideal for your own home or to give away to friends.
Folded Book Page Wreath
I love finding ways to use old books. There are endless possibilities when it comes to crafting with pages from a book. I love the way that the old papers look in crafts. This wreath is one of my favorite ways to use old books because it is so unique and easy to make. Use up several pages and create a gorgeous wreath that works beautifully on your front door, on the wall, or even on your mantle.
While I used old book pages for this craft, you can easily use any paper you prefer. Paper from the newspaper, craft paper in various colors, wrapping paper, or even old cards you've received.
Have leftover book pages? Make this gorgeous old book page wreath to hang on the other doors in your home!
What Types of Wreath Forms Can I Use?
For this wreath, I used some wire and formed it into a circle. Cutting apart an old wire hanger and creating a circle made this super easy to make. I find that it is the easiest option to secure the folded book pages by threading through the wire. However, there are many types of wreath forms that can be used. With a bit of glue, many of the forms below can work just as well as a wire hanger did.
Styrofoam
Floral foam
Cardboard
Jewelry Wire
Grapevine Wreath
If you use something that doesn't allow you to push the frame through the paper, you can still get this effect. Simply glue the paper to the frame instead.
Can I Add Ribbon or Bows to This?
If you want to add something to your wreath, it can easily be glued onto this instead of the paper bow, or alongside the paper bow. I love adding more color to this wreath by adding ribbons, bows, or even a bit of paint along the edges of the paper folds.
Ribbons can be wrapped around the wreath and peek through the pages. Bows can be added around the wreath for smaller bows or a larger bow can be added to the bottom or top of the wreath.
Using themed ribbon or bows can add a holiday feel to the wreath. This can be tacked into place using tape or another removable adhesive or can be made with the bow in place and secured with a strong glue. It's a great way to make a wreath an easy one to keep in place year-round with simple changes to make it fit every holiday and season.
Supplies Needed
How to Make a Folded Book Page Wreath
Begin by creating a wire wreath shape. I used a wire hanger and clipped then molded it into a circle. You can also use thick floral wire.
Remove multiple pages from an old book. Depending upon how large the frame is, you will need up to 1000 pages.
Now, fold your individual book pages in half vertically, then cut them apart on the fold. Repeat this process with the rest of your pages.
Begin folding the paper in half.
Unfold, and then fold the end up to the fold on the paper.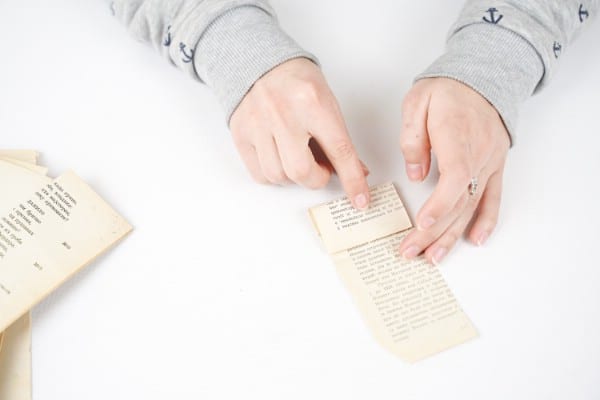 Now, fold this backward so that you are creating an accordion fan of paper.
Once you have all of the paper slips in an accordion fanned shape, you will begin slipping them onto the wire hanger frame you've created.
Continue pushing the wireframe through the center of each folded paper separating them a little each time.
Add as many of the folded strips of paper as you wish and fluff the papers out turning them different directions as desired to form a bit of variety.
Once you have all of the paper wanted on your wreath frame, you will connect the two ends by twisting or taping them together.
Set aside the wreath, and take an additional 3-4 book pages out to create a paper bow.
Start by tracing and cutting out a bow shape on 3 or 4 book pages then set those aside.
Trace and cut out 4 "ribbon" shapes onto the book pages to go on the bottom of the bow.
Now, attach the bow shapes together varying them a bit so they aren't identical.
Next, you will glue the ribbon shapes on the bottom back of the bows so it completes the bow look.
Using an additional book page, cut a rough circle shape out.
You will then cut this circle going in a spiral keeping the paper connected.
Once the circle is cut into a spiral, you will begin rolling the paper into a flower shape.
Secure the paper rose with glue, then attach it to the front of the paper bow.
Glue the paper bow to the top of the folded paper wreath.
Now you can hang this on your door or wall.
I am totally in love with these old book page crafts, and I have made tons of different wreaths using paper pages. If you like them as much as I do, then you'll also fall in love with this origami old book page wreath or this rustic old book page wreath. Of course, I also have tutorials for making a gorgeous rose old book page wreath that is just a bit different but still stunning to hang up on the door! I love it for Valentine's Day especially.
For a slightly different paper wreath, check out this tip for how to make a stunning floral wreath. I am in love with how beautiful it and this paper flower wreath with a free printable template. They are gorgeous hanging on a door at any time of year! Here is another great flowery wreath out of nothing more than paper. It's so pretty!
Crafter's Tip

I love making this same wreath using a heart shaped frame. I find the heart wreath frames on Etsy and then just clip the wreath opening it so I can slid the paper through it. You can seal the ends together with floral tape or a bit of hot glue.
Yield: 1
Rustic Folded Book Page Wreath with Video Tutorial
Turn old book pages into a stunning folded paper wreath that is ideal for decorating year round!
Tools
Instructions
Tear book pages out of your old book and set aside;
Now, you will fold every page in half vertically, then cut the page in half at the fold;
Fold the page back and forth accordion style so you are creating 1 ½"-2" wide pieces of folded paper;
Now, slip the wire frame through the middle of the folded piece of paper;
Continue this process until the entire frame is covered in papers;
Connect the ends of the wire with floral wire, tape, or glue;
Now, using additional book pages, cut out 3-4 bow shapes and set aside;
Cut out 4 ribbon shapes and set aside;
Now, glue the bow shapes together shifting so they look a bit more dimensional;
Glue the ribbon pieces on the bottom back of the bow to create a full bow look;
Now, cut a circle of paper out and then start cutting that circle into a spiral;
Roll the spiral of paper into a small flower and attach to the bow with glue;
Hang the wreath from your door or wall!
Notes
Use this same method with any color or type of paper to give this folded paper wreath a different look.
Recommended Products
As an Amazon Associate and member of other affiliate programs, I earn from qualifying purchases.
Finished Project Gallery