I have fallen in love with this old book page wreath. It's just so pretty and super easy to make! I love using up something that would otherwise be trash, and this is a great example of how you can turn trash to treasure in no time. The folds of the pieces on this wreath add depth and give it real character. Make this to fit your own decor and color themes for a perfect addition to your home decor.
Old Book Page Wreath
When I first made this wreath, I thought it was just a pretty addition to a room. After I hung it on the door, I got this fun Asian decor vibe from it that really appealed to my taste. Suddenly, I had a unique addition to really add to my mid-century modern decor.
In the 1950s, the post-war decor style included a lot of Japanese inspiration. My recent home purchase included all of the elements of that classic style, and this just popped against the door really bringing the look together.
Whether you love the vintage style as I did, or you just like the upcycled option for old books, this is going to add beauty to any room in your home!
Old books are a wealth of crafting materials. Make sure you pin on Pinterest and bookmark for later my rustic old book page butterflies, romantic paper bouquet, and these cute paper hanging birds to use with your leftover paper!
What Should I Use to Create My Circles?
I have made so many paper circles that I just used a freehand method on the pages. If you aren't comfortable doing that, then I really like the idea of using something like a large cookie cutter to trace and cut out the circles for these fan pieces.
Another idea if you use a different type of paper, is to set your Cricut machine to cut the circles for you. Yes, it can cut paper, but it might be easier to cut traditional card stock instead of the thin book page paper.
No matter what type of paper or what way you cut this, it's going to look amazing on your wall!
How Can I Add Extra Color to This Wreath?
Definitely! I added a pop of color with the red accents, but you could easily branch out with this and add any color accent you want. I also love the idea of brushing a bit of glue around the edges of each paper and sprinkle on glitter.
If you have a bit of spray paint or craft paint on hand, you can also add it around the edges of each fold of the fans and really make it pop with color. The rustic look is also complemented well with things like dark black and bright red for an Asian feel, or denim for a more country chic look.
Supplies Needed
How to Make an Old Book Page Wreath
Begin by using a circle (hoop or similar) to trace and measure a wreath shape onto cardboard.
Cut out the cardboard wreath and set aside.
Now, fold an old book page in half, then cut it.
Then fold each half in half again, and cut through the folds creating 4 strips of book paper.
Fold your paper back and forth accordion style starting at the bottom of the vertical strip and working your way upward.
Do this with all of your papers.
Now, you will unfurl the paper leaving the creases in place.
Twist your paper into a half circle and glue in place.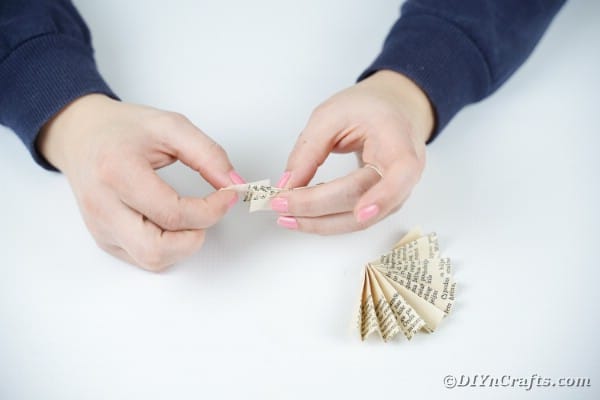 You will then glue those half circles together on the ends and lay them "flat" to form a circle that looks like a fan.
Next, you will glue the sides together to complete the circle.
Glue these onto your wreath form in the pattern you prefer, making sure to cover all of the cardboard.
Glue a button into the center of each circle.
Lastly, you will cut and glue a loop of twine onto the back of the wreath for hanging.
Now you can hang your wreath on your door!
If you want more fun wreaths to make, I have you covered! This origami old book page wreath is a great one that I just shared. You will also fall in love with this old book page rose wreath, and this rustic old book page wreath.
I'm also a huge lover of this adorable nautical summer wreath, and the always fun floral wreath tutorials. There is no lack of beautiful craft projects for you to add decor to your home!
Crafter's Tip

I highly recommend investing in a few door wreath hanging hooks to keep on hand. I make wreaths for every holiday and season change, and these make it so simply to just easily swap out a wreath when ready!
Yield: 1
Gorgeous Old Book Page Wreath
Make this gorgeous old book page wreath with adorable red button accents as a fun addition to your front door for any season of the year!
Instructions
Begin by tracing a circle onto a piece of cardboard for a wreath form;
Cut out your cardboard wreath form and set aside;
Fold old book pages in half and cut them;
Next, fold those pieces in half, and then cut them in half giving you 4 equal pieces per book page;
Fold each strip of paper accordion style vertically;
Unfurl the folds of paper but leave creases in place, and then fold them over to form half circles;
Glue two half circles together to create one circle of folded/fan paper;
Now, glue your circles onto the cardboard wreath form arranging how you wish covering all cardboard;
Next, glue a button onto the center of each circle;
Cut and glue a loop of twine onto the back of the wreath for hanging;
Now you can display your wreath!
Notes
Feel free to add a bow, different color buttons, or use different colored papers.
Recommended Products
As an Amazon Associate and member of other affiliate programs, I earn from qualifying purchases.