I'm back again with another amazing book page craft! This rustic old book rose ball decoration is the perfect paper flower bouquet. You are going to absolutely love how this looks as a perfect centerpiece on your table. This simple paper rose is easy to make, and ideal for adding to your farmhouse decor or rustic style!
Old Book Rose Ball Decoration
These flowers are easy to make and turn into a beautiful decoration when combined into this fun bouquet. Truly, a great way to reuse old books instead of throwing them away, this is one of many of my favorite upcycled projects.
I love taking something old and broken and turning it into something new and beautiful. There is something so satisfying in this process, and this rustic decoration is one of those things that starts out so ordinary but the result is stunning.
Oftentimes, people find that they have old books that they no longer want and do not have a place to donate them. Instead of throwing these books in the trash, the pages of the book can turn into a gorgeous decoration. That's when you can turn something ordinary into the extraordinary!
What Other Paper Can Be Used to Make Flowers?
If you want to make these paper flowers but do not have old books on hand, you can use another paper. The type of paper isn't as important as the process. I, of course, love using books that would otherwise be thrown away to create these flowers, but that isn't mandatory. Below are some other fun options for making these paper flowers come to life.
Newspapers
Magazines
Printer paper
Coloring books
Construction paper
Scrapbook paper
Glitter paper
Foam sheets
Felt
Envelopes from junk mail
Wrapping paper
Any type of paper can be used to make this beautiful bouquet. By using different types of paper, the flowers will take on a different look and it can be used to create different styles and colors of flowers.
Can I Paint or Dye Old Book Pages?
If you want to create a different look to the old book pages, you can paint or dye the pages. A way to give white pages an older look would be to stain the pages.
A simple way to stain the pages is to take acrylic paint and water it down. This will give the page the color but not completely paint the pages. After adding the amount of water to create the look you want, simply use a paintbrush or foam brush to paint the stain you made onto the pages. Let it dry and then use the pages to make the flowers.
Tip: If you want to dry the pages easier and faster, hang them up on a line or rope using clothespins or clips.
Supplies Needed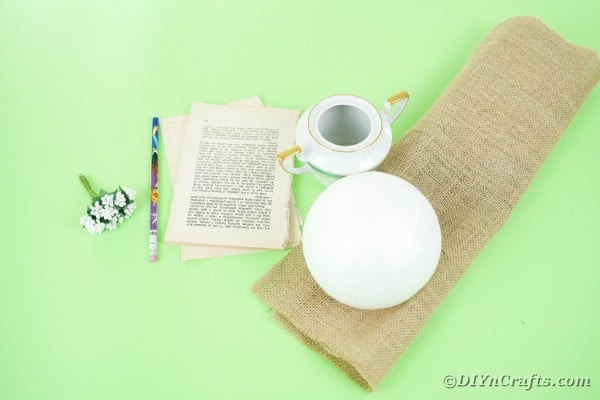 How to Make an Old Book Rose Ball Decoration
Start by trimming any excess glue from the book pages (from where you removed from the binding).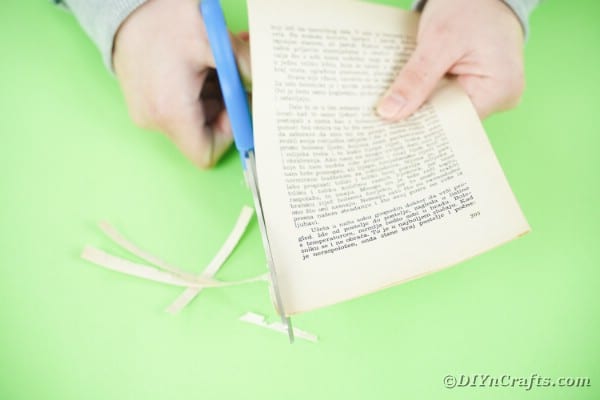 Now, fold over one side of the paper creating a triangle. This will leave a lower portion of the page unfolded.
Trim off the bottom, excess paper. This will leave you with a square of paper. Set the excess paper aside for another project.
Fold the square in half like a triangle.
Then fold that triangle in half.
Finally, fold the triangle in half one final time.
Now, use scissors to trim the open corners in a rounded fashion.
Unfold the paper and you will have a flower shape.
Repeat this process 4 times for every flower you are making.
Now, on one of the flowers, you will cut out a single petal.
The next flower, cut out two petals leaving them together.
For the third flower, cut out three petals leaving them together.
On the last flower, you will cut it in half.
Now, you will glue the single petal together on the edges.
Roll and glue the two petal piece.
Glue together the three petal piece.
Roll each half of the last flower together in a roll.
Then continue this until all pieces have been rolled and glued together.
Next, use your pencil and roll each petal piece over it facing outward. Do this with all pieces so all of the individual petals are rolled outward as a real petal would look.
Now, start with the largest flower piece as a base, and glue each rolled "flower" inside each other until the smallest pieces are in the center.
Cut squares of burlap for each flower.
Fold the burlap in half lengthwise, then in half again to create a small square.
Trim around the outside of the burlap to create rounded "leaves".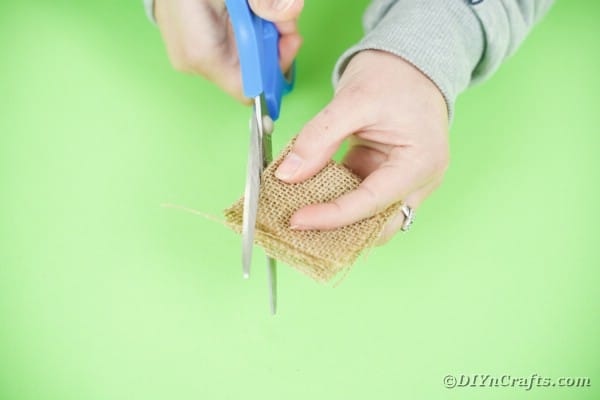 This will have 4 large leaves attached in the center.
Glue your flower to the center of your burlap leaves.
Add a bit of glue to each leaf to keep the rose in place.
Continue this process until you make enough flowers to cover your Styrofoam ball.
Attach your Styrofoam ball to the top of a teacup or jar as you want for decorative purposes.
Now, you will begin gluing each flower set to the Styrofoam ball.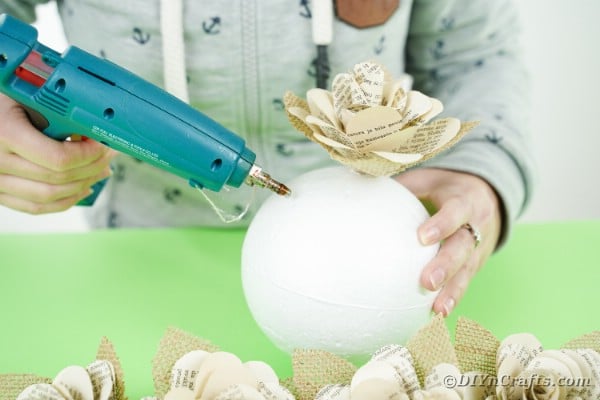 Glue until the whole ball is covered.
Next, pull apart your small artificial flowers and start gluing them in place randomly between the flowers.
Once you are satisfied with the look of the flower bouquet, you can display it as desired.
I'm low-key obsessed with recycling old book pages. The result is that I have made a multitude of fun things like these rustic paper feathers, old book page hanging birds, and more. Some of my favorites include the unique and rustic old book page paper fern. You might prefer a simple old book page wreath or this upscale old book page rose wreath.
Crafter's Tip:

If you don't want to freehand your flowers, or want a bit more precise look, check out these flower template PDF files you can grab on Etsy. THey are made for those with a Cricut or similar, but come with a PDF file that means you can print, manually cut, and use them on this as a template!
Yield: 1
Rustic Old Book Rose Ball Decoration - With Video
Make a rustic old book rose ball decoration as a perfect flower bouquet to add to your table as a fun centerpiece year round! Easy to make with just paper, scissors, and glue!
Tools
Instructions
Tear out pages and trim excess glue from them, then fold over one side to create a triangle;
Trim off the bottom of the page leaving a square of paper;
Now, fold this page in half as a triangle, then in half again, and finally, in half a third time;
Trim around the edge of this to create a rounded shape and unfold revealing a flower shape and then repeat this process 3 more times for every flower you need (I made about 15 total flowers);
On the first flower, cut out a single petal and set aside;
Then on a flower cut out two petals leaving them attached to each other;
On the third flower, cut out three petals leaving them attached;
For the fourth flower, you will cut it in half;
Now begin rolling and gluing each of these "petals" together on the edges. Each flower petal or piece will gradually be larger;
Once all have been glued, layer them inside each other with glue to secure starting with largest on the bottom and ending with the single petal in the very center;
Next, cut a piece of burlap into a square;
Fold this square in half, then in half again to create a smaller square;
Trim around the outside of the open side of this square to create a rounded flower shape with 4 leaves;
Unfold the burlap piece, and glue your paper flower into the center;
Attach the leaves with a bit of glue so the rose is nestled inside each burlap piece;
Continue this process until all of your flowers are done;
Attach your styrofoam ball to the top of a teacup or decorative jar;
Now, you will glue the flowers around the styrofoam ball until it is completely covered;
Tear off individual artificial flowers, and glue those between the paper flowers as accents;
Once done, you can display this as a centerpiece or on a shelf as desired.
Notes
Use any paper for this rose bouquet idea. Old book pages are great, but multiple options work with similar results.
Recommended Products
As an Amazon Associate and member of other affiliate programs, I earn from qualifying purchases.
Finished Project Gallery
This slideshow requires JavaScript.