Isn't this adorable? I love this hanging paper fern idea to use an old book instead of throwing it away. Such a cute idea! My goal has always been to make my home beautiful without spending a ton of money.
Things like old books, a bit of glue, and some contact paper can easily turn into a gorgeous item to hang in your home as an added decor item that adds beauty to a room.
Hanging Paper Fern
This idea, in my mind, resembles a birdhouse when hanging. A birdhouse inside? I'm all over that bit of beauty without the mess. Of course, it could be just a simple decoration that looks like a fern, or simply a rustic addition to your room.
No matter what you think it looks like, this is just a beautiful and easy addition to your home.
I love repurposing old book pages and have made a ton of beautiful things to add to my home. Just a few weeks ago, I made this decorative feather from book pages.
In the past, I have made beautiful rustic butterfly decorations using old book pages and keys. These were perfect for hanging on the wall or adding to a birthday party theme.
As you can see, old books aren't something to throw away! They are perfect for putting to good use around your home as decor!
Can I Paint The Pages of My Fern?
If you don't want this to be rustic with the pages showing, you may want to paint or add color to the book pages. I can see easily using colored craft paper instead of an old book for this to give some color.
If you want to paint or color the pages, you could definitely do that.
To paint the pages, I would recommend using a watercolor and allowing each page to completely dry before folding/rolling and creating this decoration.
With one side painted and the other side remaining the faded color of an old book, it adds even more depth to the project. Using green paint will make this look more like a real fern.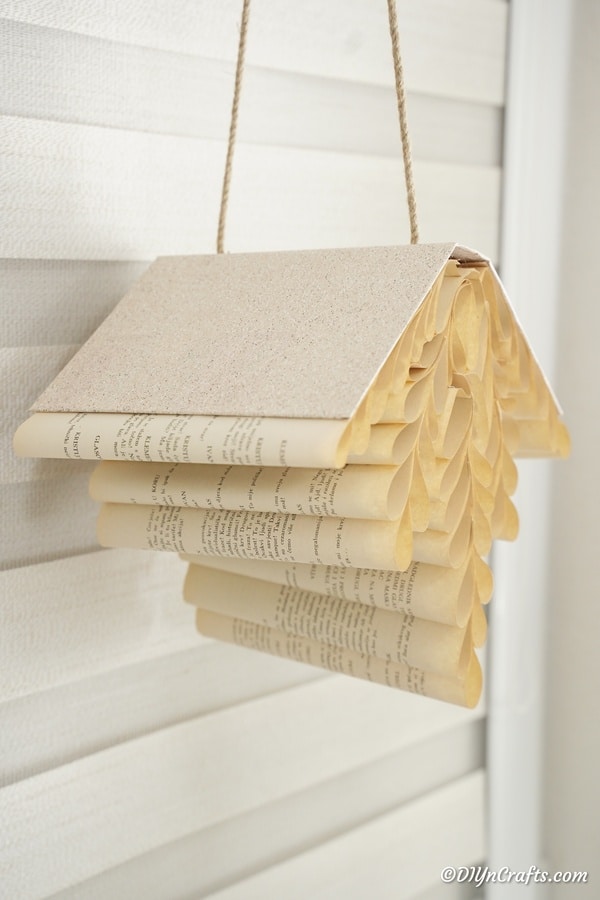 I love the idea of making decorative flowers from old books and painting them different colors for a bouquet. You could also use this tutorial for how to make a flower decoration out of an old book and mix and match the different styles into a bouquet.
Ways to Dress Up This Hanging Book Decoration
So, you've made this hanging paper fern but not sure what to do with it? Of course, you can hang it anywhere in your home, but maybe you want to add a bit of oomph to the look.
Perhaps the rustic pages aren't exactly a good match to the rest of your home decor. In that case, check out some of the ideas I thought of below to add more variety to your decoration.
Use a brightly colored contact paper on the outside binding to add color.
Coat the pages with white glue and sprinkle glitter on them to make it sparkle.
Paint the pages as mentioned above.
Use ribbon instead of rope or twine for hanging the decoration.
Add monogram stickers to the bookbinding on the outside.
For a more complex decoration, you can use book pages to create these paper angel wings. Such a beautiful addition to any room, but especially around the holidays.
Of course, I also love the idea of using the book as a whole to create this folded page heart idea for a gift or around Valentine's Day.
Supplies Needed
An old book
Cardboard
Contact paper
Twine or Ribbon
Scissors
Glue stick or craft glue
How to Make Hanging Paper Fern Decoration
To begin, you will use your book to trace the shape onto a large piece of cardboard.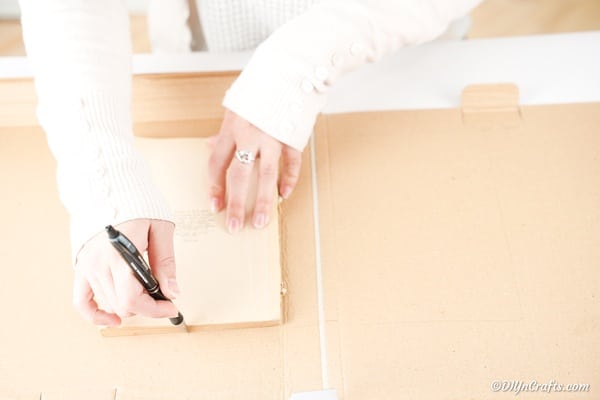 Now, you will measure out and cut the cardboard the size of the book, with a 2" additional width for creating the center binding.
Measure your cardboard piece to the contact paper and cut to fit.
Once you have placed the cardboard onto the contact paper and covered it, you will trim any excess so that the sides and edges are smooth.
Fold the cardboard piece into a book shape. Do this by bending each book page side and creating a 2" wide binder in the center.
Use your hole punch to add 2 holes on the middle bookbinder, one on each side, for threading your twine through.
String the twine through the holes and tie on the underside so the hanging string is on the top side that is covered with contact paper.
Glue a single book page on each side of the cardboard book cover as shown.
Now, you will begin folding your book pages. Add a bit of glue stick on one edge, then fold over matching ends as shown, but leaving open and rounded instead of folded flat.
Continue this process attaching each roll together as shown.
Once you have 6-7 rolls created, you will repeat the process and attach them together to form a fern frond shape like shown below.
Do this process three times before moving to add the rolled paper to both inside pages of the book as shown below.
Attach the three rolls as shown with craft glue along the middle binding.
Printable Step by Step Photo Tutorial:
Yield: 1
Rustic Hanging Paper Fern Made from Book Pages
Turn an old book into a beautiful hanging paper fern idea! This simple book and paper folding idea is easy to turn into a gorgeous decoration for any room!
Materials
An old book
Cardboard
Contact paper
Rope or twine
Tools
Scissors
Glue stick or craft glue
Instructions
To begin, you will use your book to trace against a piece of cardboard measuring out enough for two sides of a book, plus a 2" middle "binder";
Cut the cardboard pieces out;
Now, you will measure the contact paper to slightly larger than the cardboard pieces;
Lay the cardboard on top of the contact paper and attach smoothing all edges and trimming so it is smooth;
Use a hole punch to add holes on each side of the middle binding;
Now run the twine through the holes tying on the center of the bookbinding on the underside;
Now, you will glue a book page onto the inside of the cardboard book "binder";
Next, you will begin rolling/folding the paper pages over to create the rolls as shown gluing the edges together with a glue stick;
Continue this process for 6-7 pieces attaching them to each other as you move along;
Make an additional set of rolled paper identical to the first, and then continue this process making 3 sets total;
Now, you will roll pages and attach them to the inside cardboard book cover as shown;
Finally, you will attach the 3 rolls you created to start in the middle section of the bookbinder using craft glue;
Once the glue dries, you will hang as desired.
Notes
Make this same project using craft paper instead of book pages for a colorful option.