Sometimes, you just want a basic ponytail to be a little special. That's where this fun fishtail ponytail comes into play. A fun whimsical bohemian style makes it adorable with many outfits and really takes a drab ponytail up a level.
If you aren't sure about braiding like this, it's much easier than it looks! The step by step video and photo tutorial will take all of the fears away in seconds!
Bohemian Style Fishtail Ponytail
For years, I have seen this style of braid on others and thought there was no way I could recreate it on myself. Well, it is definitely a bit harder to do on your own hair, but it isn't impossible!
The tricks in this tutorial made this an option that I can definitely create in my own hair, but especially with my granddaughter. I love how sleek but fun it looks once braided!
Do I Have to Have a Topsy Tail for This Braid?
While it is not absolutely necessary to have this tool to create a fishtail braid, it is truly a huge time saver. To pull the smaller sections of hair through loops in a braid, it takes a lot of patience and effort if you aren't using this tool.
Since they are so widely available and super affordable, I recommend everyone have one or two in their hair tools.
If you haven't checked out this list of waterfall braid tutorials yet, you'll find that this Topsy Tail will come in handy there as well as with many of the easy ponytail tutorials.
Tools I Use
Other hair tools I love:
How to Create a Bohemian Fishtail Ponytail
Start by combing and detangling hair to pull back into a ponytail for this style. I recommend doing this with hair that hasn't been freshly washed as the braid will hold better.
Step 1
Start by pulling your hair back into a ponytail in the middle of the back of your head. This is an average ponytail, not high or low. Secure with a hair tie.
Step 2
Now, you will take a small section of the ponytail (around ½"), and wrap it around the ponytail holder.
Secure this section of hair on the underside of the ponytail with bobby pins.
Step 3
Now, you will take another small section off one side of the ponytail and begin braiding it.
Secure this small braid with a small hair tie. Just braid until near the end or wear hair tapers off and begins to thin, as shown.
Repeat this process on the opposite side.
Step 4
Now, you will use your Topsy Tail to pull the remaining hair through the two braids a little at a time. Place the small end of the Topsy Tail inside the first section of your braid.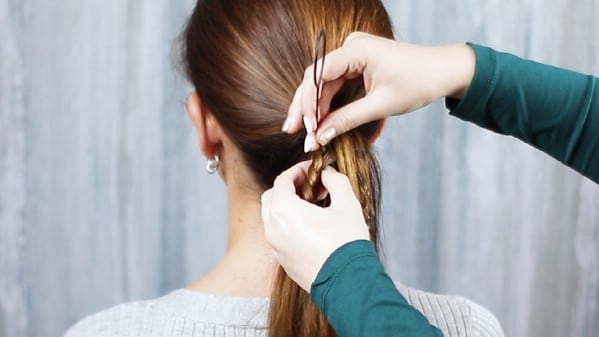 Start at the top, and grab a small section of hair from the inside section of the ponytail. Then, you will pull that small section of hair through the top part of the Topsy Tail, and pull the Topsy Tail through the center of that braid section.
If this process is unclear, watch the video tutorial for a better visual of how the Topsy Tail fits into the braid.
Continue this process until you reach the bottom of the small braid, then repeat on the other side with that braid.
Now that you have both sides braided, it will look something like below when you hold the two braids up.
Step 5
Next, you will begin braiding those pieces together. Starting at the top of the braids, you will take that section you pulled through, and use each side as part of the braid, pulling any loose hair in to create the center section.
This will begin pulling the two sides together and the inside loose ponytail will now be included in the braids.
Once you get to the bottom of the two original braids, you will secure with a hair tie or ribbon of your choice, then gently pull on the braids to separate and fluff out a little as shown.
Feel free to add a ribbon or barrette to the bottom of the braid if desired. I also recommend spritzing with a bit of hairspray at this point to set the style.
If your hair is a bit too short for this style, you will want to check out our stress-free hairstyles for short hair, and these great short hair hacks. They will help you have amazing styles without sacrificing your love of shorter hair.
For those with longer hair but bored with the usual styles, make sure you check out our half up half down hairstyle with a fun twist, and my personal favorite, this adorable mermaid half braid style. One more tip is to make some of these homemade hair masks. They benefit everyone, no matter the hair length or type!