This easy tutorial for how to make giant lollipops Christmas decorations is so easy and fun! Seriously, you will be blown away at how fast you can put one of these together. I love that they are great for decorating indoors and outdoors.
Giant Lollipops Christmas Decorations
If you've ever seen giant lollipops in someone's yard around the holidays, you may have been like me and wondered how they made them. I may not have the exact method they used, but this tutorial is super easy and looks great.
These aren't as big as some I have seen, but I think they are perfect for displaying on a front porch or just around the house and Christmas tree.
If you like making big flamboyant decorations, then you'll love the tutorial for how to make giant Christmas ornaments. They are a perfect addition to your holiday decorations this year!
These both look great on your front porch along with this fun Christmas wreath made from picture frames or this idea for snowman porch decorations.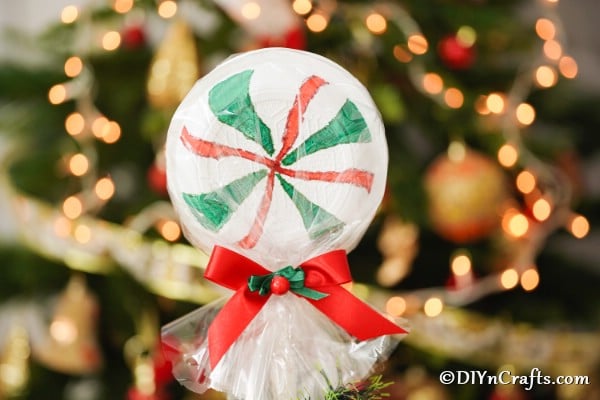 Can I Use Paper Plates Instead of Plastic?
You can definitely use paper plates if you prefer. Just remember that if the paper plates get wet for any reason, they will fall apart unlike the plastic plates you can use year after year.
You could even make these larger than this by using a set of round platters or charger plates that you have painted. If you make them larger, you'll want to use a ruler or yardstick as the handle instead of the smaller craft sticks.
This year I am really enjoying using alternatives to the normal decorations. This list of Christmas trees that aren't actually trees really inspired me. Thinking outside the box with decorations is so fun and easier to do than I expected!
Things like those trees or these wooden signs for Christmas really revamp your decorating routine and show you nothing has to be exact.
Where Can I Find Cellophane to Wrap My Candy?
The question I see the most when making a craft like this is where to find the cellophane you wrap the candy with before displaying. I am lucky that my local craft store has a number of sizes in cellophane bags that are already premade.
All I have to do is slide them over the project. If that isn't the case in your area, you can order them online at Amazon or even Michael's or Hobby Lobby.
You can also pick up a roll of cellophane and cut it to length and shape around your giant lollipops instead of using a premade bag.
If you have leftover cellophane, you can use it along with these creative ways to wrap presents to add something unique to how you gift items this year.

Where Should I Display These Lollipop Decorations?
Get creative! I love that I can slip this down inside of a potted plant, or into this little wooden stump I have and place anywhere around the house.
They look great around the tree as a little "fence", or on both sides of your steps at the front porch as if they are guarding your door.
You can add them to your decor by hanging them from the ceiling, adding them to your porch railing, sticking them in potted plants or shrubs in your yard, or setting them up as a fence around the perimeter of your home.
I've even added them along with these ideas for using fresh greens to decorate for Christmas along the roofline of my home.
Since they are safe to display both inside and outside, there is nothing stopping you from using your imagination with these giant lollipops.
Supplies Needed
Plastic plates (preferably white)
Green paint
Red paint
Large craft sticks
Cellophane wrap
Red ribbon
Holiday pick or embellishment (berries)
Paintbrush
Scissors
Hot glue gun and glue
Optional: Glitter glue or glitter paints
How to Make Giant Lollipops for Christmas
For this Christmas decoration, you will begin with two plates. I used plastic, but you can use styrofoam or paper.
Paint both plates with the same pattern so when you attach them together, it looks cohesive. I made a lollipop look with swirling colors, so I added a green stripe, then red, and made sure that I matched the designs on both pieces as best as I could.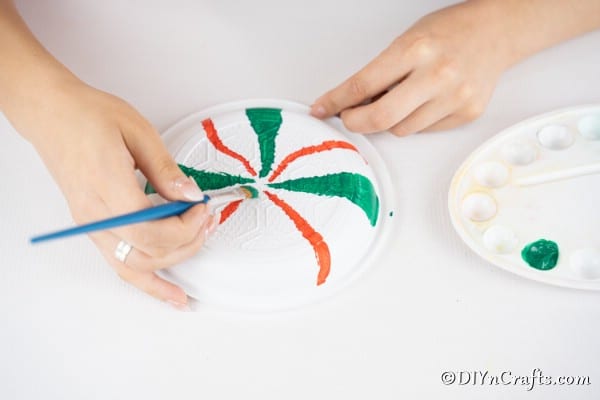 I went back over the lines with some glitter glue but you can also use regular glitter or glitter paint if you wish.
Once the plates have dried completely, you will glue a craft stick to the inside of one of the plates leaving the bulk of the craft stick outside as a "stem".
Next, you will glue the second plate to the first with the decorated sides on the outside.
Allow the glue to dry, then begin making a bow to attach to the plates.
Secure the bow to the bottom of the "lollipop" with hot glue and then add a few berries or similar holiday embellishments in the center.
If wrapping in cellophane you can do that now or before adding the bow.
Display wherever you want around your home!
Printable Step by Step Photo Tutorial:
Yield: 1
DIY Giant Lollipops Christmas Decoration
DIY Giant Lollipops Christmas Decorations are a perfect addition to any indoor or outdoor holiday display! Turn basic plastic plates into a gorgeous holiday decoration in mere minutes!
Additional Time
10 minutes
Materials
2 White plastic plates (can paint other colors if needed/desired)
1 large craft stick
Green paint
Red paint
Red satin ribbon
Holiday pick with berries or holiday embellishments
Cellophane bag
Optional: Glitter glue or glitter paint
Tools
Scissors
Paintbrush
Hot glue gun and glue
Instructions
Begin by painting the outside/bottom of two white plates with your preferred design. I used red and green paint to create swirls like a peppermint;
Add lines of flitter glue or glitter paint to make the stripes "pop" if desired;
Next, you will glue a craft stick to the inside of one of the plates leave most of the stick outside the plate;
Now, attach the other plate to the first one with the design you painted on the outside;
Using the red satin ribbon, create a bow to go on the lollipop;
Add berries to this or embellishments from holiday decorations;
Now, you will glue the bo in place at the base of the plates and top of the lollipop "stem";
If you want to wrap your lollipop in cellophane you can do this before or after adding the bow;
Once wrapped, display as you wish in your yard or home.
Notes
Mix and match colors of your plates to create a variety of "hard candy" colored lollipops. Red, white, green, yellow, orange, purple, and even blue can all easily be decorated to create unique and fun giant lollipops to go on your porch or in your home as a decoration this Christmas.