Getting your home all spruced up for the holidays? Then I'm guessing you've been spending a lot of time on our site lately checking out the many projects we've been sharing! This year we're focusing on reclaimed wood Christmas decoration projects and on ways you can use fresh evergreen in your holiday decorating.
But once you've gotten your own home ready for Christmas, your decorating job still isn't done—you also need to decorate your Christmas presents. After all, they are called "presents"—so they should be "presented" in a creative, merry and beautiful way.
How can you make it happen? With these 5 fun and easy gift wrapping ideas for the holidays!
Video Tutorials:
Materials:
Gifts you are wrapping
Wrapping paper
Gift bags
Twine
Christmas light cut-outs
Candy canes
Small wrapped candies
Googly eyes
Construction paper
Hot glue and glue gun
Ribbon
Cinnamon sticks
Any other holiday-themed embellishments you want to add to your finished packages
Steps:
Christmas Light Gift Wrap
1. Start by wrapping your gift as usual. I suggest using plain brown paper or some other solid color. Fancy patterns will just distract the eye.
2. Make colorful cut-outs in the shapes of Christmas lights.
3. Tie some twine around the box.
4. Attach the Christmas light cut-outs that you made to the twine.

Now it looks like your box has Christmas lights attached to it!
Reindeer Gift Wrap
1. This project works for gifts which you can put into small gift bags. The best gift bag will be one which is just a solid color, not one with patterns or pictures on it. You want the bag to be free of visual distractions.
2. Use hot glue and attach googly eyes to the front of the bag. Then add a piece of wrapped candy as a "nose."
3. Fold over the top of the bag and insert two candy canes to serve as the reindeer's "antlers."
Glue or tape the bag shut, and you are all done!
Snowman Gift Wrap
1. You can do this gift wrap project with any box, but it works particularly well with one which is on the longer side. Begin by wrapping your box as usual. Use plain white paper.
2. Use some twine to tie off the end.
3. Glue on some googly eyes and some construction paper to act as a carrot nose and buttons.

When you are done, you will have an adorable snowman!
Pretty Christmas Bow Gift Wrap
1. Start out by wrapping a box as usual. I recommend using plain wrapping paper so that the beautiful work you do with the gift presentation stands out.
2. Next, wrap a ribbon in a color of your choice around the box. I went with red.
6. Set a candy cane on top of the box.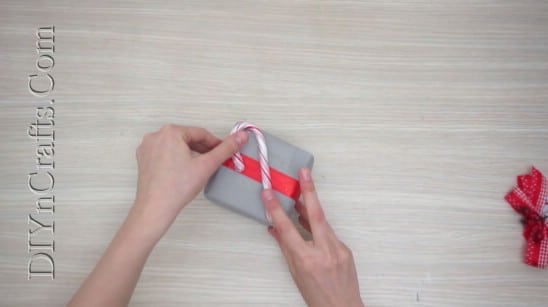 7. Attach another bow to the top along with fake holly berries or any other festive decorations you want to use.

This is simple and easy to do with any Christmas package!

Cinnamon Sticks Gift Wrap
1. Begin by wrapping a box as usual. Once more, I suggest that you stick with plain wrapping paper. Otherwise there will be too much going on visually with the box.
2. Get some cinnamon sticks and hot glue them to the top of the box in the shape of a Christmas tree.
3. Add a bow and anything else you want to embellish the box.
Congrats! You have just completed five festive wrapping projects for the holiday season. Now you are ready to present your gifts to family and friends in style!