Ah Christmas! It will be here before you know it so I hope you have your DIY Christmas projects all lined up. If not, I'm here to help. I love doing things with reclaimed wood. One reason I love them is because they're really cheap projects because you already have the wood on hand.
Plus, reclaimed wood has such a great farmhouse or rustic look, so if you're looking to add some rustic charm to your holiday decorating, reclaimed wood projects are perfect.
I decided to really go all out with the rustic decorating this year, so I started looking for some DIY rustic Christmas decorations. I found 25 wonderful projects that you can do with reclaimed wood. Not only are these cheap, they're easy to do and give you wonderful décor for inside and outside your home.
Some of these would even make the most wonderful gifts for those who seem to already have everything else. And did I mention that they all have that wonderful farmhouse quality? You should also check out these 25 farmhouse inspired Christmas decorations that will really add a rustic country look to your decorating.
From beautiful calendars to stars and so many wonderfully rustic signs, you are sure to find the perfect DIY Christmas projects to use up any old wood that you have on hand. You can make many of these with old pallets or if you have an old wooden door or some shutters on hand, you can use those as well. Reclaimed wood projects are among my favorites simply because they keep me from throwing things out. If I can keep something from the landfill, that's what I'm going to do.
All of these reclaimed wood projects will add lovely Christmas charm to your home and many of them are perfect for decorating the front porch as well. And, if you want to add some DIY Christmas decorations to the lawn, be sure to take a look at these 20 creative DIY outdoor Christmas decorations.
So, if you're ready to put that reclaimed wood to good use, let's get started making some wonderful Christmas decorations. Whether you plan to keep these yourself or give them away, they're fun and easy to make and perfect for that country Christmas look we all love.
1. How to Make a Rustic Christmas Snowman Decoration
Are you into rustic design trends and all things homespun and delightful? I sure am. I admit it—I fell head over heels for mason jars, burlap, sliding barn doors, and all other things rustic the moment it became a big deal. And I just know I'm going to have rustic décor in my life long after the trend goes away.
Tutorial/Source: DIY Rustic Snowmen Decorations
2. DIY boxed Lights
I love how simple this is. You just take an old crate – or build one out of reclaimed wood pieces – and then fill it with lights, ornaments and greenery. This would look on the front porch or anywhere near the front door. You could also sit it beside the fireplace to add to that warm, beautiful glow from the fire.
Tutorial/Source: unskinnyboppy
3. Rustic DIY Christmas Card Display
I love hanging up Christmas cards just as soon as I get them and I really love this rustic card display that you can easily make from an old pallet or some furring strips. You just attach the boards together and secure them with paint sticks. Then add burlap or twine and hang your cards rustic style from wooden clothespins.
Tutorial/Source: shanty-2-chic
4. Reclaimed Wood Ho Ho Ho Sign
How adorable is this Santa sign, complete with Ho Ho Ho at the bottom? It's also made from reclaimed wood and painted to resemble the Jolly Elf himself. It's perfect for the front door if you want something different than a holiday wreath or you could hang it anywhere in the house where you need a little extra holiday cheer. I found this little gem on Etsy and it's $25 and comes with the most adorable bow and bell!
Tutorial/Source: etsy.com
5. Upcycled Pallet JOY Sign
This lighted JOY sign can be made from an old pallet, or if you don't have a pallet on hand, you can use an old shelf or any other wooden planks that you have handy. The wood makes the backdrop and the letters are made from paper mache. You can complete this with homemade stockings for a beautiful mantel display that won't cost hardly anything considering it's a reclaimed wood project.
Tutorial/Source: uncommondesignsonline
6. Upcycled Twig Christmas Stars
Get out in the yard and start gathering those twigs. You can use them to create these adorable little Christmas stars to decorate your tree or mantel. These have such a wonderful rustic look and would be perfect for hanging on the tree. You tie them together with raffia that you can get in lovely Christmas colors and if you wanted, you could even string them up on your lights to adorn your tree.
Tutorial/Source: happyhooligans
7. Rustic Christmas Carol Mantel
This DIY mantel from an old pallet is definitely something you need in your Christmas decorating. From the "O Come Let Us Adore Him" to the beautiful image of the wise men on their way to the baby Jesus, it's just the perfect way to dress up any wall, particularly the one above your fireplace. Don't worry if you don't paint, you can find a template and print it off for the image. Then just fill it in with white acrylic paint.
Tutorial/Source: thekimsixfix
8. DIY Scrap Wood Stocking Hanger
You can use an old pallet, old shelves or just about any old scraps of wood to make this lovely stocking hanger. You'll need one board for each stocking that you need to hang or for each letter in Merry if you want to do the Merry Christmas hanger. You'll also need another scrap of wood for the back, to give the hanger support. Then paint and add white hooks, which you can screw into the wood so they're really sturdy.
Tutorial/Source: bec4-beyondthepicketfence
9. Reclaimed Wood Outdoor Christmas Tree
Old barn planks or pallets would be perfect for creating this DIY outdoor wooden Christmas tree. You toggle the boards to create the tree effect and then light it up. Sounds easy, right? It's really not at all difficult and it gives you a lovely rustic wooden tree for the front yard or porch. You don't even have to paint it unless you really want to and you can also add ornaments or evergreen if you really want to dress it up.
Tutorial/Source: hgtv.com
11. Christmas Tree Glitter Sign
I love signs, especially wooden signs and especially Christmas themed wooden signs. This one is so lovely and so easy to make. You'll need a few reclaimed boards or an old pallet to make it and then you just paint your glittery trees or other Christmas landscape or image with acrylic paint. Stencils make the painting so easy and these little trees have a sprinkling of clear or silver glitter, which gives them a great snowy appearance.
Tutorial/Source: ashadeofteal
12. Upcycled Santa Logs
Grab a few pieces of that wood that you have stacked up for the fireplace and make these adorable little Santa logs for the front porch. You just cut them even on the bottom so that they will stand up, angle the top and then paint on your Santa faces. Tie them all together with a colorful Christmas ribbon or some burlap and you have a wonderful decoration that won't cost you anything if you have the wood and paint on hand.
Tutorial/Source: smartgirlsdiy
13. Reclaimed Log Reindeer
If you have several trees, or a stack of firewood, you can easily create these little reindeer to decorate your yard or porch. Just assemble the logs and sticks to look like deer and then add in the facial features and maybe a ribbon or jingle bell around the neck. These are so adorable and much cheaper than those manufactured ones that you can buy in department stores.
14. Reclaimed Wood Tabletop Christmas Trees
Blocks of wood can be cut into lovely Christmas tree shapes and then painted to give you a beautiful display for a coffee table, mantel, or even to create a centerpiece for your dinner table. You can do these yourself, or take a look at this set that I found on Etsy. You get three trees, complete with painted on decorations and stars, for just $13.50.
Tutorial/Source: etsy.com
15. Reclaimed Window Shutter Decoration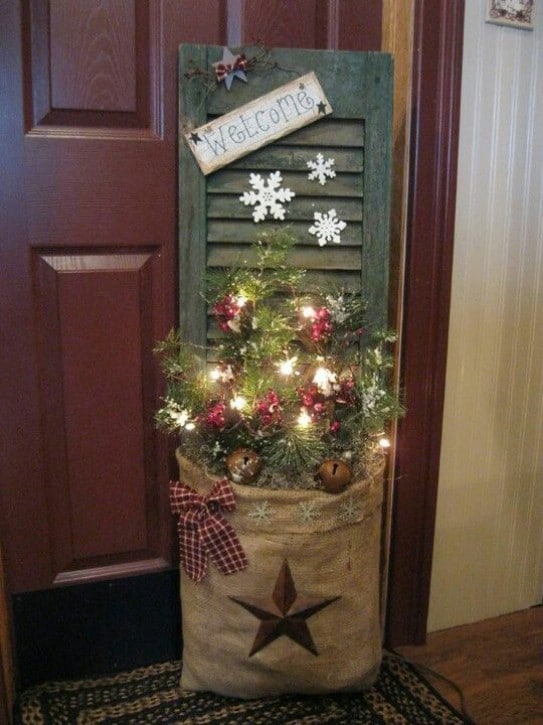 An old wooden shutter can be turned in to the perfect Christmas decoration with a little paint and a few smaller decorations. You can even use it to house a smaller version of your Christmas tree. Just add an old potato sack or create your own sack out of burlap and put your tree, in a pot if it's a real tree, inside the sack. Then light up the tree and add decorations all over your shutter.
16. DIY Upcycled Log Candle Holder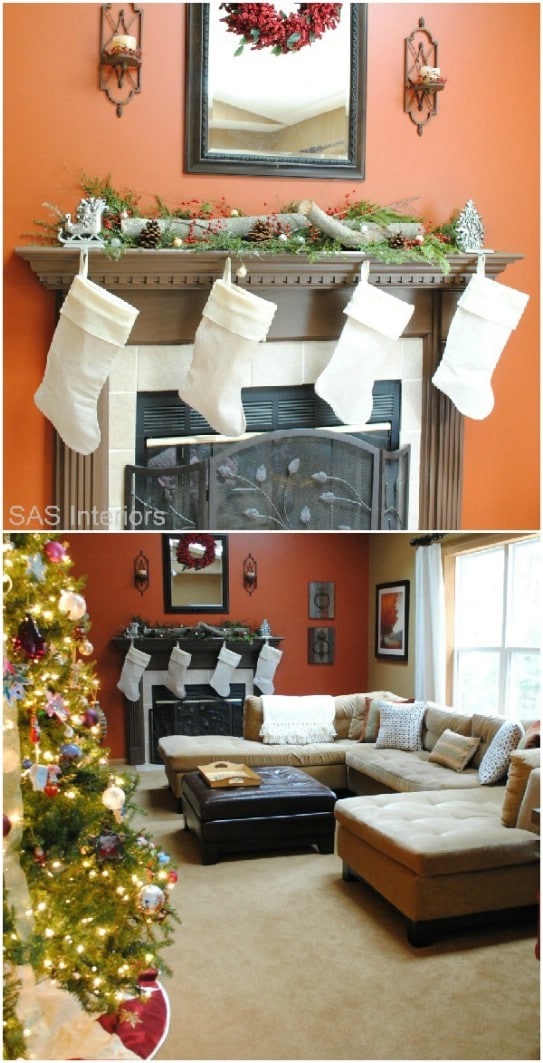 I've seen these log candle holders in department stores and they're not cheap. You can make one yourself for nothing if you have a small log and a little time on your hands. You just drill out the holes for your tealight candles and then decorate with plastic berries, evergreen or whatever you want. This is a great centerpiece for the dinner table or you can put it on the mantel.
Tutorial/Source: jennaburger
17. Reclaimed Wood Frame Lighted Gift Boxes
I love these lighted gift boxes, and honestly started to buy a set a few years ago but they're pretty expensive. And, they're not nearly as pretty as these that you can make yourself. You can use any type of reclaimed wood for these. You just build the base from wood, add the lights inside the boxes and then cover with thin fabric or shower curtains. These are great for the front porch and they're so much nicer than anything you can buy in a store.
Tutorial/Source: christmaslightsetc
18. Reclaimed Wood Shim Sign
Those old wood shims that you have on hand can be put to gorgeous use with this reindeer sign. I love the colorful sequins. If you really wanted to put some work into it, you could also drill out holes and use colorful glass stones to decorate, or leave it without the glittery sequins and add lights throughout. This is a really easy sign and you can get a template online that makes creating the reindeer head a cinch.
Tutorial/Source: bydawnnicole
19. Reclaimed Beam Snowmen
Take those old 2X4s or beams that you have laying around and turn them into this amazing little snowman family. These are so adorable and so easy to make. You just paint the beams to look like snowmen and then use fabric to create hats. Twine is great for decorating these rustic snowmen, as is burlap and any Christmas decorations that you may have on hand.
Tutorial/Source: lovelylittlesnippets
20. Upcycled Wooden Clothespin Snowmen
I love these little snowmen that are made from old fashioned wooden clothespins. If you can find those old clothespins, they make wonderful decorations and they sit right on the branches of your Christmas tree without the need for metal hangers. These look like cute little snowmen and have a wonderful rustic quality. You can get this set of three on Etsy for around $25.
Tutorial/Source: etsy.com
21. Primitive Upcycled Wooden Log Snowmen
You don't have to paint or otherwise decoration your reclaimed wood to get wonderful Christmas décor. These wooden log snowmen are made from pieces of log and they're just assembled to look like a snowman without all the paint and decorations. They are perfect for the porch and really give you that gorgeous rustic or primitive look.
Tutorial/Source: itallstartedwithpaint
22. DIY Rustic Wooden Christmas Candle Holders
These little log candle holders have such a wonderful rustic quality. You just hollow out the inside of a small log, just enough to place a votive or tealight candle in, and you're all done. You can wrap twine or ribbon around them or decorate with burlap if you want something really rustic. These may just be the easiest and least expensive candle holders you've ever seen and they are perfect for that country Christmas look.
Tutorial/Source: martysmusings
23. Reclaimed Wooden Star
This wooden star has a wonderful rustic quality and it's so easy to make. You can do this with that great weathered barn wood look if you have the boards on hand or paint it all one color if you want something a bit more contemporary. This would look beautiful above the mantel or you could do a smaller version for the front door. You could even add lights or other decorations if you want.
Tutorial/Source: unskinnyboppy
24. Reclaimed Table Leg Ornaments
Take those old wooden legs from chairs and tables and turn them into stunning vintage looking ornaments. You just paint and then maybe distress the legs and add string or twine for hanging. These are so easy and look so much like the old ornaments that my grandmother used to put on her tree every year. If you don't have any old wooden legs on hand, you can get these at any thrift store for less than a dollar each.
Tutorial/Source: debisdesigndiary
25. Upcycled Spindle Christmas Tree Art
Take old spindles from chairs or stairs and turn them into this gorgeous rustic Christmas tree. This one is super easy and it gives you a use for those old spindles…or you can pick up spindles for less than a dollar each at any thrift store. Paint your spindles all one color or different colors. This is a great project to customize however you want it. Just create your tree by putting longer spindles on the bottom and graduating them up to the top.
Tutorial/Source: countrydesignstyle
26. Reclaimed Pallet Advent Calendar
I don't typically hang an Advent calendar but if you do, this is a great one. You can make it from an old pallet, or any other wood planks that you may have on hand. The days of the month are marked of with tiny ornaments, stockings and other Christmas themed items. This one is so easy to make and is sure to add some lovely rustic charm to your Christmas decorating.
Tutorial/Source: thirstyfortea