The thought of farmhouses takes me back to my grandparent's at Christmas time. I love the look and feel of a down home country Christmas, and try to incorporate it into my own decorating as much as I can.
If you love rustic country too, I've got a treat for you. I've collected 25 different ways that you can incorporate a farmhouse look into your Christmas decorating.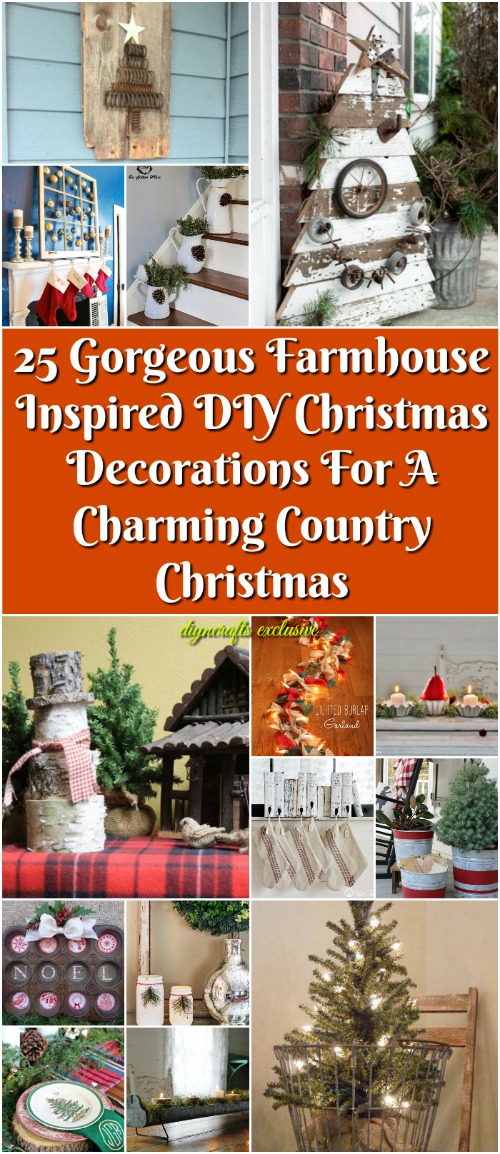 All of these farmhouse inspired Christmas decorations are easy to make, and many of them can probably be made with things that you have on hand at home already. If you don't have them, I promise the supplies won't cost much.
You can have that amazing farmhouse Christmas look without spending a fortune. While you're decorating, be sure to check out different ways you can decorate your outdoors with my 20 Impossibly Creative DIY Outdoor Christmas Decorations.
From sleighs and wreaths to mason jar crafts, you're sure to find the perfect farmhouse inspired DIY Christmas décor in this list. Speaking of mason jar crafts, be sure to check out how to easily tint a mason jar, you'll want that information for a couple of these projects.
Now, if you're ready, let's get started turning your home into a beautiful, comforting country Christmas getaway. Whether you're looking to spruce up the dinner table, or you want your entire home to have that farmhouse Christmas feel, you're going to love this collection!
1. DIY Snow Globe Jars
Vintage car ornaments make these DIY snow globe jars very retro, but you could use any old ornaments if you aren't into the car scene. You can pick up the jars at any Dollar Store for a dollar or two each and then just add the fake snow, maybe a tiny tree or two and your ornaments. You could also fill them with pinecones, burlap and other retro looking items.
Tutorial: lizmarieblog
2. Wire Basket Tree
This simple decoration is absolutely gorgeous. You just take a small tree, living or artificial, and place it inside a wire basket. Light it up with clear lights and it gives you that rustic farmhouse look instantly. This is honestly one of the easiest ways to bring the country look into your Christmas décor, and such an elegant statement it makes!
Tutorial: musingsfromafrenchcottage
3. Rustic Stairway Décor
I love the look of this vintage enamelware with sprigs of juniper. You can go outside and grab a few twigs from your evergreen tree if you have one. Not only do these look gorgeous, they smell fabulous as well. If you don't have vintage vases or pitchers, you can likely pick them up at a flea market or thrift store really cheap. The metal ones are absolutely perfect for that farmhouse look!
Tutorial: onsuttonplace
4. Vintage Candy Jars
So, these little jars can be picked up at the Dollar Tree (where everything is just a dollar, by the way). You can get the candies from the Dollar Tree or Dollar Store. The combination of rustic looking candy jars and the red and white stripes from the peppermint candies give you the perfect country Christmas look, don't you think?
Tutorial: farmhouse5540
5. DIY Burlap Bow
Ok, so no matter what you plan to decorate, adding this beautiful burlap bow will instantly give it a farmhouse look. I love everything burlap and this bow is perfect for the top of the tree or your front door wreath. Plus, it's really easy to make. You could make smaller versions and have them all over the house. Do a few in red and in traditional burlap brown.
Tutorial: thetiptoefairy
6. DIY Window Display
How gorgeous is this old window turned stocking holder? I love the ornaments hung in it, and it works as a stocking holder whether you have a fireplace or not. If you don't have a mantel, just hang it on the wall. It will still give the room that
rustic country look and you've got a unique way to hang stockings! Just grab an old window and get started.
Tutorial: davidandcarolineparker
7. Painted Mason Jar Centerpiece
Nothing says farmhouse décor quite as much as a mason jar. If you have a few on hand, you can create this gorgeous centerpiece for the dining room table. Just paint the jars, red, white, or a combination of the two, and add candles. I love the striped peppermint look. This is a really easy project that will take you about an hour to complete, and leave your table looking welcoming and festive.
Tutorial: thefrugalhomemaker
8. Lighted Burlap Garland
Burlap on its own is very rustic country looking. When you add clear Christmas lights, you get the most farmhouse inspired lighted garland possible. You'll need red, green, and natural burlap ribbon. If you can't find the ribbon, or just prefer doing it all yourself, you can cut strips from burlap. Then just tie the ribbons around your clear Christmas lights and you have a very country light string to grace the mantel, porch, or anywhere you want to hang it.
Tutorial: createcraftlove
9. Ornament Filled Lanterns
When I was at the Dollar Store last week, I noticed they have these old fashioned lanterns for less than $10. These are great for filling with ornaments and giving your entryway or mantel a very farmhouse décor look. You can paint and distress the lanterns to make them look more authentic and even add a taper candle or whatever other decorations you want. Some greenery and ribbon on top and you're all set.
Tutorial: dimplesandtangles
10. Mason Jar Luminaries
Here's another great way to use mason jars in your farmhouse decorating. Paint the jars white, add some festive ribbon or greenery and a tealight candle and use them to light up your staircase. You can actually use these anywhere, tables, mantles, or wherever you want to add a bit of country Christmas to your décor. They're easy to make and are actually wonderful to give out as gifts, as well.
Tutorial: maisondepax
11. Vintage Striped Galvanized Buckets
These galvanized buckets really scream country Christmas. I love the look for farmhouse decorating! If you don't have a bucket or two, you can pick them up at most flea markets or get a newer version at a home décor store and distress it a bit. Paint a red stripe, or you can use red duct tape if you prefer. You could even create the red stripe with red burlap, then just add greenery, candles, or whatever you want to give it a festive look.
Tutorial: uncommondesignsonline
12. Christmas Tree Sleigh
This is such a beautiful look with the sleigh and trees! It's an easy make, too. The old fashioned sleigh is made of vintage table legs and a box that you'll paint red, and filled with miniature Christmas trees. Burlap coffee sacks bundle the trees, which give it even more of a farmhouse look. I love the simplicity of this idea and it's just gorgeous when it all comes together.
Tutorial: rustyhinge
13. Cinnamon Napkin Decorations
Linen napkins, or you can use burlap, too if you want, are decorated perfectly for the holidays with a cinnamon stick and just a sprig of evergreen. This may be one of the easiest ways to bring some farmhouse décor into your Christmas decorating, and one of the most elegant. Not only do the napkins give off that wonderful country Christmas vibe, they'll make your whole table smell amazing.
14. Apron Display
I love this Christmas apron display. The tin above it with pinecones just sets it all off. The old fashioned Christmas aprons really take you back to your grandparent's farmhouse, don't they? If you don't have Christmas themed aprons, you can buy them pretty cheap or just make them yourself. The overall look is great for the kitchen or back entryway.
Tutorial: thatissovintageohmy
15. Rustic Snowman
I found this little rustic snowman on Etsy, and he's just too perfect for a farmhouse Christmas look. You could probably make him pretty easily. It's simply rounds of wood stacked on top of each other and topped off with a little scarf and hat. The scarf is red gingham and the hat is a darker round of wood with a wood disc under it to create the lip. This is the most adorable little snowman ever, and you can make him with wood pieces that are probably right outside your door!
Available on: etsy
16. Ladder Christmas Tree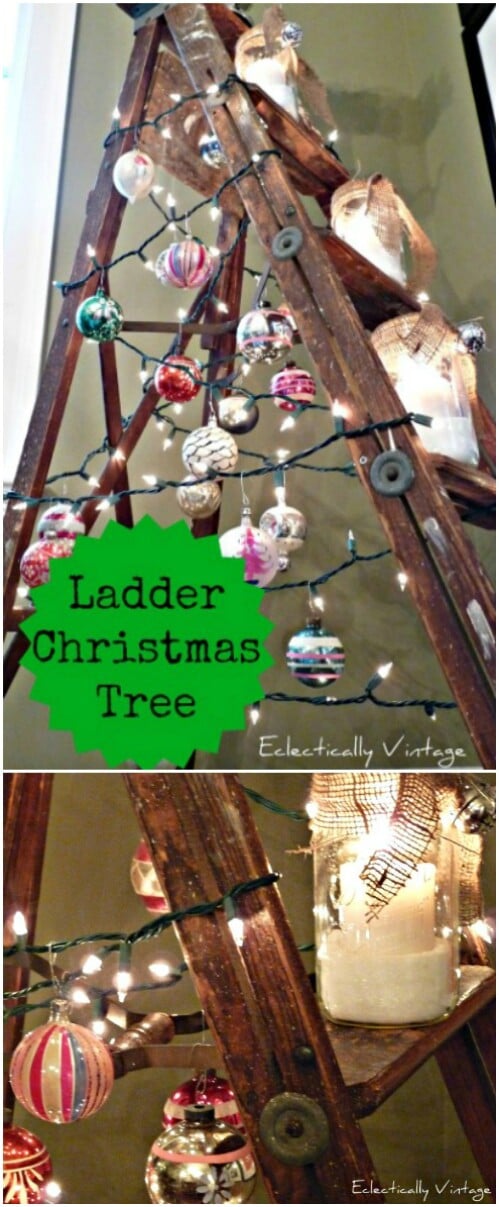 While you may not want to make this ladder Christmas tree the only decorated tree in your home this Christmas, it is a great way to bring in some country vibes. This would be perfect in the dining room or anywhere you want to add a little rustic look to your décor. An old wooden ladder and a few strategically placed ornaments later, and you've got the perfect farmhouse tree to add to your country Christmas look.
Tutorial: kellyelko
17. Repurposed Candle Holder Centerpiece
An old chicken feeder makes a great centerpiece when you add just a few decorations. I mean, if you're going for the farmhouse Christmas look, what could possibly be better than an actual chicken feeder? This metal feeder gets dressed up with some evergreen twigs, clay pots, and a few votive candles, making it a beautiful centerpiece. You could also add a few pinecones and maybe a small burlap ribbon or two.
Tutorial: knickoftime
18. Repurposed Muffin Tin
This muffin tin turned Christmas decoration is one of the most country farmhouse things ever. Whether you hang it in the kitchen, dining room, or living room, it's sure to spark conversation. Take those old rusty muffin tins and put them to good use in your farmhouse decorating! Just paint a Christmas message or scene and add ribbon, garland, or any other festive touch.
Tutorial: createandshow
19. Christmas Book Stocking Holder
Here's another great stocking holder idea. This one utilizes old books, Christmas books preferably, which are painted white. You just have to add coat hooks to hold your stockings. It's a bit more complicated than that actually, but still well worth the effort. You don't even have to find or use copies of old Christmas books. You can make the labels for the books yourself and use any old books that you have on hand.
Tutorial: knickoftime
20. Bedspring Christmas Tree
The thing about farmhouse decorating is you use what you have. This bedspring Christmas tree perfectly fits that mantra. It's made by attaching bedsprings to a board and then just adding the star at top. What a simple and great project! Kids will absolutely adore helping with this one and if you don't have any bedsprings to use, you can probably find them at any junk store.
Tutorial: organizedclutter
21. Farmhouse Chair Planter
What better way to decorate farmhouse style than by using an old farmhouse chair? This chair turned planter is gorgeous and not terribly difficult to make. You will need an old wooden chair, which you can pick up at most flea markets or thrift stores if you don't have one on hand. The gist of the project is painting the chair and then you just add decorations and a beautiful poinsettia and you're all set.
Tutorial: leewismer
22. Bundt Pan Wreath
I have a rusted bundt pan that I plan to turn into this gorgeous farmhouse inspired wreath! It's such an easy project. You just need a bundt pan and some white and red paint. It's the perfect wreath for the kitchen door and so very easy to create. I love how it incorporates Christmas baking and decorating into one gorgeous project!
Tutorial: deniseonawhim
23. Rustic Country Stockings
These farmhouse looking stockings would be easy to make, even if you don't typically sew a lot. You can use gingham, burlap, or any other country type material and then just fashion your stockings for each person in your house. Add decorations like vintage buttons to really give them a country look.
Tutorial: antiquefarmhouse
24. Farmhouse Front Porch
So this is more a collection of ideas as opposed to a single project, but they're easy to incorporate ideas and they will turn your front porch into a country lover's dream. A couple of white porch chairs, a metal bowl with pinecones, evergreen, and maybe a few sprigs of cranberries, and a throw in reds and blacks will give you the perfect farmhouse front porch.
Tutorial: onsuttonplace
25. Reclaimed Wood Christmas Tree
This gorgeous tree is made from old wood planks, or you could use up some of those pallets that you've got on hand for projects. You just form the tree with the wood and then maybe give it a distressed look. Add a few pinecones and other rustic decorations and put it on the porch or in the front yard to give your outdoors that farmhouse look, too.
Tutorial: funkyjunkinteriors