I just love decorating this time of year. Christmas decorating is honestly my favorite way to spend my time and since it's really close to the holidays,
I have started looking for new ways to decorate. I noticed recently that there are so many evergreen trees outside my house…which made me wonder about how I could incorporate that beautiful greenery into my Christmas decorating. Evergreen is after all the perfect holiday decorating material, right?
So, I started thinking about everything that you can make with evergreen sprigs and branches and I started looking around and found 20 of the most creative ways to use those evergreen trees in my Christmas decorating. From centerpieces to mini wreaths, there is a beautiful DIY evergreen decoration in here for every room in the house!
Even if you don't typically use fresh materials in your decorating, I suggest you take a look at these. While you are at it, be sure to have a look at these 25 reclaimed wood Christmas decorations, too. They will help you to get that great rustic Christmas look.
Whether you are looking for a way to dress up the dining room with chair decorations or you want something to put by the entry to give a warm and welcoming feel the instant someone walks through your door, you're going to find a wonderful evergreen decoration that suits those needs.
I love using fresh evergreen and in fact, have a homemade "tree" on my front porch right now. You can also those evergreen sprigs and create some of the most gorgeous DIY Christmas decorations. And, you want to be sure to read my 12 Christmas organization tips that will definitely get you through the holidays stress-free.
1. How to Make a Rustic Aromatic Christmas Tree Ornament
Love the smell of the holidays? If you are looking for a fun and easy craft project to fill your home with the scent of Christmas, check out our new exclusive video. We'll teach you how to make a rustic Christmas tree ornament which looks beautiful and smells amazing.
Tutorial/Source: Rustic Christmas Tree Ornament
2. Easy DIY Evergreen Christmas Centerpiece
This evergreen centerpiece is gorgeous and it's really easy to make. You can even incorporate those pinecones into it to give it a really festive look. You have to love DIY pinecone crafts, especially if you have as many in your yard as I do. You'll need a few supplies like chicken wire and floral foam as well as your decorative elements like ribbon, pinecones, candles and even small ornaments if you want to add them.
Tutorial/Source: celebrateanddecorate
3. Fresh Evergreen Holiday Door Swag
Here is another beautiful door swag that you can throw together really quickly. Take all of those fresh evergreen sprigs that you have on hand and bundle them with ribbon and small ornaments to create a beautiful and custom door swag that will stay fresh for weeks. You can do any color that you want and even add in other decorative elements like pinecones or holly berries.
Tutorial/Source: goodhousekeeping
4. Easy DIY Holiday Evergreen Ornament
You can find fillable Christmas ornaments at the Dollar Store or Dollar Tree for about a dollar each. Take those ornaments and turn them into the most beautiful rustic looking decorations with small sections of your evergreen sprigs. Throw in holly berries or other colors for a really festive look.
Tutorial/Source: bhg
5. Fun And Festive Holiday Kissing Ball
You know you want to make your own kissing ball for the holidays. Remember when you used to hang mistletoe? This is the same thing only a bit more decorative and it's made from those fresh evergreen sprigs. You can decorate your kissing ball however you like with ribbons and even lights if you prefer. You need a Styrofoam ball for this one and then whatever you want to use to decorate it.
Tutorial/Source: viewalongtheway
6. Simple Evergreen Cake Plate Decoration
Sometimes it's just where you add those decorative elements that make all the difference in how your home looks for the holidays. Take this simple cake plate decoration for instance. You can literally do this in less than five minutes and it makes such a beautifully festive statement. If you don't have a tiered cake place, you can make one or just use a regular plate with candles and ornaments.
Tutorial/Source: 12thandwhite
7. Mini DIY Evergreen Wreaths
I love making my own DIY Christmas wreath. I always have a fresh wreath hanging on my door. This project entails mini wreaths that you can make out of your evergreen sprigs and then hang them throughout your house. These are so easy to make and are really easy to customize by just adding in ornaments, ribbons or anything else that you want to embellish them.
Tutorial/Source: marthastewart
8. DIY Evergreen Christmas Trees
You can take those evergreen branches and sprigs and create your own mini Christmas trees to decorate the mantel or dining room table. These little trees are super easy to make and you don't need anything except a holder of some sort, evergreen sprigs and whatever decorations you want to include.
Tutorial/Source: tatertotsandjello
9. Handmade Evergreen Garland
Instead of buying cheap and fake looking garland, why not use those pine trees and make your own? This is really a much simpler project than it looks and it gives you a beautiful fresh garland that you can hang on the staircase or mantel. You could even add clear lights and make it a lighted garland! You're going to need quite a few branches for this one, depending on how long and thick you want your garland to be.
Tutorial/Source: craftthyme
10. DIY Fresh Evergreen Wreaths
You don't have to go out and buy a Christmas wreath. If you have the evergreen on hand, you can make it yourself and it's a pretty simple process. Making your own wreath is great – it gives you the chance to show off your creative side and you can customize it however you want. Decorate with berries, pinecones, ornaments or spray your homemade evergreen wreath with fake snow.
Tutorial/Source: bobvila
11. DIY Evergreen Gift Tags
You don't necessarily have to decorate with evergreen to use it for your holiday decorations. You can take sprigs and attach them to homemade gift tags and really make your gifts stand out. I love DIY holiday gift tags and these with evergreen sprigs are among my favorites. They are so simple to make and they really do add that extra special touch to all of your holiday gifts.
Tutorial/Source: heatherbullard
12. Simmering Evergreen Potpourri
This DIY evergreen project not only looks beautiful but it gives your home a wonderful Christmas scent. If you have never made DIY simmering potpourri, you're in for a real treat. This is an easy project to do and it only takes a few minutes. Plus, you will have the scent of evergreen and cinnamon wafting through your home…perfect for the holidays.
Tutorial/Source: make-haus
13. DIY Evergreen Table Runner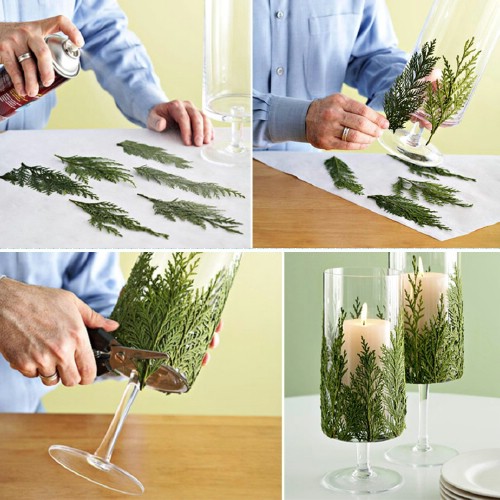 Why not decorate your entire table with evergreen? This lighted table runner is absolutely stunning and it's pretty simple to make. You light it up with clear or colored Christmas lights – your choice – and use chicken wire or something similar to form the shape. This may take you a few hours, depending on the size and the amount of decoration that you want, but it's definitely worth the extra time.
Tutorial/Source: https://www.youtube.com/watch?v=vBZrPfFvUGY
14. DIY Festive Evergreen Candle Holder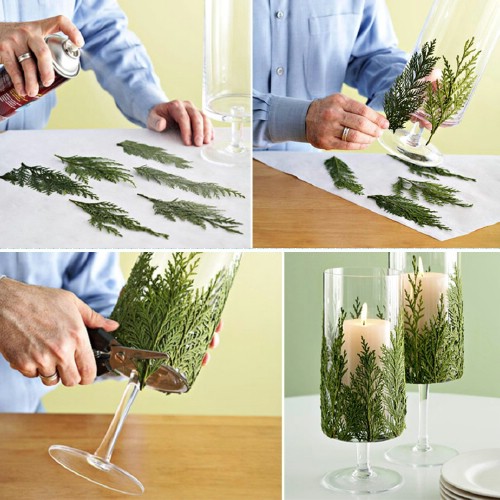 Turn those fresh evergreen sprigs into the most beautiful holiday candle holders and all with just a few supplies and less than an hour of work. You can use any glass candle holder for this project – the Dollar Store has several right now that are perfect…and really cheap. This is a beautiful look for an entryway or you could turn the candle holders into a gorgeous DIY holiday centerpiece. It's really easy to turn everyday things into festive DIY Christmas centerpieces.
Tutorial/Source: handimania
15. Decorative Holiday Goblets With Evergreen Sprigs
Again, you don't have to have a lot of decorative things on hand to really make your home look festive for the holidays. Decorating can be as simple as just tossing some evergreen sprigs into a few goblets, wine glasses or even holiday themed coffee mugs. Just sit these around the house wherever you want to add a bit of extra Christmas joy.
Tutorial/Source: lantlivinorregrd
16. DIY Fake Garland Helper
Use sprigs from your evergreen trees to make your fake garland look fuller. You could also extend the length if you need to by adding a few fresh sprigs to the ends of your fake garland. Not only does this help you with your decorating, the differing colors of the evergreen give your garland a beautifully natural look. You could even do this with your fake Christmas tree to make it look much fuller.
Tutorial/Source: thekimsixfix
17. DIY Christmas Evergreen Star
Turn those evergreen sprigs into a beautiful Christmas star that you can hang indoors or out. This one is really simple and it lets you use up so many evergreen sprigs, depending of course on how thick and large you want your star. You could also decorate this one with ribbon, berries or ornaments or leave it plain. It's gorgeous all on its own.
Tutorial/Source: those--who--danced
18. Lighted Hanging Evergreen Basket
You can buy these hanging baskets that are filled with evergreen at department stores and they will probably run you more than $30 each. Or, you could simply make this one yourself. You just need a hanging basket, some evergreen sprigs, holly berries, ribbon and clear Christmas lights. You could even add small ornaments and pinecones if you wanted. These would be so simple to make and it will save you a fortune over buying them in a store.
Tutorial/Source: pinterest
19. Gorgeous DIY Front Porch Evergreen Display
You can turn a few sprigs of evergreen and some outdoor decorations into a beautiful holiday display by your front door. Just fill a planter with evergreen sprigs and then decorate however you want. I love the look of this one – it's so warm and welcoming and depending on how many evergreen trees you have, you could literally decorate your entire porch with these.
Tutorial/Source: whatroseknows
20. Repurposed Embroidery Hoop Evergreen Dream Catcher
An embroidery hoop, some ribbon and a few evergreen sprigs give you the makings of a gorgeous holiday inspired dream catcher. These are beautiful when you hang them in the windows and they are really easy to make. If you don't have an old embroidery hoop, you can often find them at thrift stores for less than a dollar each or compromise and use something similarly round and thin – like a hollowed out coffee can lid. There are amazing ways that you can upcycle empty coffee cans!
Tutorial/Source: hgtv
21. DIY Evergreen Door Décor
If you don't have a wreath on your front door, this evergreen door sign decoration is the perfect way to show off your holiday spirit. It's a simple door swag with a hand painted sign and you can put any message that you want on the sign. I do love the Silent Night message but you can do anything that you feel like conveying to your guests.
Tutorial/Source: thatsmyletter