The right centerpiece is actually a bit harder to make than people might initially anticipate: it shouldn't be too bulky and take up too much of the table, it needs to be appropriate within the theme without going overboard, and it can't be too tall as it will obstruct people's views of each other, making it hard to actually have some good conversation.
I've rounded up some fantastic ideas and tutorials that, in general, won't take too long to make. More importantly, though, these projects are frugal; we know how the bank balance suffers during this time, so you really shouldn't be spending too much when you can get your hands dirty yourself.
Ornament Vases
This is so easy and cheap it's almost criminal; and it's just so damn Christmassy! Simply recycle your old ball ornaments (they've run their course, anyway) and use them as mini vases. We think a whole line all the way down the table would look amazing.
DIY Instructions and Project Credit – MammaPaperaIt
Cranberry Freshness
With some Epsom salts, fresh cranberries and some leafy greenness from your very own garden, you can construct a stunning centerpiece that isn't too in-you-face Christmassy, but that does the job so very well.
DIY Instructions and Project Credit – MadiganMade
Simple Candle Box
I love the simplicity of this centerpiece; it's rustic yet elegant, and rather easy to make – even the box itself! And once you're festive and delicious dinner is over, you'll be surprised at all the other options and ideas you'll have for your handmade box.
DIY Instructions and Project Credit – TheIdeaRoom
Snowy Wreath
Once everyone's stomachs are full and everyone is peacefully tucked into their beds, Christmas will be over and there'll be no need for that wreath, so you might as well put it to good use for the final home stretch. If you don't have fake snow, you can simply use white or silver spray paint for pretty much the same effect.
DIY Instructions and Project Credit – TheApronBlog
Tree Candles
These candles are both elegant and whimsical, and they really are so cute and Christmassy. Remember, you don't want too much height I the middle of the table, so if they look like they'll be in the way just cut them down to size and use short candle holders.
DIY Instructions and Project Credit – MarthaStewartWeddings
Mercury Glass
Mercury glass looks so incredibly elegant thanks to its vintage style. As we know, though, vintage costs a pretty penny! I've got two methods for you to achieve this look at home: spray paint or gold and silver leaf. Apply it to vases, bowls or candlesticks to create a dazzling centerpiece.
DIY Instructions and Project Credit – ThisOldHouse and HGTV
Floating Apples
For a modern and minimalist table setting, this floating candle and cranberry combination is absolutely perfect. You can use one large low bowl or, if your table isn't quite big enough, a selection of smaller, different sized bowls will look just as good. As they say, variety is the spice of life!
DIY Instructions and Project Credit – TheGardener'sEden
Candy Cane Vase
So this is possibly one of the cutest and most ingenious festive vase ideas I've seen in a while. And of course, the fact that it's really affordable and uncomplicated to make just makes us love it so much more. You almost don't even need to add flowers because the vase stands on its own.
DIY Instructions and Project Credit – LivingWellSpendingLess
Glitter Vases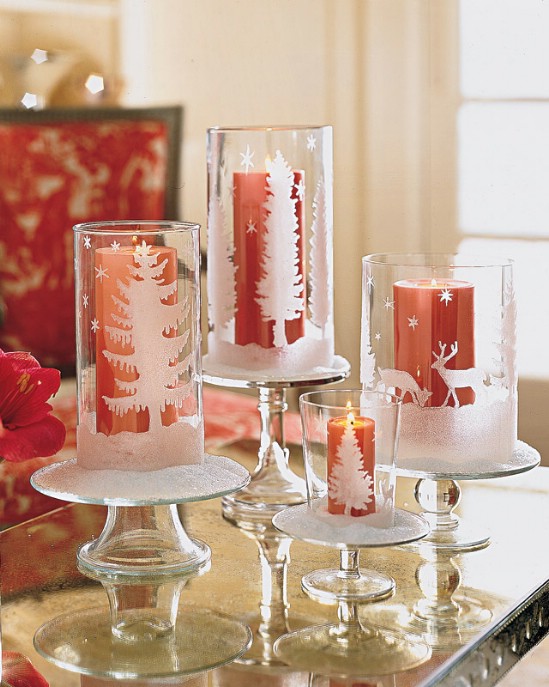 You must have seen these types of candleholders in stores, but you can actually make them yourself with any plain vases or glasses. With the help of a printable template, you, too can have these beautiful, glittery reindeer and trees. Then it's up to you to fill the glasses with candles, flowers, dyed water…. Whatever!
DIY Instructions and Project Credit – MarthaStewart
Layered Centerpiece
I love this one because it is just so classic; the grapevine wreath, red berries, evergreen greenery and pinecones are what a traditional Christmas is all about. Oh, and did we mention that it won't even take more than 15 minutes to make?
DIY Instructions and Project Credit – HGTV
Pinecone Display
Here's another one that keeps with the traditional theme and only requires a few minutes of your precious time. You could even add a little spray of white spray pain on the pinecones to give them that snow-kissed look.
DIY Instructions and Project Credit – JuliaBlanner
Sequined Christmas Trees
These little trees are so cute and fun, and so easy and affordable to make. All you need is some cardstock, glue and a variety of sequins to dress up your dinner table.
DIY Instructions and Project Credit – MarthaStewart
Wine Glass Wonder
So what do you really need to make a quick but effective holiday centerpiece? A few upside-down wine glasses, ball ornaments and candles. Yep, it's that simple! You can play around with this idea to display anything in your makeshift glass dome.
DIY Instructions and Project Credit – AsLongAsIt'sFancy
DIY Cloches
These cloches are easy to throw together using a variety of glasses or jars that you'll probably have at home. You also don't necessarily have to go out to find cute little figurines to put inside – the photo idea is really clever and gives it a nice personal touch. If you're having your family over, for example, some photos of your previous Christmases together could really turn up the nostalgia.
DIY Instructions and Project Credit – CountryLiving
Hanging Ornament Display
I really love the uniqueness of this display; it takes a little bit of labor, but nothing too hectic! This charming centerpiece makes for a great focal point, and you can simply pick out some of your own favorite ornaments to dangle from your handmade frame which you can even paint to match your table settings. The bonus about this one is that it can be tall if you want, since it doesn't really obstruct your views of the dinner guests sitting opposite each other.
DIY Instructions and Project Credit – Shanty2Chic
Christmas Scene
You can create some adorable scenes in mason jars of varying sizes to scatter across the table; you don't really need to buy that many supplies because you can really create whatever you want – a bit of fake snow will make any compilation look festive.
DIY Instructions and Project Credit – RhonnaDesigns
Topiary Trees
Bust out some wine glasses and champagne flutes for one our easiest table decorations; all you have to do it cut our cone shapes from some pretty scrapbooking paper and rest them on the glasses for these adorable modern topiary trees.
DIY Instructions and Project Credit – MadiganMade
Mini Lamp Shades
Here's a final genius wine glass creation that is just too cute! The lampshade template, making it super easy, and from there you can decorate them as you wish, or keep them neutral. Luckily there's room here for your own creative flair.
DIY Instructions and Project Credit – PopSugar
Fringed Trees
These burlap-wrapped cones make for fantastic rustic looking little Christmas trees. Of course, you could paint the burlap in reds or greens or whatever suits your table, but we quite like the neutral fabric as it is.
DIY Instructions and Project Credit – DIYNetwork
Rudolph Vase
I love the creativity and whimsical elegance of this one (who would have thought that whimsical and elegant could go together?). Now, we realize that we've warned you about anything standing too tall in the middle of your table, and we also realize that by definition, a centerpiece should sit in the center of your table… But this one is just too awesome to pass up, so I'd suggest putting on the side if one of the ends of the table is unoccupied.
DIY Instructions and Project Credit – CherylStyle