I know Christmas is all about traditions, but breaking those age-old traditions or starting new ones is never a bad thing. Maybe you're in between travelling or moving, and setting up a whole darn tree is just too much effort for what it's worth; maybe your apartment just doesn't have the kind of space that a big, bushy, messy tree requires; maybe your delightful yet destructive pets have changed your perspective on having a big tree in the house; or maybe you just feel like something different this year. Whatever your reasoning, if you're keen to explore the world of a tree-less Christmas, then here's some fine inspiration to get those wheels turning.
How to DIY a Miniature Christmas Tree Decoration
Want to discover how you can make a miniature Christmas tree out of cheap supplies following a few easy steps? Watch our exclusive video to learn how to create one of these lovely little trees for your own home. They make wonderful gifts as well, so plan to make one for yourself and one for a friend!
DIY Instructions: How to DIY a Miniature Christmas Tree
How to Make a Gorgeous Christmas Tree Out of Pinecones
Ready to make some rustic crafts to bring in the holiday season? This tutorial teaches you how you can make a miniature Christmas tree using some pinecones from a real tree. Check out our video and written step-by-step instructions to get started making this project now.
DIY Instructions: DIY Christmas Tree Out of Pinecones
Foam Core Tree
If you're in the market for something sleek and modern, then this might just be the winner for you. The tutorial includes a really helpful template so that all you have to do is print and slice. Of course, you can use a different material and coloring, but to me, that wintery wonderland white is just perfect.
DIY Instructions: StudioDIY
Floating Ornament Tree
This clever ornament mobile is ideal for those of you who have limited space, but still want something truly festive and beautiful. The floating effect is simply magical! This idea also makes room for your own bouts of creativity, for example, adding in some lights, mixing up colors and ornament types, or actually placing items inside the clear ornaments.
DIY Instructions: NotMartha and NotMartha(tutorial)
Wrapping Paper Tree
I love this idea because it's so simple yet so striking. If you want to make this on a much larger scale, don't feel bound by wrapping paper – you can use practically any kind of paper (e.g. newspaper, old magazine pages) and paint it however you wish.
DIY Instructions: ALittleTipsy
Wooden Tree
So you may have decided to opt out of the traditional tree, but that's not to say that you can't still use wood to construct something amazing. Here are two clever ways to use deconstructed natural elements to build up a new version of their original state.
DIY Instructions: Lalole and Etsy Rustic Christmas Tree
Mannequin Tree Dresses
This is a creatively unique concept coming from Grillo Designs. She collected these mannequin dresses from her up-cycling Facebook group.
DIY Instructions: Grillo Designs
Newspaper Tree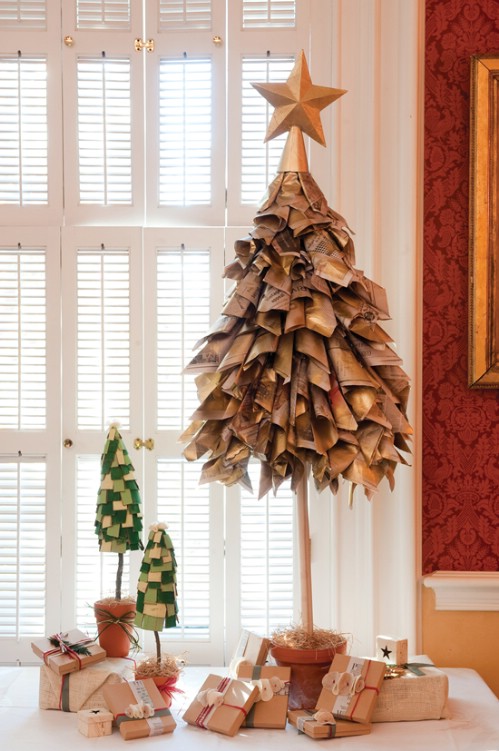 I always tend to keep old newspapers because I can get a lot of use out of them, like wrapping my unripe avos or placing them down as tarp when I know I'm going to make a creative mess. So I'm a big fan of this recycled tree, especially since it came out looking so luscious and bushy!
DIY Instructions: MotherEarthLiving
Tomato Cage Trees
I'm sure all you gardeners must have, at some point, noticed that upside-down tomato cages give you that tree-like triangular shape, right? So all that's really left for you to do is to embellish it with lights, tinsel, ornaments, or whatever else you have around the house.
DIY Instructions: NEDC
Christmas Card Tree
I know that for some of you, sending or receiving Christmas cards may be obsolete, but I have a rather sizeable stash of cards that have been given to me over the years, and I know I'm not alone. Arranging your cards in the typical tree shape is not only a novel idea that looks great, but it serves as a wonderful tree of memories, giving you the opportunity to read through them and reminisce.
DIY Instructions: Homelife
Washi Tape Tree
Washi tape is fantastic to decorate with because it gives you a lot of freedom for creativity and is perfect for temporary designs. And with all the interesting colors and patterns, you can go all out, or keep it as simple as you want.
DIY Instructions: Nalle'sHouse and HomeyOhMy
Chalkboard Drawing
Chalkboard paint has become extremely popular in the use of homes, so if you're one of those lucky and clever homeowners who's been wise enough to cover a wall, go ahead and use it as your blank canvas for a bit of free-hand drawing!
DIY Instructions: ALeggUp
Felt Circle Tree
This tree may be a bit on the small side, but you can certainly just enlarge the whole thing if you want more of a show-stopper. I just love how the felt circles give such an interesting texture to the design, yet it still has that minimalist appeal.
DIY Instructions: PapierValise
Plank Tree
If you're into carpentry and using reclaimed wood in interesting ways (yay for upcycling!), then here are two fantastic options for you. I absolutely love the use of the materials here (pallet wood is also an option), and with all that effort and hard work, these just may become your new traditional trees!
DIY Instructions: Christmaholic(1) and Christmaholic(2)
String Lights Tree
This one is an oldie but a goodie; what's more Christmassy than string lights, right? There's no tutorial needed for this one, since it's fairly obvious what you need to do just by looking at the picture. And thankfully, it won't take too much time to set up.
DIY Instructions: AMerryMishap
Kiddies Felt Tree
This one is a lot of fun for the kids, since they can attach their own little ornaments as they wish. It's not too much of a hassle to set up and decorate, either.
DIY Instructions: ICanTeachMyChild
Screen Door Ornament Tree
Attaching ornaments to a screen door in a triangular shape? Genius! This brilliant creation gives you all the jolliness and color of a traditional tree thanks to all the ornaments, just without the actual tree part.
DIY Instructions: SoIntoVintage
Wrapped Cones
We're back to the minimalist approach, which I'm really enjoying, I must say. These specific examples are quite small, so I guess that they're just to be used as little decorative pieces around the house, but there's no reason why you can't get bigger sheets of poster board to make a big ol' tree for all the presents. I really love the freedom of this project – with a blank cone comes the opportunity to do pretty much whatever you want!
DIY Instructions: TheCreativityExchange