Fun Christmas ornaments are a must as part of my holiday decoration. Over the years, I learned to avoid real candles though due to the fire hazards. In their place, these simple Santa and Snowman tea light candles are perfect for lighting up a room or tree without the danger! Ready in minutes, these are a perfect holiday craft!
If you like displaying candles, then make this Christmas candle holder made out of a wine glass!
Snowman & Santa Christmas Ornaments
Truly - look how absolutely adorable these candles ornaments are! They are a perfect way to add some whimsy to the holidays I, especially, love that my kids can get involved in making these with me. From glue and glitter to ribbons, it's simple to add character to this craft idea! If you are like me at all, you likely already have most of these supplies in your craft box or room in your home.
Add these to a gift basket or bag for friends during the holidays as a special addition to their gift. It's so inexpensive and easy, you'll love including them in all of your gifts. If making a gift basket, be sure to turn a sock filled with rice into a Scandanavian Christmas gnome to go in the basket as well!
How Should I Display These Fun Ornaments?
I tried to show you in the pictures some different display ideas for these Christmas decorations. Since they are safer than regular candles, you can add them to your tree with no guilt or concern. I also like adding to the mantle, adding to a wall with a thumbtack or some sticky putty that comes off the wall safely. I also love sitting them next to these Christmas trees made out of pinecones. So rustic and adorable.
You can tape them to the top of presents, sit them inside a gift basket, or even add to the top of a bottle of wine you are gifting to a friend! I love adding that to a basket with one of these rustic thread snowman crafts. If you have time, make this easy mason jar lid snowman ornament to add to the mix for another unique snowman decoration idea.
Where Can I Find Battery Operated Candles?
My favorite thing about these led candle ornaments is that you'll use battery-operated candles at my local dollar store in packages of six for just $1! You can also find them in large boxes at your local craft stores, Walmart, Target, or even online when shopping on Amazon for a good price. These are super affordable and easy to find.
Another inexpensive idea is to make a snowman out of plastic cups for your mantle or even your front porch! They look great next to this snowman made out of a flower pot!
Can I Make Other Holiday Characters using Led Tealight Candles?
Of course, you can! I love the Snowman and Santa look, but you can add other designs if you prefer. The idea of brown ears for a reindeer or even a green hat for a Santa's elf sounds great. You could even turn one into a Grinch or the Jack Skellington from Nightmare Before Christmas - even though it is technically a Halloween character, it definitely overlaps into the holiday theme.
Need more ideas for decorating? Make this rustic snowman decoration to sit on your mantle alongside these easy rustic Christmas Santa decorations! Another favorite is these snowman porch decorations that fit on your porch support beams.
Supplies Needed
Battery-Operated Tealight Candles
Red pom poms
Black foam board
Purple glitter foam, ribbon, or pipe cleaner
Red satin ribbon
Black marker
Scissors
Hot glue gun and glue
How to Make Led Tealight Candles Look like a Snowman & Santa
For this craft, I like to gather my supplies and look in my scrap crafting items for a few odds and ends that might look good on this project. The purple glitter foam piece I added to the snowman candle is a great example of a small piece I was able to use that was leftover from a past craft.
The first step to making your candles is to draw and cut out a simple black snowman hat out of the black foam piece.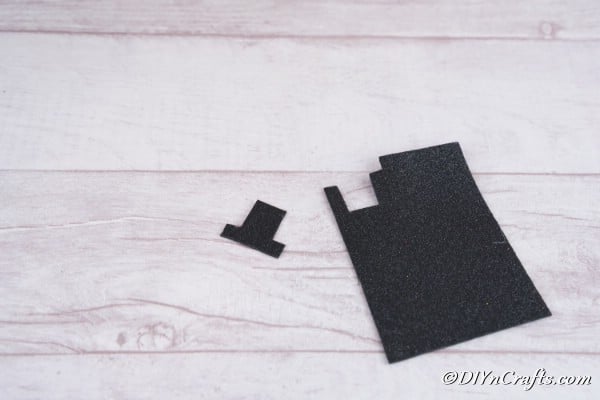 Next, you will find an alternate color (like the purple I chose) and add to the brim of the hat to look like a ribbon on the tophat.
Using your black permanent marker, you will draw a simple smile and eyes on the top of the candle. This makes the flame be the nose in the center.
Glue the hat to the front of the candle just above the plastic flame.
You will need to make a bow for each of the candles now. I use a simple ribbon, cut to length I want, and then tie into a bow to glue on both of the candles when ready.
Glue the bow onto the bottom of your snowman candle and set it aside. Now, you will move on to making the Santa candle.
Start by adding a face to this candle as you did with your snowman earlier.
For this candle, you will glue a bit of purple glitter ribbon, pipe cleaner, or foam board around the bottom of the candle base.
Add two red pom poms to the Santa - one on each side of the face.
Next, attach the red satin ribbon to the bottom of the Santa and display both Christmas decorations as you prefer.
Video Tutorial:
Printable Step by Step Photo Tutorial:
Yield: 2
DIY Led Tealight Candle 3D Santa and Snowman Ornaments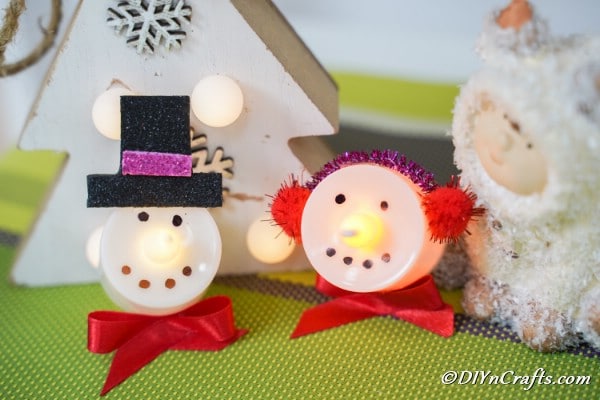 Make adorable Snowman and Santa Christmas Candle ornaments using battery-operated candles and a few scraps of craft supplies to decorate your tree this year!
Materials
2 battery operated tealight candles
Black foam board
Purple foam board, ribbon, or pipe cleaner
2 red pom poms
Red satin ribbon
Black permanent marker
Tools
Scissors
Hot glue gun and glue
Instructions
To create the snowman candle, you will want to begin by making a top hat. Use a pencil or freehand cut out a small black top hat out of black foam board;
Next, you will cut a small piece of an alternate color of foam board, ribbon, or pipe cleaner and attach it to the brim of the hat to look like a ribbon;
Create a simple face on the candle top with dots for eyes and a mouth letting the flame of the candle be the nose;
Attach the top hat to the top of the candle with hot glue;
Next, you will cut a length of red ribbon and make a small red bow to glue on the bottom of the snowman candle. You can make a second ribbon now to use on the Santa later;
Glue the bow on the bottom of your snowman candle;
To make your Santa clause candle, you will begin by adding a face as you did with the snowman;
You will need to glue a bit of ribbon, pipe cleaner, or a strip of foam board to the bottom edge of the candle;
Attach red pom poms to the sides of the candle, one on each side with the ribbon on the top side of the candle;
To finish the Santa candle, you will glue the red satin ribbon bow on the bottom;
Display your candles as you prefer.
Recommended Products
As an Amazon Associate and member of other affiliate programs, I earn from qualifying purchases.