Have you ever wondered how flower arrangements shaped like topiary trees are made? While you might think that it would be a difficult process, it is actually really easy. In this video tutorial, you can follow along and make your own topiary tree flower arrangement at home using simple supplies.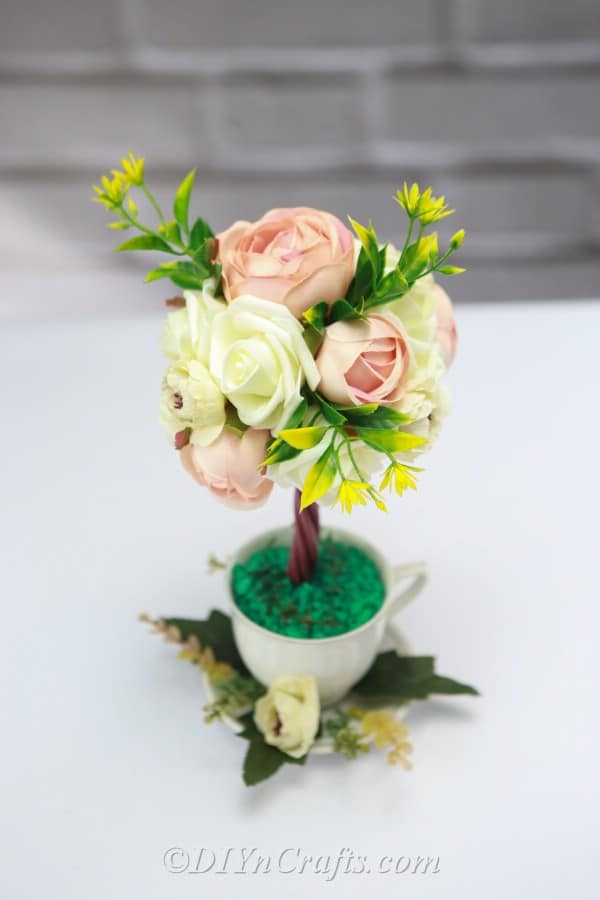 How to Make a Floral Arrangement Topiary Tree
When you watch the video tutorial, I think you will really be surprised by how basic this arrangement is, despite the fancy results.
Supplies You Need to Make a DIY Floral Topiary Tree
To make your topiary tree flower arrangement, you only need a few basic tools to work with. These include a pair of scissors, a hot glue gun, and a set of diagonal pliers (these are the type of pliers that you can cut with).
For materials, you will need some kind of vessel for your arrangement. While you can use a regular planter for this, you can also go with a creative alternative. I opted to use a coffee cup with a saucer. If you do this, make sure it is not a cup that you plan to use since you will be putting glue inside.
You'll also need two Styrofoam balls. Keep in mind that one of them will form the center of your arrangement, while the other will need to fit inside your cup or planter. To conceal the one inside the planter, you will need decorative stones.
Aside from those materials, the only other ones you need to acquire are faux branches and flowers. Go with any pleasing combination of branches and flowers that you like. One thing to keep in mind is that you'll be using the stems to create the trunk of your topiary "tree," so go with fairly stiff stems if you can.
What to Do With Your Flower Topiary Tree
A topiary tree flower arrangement makes an elegant decoration for your home. It also serves well as a centerpiece, so consider using it at parties and other events.
Step-by-Step Topiary Tree Floral Arrangement Video Tutorial

Ready to make your topiary tree floral arrangement? Now that we have had a chance to discuss the materials you need in detail, we are ready to proceed to the video tutorial. Find a convenient quick list of materials and tools below along with written instructions to go with the video.
Yield: 1
How to Make a Topiary Tree Flower Arrangement
Ever wanted to learn how to make your very own topiary tree flower arrangement? Find out how in this easy step-by-step video tutorial!
Materials
Styrofoam balls (2)
Faux flowers
Coffee cup with saucer
Faux branches or sprigs
Decorative stones
Tools
Hot glue and glue gun
Scissors
Diagonal pliers
Instructions
The first step is to cut one of your Styrofoam balls in half.
Apply hot glue to the flat side of one of the Styrofoam ball halves.
Insert the Styrofoam ball half into the cup, gluing it to the bottom. While you can potentially skip the glue, it will greatly increase the stability of the arrangement.
Use the diagonal pliers to cut off the stems of your flowers. Set those aside for the time being.
Use hot glue to attach the flowers all around the remaining Styrofoam ball which you did not slice in half. Do your best to achieve full coverage for a look of abundant life.
Next, to finish filling out your arrangement and making it look more natural, insert some sprigs between some of the flowers. You may be able to push them right into the Styrofoam ball, which will hold them in place. If not, you can just apply a little bit of glue onto the ends of the stems.
Get the stems which you set aside earlier and twist them around each other to create the "trunk" of your topiary tree.
Attach the "trunk" to the rest of the "tree."
Push the trunk of the topiary tree down into the Styrofoam inside the cup (you may need a bit of glue to hold it in place).
Pour decorative rocks inside to cover up the Styrofoam and further stabilize the topiary tree arrangement.
Cut some more sprigs and leaves and glue them onto the top of your saucer, if you have one.
Finally, simply place the mug on top of the saucer, and your topiary tree flower arrangement is complete. You can now put it on display or use it as a centerpiece for an event. Whatever you do with it, it is sure to amaze all who see it.
What to Create After You Make a Topiary Tree Flower Arrangement
If you had fun working with faux flowers and branches, we have some other tutorials for you to check out! Try making an umbrella bouquet door decoration, or making a stunning floral wreath. Prefer to make the flowers for an arrangement from scratch?
You can do that too, and you can even do it out of old denims! You might also enjoy trying your hand at making DIY rustic vintage flower décor from an old book.
Pin this project: