One of my favorite things is decorating. Of course, that doesn't always come at a cheap price. I find that Pottery Barn often has the look that I want, but who can afford to shop their catalog for all of their home décor? I do love Pottery Barn but I also love saving money, so what's a girl to do? Well, I'm glad you asked. Recently, I started looking for ways to decorate on a budget and still get that great Pottery Barn look. What I found are 35 DIY Pottery Barn knockoffs that you can make that will let you decorate your home for less.
I absolutely love a good knockoff. Have you seen these 32 brilliant Anthropologie knockoffs? You can get the exact home décor that you want without spending a small fortune in doing so. Knockoffs are great because they give you the same look that you want but since you are DIYing them, they save you a bundle. Whether you want a new kitchen, something pretty to hang in the den or you want to completely redo your bedroom, I guarantee that there is a Pottery Barn DIY knockoff in here that is going to do the trick, and you are going to save so much money by making them yourself!
From headboards to chandeliers and even a great wine bottle sleeve, you will find so many wonderful DIY Pottery Barn knockoffs in this list. You can make these for your own home or create them to give away as gifts. No one will know that they didn't come from Pottery Barn. And, if you want to give your old furniture a nice new look to match your new Pottery Barn DIYs, be sure to check out these 25 restoration hacks to turn old items new again.
1. $5 Blanket Ladder
Pottery Barn sells these blanket ladders for about $200 but you can make this one yourself for around $5. Imagine having this great blanket ladder and saving $200! This one is super easy to make and looks exactly like the ones that cost so much at Pottery Barn. You can have this finished in about an hour and no one will know that you aren't displaying your blankets on an expensive ladder from your favorite department store.
Tutorial: tinysidekick
2. $40 Pottery Barn Knockoff Farmhouse Coffee Table
We all love our DIY farmhouse furniture and décor, right? That's especially true when making your own farmhouse furniture can save you hundreds of dollars. You can make this Pottery Barn knockoff coffee table for around $40, which is hundreds less than what you will pay at Pottery Barn. This is such a beautiful table and it's much easier to make than you may think.
Tutorial: shanty-2-chic
3. DIY Chelsea Nightstands
Chelsea nightstands from Pottery Barn are super popular but a tad expensive. You can make your own out of a couple of wooden television trays! This is a really easy project and you can't tell that these DIY nightstands aren't the real thing. Plus, you can paint them white like in the catalog or choose a color that better matches your bedroom décor.
Tutorial: thesummeryumbrella
4. Knockoff Pottery Barn Moss Letters
I love these moss letters from Pottery Barn. What I don't love is the almost $80 price tag. However, you can make these yourself for just a small fraction of the cost of buying them and they look so authentic. You can actually make these yourself for less than $5 each and use them to decorate anywhere that you want to add a little greenery.
Tutorial: dearlillieblog
5. Pottery Barn Inspired Rope Chandelier
I love a good rope project and this rope chandelier is one of my favorites. I love this for hanging in the dining room, although you can put it anywhere you want. These sell at Pottery Barn for hundreds of dollars, but you can make it yourself for around $20, depending on whether or not you have an old chandelier that you can use. And, the project is so simple that you can have it finished in an afternoon.
Tutorial: fromourhidingplace
6. DIY Headboard And Frame
This tufted headboard will set you back a pretty penny from Pottery Barn, or any furniture store for that matter. But, can make this DIY headboard and frame that looks just like it came from the Pottery Barn catalog, and you won't spend hundreds on it. It's a really easy project and it comes out so beautifully.
Tutorial: diyprojects
7. DIY Sicily Writing Desk
I love a good writing desk and the Sicily from Pottery Barn is one of my favorites. It has such a beautiful look and it fits in perfectly with any décor. Of course, it's not cheap, which is why I really love this DIY version. You can make this Pottery Barn Sicily desk knockoff in an afternoon and it costs just a fraction of what you'll pay in the store.
Tutorial: rogueengineer
8. Dollar Store Pottery Barn Mirror Knockoff
This gorgeous mirror will set you back nearly $700 from Pottery Barn but you can make it yourself with Dollar Store supplies for less than $100. That's quite a savings and you get the joy of knowing that you made it yourself. It's a gorgeous mirror, perfect for the bathroom or anywhere you want to hang it.
Tutorial: housestuffworks
9. Pottery Barn Inspired Round Jute Placemats
These placemats are gorgeous and they look just like the more expensive ones in the Pottery Barn catalog. But you won't spend anywhere near what they cost at Pottery Barn to make them. You just need a roll of jute and your handy hot glue gun to make these beauties and the process is as fun as it is easy.
Tutorial: cityfarmhouse
10. DIY Fabric Covered Letters
Pottery Barn sells these amazing fabric covered letters that you can use to personalize any room. Again, they're a bit pricey. These DIY ones however are not. In fact, you can pick up the letters at the Dollar Store for just a couple of dollars each. If your local Dollar Store doesn't have these, check out craft stores. They're still cheaper than Pottery Barn and once you have the letters, you just cover them with your chosen fabric and glue it in place.
Tutorial: allthingsmamma
11. DIY Pottery Barn Glass Bottle Lamp
I really love this glass bottle lamp from Pottery Barn but I love the DIY version even more…it is cheaper after all. This is a really simple project and this lamp would be perfect for your entryway or foyer – or on a little console table behind the couch. I love the shade. It has a great burlap look that will look beautiful with your other DIY burlap projects.
Tutorial: theconcretecottage
12. Adorable Clubhouse Fort Bed
Your kids are going to adore this DIY clubhouse fort bed. It gives them so many things to keep them busy and looks just like the one that you'll find in the Pottery Barn catalog for hundreds of dollars. This one does take a little work, but you can easily finish it in a weekend and your little ones are going to love you for it!
Tutorial: thatsmyletter
13. Knockoff Pottery Barn Kids Oars Décor
These cute little oars are nearly $40 each at Pottery Barn but you can DIY them for about $16 each. They're perfect for decorating your little ones' rooms and they are super easy to make. Plus, since you are DIYing them, you get the specific colors that you want. You could also do these for a living room or den if you want that coastal look.
Tutorial: thehappyhousie
14. Gorgeous Pottery Barn Knockoff Clock Table
I don't even want to know how much this gorgeous clock table costs at Pottery Barn – it's actually over $200. You can make it yourself from an old round side table for less than $20, and that's including the cost of the table. If you have a table to use, you'll spend much less. This is a beautiful table that is pretty easy to paint and perfect for the living room or den.
Tutorial: redhenhome
15. DIY Ruler Growth Chart
These ruler growth charts are about $100 at Pottery Barn and while they are really nice, that's a lot of money to spend on a strip of wood, right? You can DIY your own for less than $20 and personalize it however you want. This is such a simple project and if you leave the woodgrain all natural, it's perfect for fitting into your rustic farmhouse décor. Plus, you get to keep track of how much your little ones are growing!
Tutorial: thatvillagehouse
16. Repurposed Mason Jar Vintage Pendant Light
I love DIY mason jar home decorating projects. I really love this Pottery Barn pendant light knockoff that uses an old mason jar and lighting to create the most gorgeous hanging light. This one is pretty simple and if you have a mason jar and an old light, you won't spend anything to make it. You can hang this anywhere that you want to add a little rustic charm.
Tutorial: diyprojects
17. Pottery Barn Media Center Knockoff
I priced one of these gorgeous media centers at Pottery Barn recently and they are over $2,000. That's way too much for my blood, but this DIY knockoff is just perfect. And, this is a really easy project, even if you don't typically work with wood. It has so many shelves and drawers for keeping things organized and costs so much less than what you'll pay at Pottery Barn for the same thing.
Tutorial: remodelaholic
18. DIY Numbered Pillows
Pottery Barn sells numbered and lettered pillows…for about $35 each. While they're super nice, you can make so many DIY numbered pillows for that same $35 and have a complete set. These are perfect for the living room or den or you could personalize them with letters and use them in bedrooms. Plus, they're made with drop cloth, so they are super cheap.
Tutorial: abowlfulloflemons
19. Pottery Barn DIY Hyannis Lanterns
Here's another great mason jar project that is also a DIY Pottery Barn knockoff. These Hyannis lanterns are so cheap and easy to make. You just need some rope, a couple of mason jars…one for each lantern that you want to make…and then your candles. You can make these in about an hour or less each and they look gorgeous hanging on the front porch or off your back deck during the warmer months.
Tutorial: aloandbeholdlife
20. DIY Painted Numbers Canvas
This painted numbers canvas was discontinued by Pottery Barn so you can't buy it any longer. You can however, DIY it and it's a lot cheaper that way, anyway. This is so gorgeous and so easy to make. You'll need a large canvas – which you can get at any craft store, and then the paints that you want to use plus a few stenciled numbers in different sizes. This is really great for hanging behind the couch or anywhere you want to add some classic style.
Tutorial: paisleypinkpolkadots
21. Rustic DIY Jewelry Hanger
This rustic jewelry hanger from Pottery Barn will set you back a pretty penny but you can DIY it for practically nothing. It has a wonderfully rustic farmhouse look and holds so much jewelry. This is a great gift for anyone you know who loves jewelry and it's really simple to make. And, it holds all types of jewelry…necklaces, earrings and bracelets.
Tutorial: reasonstoskipthehousework
22. Pottery Barn Knockoff – Holiday Peace Sign
I really love wooden signs, especially DIY wooden signs and this Pottery Barn Peace sign is just perfect for the holidays. All you need for this one is a piece of wood and some paint. You could actually hang this all year long if you really wanted to promote peace and it makes a wonderful gift for someone for the holidays.
Tutorial: itsalwaysautumn
23. Pottery Barn Inspired Pool Sign
If you have a pool…lucky you…and you want a sign besides those clever "We don't swim in your toilet", well you know the rest; this Pottery Barn inspired pool sign is perfect. And, it's perfectly easy to make. You can have this one finished and hung by the pool in about an hour and you'll save a bundle over buying the same thing from the Pottery Barn summer catalog.
Tutorial: onekriegerchick
24. DIY Pottery Barn Decorative Balls
I love these twine balls that you can get from Pottery Barn – or any department store really for around $20 each. You can make them yourself for just a dollar or so each. You just need twine and Styrofoam balls and you can do them in different sizes for an even better decorative effect. These are also great gifts – just fill a vase or jar with some of these and tie on a decorative bow.
Tutorial: vanessachristenson
25. DIY Wood And Canvas Crates
These little wood and canvas crates are perfect for organizing and decorating and you don't have to spend about $50 for each one. You can make these for about $10 or so each and they're pretty easy to DIY. These would be great for holding magazines, knitting supplies or even kids' toys and they are perfect for open
shelves in the bathroom to keep all of your makeup and toiletries organized.
Tutorial: thriftyandchic
26. Knockoff Pottery Barn Console Table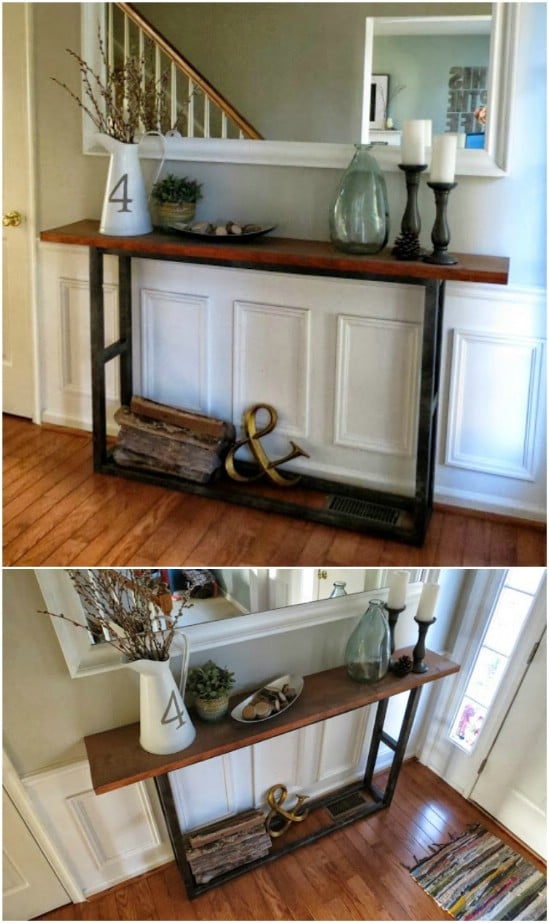 If you bought this console table from Pottery Barn, it would set you back over $1,000! I can't even imagine spending that much money on a table. Lucky for us, we can just DIY our Pottery Barn furniture. You can build this one for under $100 and it takes less time to build than it takes Pottery Barn to ship it to you. It's perfect for adding that rustic farmhouse look to the foyer or living room, too.
Tutorial: eastcoastcreativeblog
27. Pottery Barn Knockoff Lockers
These lockers from Pottery Barn will cost you more than $1,000 but you can make them for less than a quarter of that. These are so perfect for the mud room or a kids' room, especially if your little ones share a bedroom. They're so roomy and super easy to make – even if you don't typically do your own furniture building. Plus, you're going to save hundreds if you DIY them instead of buying them.
Tutorial: chalkboardblue
28. Pottery Barn Inspired Dresser – IKEA Hack
This little dresser is great for a couple of reasons. Not only is it a cheaper DIY version of the Pottery Barn trunk style dresser, it's also an IKEA hack. You can make a regular little dresser look just like those really expensive trunk styled dressers from the Pottery Barn magazine, and you can do it in an afternoon.
Tutorial: anastasiavintage
29. DIY Roman Numeral Art
This lovely art piece will cost you nearly $300 from Pottery Barn, but you can make it yourself for less than $10 – depending on the materials that you have on hand. This one is super easy and this makes an excellent gift for the holidays, an upcoming wedding or a special birthday. And, it will only take you about an hour or so to make and you can find all of the supplies that you need at the Dollar Store.
Tutorial: chiccalifornia
30. Pottery Barn Inspired Oversized Sand Dollar
I love coastal décor and this Pottery Barn sand dollar is absolutely lovely. Of course, the $100 price tag is a bit rich for my blood, so I prefer this DIY oversized sand dollar, that you can make yourself for around $6. Talk about saving money! Plus, this is perfect for pairing with that coastal décor that you have in your home and it makes a wonderful gift.
Tutorial: completely-coastal
31. Pottery Barn Kids Inspired DIY Scoreboard
Do you have a little athlete in your home? He or she would adore this DIY scoreboard that can double as a headboard or just a regular wall hanging. You're going to spend a small fortune buying this one from Pottery Barn, but you can make it for just a fraction of that cost. And, it's one of the easiest DIY projects that you've ever done.
Tutorial: signsbyandrea
32. DIY Wooden Sleigh Bed
You don't want to know how much this wooden sleigh bed would cost at Pottery Barn, or any other furniture store for that matter. Luckily for you, you can DIY this one. It's a relatively easy project, although you will need a few power tools. If you have always wanted a sleigh bed but you think they're just too expensive, this is the DIY project for you and there are patterns for queen and king sized beds.
Tutorial: diystinctlymade
33. DIY Stackable Kitchen Crates
I really love having a space in my kitchen for fresh fruits and veggies. Putting them in the fridge just isn't really the way to go sometimes. These stackable crates from Pottery Barn are a bit pricey, but the DIY version is really cheap. And, this one can be built in just a couple of hours. You should definitely make these as gifts for your friends and family – they're going to love them as much as you do.
Tutorial: thewoodgraincottage
34. Rustic Triple Tiered Tray
I love rustic décor, especially in the kitchen. This rustic triple tiered tray is perfect for showing off those wonderful baked goods that you create. Or, you could use it as a fruit holder or decorate it with evergreen and ribbon for a wonderful holiday centerpiece. You would be amazed at the number of creative ways that you can use fresh evergreen in your Christmas decorating. And, this Pottery Barn inspired tiered tray is perfect for adding that rustic farmhouse touch.
Tutorial: daisymaebelle
35. DIY Rustic Pallet Headboard
You can do so many things with pallets and give your home a lovely farmhouse look. Take this rustic pallet headboard from Pottery Barn for instance. It is absolutely gorgeous, although a bit expensive. The DIY version however, is really affordable and so much easier to make than you may think. This would be perfect for adding a rustic touch to your bedroom.
Tutorial: