Wood signs are the hottest new decorating trend and one that I love dearly.
Nothing says rustic farmhouse like a wood sign, right?
There are so many options when it comes to decorating with rustic wood signs, too. Whether you're looking for something for the living or dining room, kitchen, or even the front porch, chances are there's a great rustic wood sign that will fit the bill.
And, wouldn't you know it – I've got a nice little collection of sign ideas to get you started on this great new trend.
Jump to:
1. DIY Gather ere Rusitc SignHeeHere Rustic Sign
This is such a simple idea and it makes a wonderfully profound statement. It's just a couple of worn boards with "Gather Here" painted in white and held together by chains. Add twine or rope to the top for hanging and you're all set.
Source/Tutorial: homemadebycarmona
2. Cool DIY Beach Rentals Sign
I love this beachy sign for the living room – even if you don't live at the beach. It's very coastal with its distressed wood. If you're lucky enough to live on the coast, this one is a must for the living room or front porch.
Source/Tutorial: confessionsofaserialdiyer
3. Distressed Happy Home Sign
I love this blue distressed sign on Etsy. It's a paneled sign with such a wonderful phrase about the home. It's only $55 on Etsy or you could easily do it yourself with paneled wood, paint, and stencils.
Source/Tutorial: etsy.com
4. DIY Create Pallet Sign
This Create sign is perfect for any room and it's pretty easy to make. Add a background to make the wording really stand out. It's the perfect motivational sign to get you up and moving in the mornings and there's a printable stencil for the wording.
Source/Tutorial: angelamariemade
5. Great Rustic Farmhouse Kitchen Sign
You definitely want this farmhouse sign for your kitchen. It's a distressed wood plank with farmer's market wording and so perfect for farmhouse kitchens. Even if you don't have a traditional farmhouse kitchen, this sign will make you feel like you do.
Source/Tutorial: decoratedchaos
6. Anthropologie Inspired DIY Welcome Sign
An old wooden plank, some repurposed Scrabble tiles and a couple of vintage doorknob plates work together to make this wonderful Anthropologie inspired welcome sign for the front porch. It's rustic, easy to make, and the perfect way to welcome someone to your home.
Source/Tutorial: designdreamsbyanne
7. DIY Rustic Farmhouse Sign
The biblical message on this rustic farmhouse sign is perfect for any room. If you want something that's really easy and still makes a huge statement in your home, this is it. It has a great rustic farmhouse look and feel and will only take you about an hour or so to create.
Source/Tutorial: momswithoutanswers
8. I Love You Wooden Sign Trio
These whimsical wooden signs are too adorable. They let your loved ones know how much you love them in such a fun and humorous way.
I found these on Etsy and they're $25 for the set of three. Hang them on the wall or you could stand them up on a sofa table or on the mantel.
Source/Tutorial: etsy.com
9. Scrap Wood Beach Signs
You don't have to live at the beach to display these great scrap wood signs. Just point them in the right direction. They're made from distressed wood for that great coastal look and are sure to brighten up your porch.
Source/Tutorial: diypassion
10. Easy DIY Market Sign
This market sign is made with leftover wood from other projects and it's really simple to make. You use graphite transfer paper to easily make the market wording. This is the perfect rustic looking sign for the kitchen or dining room.
Source/Tutorial: restorationbeauty
11. DIY Weathered Entry Hall Sign
Grateful, thankful, blessed – that's the message that this sign relays. In weathered wood, it's the perfect addition to your entry hall and lets you spread your message loud and clear to anyone who walks inside. This would also look great on the porch above your front door.
Source/Tutorial: artsychicksrule
12. Long Festive Holiday Sign
I love the length of this holiday sign. "Baby it's cold outside" is the theme and it's done on two long planks of wood. It's even got some great embellishments. You can find this one on Etsy or you could easily do it yourself with some white and blue paint and a few other supplies.
Source/Tutorial: etsy.com
13. DIY Fence Board Joy Sign
Here's another beautiful festive sign. This one is done on an old fence board and the JOY portion is a bit 3 dimensional. It's an easy project to complete and you have plenty of time to ge4t it done before the holiday season arrives.
Source/Tutorial: designdreamsbyanne
14. Home Sweet Home Framed Sign
I love the sentiment in this Home Sweet Home sign. It's planked wood with the lettering done in white and it has a wonderfully distressed look. The sign is framed with smaller strips of wood to make it perfect for hanging in any room.
Source/Tutorial: etsy.com
15. Grateful Heart Distressed Sign
This sign is lovely with a distressed wood look and tells you to always have a grateful heart - the sentiment alone is perfect and you get a wonderful rustic looking sign, too. This one is available on Etsy for under $40.
Source/Tutorial: etsy.com
16. Love Story Sign
You could easily recreate this Love Story sign to hang above your headboard or to give as a wedding gift. It's on planked distressed wood and you just have to choose the lettering that you want – it's the perfect way to spread the love.
Source/Tutorial: aimeeweaverdesigns
17. Easy DIY Silhouette Signs
Whether you want something welcoming on the front porch or you have a special message for your living room, these silhouette signs are the perfect touch. Using distressed or stained planks of wood, you can create the perfect sign for any occasion.
Source/Tutorial: justagirlandherblog
18. John Legend Inspired Wood Sign
I love this John Legend inspired sign. It has the words "All of me loves all of you" painted onto distressed wood. It's perfect for hanging above the bed or you could put it anywhere that you want your message to be displayed. Etsy has it for under $30.
Source/Tutorial: etsy.com
19. Multi-Colored Signs From Wood Scraps
I love the dimension of these multi-colored signs. Using scraps of wood, you just paint and then add your message. It's great that they sizes don't all match – it just gives the sign that much more character. Use whatever message you want and customize them.
Source/Tutorial: jhousetawk
20. Reclaimed Cabinet Door Sign
This sign is made from reclaimed wood and looks just like a rustic cabinet door. I love the spiritual message and the entire sign looks so farmhouse style. This would be a great project if you have handles and other hardware to work with.
Source/Tutorial: aimee-weaver
21. DIY Reclaimed Wood State Sign
No matter what state you live in, a state sign made from reclaimed wood is the perfect addition to your home décor.
You just attach your boards together and then paint your state – use state colors or even the colors of your favorite pro or college team. This would be a wonderful gift for a sports fan!
Source/Tutorial: divaofdiy
22. Bathroom Bathing Signs
These splish splash bath signs are too adorable and they're made from simply painting your bathroom message onto wooden planks.
These are on Etsy for $50 and you could easily add embellishments like bows or ribbons or tie them together with a nice strip of burlap.
Source/Tutorial: etsy.com
23. Recycled Pallet Rustic Family Sign
Pallets are perfect for making rustic looking signs and this one is a really easy DIY. If you prefer to do it yourself as opposed to buying, you'll just need to take the top portion of your pallet and then paint the message that you want to display.
Source/Tutorial: aimeeweaverdesigns
24. DIY Christmas Deer Sign
This is a really creative way to make your sign – it's a Christmas themed sign, painted in red and white and it has a wonderful deer motif.
You could also do this one for July Fourth, just paint red, white, and blue and maybe add a motif of the American flag. It would be a great display all year long.
Source/Tutorial: restorationredoux
25. Plank Wood Continent Sign
Why not just paint an entire continent on those old planks of wood?
You can find traceable patterns all over the internet if you aren't comfortable freehand painting and this is a beautiful way to use up those wood scraps or leftover pallets.
Source/Tutorial: estiloydeco
26. DIY Reclaimed Wood Rope Sign
You don't necessarily have to paint to get a great looking wooden sign. Why not use up some old rope or burlap to create your message?
This reclaimed wood sign is made with rope. You just create your message with glue and then add your rope, twine, or burlap.
Source/Tutorial: funkyjunkinteriors
27. DIY Distressed Woodland Sign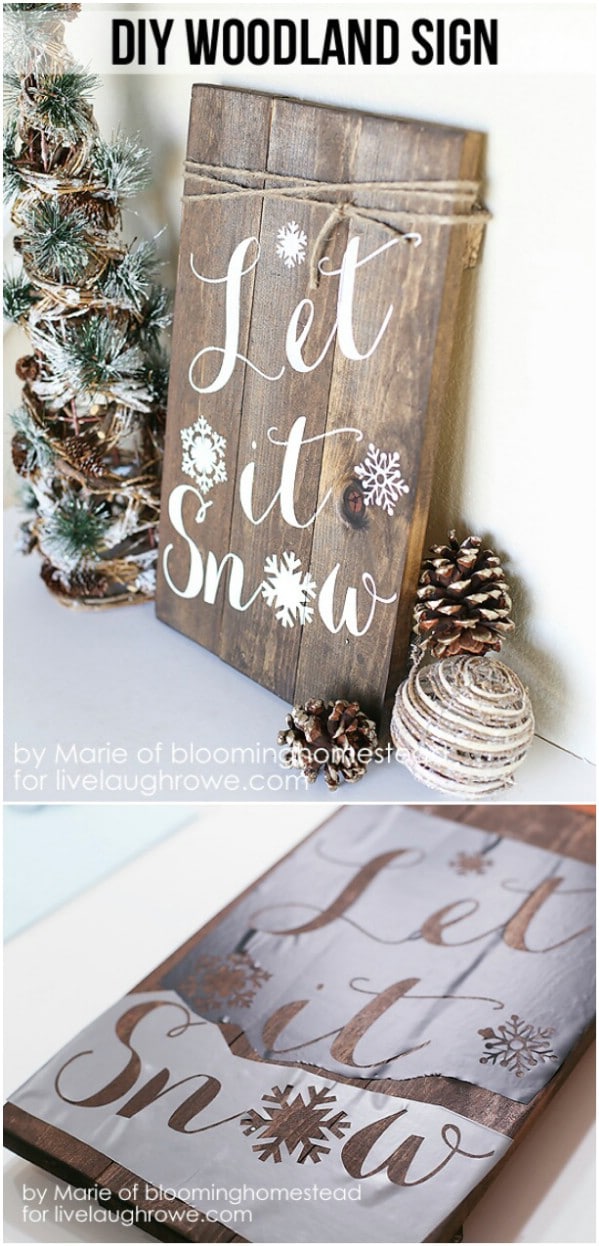 "Let It Snow" may not be your favorite phrase but it may just be your favorite holiday decoration when you make this sign.
On distressed wood, it has your Christmas message painted in white and is embellished with twine.
Source/Tutorial: livelaughrowe
28. Three Dimensional DIY Holiday Sign
Here's another wonderful holiday sign made from reclaimed pallet wood. You just have to treat your wood – if you want – and then add JOY or whatever other holiday message you want.
Cut the letters out of wood - or buy wooden letters from the Dollar Store – and glue on for a great 3-D effect.
Source/Tutorial: suburbansimplicity
29. Wooden Colorful Cabin Rules Sign
I want this sign for my living room! It's great with multiple colors on small planks of wood and it's framed in a beautiful cedar looking frame.
This is perfect for your living room or entry – even if you don't live in a log cabin. You can get it on Etsy for under $35.
Source/Tutorial: etsy.com
30. DIY Rustic Anniversary Wood Sign
The sheer creativity of this anniversary sign just blows me away. It's not your traditional anniversary announcement – it's done in topography and it's simply adorable. You can do this one by painting with chalk paint over distressed wood planks.
Source/Tutorial: tableandhearth
31. Framed Wood Plank Gather Sign
This little sign is in a beautiful wooden frame and it's perfect for the dining room or kitchen – wherever your family tends to gather. The backing is painted black so that the white lettering stands out but you could leave the wood planks natural and just paint in a color that will stand out.
Source/Tutorial: thecasualcraftlete
32. DIY Rustic Key To My Heart Sign
How adorable is this sign? It's a rustic wood sign with a large key – the key to your heart! I love how simple and yet amazing this one is. You just need distressed wood and a metal key – which you can get from craft stores or thrift shops.
Source/Tutorial: lovegrowswild
33. Easy DIY Holiday Signs
You have three different signs here that you can make for the holidays. Each of them is done on reclaimed wood and they are all so colorful and festive! Choose one or make them all and give your home that great farmhouse decorated style for Christmas.
Source/Tutorial: thehappyhousie
34. DIY Stenciled Pallet Parking Signs
These reclaimed pallet signs are great and they're perfect for adding a bit of rustic décor to the front porch. Just choose your parking preference and then stencil in what you want your sign to say – it's so easy to get rustic wooden signs from old pallets!
Source/Tutorial: saltandpeppermoms
35. Rustic Guest Room Check Out Sign
You wouldn't really make your house guests check out by 11 a.m. but even so, this little wooden sign is perfect for guest rooms. It has a great old bed and breakfast feel to it and it's really simple to make with your reclaimed wood pallets and some white paint.
Source/Tutorial: polishedhabitat
36. Rustic Painted Arrow Wooden Sign
I love these rustic painted arrows that can be done on pallet wood, reclaimed wood or even craft wood that you can distress to give it that great vintage look. The arrows are freehand drawn with white chalk paint and then sanded a bit to give them that distressed look.
Source/Tutorial: canarystreetcrafts
37. Home Is Where The Heart Is Sign
Whether you use stencils or freehand paint, this sign is a must. You can use strips of old wood and just attach them together to get that great wood pallet look or use an actual pallet. The message is the most important part.
Source/Tutorial: lollyjane
38. DIY Hand Painted Anniversary Sign
This anniversary sign idea is amazing and so simple. Just take a strip of wood and paint your anniversary date – I really love the Truly, Madly, Deeply message on this one. It's a simple project that will look beautiful over the headboard.
Source/Tutorial: diyshabby
39. Easy Galvanized Market Sign
I really love market signs and this one is really creative. It has galvanized letters on a wood plank and the entire look just screams rustic country. Paint your wood plank white and use sand paper to give it a nice distressed look before adding your lettering.
Source/Tutorial: littledekonings
40. DIY Wood Scrap Heart
This heart made from strips of scrap wood makes a statement all on its own but you could easily add your own message. Just cut your strips to make the heart shape, distress if needed and that's it – or paint in whatever you want your heart to say.
Source/Tutorial: lakegirlpaints
41. Cool Distressed Wood Boating Sign
This wooden sign is lovely and has such a whimsical message. I love the weathered look of the wood that makes it seem as if it's been out to sea for years. You can find this adorable sign on Etsy.
Source/Tutorial: etsy.com
42. Distressed Wood Eat Sign
This Eat sign is made with distressed wood and the silverware really gives it a unique look. It's perfect for the kitchen or dining room and it will only take you an hour or so to make it.
Source/Tutorial: craftsbyamanda
43. Easy DIY Mason Jar Pallet Sign
I love anything to do with mason jars so this sign is really perfect. It's a simple wooden sign with a mason jar painted right on the wood. Such an easy project and you get this beautiful sign that is perfect for hanging in the kitchen.
Source/Tutorial: thecountrychiccottage
44. Simple Reclaimed Wood Monogram Sign
Show off your family name with this amazingly simple monogram sign made on reclaimed wood. This is perfect for hanging in the living room or on the front porch. You just paint your monogram onto distressed wood and you're all set.
Source/Tutorial: thistlewoodfarms
45. Rustic Distressed Potting Shed Sign
If you have a potting shed, this distressed sign is perfect for it. You could also hang it on the porch or deck or even in the living room if you wanted. It's a great look with old hinges and handles and very easy to DIY.
Source/Tutorial: funkyjunkinteriors
46. DIY Stenciled Welcome Sign
This welcome sign may take a while to make but it is certainly worth the effort. You don't even need to have weathered wood on hand – you can create distressed wood as you go along. This is a great sign for the porch or entry.
Source/Tutorial: craftyteacherlady
47. Rustic DIY Wedding Sign
Rustic weddings are really the thing right now and if you're planning one, you'll need a sign, right? This Happily Ever After sign will literally only make you a few minutes to make and it's perfect for displaying at your wedding.
Source/Tutorial: craftaholicsanonymous
48. Rustic Sign From Paint Stirring Sticks
I love the concept of this "The woods are calling me" sign. You make it with old pallet wood or if you don't have any pallets on hand, you can use wood planks and paint stirring sticks. If you love the woods, this is definitely the sign for you.
Source/Tutorial: madebymarzipan
49. DIY Printable Wood Sign
This great rustic sign can be made with your printer – well, the message can be made with your printer. You'll use pallets or other reclaimed wood to make the actual sign. You'll find transferring messages onto wood from printed paper is so easy.
Source/Tutorial: mountainmodernlife
50. Tall Standing DIY Wooden Sign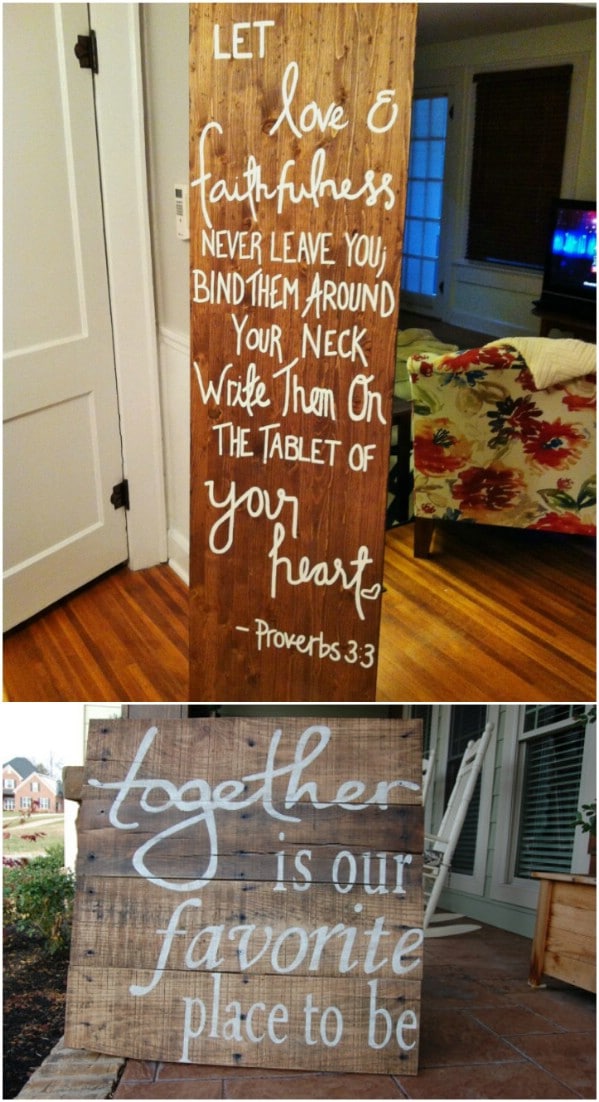 You don't have to hang your wooden sign. Use longer pieces of wood and make stand up models with longer messages. These are great for entryways and porches or you could make them to hang if you prefer.
Source/Tutorial: brittandthebenjamins
Conclusion
Pallets are great for these - and you know how much I love my pallet projects. Just check out these 35 DIY pallet projects.
Many stores will give you old wooden pallets just to get them out of the way so check with your local establishments to see if you can get your hands on a few for free.
If not, you can buy them from many home improvement stores and they don't charge much for them or you can check with a local pallet mill.
Pallets are perfect for creating that wonderfully rustic farmhouse look – which you can also totally get from any of these 55 DIY farmhouse furniture and décor ideas.
If you can't get your hands on pallets or rustic wood and you still want the look, you can use steel wool soaked in white vinegar to treat new wood.
This is a neat little trick that uses strong black tea and vinegar that has been infused with the rust from old steel wool.
It makes brand new wood planks look wonderfully aged. So, whether you have old wood or you're going to age your own, here's a look at some great ideas for incorporating rustic wooden signs into your décor.