These no-sew projects include everything from headbands to doggie bows, ruffled pillows and even table runners. There is something for every room in the house and everyone as well. Even if you have never had a needle and thread in your hand, you can create these beautiful pieces and impress everyone with your DIY skills.
No Sew DIY Projects
Sewing is great, if you have the time and resources to do it. Not everyone who is into DIY however, has a sewing machine or the time to hand sew their projects. Because of this, we have compiled a list of 30 great DIY projects that require absolutely no sewing.
If you love DIY but you don't particularly like sewing, these projects are for you. If you don't need them, consider using the ideas as Christmas gifts. Again, there is something for everyone in this collection. Difficulties range from super easy to a bit more difficult but all of them can be done in just a day or less.
No Sew T-Shirt Bag Tutorial
One of my favorite upcycled projects is this cute little t-shirt bag! Turn any old t-shirt into a cute little tote bag you can carry around to the market, beach, or just as your every day bag. I love making these and filling full of cute treats and goodies to gift around the holidays!
Source: DIY n Crafts
DIY Fashionable No Sew Handbag
A cute accessory and fun no sew project all in one! This easy project is a great one for adding a cute look to your wardrobe and makes an excellent gift. So easy to customize with different colors of fabric and accents.
Source: DIY n Crafts
Cute DIY No Sew Hair Bow
I love adding cute accessories to my hair and this little no sew hair bow is adorable! Perfect for children, it can be updated with beads and bobbles for anyone to wear. Make these in several colors to match any of your outfits. Ready in minutes, it's a great project for kids to help you create.
Source: DIY n Crafts
No Sew Rope Purse Tutorial
This adorable little purse is a great way to make something a little bit rustic and a whole lot cute for your wardrobe. Use basic rope for a neutral colored bag, or add some cute colored ropes for a unique look. This is such a cute idea and makes an excellent gift!
Source: DIY n Crafts
No Sew Felt Easter Basket
While this is designed for Easter, the same process could be used for making this bag to use year ruond. It's ideal for Halloween, making your own gift bag, or tucking treats into at Christmas! Plus, ti's easy enough a child can help you make it!
Source: DIY n Crafts
30-Minute No Sew Fleece Pillow
Sometimes you want to update your home decor, and this little no-sew pillow is a great way to do that! With simple steps and soft fabric, it's ideal for popping onto your sofa, adding to your bed, or even placed in a lounge chair.
Source: DIY n Crafts
No- Sew American Girl Headband and Mittens
This easy to make project is perfect for little ones to make! Add a cute little headband and matching mittens to your child's American Girl dolls with this easy to follow tutorial. Ready in minutes, you can make these in multiple colors to expand her wardrobe!
Source: Craft Create Cook
No Sew Fleece Dog Bed
If you have fur babies in your home, you know they will use almost anything to create their own beds. Instead of losing your favorite shirt to the puppy in your life, make your own cute little no sew dog bed for them! This takes mere minutes and is a great addition to your pets bedding.
Source: Craft Create Cook
American Girl No Sew Sleeping Bag
Another cute idea for your kids with American Girl dolls, this little fleece sleeping bag is super easy to make. I love this idea for adding to their stocking at Christmas, but it's also an excellent project to make with kids at an American Girl themed birthday party.
Source: Craft Create Cook
Bold Striped Drapes
So, you want new drapes and you want them to be rather bold but you just can't find what you are looking for anywhere. You can make your own bold striped drapes with black twill fabric and plain canvas drapes. You just have to attach the black fabric to your canvas drapes using fusible fabric webbing and then remember to cover the raw edges with black grosgrain ribbon. People will seriously think that you spent a fortune on these drapes.
Via - Theyellowcapecod
Doggie Bow Ties
If your little doggie loves to play dress up, you can make him a great bow tie with just a few pieces of fabric and ribbon. The bow tie is held together with Velcro squares so there is no need to sew. You make the entire thing from fabric or ribbon and you can customize it to the exact size of your little doggie's neck. These are great and easy to make. In fact, you may want to make a few for your cats as well.
Via - Chicsprinkles
Halter Wrap Swimsuit Cover
Even though summer is coming to a close, you may want to consider this easy halter wrap swimsuit cover for next year. You just need enough fabric to cover from your bust to just below your hips. The fabric is wrapped around itself so no sewing is required. You can sew the edges if you want or treat them with fabric glue or Fray Check. If you are using jersey type fabric, it doesn't fray so you have no need to sew anything.
Via - Laviediy
No Sew Ottoman
An ottoman will look great in your living room, bedroom or just anywhere you want to put it and this no sew piece is so easy to make. You just have to choose your fabric, space the pleats and iron and then nail them in with fabric pins. You can take an ordinary ottoman and turn it into a beautiful fabric covered piece that perfectly matches your other furnishings.
Via - Inmyownstyle
Fabric Panel Wall Décor
Who says decorating the walls has to be expensive? If you have a few pieces of fabric lying around, you can create great wall décor that takes no sewing and very little time. Just use foam core for the base and then attach the fabric using double sided tape or you could use fabric glue if you want. These are great art pieces and are perfect for kitchens and bathrooms or you can use them in any room as long as you match up your fabric colors to your room décor.
Via - Belladia
No Sew Ruffled Pillow
Throw pillows are great on the couch or bed but who wants to spend $20 for a pillow? If you make your own, you don't have to. You can make a great ruffled pillow from a ruffled table runner. You just have to fold it over and iron to create a crease and then use fabric glue to hold it together. Once you have glued three sides together, stuff with pillow stuffing and then glue the final side. This is the easiest way to make throw pillows ever and you can create them from numbers of fabrics.
Via - Scatteredthoughtsofacraftymom
T-Shirt Restyle
Any old t-shirt can be turned into a great fashion piece with just a little time. You can cut the neck of a t-shirt wide, like a boat neck with the back just a bit higher than the front. Then just cut down through the sleeves and double tie that section. Cut the remaining sleeve into a shredded look and you have a great fashionable shirt from an old t-shirt that costs you nothing, provided you have an old t-shirt lying around the house.
Via - Fineandfeathered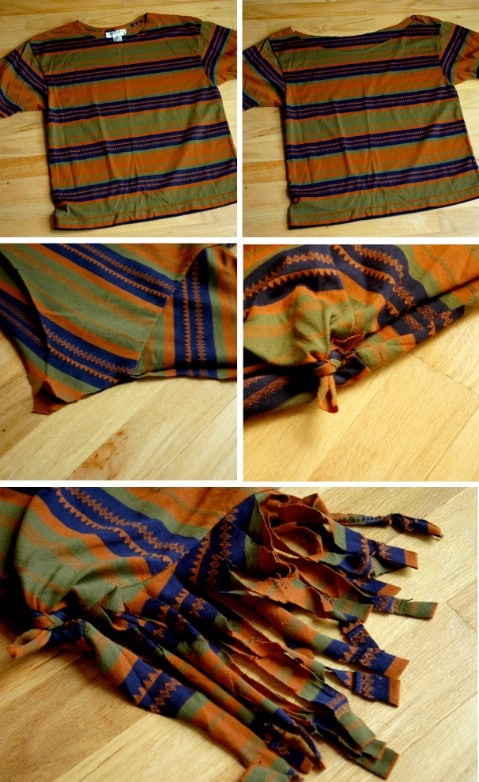 DIY Roman Shades
Roman shades are beautiful and perfect for kitchen door windows. If you don't really want to spend a small fortune buying a roman shade, why not just make your own? You just need a vinyl mini-blind that is the right size for your window, a bit of fabric and some fabric glue. You basically just have to fold the fabric and iron them in place, glue them over the blind sections and you have a great Roman shade that will perfectly match your kitchen décor.
Via - Aprettycoollife
Multi-Strand Scarf
An old t-shirt can be turned into a beautiful multi-strand scarf with absolutely no sewing required. You just have to cut the bottom of the shirt and then cut it into strips. You use the bottom hemline to knot the strands and hold them in place and then just wrap it around itself sort of and tuck the knot under. This is a fashionable scarf that costs nothing if you have an old t-shirt handy and takes only about 10 minutes to make.
Via - Rabbitfoodformybunnyteeth
Table Runner
You can create table runners for every season and for different special occasions. You just need fabric, an iron and fabric glue to hold the seams down. This is a great project for those who can never find runners in the right length. You can use any fabrics that you want, although thicker fabric normally works best for table runners.
Via - Ruffledblog
No-Sew Flower Headband
You can create headbands for yourself, your little ones or just about anyone who you think will love them. You just need a bit of fabric for the flowers. You can place the flowers on a store bought headband or use some stretchy fabric to make headbands for baby girls. Just create the flowers and then use fabric glue to attach them to any headband you choose.
Via - Iseelifethroughalens
Tote Made From Pillow Case
A king sized pillowcase can easily be transformed into a fashionable tote and with no sewing required. You just have to do a bit of folding and knotting to create the tote and you can decorate it with fabric paint or anything you like. Create a braided strap by weaving pieces of fabric together and if you want a tassel, you can create that with fabric as well.
Via - Cremedelacraft
Jingle Bell Slippers
Christmas is literally just around the corners and what could be better than making your own jingle bell slippers? These would make great gifts for just about anyone on your list and they are super easy to make. You just have to cut the slipper pattern out of wool felt and then glue together and decorate. Add a few jingle bells or anything really to make great holiday slippers that you will want to wear all year long.
Via - Marthastewart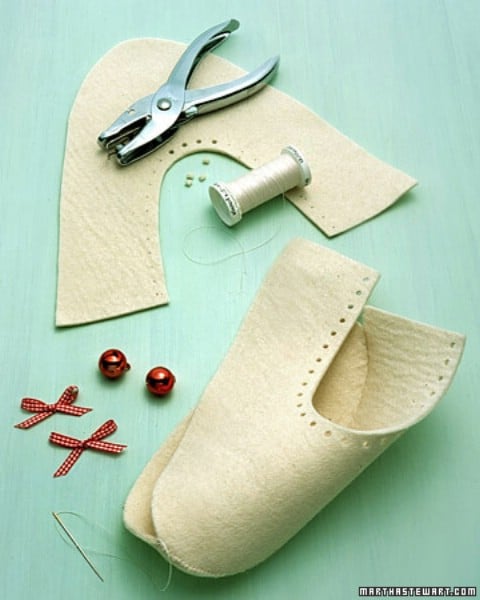 DIY Pet Bed
Your pet deserves a comfy special place to sleep and you can make him one without sewing. You just have to choose the cover fabric, get some filling and then begin making ties to hold it all together. Anti-pill polyester fleece works well for the base and you can use baby blankets for the ties. This is a really easy project that takes little time and your pet will absolutely adore you for it.
Via - Frugal-freebies
Houndstooth Pumps
You don't have to spend hundreds of dollars on houndstooth pumps. You can simply make your old plain pumps into houndstooth. You will need houndstooth print fabric and an old pair of pumps, the pointy toed ones work best. Modge podge works well to hold it all together. You simply have to cut the fabric to size, brush modge podge on your shoes and then attach the fabric. Make sure that you point the pattern the same way for both shoes.
Via - Lovemaegan
Fringe Net Tank Top
An old tank top can be turned into a beautiful fringe net tank by simply cutting and knotting. This is a great project for anyone who wants to add a little fashion to their lives the DIY way but do not want to sew. The tank top looks great and makes a wonderful gift so keep this one in mind for the holiday season.
Via - Popchampagneblog
Canvas Storage Boxes
You can turn old diaper boxes into stylish canvas boxes that are great for storage or décor. You just have to cover the boxes in fabric, glue the fabric in place and then decorate however you want. You can find fabric for under $1 per yard and any type of fabric will work great with these. It is much less expensive to create these boxes yourself instead of purchasing canvas boxes in the store and you have the option of making them any color or pattern that you want.
Via - Positivelysplendid
Adorable Fabric Animals
Kids will adore this little fabric zoo and you will love making it. If you have scraps of fabric lying around that you don't know what to do with, this is a great project. You will need heavyweight fuse to hold them animals up and a few things to decorate with. You can download the patterns and make as many animals as you wish. Create an entire zoo or make animals for a DIY nativity scene for the holidays.
Via - Ctpubblog
Curtains from Duvet Covers
If you have a duvet cover that you are not using, you can make beautiful curtains without sewing. You just have to cut the seams open and then separate the panels and iron to remove the creases. Bonding tape works well to hold the hem and seams in place once you have created your curtain panels or you can use fabric glue if you wish.
Via - Cardiganjunkie
Buttoned Infinity Scarf
A few old knit scarves, some decorative buttons and yarn will help you to create beautiful infinity scarves that are great for wearing or giving away as gifts. You just poke the yarn through the scarf and attach the buttons to it to hold it all in place. There is no sewing or gluing required. These scarves are great and really do make the perfect gifts.
Via - Psheart
Flouncy Bow
To make your own flouncy bow, you need a bit of flouncy fabric, preferably something that contains polyester. You also need a hot glue gun and some pleather or ribbon for the bow's center. This bow attaches perfectly to hair clips and is so easy to make that you may want one in different colors for different outfits. This is the perfect bow to dress up a bun or you can wear it however you like.
Via - Thealisonshow
Butterfly Swimsuit Coverup
If you are planning a vacation to the beach, a quick and easy swimsuit coverup should be on your list of things to do. You just have to trace a diamond shape into the back of a t-shirt and then cut. Cut out a triangle at the bottom and the top of the shirt and then add a tie at the top for style. Once you trim the sleeves, you have a great coverup that takes very little time and costs very little money.
Via - Britco
Suede Purse
Who knew that you could create a fashionable suede purse yourself, without any sewing? If you have a bit of suede fabric on hand, you just have to add some cotton interfacing to give it strength and use a suede cord to hold it all together. Add a strap and you have created a stunning bag that everyone will think you paid a small fortune for. Only you will know that it is a DIY no sew project.
Via - Sincerelykinsey
Belted Storage Totes
With a few square boxes and some leftover fabric, you can create adorable storage totes that are very stylish. You will need some belts that are relatively cheap at any thrift store or you can use old ones that you already have on hand. You can do these in boxes of all sizes so you have a great selection of decorative boxes for everything you need to store. Fabric glue will hold the fabric in place or you can use spray adhesive.
Via - Britco
Braided Swimsuit Coverup
To make a braided swimsuit cover, you just need a yard of jersey fabric and a bit of time. The coverup is just strips of fabric and the braid is glued on using fabric glue. This is a really easy project that can be done in less than a day and because it is so easy (and so inexpensive) you can make one in different colors to match different bathing suits.
Via - Watchoutforthewoestmans
Suede Skirt
A suede skirt is not difficult to make. This one requires no sewing except for the button that holds it all together. You can choose to make a tie instead of you really want a no sew project. You will need about 1 ¾ yards of suede and a button to hold it together. This wrap skirt is very fashionable and takes little time to create.
Via - Marthastewart
No Sew Pillow
Make a no sew pillow for your couch or bed using just a pillow sham and some filling. Just make sure to use a good fabric glue or Stitch Witchery fabric tape to hold the seams together. You can stuff with whatever you want so either purchase some pillow stuffing or if you have loads of fabric scraps leftover from other projects, stuff your pillow with those.
Via - 346living
Easy Lamp Shade
If you have a dull lamp shade that you want to spice up, you can cover it with fabric of your choice. This really easy project costs very little and gives you the opportunity to perfectly match your lampshades with your other décor. You just have to choose the fabric that you want to use and then cut and glue it to your plain old shade.
Via - Houseoffifty
Wall Book Sling
A book sling for the wall is the perfect way to keep books where they belong. This is a great project for kids' rooms and really easy to make. You need a bit of fabric and some double curtain rod brackets and dowel rods. You can store loads of books in the sling and it looks great hanging on the wall, all without sewing a single stitch.
Via - Spoonful
Fabric Desk Blotter
If you have an old piece of cardboard or a piece of foam core, you can cover it with fabric and create a beautiful desk blotter. You just have to cut to size, allowing enough to cover the entire piece. Spray adhesive works great to keep it all together and you can make this from any fabric that you choose. Just remember to cut the corners properly so that the fabric will fold correctly and hide any seams.
Via - Prudentbaby