Do you have an old T-shirt that you love and just can't bear to part with, but which you no longer wear? If so, one idea for giving it new life is to turn it into a bag. In this video tutorial, I will teach you how to transform an old T-shirt into a stylish new bag. And guess what? No needle and thread are required. This is a no-sew project.
How to Make a Tote Bag from an Old T-Shirt
Because you do not need needle and thread for this, no sewing skills are required to turn an old T-shirt into a chic bag. This also can make it a good project for kids to do, as long as they are old enough to wield a pair of scissors.
How to Make a No-Sew Bag from a T-Shirt
There are so few supplies that you need to make this project a reality. You will need a shirt, of course. If you happen to have one with no sleeves available, that would be ideal.
Otherwise, you will just be trimming the sleeves off, so you can even use a long-sleeved shirt for this project.
The only other supply that you really need is a pair of scissors. But if you want to closely mimic the look that I created here, you will also need some lace and hot glue and a glue gun.
You Can Use Your No-Sew T-Shirt Tote Bag for Anything
Once you finish crafting a T-shirt tote bag, there is no limit to what you can use it for! Bring it to the grocery store as a reusable, eco-friendly bag, take it to the beach, or even pack your crafting supplies in it to take them anywhere you want to go.
How to Make a Bag from a T-Shirt Video and Photo Tutorial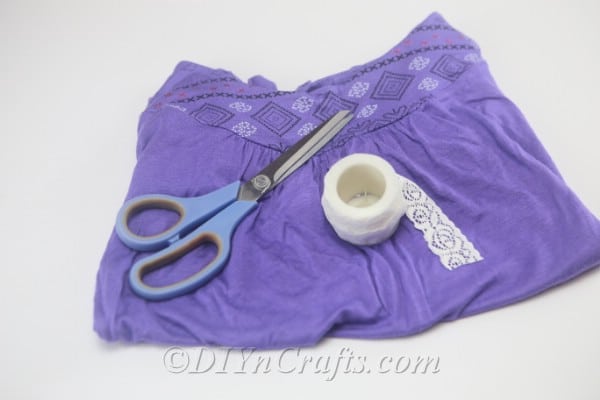 Yield: 1
How to Make a Bag from a T-Shirt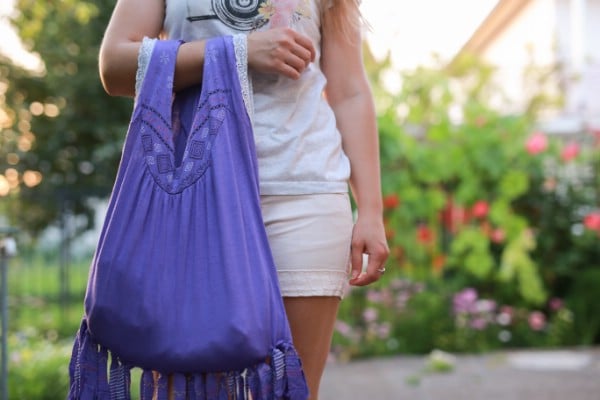 If you are ready to transform an old T-shirt into a brand-new fashionable tote bag, let's get started! Below are the materials and tools you need along with written instructions to go with the step-by-step video tutorial for this no-sew project.
Tools
Hot glue and glue gun
Scissors
Instructions
If your T-shirt has sleeves, your first step is to cut them off. You simply need to create a straight profile along both sides of your future bag. As the sleeves are protruding, they are in the way. So turn the shirt into a tank top in this step.
To avoid having to sew the bottom of the shirt shut, what we are going to do is instead cut a series of fringes which we will then tie together. So your next step after handling the sleeves is to do just that. Get a pair of scissors and carefully cut a bunch of fringes across the bottom of the shirt.
Make sure the shirt is laying flat when you do this. You need the fringes in the front and back to line up with one another. Also, mind that you do not make the fringes too thin, or they will not be sturdy enough. You can make them as long or short as you like. Just remember that the longer you cut the fringes, the lower the tote bag's capacity will be.
Once you have your fringes ready, you need to tie them together. Start on one side of the shirt, and take the two fringes there that match up in the front and the back, and tie them into a secure double knot. Then move onto the next pair of fringes and do the same thing. Just keep repeating until you have completely closed off the bottom of the bag.
As one last step, I decided I would glue some lace onto the sides of the bag where I cut off the sleeves. I did this in order to conceal the raggedy edges. You can skip this step if you don't feel it's necessary and/or if you started with a tank top to begin with.
You now have completed your own no-sew T-shirt tote bag!
Recommended Products
My Etsy Crochet Bag Patterns
What to Make Next After You Have Your T-Shirt Bag Completed
While you are enjoying using your upcycled T-shirt tote bag, you may be wondering what else you can do with other old T-shirts in your closet. Good news—we've got you covered with some fun and easy old T-shirt craft ideas.
One thing you can do with an old T-shirt is, to turn it into a cute peplum top. You'll be surprised by just how easy this is. Something else awesome you can do with old T-shirts which is totally unexpected is to turn them into a beautifully braided bright rug.
Still looking for more? Here are 68 fun and flirty ways to refashion your T-shirts. Oh, and if you do feel like grabbing a needle and thread, why not try some of these 30 summer sewing projects with free patterns? Take a look through our archives and you should find plenty more projects to enjoy!
Pin this Project: