Learn how to make Easter baskets that require no sewing. This no-sew Easter basket is so easy to make, and the perfect homemade touch to give to family members or children. Skip the same old store-bought baskets, and make something a little special.
All you need is the free printable and a few craft essentials and within no time you have little homemade Easter baskets to fill with little candies, small trinkets, and more. Best of all this is a really affordable Easter craft.
Easter is one of our favorite holidays, and I want to share one of our favorite DIY Easter crafts with you today.
Learn How to Make Easter Baskets With Felt
I reached for felt for this craft because it is really affordable and sturdy enough that it holds up well. I also went with hot glue instead of sewing. Because who really is good at sewing smaller projects like this? I know I am not a master at the sewing machine.

Why Make Your Own Easter Baskets
Here are some ideas on how you could use these miniature DIY Easter baskets this holiday season.
School Parties for treat bags
A surprise treat for your child
Children's church goodie bag
Make for neighbors
Co-worker treat bags
And any other idea
Video Tutorial:
How To Make Easter Baskets At Home (Step by Step Photo Tutorial)
Download the template.
Print off the template.
Grab your scissors and cut the large pattern of the box and basket handles out in your charcoal felt. Then you want to secure the corners of the pattern box and set to the side.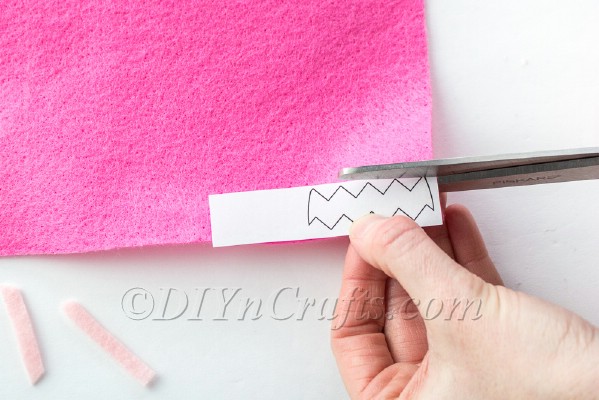 Then follow by cutting out the egg pattern using the white felt. As well as the egg decorative pieces in whatever color you want.

Now comes assembling your Easter basket, simply align the decorative egg pieces onto your cut out egg shape, and hot glue the back side of the strips and press down. Do this until you have your complete egg design done.

Next take your egg that is fully decorated, and face it down. Apply hot glue to the back side, and secure it to the top section of the cut box.

Now you want to work on assembling your box, by adding hot glue to one corner at a time and forming the corners. Work on one corner at a time, as the hot glue will dry fast.

Add a bit of glue to the ends of the long rectangular piece and attach it to the inside of
felt box to form the basket handle.

Once the basket has had time to set up, then fill your basket with treats or goodies, to give to your loved ones.
Tools Needed for Your DIY Easter Baskets
Fabric Scissors
Free Printable
Felt Fabric
Hot Glue Gun
What To Put In Easter Baskets
Need some inspiration as to what to stuff inside your little homemade Easter baskets? Here are some great ideas for you to consider.
Chocolate candy eggs
Jelly Beans
Homemade Easter treats
Dyed Hard Boiled Easter Eggs
Plastic Easter egg with a surprise
Gift Cards
Small toys
Money
Those are just simple ideas that might be perfect for your basket. This little No Sew Easter basket will be a hit each and every time for young and old.
Can I Sew The Corners of the Easter Basket Instead of Hot Glue
Absolutely. If you are good at sewing, skip the hot glue and reach for a needle and thread. You can have this sewn up in around 20 minutes if you want. I just prefer the hot glue method, as it is no fuss, and for those who are not the best at sewing, it works well.
Look at how simple and easy this diy felt Easter basket is to make at home. We love making fun and easy crafts like this. Since the Easter baskets are so small you might even find you have extra scraps laying around of felt that you can use without needing to buy new ones.
Fun Easter Inspired Crafts
Flowery One-Egg Easter Basket
DIY Bunny Nose Craft
Paper Easter Basket
Did you know how to make Easter baskets at home?