I have to admit that I have somewhat of an obsession with baskets. I buy one every time I go out it seems…particularly when I'm shopping at the thrift store. You can seriously get baskets for so cheap at Goodwill and other thrift stores. I recently bought about five for my fall decorating and they only cost me about $10 for the lot. Of course, I shopped on half off day, but still, baskets can be really inexpensive if you know where to look. And, you can use those baskets in your fall decorating.
Fall Basket Decor Ideas for Thanksgiving
I personally think decorating with baskets for Thanksgiving is a wonderful idea. From cornucopias to basket wreaths, there are just so many ways that you can turn an ordinary basket into gorgeous fall décor. And, if you like DIY fall décor projects, you simply have to take a look at these 25 easy to make Thanksgiving decorating ideas. There's everything from place settings to gorgeous gilded pumpkins. Now, as far as decorating with baskets, you can do something as simple as adding apples to a basket and setting it on your table for a beautiful fall centerpiece that is easy and really inexpensive.
If you're really into DIY, be sure to check out these 20 DIY outdoor fall decorations. Many of these can be coupled with your DIY basket crafts to give you a beautiful outdoor look for fall. Whether you're headed to the Dollar Store for a cheap basket or two, or you have a few on hand that you can use, I'll show you 15 wonderful ways to turn those ordinary baskets into beautiful fall décor, and we'll do it without spending a lot of money – My favorite type of DIY!
1. DIY Fall Floral Basket
One of the simplest and least expensive ways to add rustic baskets to your fall décor is to simply fill them with flowers and sit them around your home. You can use the basket to hold a potted plant or head to the Dollar Store and pick up some really inexpensive fall foliage and then put together your own little fall arrangement. These are great for entryways or even to sit on the porch for added color in your outdoor décor.
2. Easy DIY Thanksgiving Basket Wreath
I simply adore creating fall wreaths, and this Thanksgiving basket wreath is really simple. You'll need a somewhat shallow round basket for this…or if you have a round basket that is torn or otherwise broken, you can use the bottom of that. Just cut away the bottom and save the rest for another project. When you have the basket round ready, just add flowers and other fall foliage and hang this on your door or porch.
Tutorial: twelveonmain
3. Easy DIY Floral Basket Door Décor
I love the idea of hanging a basket of fall flowers on the door. If you prefer something other than wreaths for your door decoration, this is a great alternative and it's super easy to put together. Just get a planter basket – one that has a flat side on one side – and add floral Styrofoam forms and your fall foliage. This is another one that you can do with inexpensive silk foliage or use real leaves, twigs and pinecones from your yard.
Tutorial: todayscreativelife
4. Gorgeous DIY Fall Harvest Basket
I love this harvest basket. It's filled with all of the beautiful colors of fall and it's really easy and inexpensive to make. Head out to a craft store or to Walmart and pick up a basket and some mesh ribbons. You can add a large bow or any other decorations that you want, along with fall leaves and sunflowers for added color. This makes a beautiful centerpiece.
Tutorial: sharinglifesmoments
5. DIY Tiered Bushel Basket Décor
Bushel baskets are perfect for decorating for Thanksgiving and you can easily make this tiered one for outdoors. You'll need two or three bushel baskets in different sizes and a dowel rod to attach them. This is so simple. You just attach dowels onto your bushel baskets with wood and screws and when it's all finished, just add your fall flowers or foliage. You can even add little legs to the bottom with inexpensive wooden knobs.
Tutorial: mycreativedays
6. DIY Basket Pumpkins
Make these adorable little basket pumpkins for decorating anywhere in the house. This is such an easy and creative idea! You just paint your baskets and then turn them upside down. The "stem" is made from twigs and branches and then you just add the leaves which you can cut out of green cardstock. These are super easy and you can create as many pumpkins as you have baskets to use for your fall decorating.
Tutorial: dwellinginhappiness
7. Fall Basket Tiered Centerpiece
Here's another, somewhat smaller, take on the tiered basket look. Using three small baskets – in different sizes – you can create this beautiful centerpiece that would look lovely on your Thanksgiving dinner table. Just glue the baskets together using a dowel rod and then add in fall foliage, pumpkins, evergreen branches or whatever else you want for decorations.
Tutorial: momminsohard
8. Easy DIY Apple Basket Décor
An apple basket, that you can pick up at any craft store for under $5, and some paint give you a wonderful decoration for fall. Paint the basket with acrylic paints in a lovely fall shade – or do multiple shades if you want. Then, use floral wire to attach pinecones, evergreen or fall foliage. This is a lovely centerpiece basket or you can use it to hold any number of potted plants all over the house.
Tutorial: dearcreatives
9. DIY Fall Apple Harvest Décor
A bushel basket, some foam apples and a few crafting supplies are all you need to make this adorable fall apple harvest basket. This is one of the easiest projects and it won't take you long at all to complete. Just add your foam or plastic apples to the basket by attaching them to some floral foam. Then add raffia and even some fall foliage or a burlap bow to give it a great rustic look. This farmhouse inspired décor is perfect for fall.
Tutorial: iheartnaptime
10. Cheap And Easy Dollar Tree Fall Basket
One of the reasons that I love the Dollar Tree is because everything is so cheap. Another reason is because they have so much stuff that you can use for your DIY projects. Take this DIY fall basket for example. You can get all of the stuff for it at the Dollar Tree and it will cost you less than $10 in total. Then just put everything together and you have a lovely fall decoration that is cheap and easy.
Tutorial: https://youtube.com/watch?v=Nz3TC1A1gqg
11. DIY Fall Flower Topiary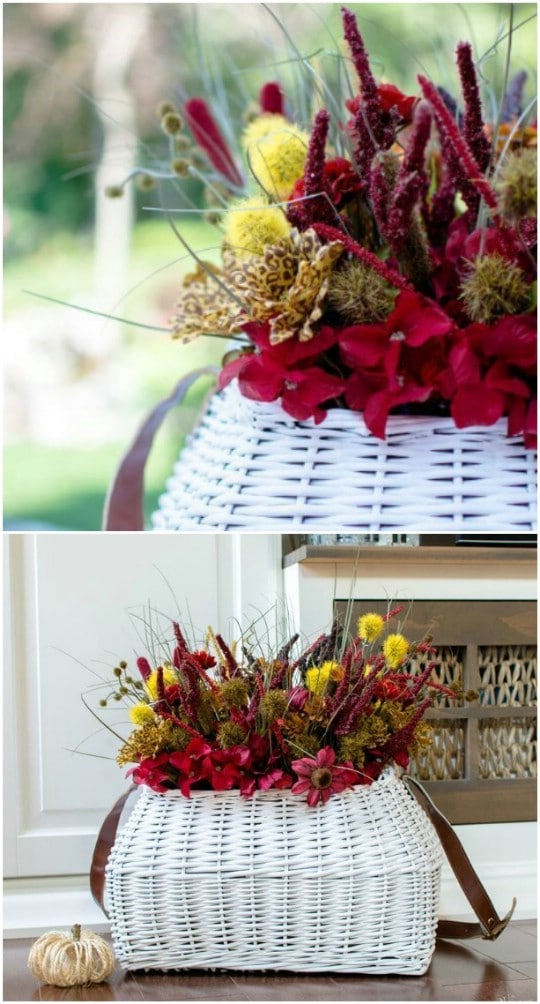 Topiaries are great for decorating the porch and you can do so many things with them. If you have a large basket type planter, you can make this lovely fall topiary by simply adding in silk foliage in fall colors. Just stick the foliage into a Styrofoam ball and then add to your planter. If you don't have a basket planter, you can make one really easily with a basket and a short column.
Tutorial: thenavagepatch
12. DIY Half Pumpkin Flower Basket
You can make your own little basket out of a pumpkin and it's the perfect way to decorate for Thanksgiving. Just hollow out your pumpkin – or if you're using a craft pumpkin just turn it upside down. Add candle cups to the bottom for legs and then glue fall foliage around the edges. Add fall flowers, pumpkins and other foliage to the inside using a Styrofoam florist ball.
Tutorial: acmoore
13. Easy Hanging Fall Basket
Here's another wonderful basket to hang on the door or you could literally hang this on any wall where you need extra fall décor. You just decorate a plain basket with some leaves and other fall colored foliage and then add pumpkins and gourds to the inside of the basket. Wires through the basket weave will allow you to hang this on the door or on the wall. Just wrap the wires around a wreath hanger or nail.
Tutorial: alittleclaireification
14. DIY Fall Basket
Here's another wonderful way to utilize those inexpensive fall foliage pieces from the Dollar Store or Dollar Tree. Actually, the Dollar Tree has so many different color options and they are all only a dollar each. Just take that foliage and add it to a rather large outdoor basket. This is great for sitting right next to your front door. You can even use real leaves if you want. Just pile them all in or use a large Styrofoam florist ball to keep them all in place. This is a great project to add to your Dollar Store crafts list.
Tutorial: hometalk
15. DIY Paint Stick Bushel Basket
If you don't have a bushel basket for your fall decorating, you can easily make one yourself with paint sticks. Paint sticks are very inexpensive and when you attach them to embroidery hoops in a couple different sizes, they make a gorgeous bushel basket. You can do these in any height that you need and then just add in your favorite fall foliage, pumpkins or other fall decorations.
Tutorial: decoart