I have naturally straight hair, but sometimes I just want curls. One of my favorite ways to achieve that is with this method to curl hair with aluminum foil. This is a great way to make curls without having to use hot rollers or a curling wand. A hair straightener can help add the heat you need to make this look come together.
Aluminum Foil Curls
I am always on the lookout for new ways to style my long hair. Having been born with stick-straight hair, I am often looking for ways to curl or add volume to my hair. This aluminum foil curls idea is so easy to do and works great. Especially if you want those curls in a short period of time. This can easily be done from start to finish in just 30-minutes.
If you want a way to style your hair after it has been curled, you might love this dual top knot style. Wavy or curly hair looks amazing with this method of putting hair up in a classic half-up and half-down style.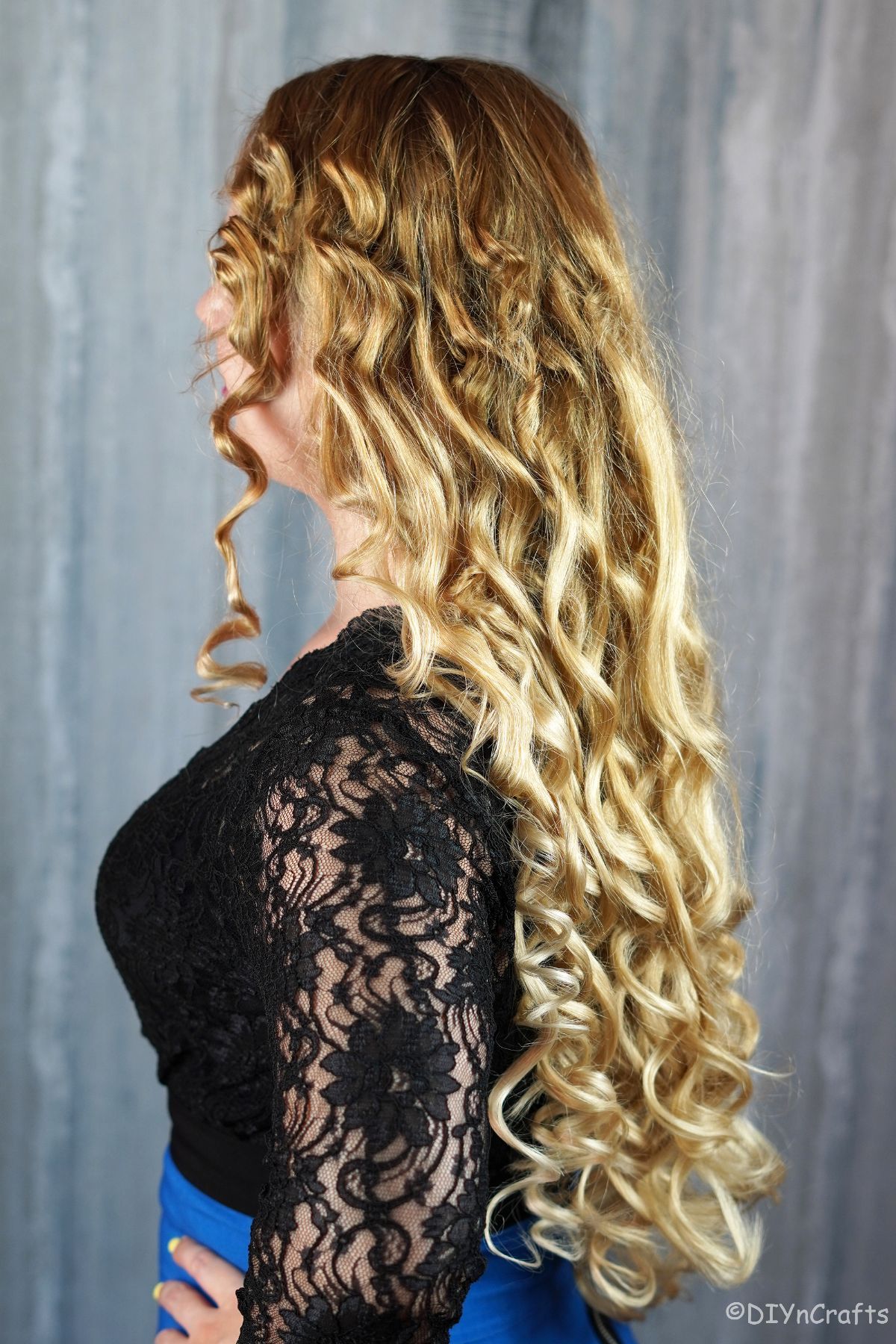 What Supplies Are Needed to Curl My hair with Foil?
To curl your hair with aluminum foil, you will obviously need some aluminum foil. Other than that, you'll want a comb or brush to use before starting and a hair straightener. The heat from the straightener will help the curls to set and last longer.
Tools I Use
While not everything below is needed for this style, in particular, I definitely recommend checking them out. These are items I always have on hand for styling my long hair. They come in handy on a regular basis.
Other Items I Love:
How to Curl Hair with Aluminum Foil
This method of curling hair is ideal for those with straight hair. It can, however, work with almost every length of hair from long to pixie cuts. If you can roll your hair at all, you can easily use this method. I love experimenting with ways to curl hair, and this is a favorite that I come back to regularly.
This hair works on both freshly washed and dirty hair, so no matter what your day is like, you can put your hair up in this foil curling method and know it will look great.
Before you begin putting your hair up into these curls, take the time to come out your hair and remove any tangles, then part as you normally would.
Step 1
Start by separating a small section of hair from the front of your head. Our model started on the side of her part and pulled hair from the front in approximately a 1" section.
Wrap this section of hair around a finger about halfway up the section of hair.
Then, finish by rolling that upon itself and up to your scalp as what looks like a mini bun.
Step 2
Now, you will wrap the curl you created with aluminum foil. A small square that covers it completely is needed but doesn't have to be large. I tear or cut apart a larger sheet into 3" squares for smaller curls like these.
Once the curl is wrapped in the foil, use the hair straightener to heat it for 30 seconds.
Continue the process of rolling the hair into mini buns that you wrap and heat with the straightener until all of your hair has been wrapped.
Step 3
Once you have sectioned and wrapped all of your hair, you can go back over the foil pieces again for 15 to 20 seconds each. This is not necessary but is good if you want to pull the hair down faster.
Step 4
Now, let your hair sit for 15 to 20 minutes before you remove the foil.
Finger comb the curls and style as desired.
How Do I Get Curls to Last Longer?
While these curls stay nice due to the heat applied, you can definitely add other methods to make sure they last all day long. Depending on your hair texture and length, you may need to do something extra. I find as I have long hair that I have to use a product to help hold the curls.
More Hairstyle Tutorials
This beautiful way to give curls to your hair is one of my favorites, but sometimes you want something a bit different. If you are looking for more curls, braids, or updos, below are a few of our favorites. These ideas are excellent for medium-length to long hair. Make sure you take a moment to bookmark your favorites. You can also print out the tutorial with images, or pin it to your hairstyle board on Pinterest.
How to Curl Hair with Aluminum Foil
Follow this easy tutorial for how to curl hair with aluminum foil to add a fun new way to add waves and curls to your straight hair!
Additional Time
30 minutes
Instructions
Comb hair and part as normal, then section a 1" strip of hair.
Take this piece of hair and roll it around your finger about halfway up. Then, pull off your finger and roll it into a mini bun all the way to your scalp.
Fold a piece of aluminum foil over this curl.
Then, use the hair straightener to heat the foil for 30 seconds.
Repeat this process until all of your hair is wrapped. Then go over each one again for 15 to 20 seconds.
Wait 30 minutes before removing the foil and finger-combing the curls.
Notes
Depending upon hair thickness and length, this will usually take between 15 to 20 curls to cover your entire head. Prepare ahead of time by cutting or tearing the foil into 3" squares to save time while putting your hair up.