Sometimes it is the simplest things when combined that create the most beautiful styles. This low ponytail braid is a great choice for every day, and the simple twist added makes it just a little bit better. This is ideal for long hair and perfect for a casual or professional setting.
Low Ponytail Braid
Ponytails, braids, and buns are my go-to looks. It's just easy to throw my hair up and get it out of my face while I work or out of the way when cooking a meal for my family. That doesn't mean my hair can't have style in the process. This low ponytail has a simple braid but twists on the sides as well to make it more unique.
If you like this style but want more options, you might also like to check out this list of waterfall braid ideas. Tons of un You may also want to look at these ways to use bobby pins for even more style in your hair! so cute and easy.
What Do I Need to Create a Low Ponytail Braid?
This style is super easy and really only requires your hairbrush or comb and a ponytail holder. You can do this low ponytail super easily with items you may already have in your bag or purse! It's such a fun style and so easy, you'll wonder why you never did this before!
Tools I Use
While you don't need a lot of items to style your hair like this braid, below are some more that I really love having on hand. Take a look at my favorite hair tools and hair care products and add some to your routine.
Other Items I Love:
Adding these items to your regular routine can give you great new ways to style your hair, and provide you with sleek styles. While not necessary, they are a great choice to invest in for your hair routine.
Low Ponytail Braid Tutorial
This low ponytail braid with a twist is ideal for those with straight or slightly wavy hair. While it can be done with curly hair, it may a bit more difficult to make the twists visible and stay intact. I do find that this style holds in place best with slightly dirty hair, it can easily be created with freshly washed hair if you prefer.
To begin, you will comb out your hair and make sure it is detangled. Then, you will part as you do naturally, in our model's case, a side part.
Step 1
Gather the front section of hair on the side of your part and begin twisting it inward toward your head.
Continue the twisting motion until you reach a length that reaches halfway around the back of your head. Clip into place.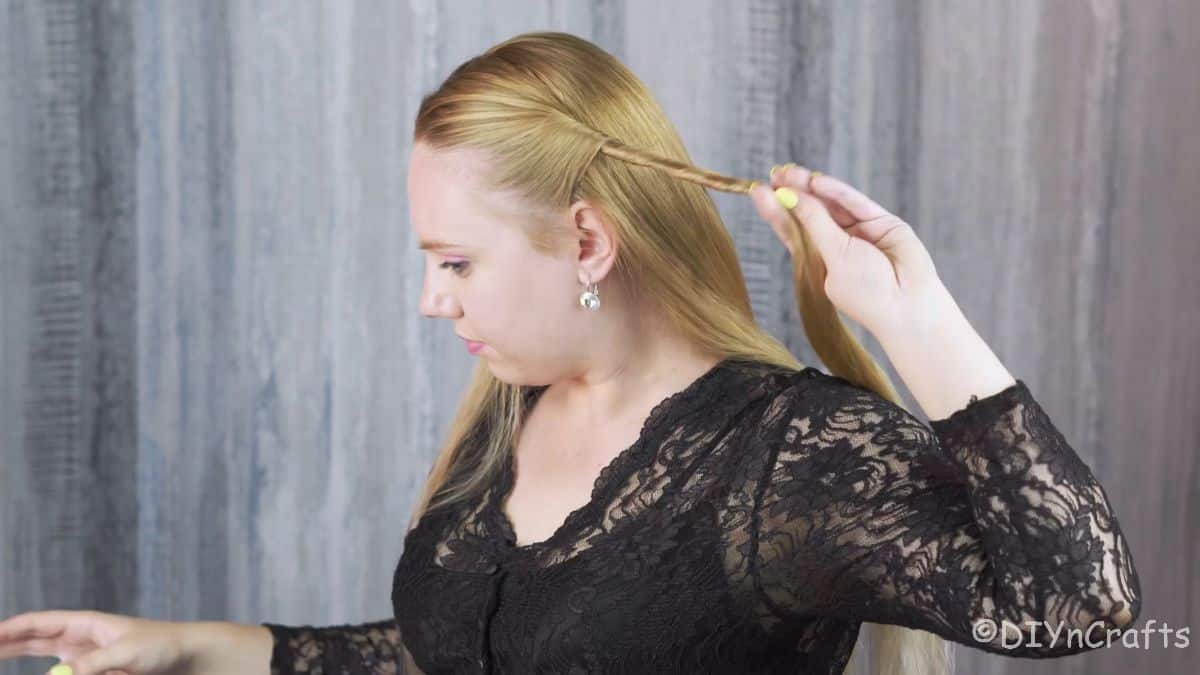 Repeat this process on the other side and clip it into place and then remove the clips and tie it in place with a small hair band or elastic. Leave this look a bit loose in the middle of the back of your head.
Step 2
Now you will pull the remaining hair up and over the twists on the sides. Our model separated each side into two sections of hair.
Just pull the hair up from the bottom, and tuck over the twist on the side, behind your ear.
Repeat this on both sides.
Step 3
Now, pull the bottom sides down and over your shoulder and the twisted hair ponytail along with a small bit from each of the inner potions straight down your back.
Step 4
Begin braiding this center section.
Create 2 to 3 turns of the braid, and then begin pulling in the outside sections a little at a time, in a French braid style.
Once all of the hair is together in the braid, continue to the end with a three-strand braid.
Secure at the end with a ponytail holder or hair band.
How Can I Customize My Braid To Look Even More Unique?
Even with a bit of a twist, this is a pretty basic braided style. You can definitely make it just a bit extra with a few adjustments. If you want to take this from a day-to-day look into a style for an event or party, it's super easy to do so. Below are some great ideas for taking this style and making it unique.
Weave a ribbon, lace, or breaded ribbon through the braids for more color.
Use beaded or decorative bobby pins or hair pins throughout the braids.
Add fake miniature flowers around the edges and crown of the braid.
Tie a ribbon on the end as a bow.
Use decorative combs on the top sides of the braid for added sparkle.
Roll the braided end up into a bun at the nape of your neck and secure with bobby pins.
More Beautiful Hairstyle Tutorials
Braids are my favorite thing to do with my hair, but they so easily can be boring if you do the same thing over and over again. This twist is a great idea to take your braid up a notch. Below are a few more amazing hairstyles that I know you will also love. Make sure you bookmark the styles you like. You can also print out the tutorials (with images), or even pin them to Pinterest on your hairstyle board so they are easy to find when you are ready to style your hair again!
Elegant Low Ponytail Braid with Twist
This elegant and easy low ponytail braid with a twist is a great choice for a fun spin on a classic. Ideal for long straight hair and perfect for daily wear!
Materials
Instructions
Part your hair as normal, then pull a section of hair from the front and begin twisting it back so the twist goes toward and against the side of your head. Continue this until you have reached the side of your head, then twist the section of hair until it meets the center of the back of your head. Clip into place, then repeat with the second side.
Once both sides are twisted, tie this together with a hair elastic in the center back.
Now, divide each side of the remaining hair that is hanging down, into 2 sections.
Pull the hair up and over the twists on the side tucking them under, until all 4 and both sides are twisted over and hanging down.
Then, pull the side portion of hair over your shoulders, then begin braiding the center section of hair.
Braid this 2 to 3 times, then incorporate one of the side sections. Repeat this in a French braid style, pulling the hair in until it is all together in one set of 3 strands.
Continue down and braid the hair in a traditional 3-strand braid and then secure at the end with a ponytail holder.
Notes
Use a Topsy Tail to pull hair through to twist if needed.