If you're looking for a stylish and unique way to keep your hair out of your face, look no further than this denim braided headband! This funky headband is made from upcycled denim materials, so it costs almost nothing to make. It's a great casual addition to your wardrobe as a fun and functional accessory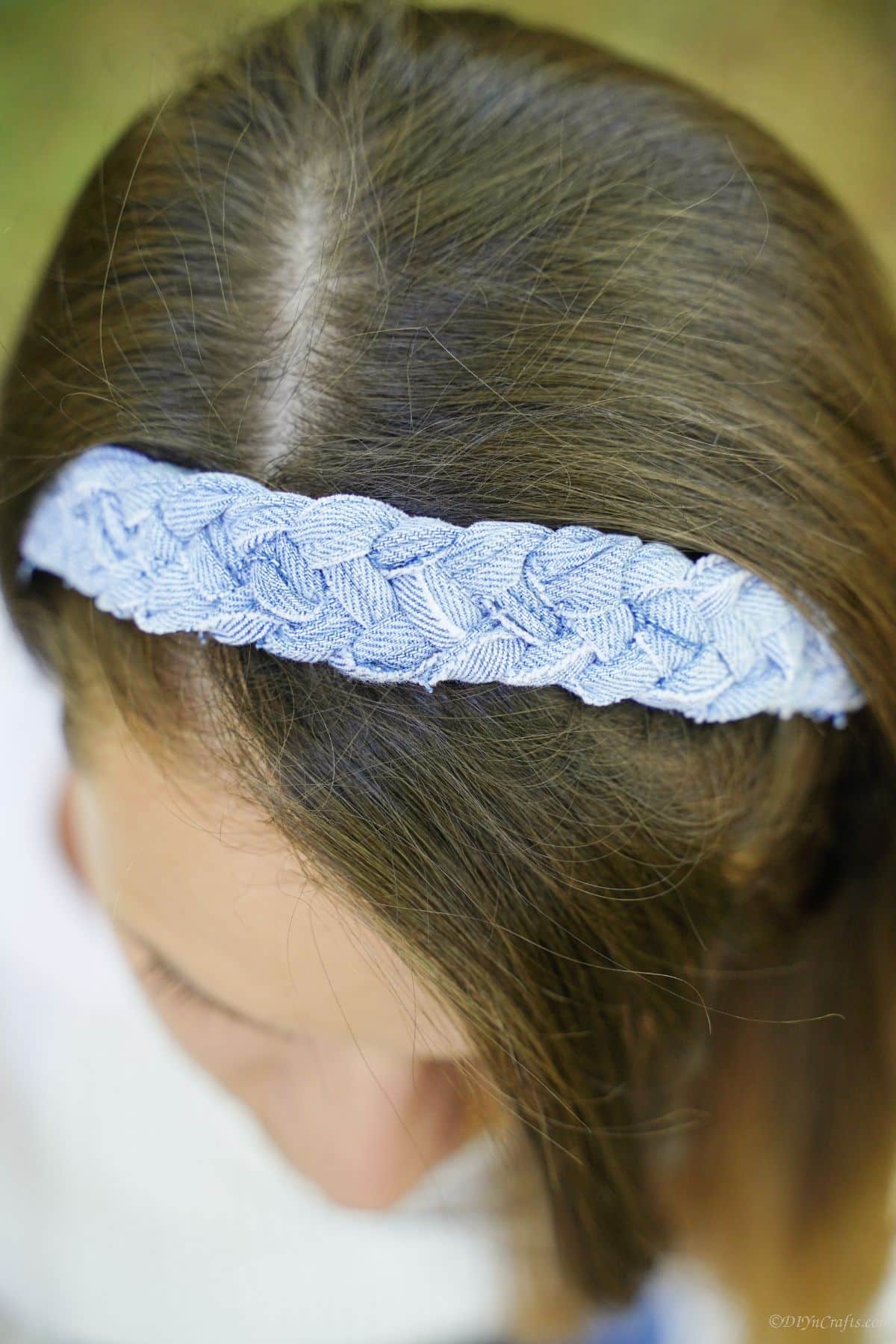 Denim Braided Headband
This denim braided headband is perfect for bad hair days, working out, or just running errands. It's comfortable to wear and will stay in place all day long. And because it's made from denim, it's super trendy and fashionable. You can go ahead and rock that messy bun - with this headband, you'll look completely put together!
I love using denim for a headband, but you can also make something else to go in your hair. Here are some great knit and crochet headbands, and you can even make this cute one for the kids with fabric flowers! Or this list of adorable DIY summer headbands is excellent.
What Should I Use for the Headband Base?
The headband is made with a long braided denim base and a bit of elastic on the back side that is also covered in denim. This gives it the stretch needed to fit around your head but is also adjustable if needed. It is the most inexpensive option that you may already have on hand. In fact, you can grab a pair of elastic waist pants or shorts that are worn out, and pull the elastic from them to make this 100% upcycled.
You can also use a regular headband as the base if you have one on hand or want to buy some. I would recommend buying one from the dollar store to keep this as an inexpensive craft. You can braid the denim around it, or braid and then glue it to the headband base. Both are easy and good options that fit this accessory.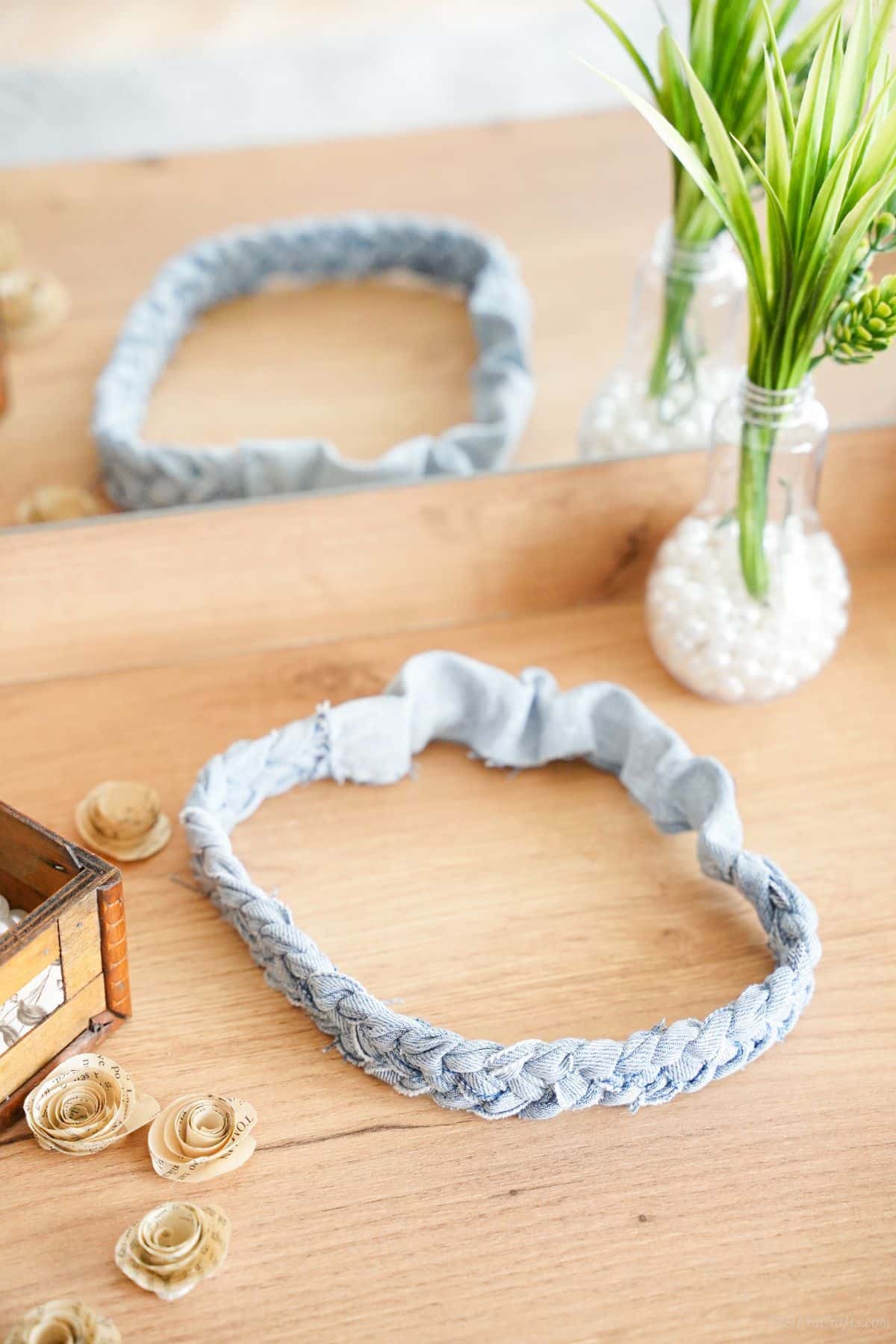 How Do I Know How Big to Make This?
To figure out how big to make the denim braided headband, there are a few options. The first is to simply measure with a sewing tape measure or to wrap a ribbon around your head and then measure it against a ruler.
Start by placing the ribbon or tape measure over the crown of your head, then down around the back and to the nape of your neck. However, when using this method you also want to consider that the denim strips you cut will need to be longer as braiding them will decrease their length.
So, my recommendation is to measure and cut the denim about twice the length needed. Then, you can connect the two ends with elastic, and cover them with an additional elastic strip. The entire headband does not need to have an elastic base, just the back to hold it into place properly.
Note: most headbands will be between 18" and 24" in length when wrapped around the head. The size differences would vary between a child and an adult.
Can This Be Washed Easily?
Yes, you can wash the denim braided headband. You can hand wash it and then let it air dry or you can wash it on the gentle cycle in the washing machine. I have even heard of people washing headbands like this in the dishwasher and then letting them air dry, although I haven't tried it myself.
Can I Decorate this Braided Denim Headband?
There are so many ways to decorate this braided denim headband. Below are a few of the ideas that I love and know will look cute. As always, this is just the beginning idea, you can customize it just for yourself.
Use different denim washes for each strip so they are woven together like it is multi-colored.
Dye the strips of denim into rainbow colors before you braid them.
Attach beads, rhinestones, fake pearls, or small charms to the top of the denim headband.
Weave a ribbon or strip of fabric in an alternate color into the braid.
Spray with glitter fabric spray so it is sparkling in the sunlight.
Add embroidered flowers to the braided denim to add to the design.
Supplies Needed
How to Make a Denim Headband
Begin by cutting the legs off of an old pair of blue jeans. Then, cut the seams off the bottom hem as well as the inside seam on the legs. This will leave you with two pieces the width of the legs of the blue jeans.
Now, cut these into strips that are around 20" long and at least 1" wide. You will want 5 strips of denim but can use up to 6 strips for this headband.
Stack the strips of denim on top of each other.
Then, use the needle and thread to sew one end of this stack of denim together. This can also be done with a sewing machine if you prefer.
Once you have the strips of denim tightly sewn together on one end, tape that end onto a table or flat surface.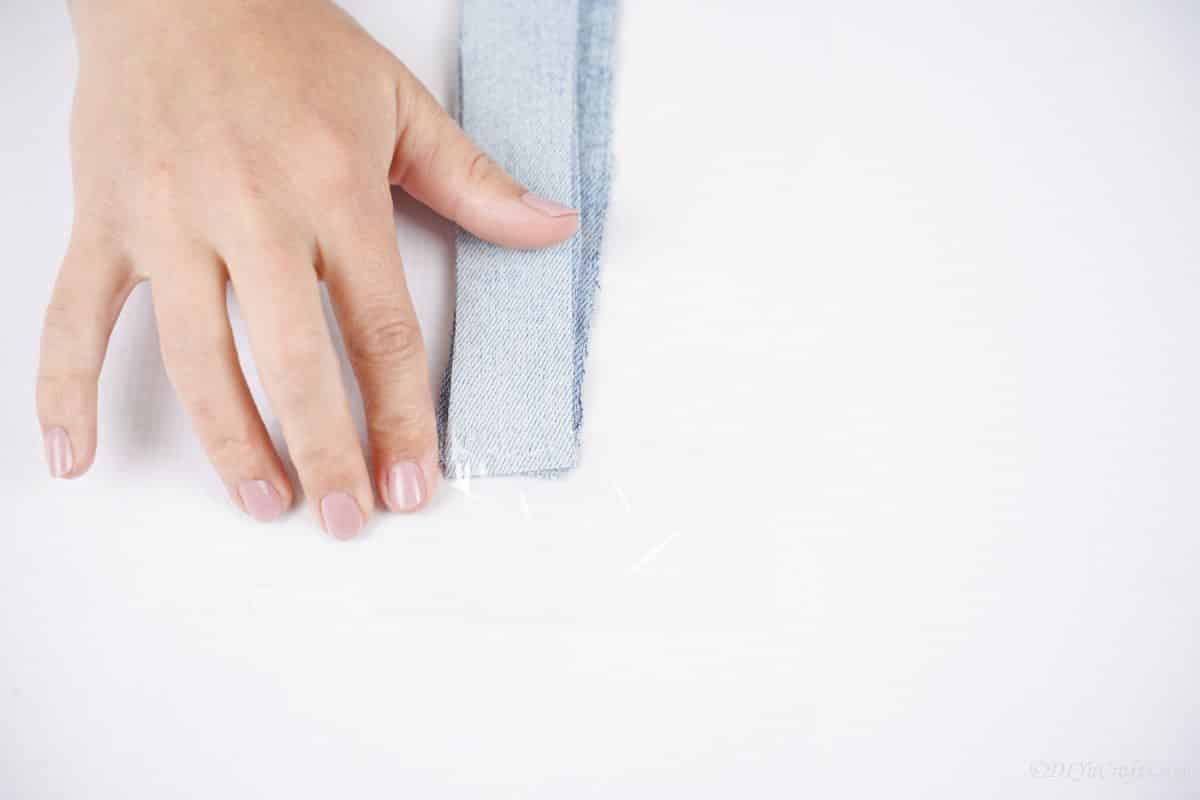 Now, you will begin braiding the strips of denim. You can braid this regularly, or follow a weaving pattern so that the outsides fold over the closest strip, then the middle goes back over and under again.
Continue braiding this until you reach the end of the strips of denim. Now, you will sew them together much like you did the other end of the denim strips.
Now, measure around your head, and cut a strip of elastic that is just a bit (½" or so) shorter than the difference between the head measurement and the length of the denim braid.
Sew the elastic to the two ends of the denim braid so they are connected into a circle.
Now, cut a strip of denim that is 2" wide and 1" longer than the length of the elastic you just attached to the headband.
Fold this over the elastic, and sew it onto each end and then on the other side so it is wrapped around the elastic between the sides of the denim braid.
Now, you can add other embellishments, beads, or similar items to the headband if desired before wearing.
More Easy Denim Crafts
Making things with those old blue jeans is so much fun! From holiday decor to more fashion ideas, below you will find some of my favorites. Make sure that you bookmark these ideas, print out the tutorials, or pin them to Pinterest to make soon!
Yield: 1
DIY Upcycled Denim Braided Headband
This upcycled denim braided headband is a great addition to your wardrobe! Free and easy to make and perfect gifts!
Tools
Instructions
Cut the leg of a pair of blue jeans off the pants, and cut the seams off leaving you with just the basic denim.
Measure and cut 5 lengths of denim that are 20" long and about 1" wide.
Now, stack these strips of denim on top of each other.
Carefully sew one end of these strips together to secure them.
On a table, tape the sewn end of these denim strips in place.
Then, begin braiding the denim strips. You'll move them over and under each other to create a tight braid until the entire piece is braided.
Sew the end of the denim strips together tightly so you have a braided strip of denim secure on both ends.
Now, measure around your head, and cut a strip of elastic a bit shorter than needed to go between the two ends of the denim braid.
Sew the elastic onto each end of the denim to secure.
Now, cut another strip of denim to cover the elastic, wrap it around the elastic then stitch it into place to cover it.
Notes
Use different shades of denim for a different look.
Recommended Products
As an Amazon Associate and member of other affiliate programs, I earn from qualifying purchases.
Finished Project Gallery
Add a bit of color by weaving together different denim washes.
You can even add a ribbon into the braid for extra flare.