This denim feather keychain is so cute and unique! It's made from a recycled piece of denim, so you can feel good about making it, and it's adorable. It's a great way to show your personality. This keychain is a fun accessory and makes a great gift idea. Since it is so easy to make, it's the ideal weekend craft!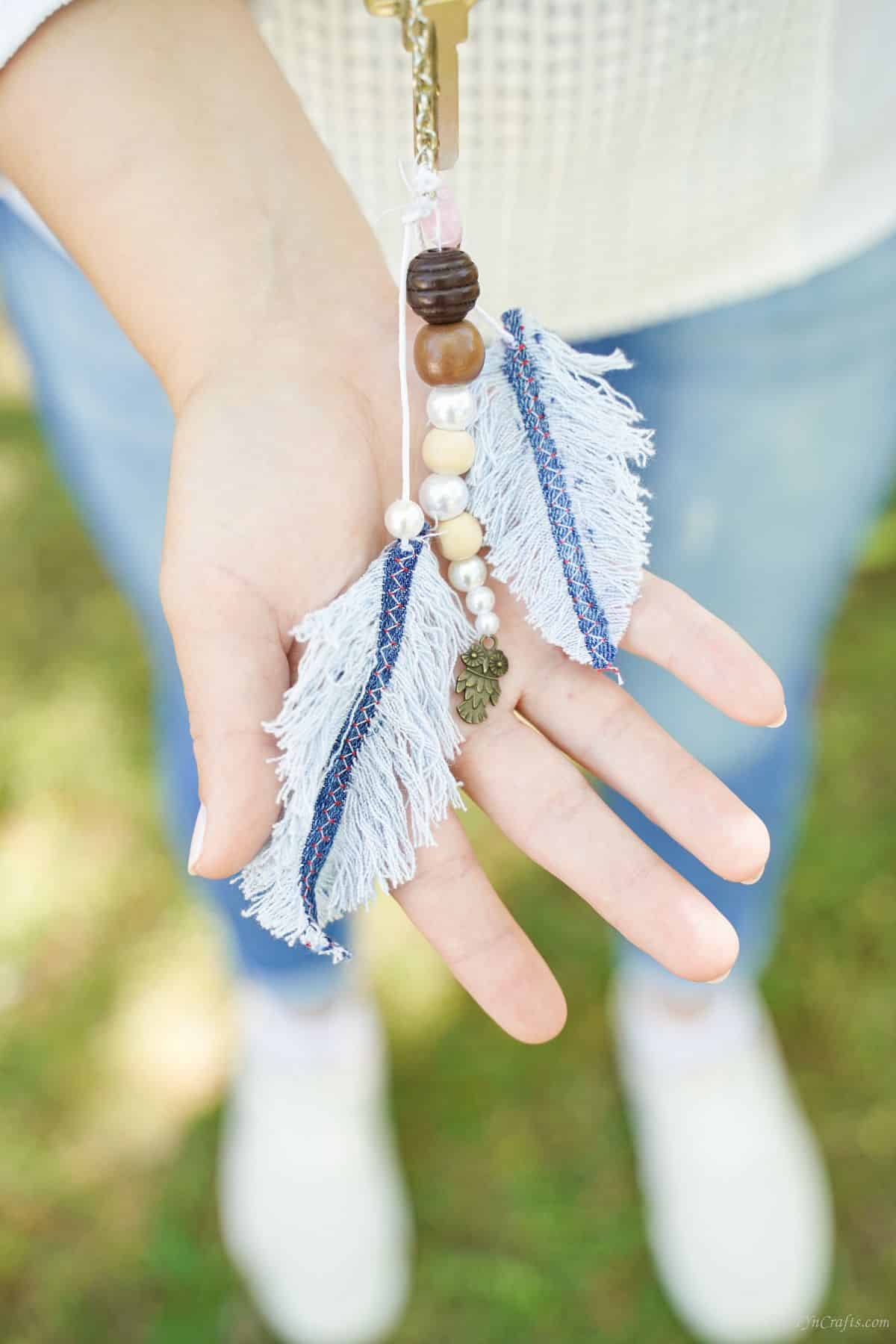 Denim Feather Keychain
Denim feather keychains are a fun and stylish way to keep your keys together. They are made from a recycled piece of denim and look like real feathers with frayed edges. Not only are they beautiful, but these keychains are also eco-friendly. You can feel good about making it because you know you're helping the environment.
If you want another addition to the keychain, check out this old book page mini-book keychain. It's adorable and perfect for going with these denim feathers. Little rustic additions like this are perfect for making the keychain even more unique.
Where Can I Find Cheap Scrap Denim?
The first place I go to get my scrap denim is my old jeans. Seriously, I always have jeans that are getting worn out, or that my kids have outgrown. After that, I check the thrift stores to see if I can get jeans at a very low cost, sometimes a pair for as little as $1 or $2. The key to getting the jeans at a low price at the thrift store is to look for the ones that are marked very low because they are worn and then shop the thrift store sale tickets.
Fabric stores will also sell denim. I wait until there is a good sale or they are offering a discount coupon. Joann's fabric store offers 40% off on their website and this can save you a good deal of money on scrap denim.
Of course, nothing beats a good yard sale or garage sale for finding cheap blue jeans. While sometimes they are like-new, if you look for kids' old clothes, you can often find them for practically free.
What Scissors are Best For Cutting Denim?
I like to use sharp fabric scissors when cutting denim. I find that they make the job easier and the cuts are cleaner. If you do not have fabric scissors, a rotary cutter, or even a Xacto knife on a mat. When using one of these last two, you will also need a self-healing mat to protect your surfaces and a straightedge to help you make straight cuts.
If you aren't sure what fabric scissors are, you will find them in the sewing notions area or in a fabric store. These are not the cheap scissors you have in your junk drawer but are quality scissors designed to be sharpened as needed. When in doubt, ask someone at a fabric store to help you locate a good pair of fabric scissors.
Should I Seal This Keychain?
While you can seal this keychain it will make it stiff. I like to keep the keychain soft and pliable. If you are concerned or want the extra stiffness, you can seal the keychain with a fabric sealer or a spray-on sealer. Be sure to test a small area first to see how the sealer will affect the color of your keychain.
The best part of these is that denim is so durable and you can easily wash this if it gets dirty. You don't have to worry about sealing it to protect it from outside elements as it is super easy to clean.
What Else Can I Do to Decorate My Feather?
There are so many ways that you can decorate your feather keychain. Below are a few ideas that I love!
Adding color with either fabric dye, acrylic paint or spray paint will create a completely different look to the feather.
You can add different color beads, sequins, or buttons.
Spray with glitter fabric spray or add a bit of glitter fabric paint to make it sparkle.
Add real feathers alongside this or even more colorful fake feathers.
Tie on strips of ribbon or lace alongside the feathers for a little bit of extra rustic look.
Braid twine or denim to wrap around the metal chain of the keychain.
Supplies Needed
How to Make a Denim Feather Keychain
On an old piece of denim or worn-out blue jeans, draw and cut out a teardrop shape of the fabric. Repeat this in different sizes for as many feathers as you want for your keychain, or just one per keychain you want to make.
Once these are all cut out, you can use a needle and thread, or the sewing machine, to sew a seam down the center of each teardrop shape. I use the zig-zag stitch on the sewing machine, but you can create this seam any way that you prefer.
Once it is into place, carefully unravel the jeans on both sides, peeling off the strips of denim that are going lengthwise and leaving just the dangling bits that are horizontal.
Next, you will use that needle and thread to add beads to the top of the feather. Add as many as you want on this area, and even add more going up onto the chain if desired.
Now, sew or tie the thread onto the actual keychain with a ring on the opposite end. Make sure this is good and secure.
Add additional charms or beads to the chain or top of the feather as desired.
I added 2 to 3 feathers per keychain but you can add more or less depending upon what you prefer.
More Easy Denim Crafts
If you have more denim and want to put it to use for something new, check out the ideas below. There are tons of fun ways to make trash into treasure. Make sure that you bookmark these ideas, print out the tutorials, or pin them to Pinterest to make soon!
Yield: 1
Unique DIY Denim Feather Keychain
Make this unique DIY denim feather keychain with just a few items you have on hand and customize to fit your style!
Materials
Tools
Instructions
Cut out a teardrop or leaf shape from old blue jeans.
Using the sewing machine, create a seam down the center of this shape using a zig-zag stitch.
Now, carefully unravel the jeans on both sides, removing the individual stitches to create a fringe/feather look.
Now, use a needle and thread, to add beads to the top of the feather piece, and create a length as long as desired.
Then tie and/or sew the thread onto the keychain chain and ring.
Add additional charms or embellishments as desired.
Repeat making 2 to 3 feathers per keychain.
Notes
Add beads to the keychain or even ribbons to make it fit your style better.
Recommended Products
As an Amazon Associate and member of other affiliate programs, I earn from qualifying purchases.
Finished Project Gallery
You can add as many feathers to your keychain as you want.
Add additional charms or ribbons to make yours unique.