My husband loves anything miniature, so this adorable little miniature book keychain I made from old book pages is a new favorite craft. This project was inspired by the many mini books I've seen over the years. It's tiny, simple, easy to make, and perfect to give to the book lover you know. Whether you make this for yourself or to gift, it's a great little craft project that anyone can make in just a few minutes.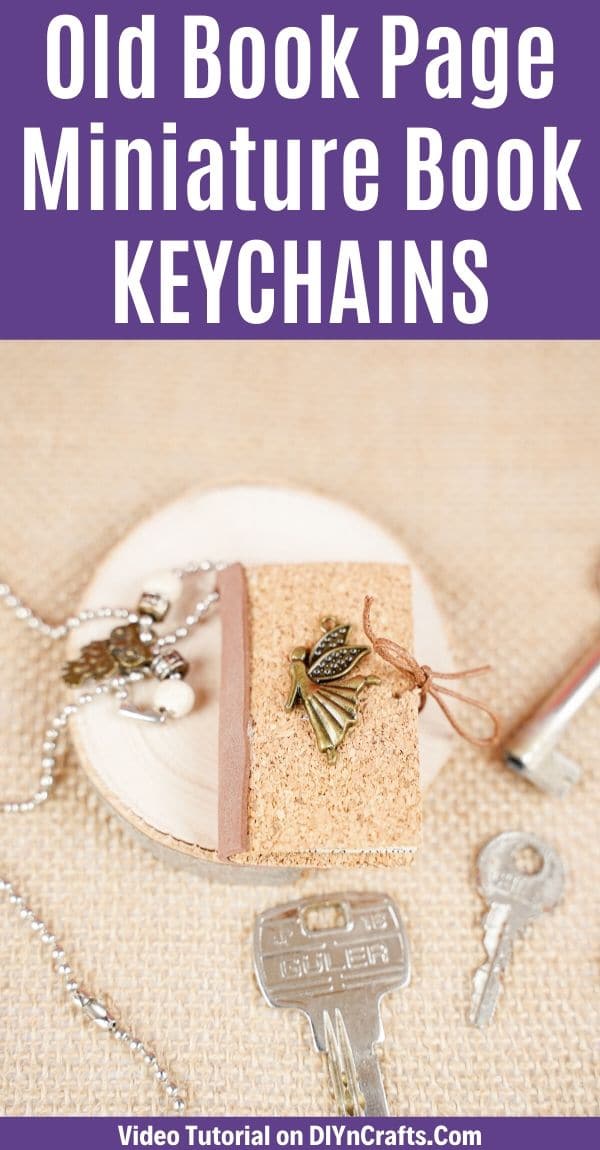 Miniature Book Keychain
If you are obsessed with miniature items like I am, you'll love this cute little book project. I've made keychains in the past, but this one is really unique. I love that you can customize this, write inside the book, or use a specific book to create pages you are already familiar with reading. It is the perfect gift for someone, and has both that useful and homemade aspect everyone wants.
Get creative with the chain on this project by adding beads, tokens, little charms, or even ribbons. It's even a great craft you can make with your kids! Let them help thread the beads onto the chain, or even cut the pages. They will love making such a cute and useful gift for their friends and loved ones.
What Can I Use For the Book Binding?
For this project, I used some cork board. It is sturdy, but still light weight so works well to keep the book comfortable for regular use as a keychain. I also love that it is so easy cut and inexpensive. You can use other items to make your binding. Just experiment with items to see what you prefer. Below are some of the items I would use.
Cardstock
Thin cardboard
Foam paper
Scrapbook paper
Thin plastic (like from a notebook or folder)
What Other Ways Can a Miniature Book Be Used?
If you don't want to carry the book around every day and prefer to keep it safe on display, you can easily do that instead. I've seen miniature books in doll houses, on shelves, or even in a custom made little bookcase. There are tons of ways you can put them to use and keep them displayed while not putting them at risk of getting ruined or torn apart.
I love the idea of making a few of these, stacking them together, and gluing into a little stack of books. Use a paint pen to write a book name or author's name on the binding so they look more realistic. These can be added to a cloche with other themed items, or as part of a wreath or bouquet. You could even add them to an artificial flower and stick into a bouquet with flowers to give to a friend. Personally, I love the idea of making a little diorama with a tiny bookshelf filled with these little books.
Supplies Needed
How to Make a Miniature Book Keychain
Trim the blank edges off of a book page.
Use a ruler to mark off the book page into rectangles. I made 6 rectangles out of mine, but you can do as many or as few as you want depending upon how large you want the book.
Fold each of these pieces in half.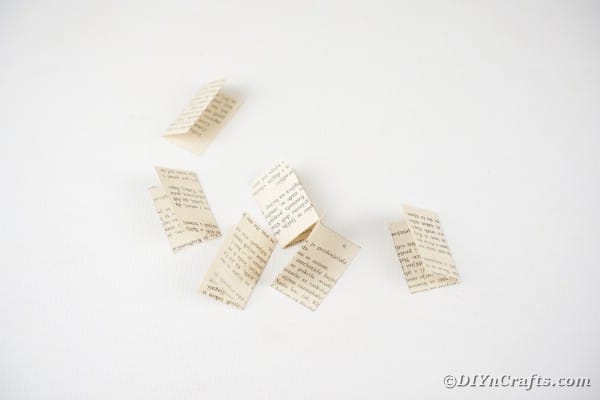 Stack the folded book pages on top of each other, and staple through the middle at the crease of the folds.
Use the size of your pages as a template, measure and cut out a piece of cork that is slightly larger than the size of the book pages.
With a leather punch, add a small hole on the outer edge of the cork. This will be to thread a leather cord through.
Glue the pages into the center of the cork book shape.
Add a strip of washi tape, leather, or paper to the binding of the book as added decor.
Thread a charm and beads onto the beaded keychain length in a pattern you prefer.
Push a hole through the top corner of the center of the cork binding, and push the bead chain through it and secure with a clasp.
Thread a length of the leather cord through the hole on the outside of the book page and tie into a bow then trim.
Add a charm or embellishment onto the outside center of the book if desired.
Now you have a miniature book keychain to use or give as a gift.
If you enjoy making this project, you might also enjoy some of our other book page ideas. I've made gorgeous old book page wreaths, paper scroll wreaths, and even origami old book page wreaths. You can turn old book pages into decorative paper feathers, hanging birds, or even simple book page paper flowers. Of course, some of my favorites are decorative items like this old book page paper hedgehog craft or the old book page paper vase decor!
Crafter's Tip

When crafting with items like cork, sometimes it is easier to cut using a craft knife over scissors. To keep surfaces and your own hands safe, I recommend using a self healing cutting mat. If you prefer a safer method than a craft knife, pick up a rotary knife that keeps your hands safer and away from sharp blades.
Yield: 1
DIY Miniature Book Keychain from Old Book Pages
Create a miniature book keychain from old book pages following this simple step by step tutorial and using only a few craft supplies.
Materials
Tools
Instructions
Tear a page from an old book and trim the blank edges off the page;
Use a ruler to create 6 equal rectangles on the page and cut them out;
Fold each of the small pages in half;
Stack the folded pages together on top of each other so that the crease is in the middle;
Staple the pages together in the center;
Measure and cut out a piece of cork that is slightly larger than your book pages and then glue the pages into the center of the piece folding it over into a book shape;
Add a bit of washi tape, leather, or paper to the outer folded edge of the book as a binder;
Use a leather hole punch to add a hole through both sides of the cork sheet in the center open edge;
Punch a hole through the upper inside corner of the cork;
Thread charms and beads onto the beaded chain in a desired pattern;
Push the beaded chain through the hole in the corner of the book, and secure with a clasp;
Thread the leather cord through the holes at the outer center of the book you punched, and tie into a bow then trim off any excess;
Add a charm to the middle outside of the book;
Now you can give as a gift or use as your own keychain.
Notes
You can make this book as thin or as thick as you want. There is no right or wrong way to create the pages for this mini book.
Recommended Products
As an Amazon Associate and member of other affiliate programs, I earn from qualifying purchases.
Finished Project Gallery