I am absolutely in love with the simplicity of this paper vase decor made from old book pages. Who knew you could turn an old torn apart book into such a stunning centerpiece or addition to your home decor? I am shocked that this simple project turned out so stunning. All you need is a sharp craft knife, some glue, and suddenly you have a gorgeous addition to your home.
Paper Vase Decor from Old Books
In my quest to make as many things as possible from old books, this is my recent project. There is just something that makes my heart happy about turning a beautiful book that would have been thrown away into an even more beautiful piece of decor. The smell of the paper, and the beautiful print on the pages just turn this rustic and make it simply beautiful all by itself.
This is a great little project that doesn't take very long but it looks like it took hours to create. Of course, that makes me happy. I love adding things to my home that look expensive and difficult to make, but are super easy and even frugal!
Can This be Used for Real Flowers?
If you are only using for a short period of time and don't plan to add water to them, it can work for holding a few stems. Otherwise, this is not a vase you add water to and store flowers for long periods of time.
I can see using it for artificial flowers like I show, or a few long stem roses just for a short time on the dinner table. Under no circumstances should you add water to this vase. Obviously, being made from paper, it is not suitable for liquids.
How Can I Decorate My Vase?
I used a simple gold ribbon around the neck of the vase. The simplicity of this look works great for me and my home, but you can easily add your own style. There are tons of great ways to really revamp this into a unique new look.
Add a bow with the ribbon around the neck of the vase.
Coat the edges of the paper with glue and sprinkle on a bit of glitter.
Spray with a light coat of paint in colors that match your decor.
Add holiday colors of ribbon at the change of seasons and holidays.
Use a string of beads instead of ribbon around the neck of the vase.
Tie a bow using burlap or denim around the vase to add a country chic look to the project.
Make them in different sizes using different types of books to display on your mantle.
Can This be Made With Regular Craft Paper?
To make this using regular craft paper, you would need to add a bit of glue along the edges to hold them together. I recommend stacking your choice of papers together evenly, then spreading a generous coating of hot glue along one side. Let the glue dry, then once you cut the vase shape out, you can follow the directions to connect into the shape.
Supplies Needed
How to Make a Paper Vase out of Old Book Pages
Using a small piece of cardboard the same size as the book you are using, trace out a vase shape. You want this to be just the outline of one side of the vase.
Cut the shape out of the cardboard with a craft knife or scissors.
Place the cardboard template onto your book, putting it up against the edge of the book binding and trace the shape on to the top page of the paper.
Using your craft knife, cut out off the excess outer paper.
Continue this process until you are down to just the last few pages of the paper vase. At this point, you can use scissors to trim off the final few pages.
Once the entire book has been cut out, you'll have a stack of pages connected on the flat side by book binding glue.
Now, stand up the stack, and start pulling the two sides together to connect and form a circle.
Use hot-glue to seal the two sides together and hold the vase shape in place.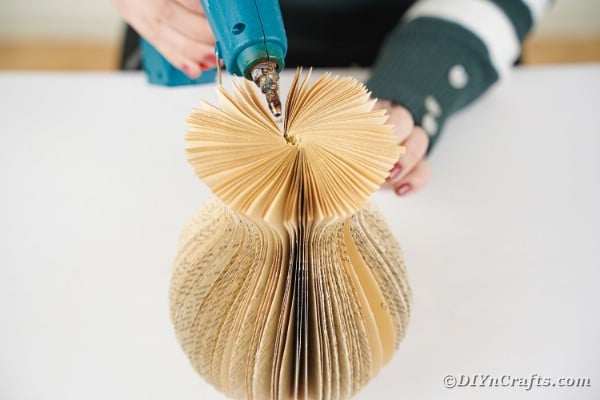 Now, add a strip of ribbon around the neck of the vase.
Add any additional embellishments or bows and display as desired.
Additionally chose one of my diy flower projects here to add to your lovely vase:
If you have leftover books, you may want to make different crafts. I love using old books and have tons of ideas! This burlap book page rose wreath is a new favorite combination of two rustic items. You might also want to hang this old book page star wall art decoration on your bedroom wall.
Make this upcycled book page scroll wreath for your favorite recent graduate or this old book page origami wreath for your front door. You might prefer this fun and unique hanging paper fern from an old book to hang above your table. Of course, you can always just have fun making old book page roses using one or more of my many tutorials.
Crafter's Tip

If you really want to use this style for real flowers, you can find paper vases that hold water on Etsy. These are made just to use as a typical vase.
Yield: 1
Rustic Paper Vase Decor from Old Book Pages
Grab an old book and turn it into this rustic paper vase decor! A perfect choice for decorating your table!
Instructions
Draw and cut out a vase outline on cardboard;
Place this onto the book lining the flat end up to the edge closest to the book binding, and trace that shape onto the book pages;
Use your craft knife to cut away the excess outside book page;
Continue this process cutting through a few pages at a time and using the template to make sure they are the same shape and size;
Toward the end of the book, you may wish to use scissors to cut out the last bits;
Stand up the book and pull the two ends toward each other;
Attach the two edges with hot glue forming the vase;
Add a strip of ribbon around the neck of the vase;
You can add any additional embellishments if wanted and then display on a shelf or table as desired.
Notes
Add paint or stain to the pages for a unique new look on this classic.
Recommended Products
As an Amazon Associate and member of other affiliate programs, I earn from qualifying purchases.
Finished Project Gallery