This was so much fun to make! I have to admit, I love bats! They are such cool little creatures, so this little paper plate bat Halloween candy holder was a super fun project for me. I love it when something so simple comes together and just looks amazing. A few paper plates, some paint, staples, and ribbon and suddenly you have created a cute little addition to Halloween decor or to gift at your Halloween party!
Paper Plate Bat Halloween Candy Holder
If you want a simple Halloween craft that kids will love making, look no further. This adorable little smiling bat is easy to make and uses materials you already have on hand. My favorite kind! Make one of these for your child, or make a dozen and hang around the room as decor. This is an excellent craft for making with your kids, creating to gift to trick-or-treaters or to make in a classroom with groups of children.
When it comes to simple kids' crafts, I like to use items I already have on hand. That way moms, dads, and caregivers in any situation can make the same or similar crafts. This one is a super affordable choice that kids will absolutely love making. Let them create their own unique personalities or give them a template to follow. No matter how you make them, these are going to bring tons of fun. They might also like to add personality to this upcycled spoon bat craft idea!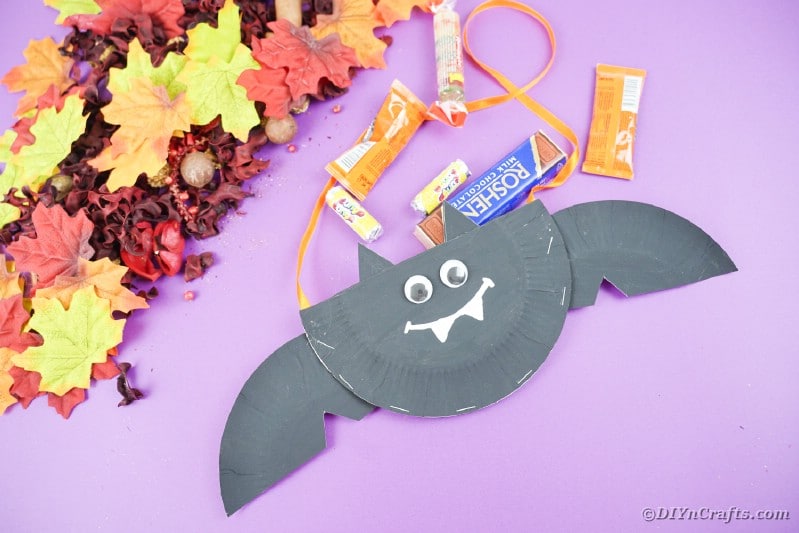 Can I Use Black Plates Instead of Painting Them?
The easy option is to paint white plates you already have on hand. They are inexpensive for large batches and are easy to find. If you want to keep that painting step out of things to make it faster or less messy, black plates are fine to use on this project.
Honestly, you can use any color plate you want. Just because bats are traditionally black doesn't mean you can't use purple, orange, gray, or even blue! Make your bats any color you prefer. They will be adorable no matter what! You can even use leftover plates to make these cute paper plate pumpkin crafts.
How Can I Hang This From the Ceiling?
This paper plate bat will look adorable hanging from the ceiling. If you want to make it look like the paper plate bat is flying on its own, you can use clear fishing string. This is difficult to see and it makes the bat look like it is hanging in mid-air. I love that look if I am planning to decorate with the bats.
You can, of course, use twine, ribbon, and rope to hang it from the ceiling as well if you prefer. I also like to use things like putty or Command strips instead of nails, glue, or tape when hanging items around my house. These don't leave blemishes and will make it easier to move them if you need them. You can also use thumbtacks or push pins to secure the twine or rope to the ceiling or walls when hanging this bat.
You can hang these right beside these cute upcycled tin can ghosts or alongside my new favorite, old book page floating witch with a broom. Both are cute looks that fit great in any Halloween decoration theme.
Can I Personalize The Bats?
You sure can! Just like I mentioned above, bats aren't all identical. That means yours can be any color, style, or look you prefer. I love the basic little smile, but you might want to make your bats look fierce, silly, angry, or just fun! Below are some other ways you can customize your bat to make it look even cuter or more personal.
Make them different colors.
Add yarn for hair on the bats to make them look goofy.
Use fabric or ribbon to create bows for the heads or ties for the "necks".
Add glitter spray so they sparkle.
Use foam paper to create custom eyes in different colors.
Add pink to the cheeks of your bat.
What's the Best Way to Attach the Plates to Each Other?
The easiest way to attach these to each other is to use the stapler. I have tried a variety of other ways, like gluing and taping. They will hold the bat together, but it will quickly make it hard for the bat to hold much inside. The staples make it a bit sturdier and able to hold a few more pieces of candy.
If you plan to use your bat only as a decoration, you can easily use just a bit of craft glue around the edges to hold it together and in place. For use as a candy box or treat bag, you'll definitely want the extra support the staples offer. I would, however, suggest you don't put very much inside these no matter what way you secure the bottoms.
Supplies Needed
How to Make a Paper Plate Bat
Paint two paper plates black on one side and set aside to dry.
Once dry, lay them on top of each other and cut in half.
Using two halves, place them on each other so the black sides are facing outward, and staple all around the edges of the bottom creating a pouch.
Place the other two halves on top of each other and trace a small "v" into the center.
Cut through the "v" leaving a notch in each of the halves.
Measure and cut a 2 to 3 foot long piece of orange ribbon.
Place one end of the ribbon inside the top corner of the plates you've stapled together so it is just at the edge and staple in place.
Repeat on the other side.
Place the other two halves, one on each side of the plate, with the notch side facing downward and staple to each side to secure.
Use the two notches you cut out and glue to the top of the open area of the bat pouch for ears.
Glue the googly eyes just below the top of the opening.
Use a white paint pen to draw a smile with jagged teeth just below the eyes.
Now you can fill the inside of the bat with candy and gift to trick or treaters, or you can hang from the ceiling as a flying bat!
More Halloween Crafts and Ideas
If you are like me, you love decorating for the holidays. That means creating fun new projects every year. This year, you can enjoy making some or all of these great projects to go to your house. You can even get the kids involved in making a variety of different crafts. Below are some of my favorites!
Crafting Tip

If you decide to use colored plates instead of paint them, check out your local Dollar Tree for the best deals. I also buy paper plates at Dollar Tree online and get them shipped right to me. I love this in the state of pandemic we are still in these days.

Yield: 1

Adorable Paper Plate Bat Halloween Candy Holder

Use simple paper plates to create this cute paper plate bat Halloween candy holder! A perfect easy kids Halloween craft that can be a treat or a decoration.

Additional Time

10 minutes

Instructions

Paint the paper plates black on one side and set aside to dry;
When dry, lay them on top of each other and cut in half;
Using two of the halves, turn them so the black sides are both facing outward and staple all around the edges of the plate to create a pouch leaving the top open;
Stack the other two halves together and cut a small "v" from the center, keep the pieces to use as ears later;
Cut a strip of ribbon and then staple into the top corner of the pouch where it opens to create a handle;
Flip the halves upside down so the notches are on the bottom;
Staple the wings in place on both sides;
Glue or staple the ears on the top open pouch;
Attach the googly eyes just below the ears;
Use a white paint pen to raw on a mouth with two jagged teeth;
Now you can use as a treat bag or a Halloween decoration.

Notes

This is ideal for small candies or pieces of gum, but shouldn't be over loaded or it will break open on the bottom.

Recommended Products

As an Amazon Associate and member of other affiliate programs, I earn from qualifying purchases.
Finished Project Gallery
Add different colors of ribbon or twine or even braid together yarn to create a different handle for your bat.
A cute felt bow on the edge can show that this is a girl, or switch down to the neck and make it a boy.
Your kids will love making these to carry around, decorate, or use for holding their favorite candies after trick or treating.