One of the most fun projects for Halloween has always been making these cute and easy little spooky popcorn hand Halloween treats. They are both decoration and treat all in one! This is one of the simplest projects for Halloween that is always a hit. Of course, you need only a few items to make them, and they can be used to decorate a table or to add to your trick-or-treaters bags as they come to your door.
Spooky Popcorn Hand Halloween Treat
These fun little popcorn hands are the perfect addition to your Halloween treat menu. They are cute, but just a bit spooky, and always great for sharing with kids. In fact, the kids in my life always ask where these are at Halloween. Even those who don't like popcorn will grab these. There is just something fun about eating out of a "hand". Perhaps creepy, but for kids, it's a hit.
This makes an ideal treat for snacking, but also can so easily be a huge part of your decor at Halloween. Adding these to the Halloween buffet table is super easy. You could even attach these to a scarecrow as the hands! So many ways to use them as part of your Halloween decor. They could even go alongside this recycled hat scarecrow lady project. Making them a bit smaller and displaying by this would work perfectly. There might even be ideas on this list of scarecrow crafts for decorating that these hands would work to fit alongside.
What Type of Glove Should I Use?
The best is a generic food service glove. The thin plastic is bigger than some and won't tear as you fill with popped popcorn. They are also food grade so don't have added powder or other chemicals on them you might find on latex gloves or similar.
I found these at my local Dollar Tree, but you can also find them at restaurant supply stores, in grocery stores near food storage, or even with restaurant supplies in stores like Sam's Club or Costco.
How Long Does This Keep Popcorn Fresh?
If you are wondering this, then most likely you are planning to make these ahead of time. It would be hard to make a lot of these on Halloween day or the day of a party, so making the day before is handy. So, keeping popcorn fresh is a must, but how do you do that with this project/
Popcorn is notorious for being hard to keep fresh for long after popping. In my opinion, at most, you would want to make these 2 days prior to handing out to guests or trick or treaters. Make sure you put the popcorn into the bags shortly after popping and tie the ends off securely. They are not airtight, but they should protect the popcorn for 1-2 days. Longer than that, and you'll have stale popcorn.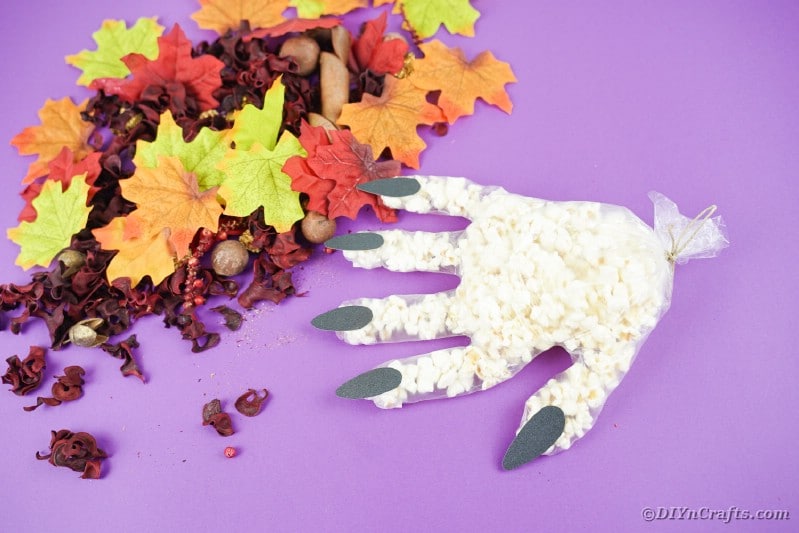 How Can I Decorate These Differently?
I love adding different ways to update something like this. Below are a few ideas I have seen that look super cute and can easily fit into your plans for gifting these at Halloween.
Decorate the gloves with some hand drawn spider webs or blood dripping.
Use candy corn at the end of each finger as the fingernail instead of adding paper nails on top.
Add plastic spiders inside along with the popcorn, or onto the fingers like a ring.
Tie the bottom with Halloween ribbons and streamers.
Add different colored fingernails to the bags. Orange, green, black, silver and red are all good options that fit the look.
Can I Use Flavored Popcorn In These?
You sure can! If you are short on time, pick up bags of already popped and flavored popcorn and stuff the bags with that. You can also make your own different flavors of popcorn to add to the hands. We have a nice list of flavored popcorn recipes that are perfect for adding variety to your treats. You could easily use 2-3 different flavors giving the hands different looks. Plus, it gives your guests and friends a choice when they reach for a treat.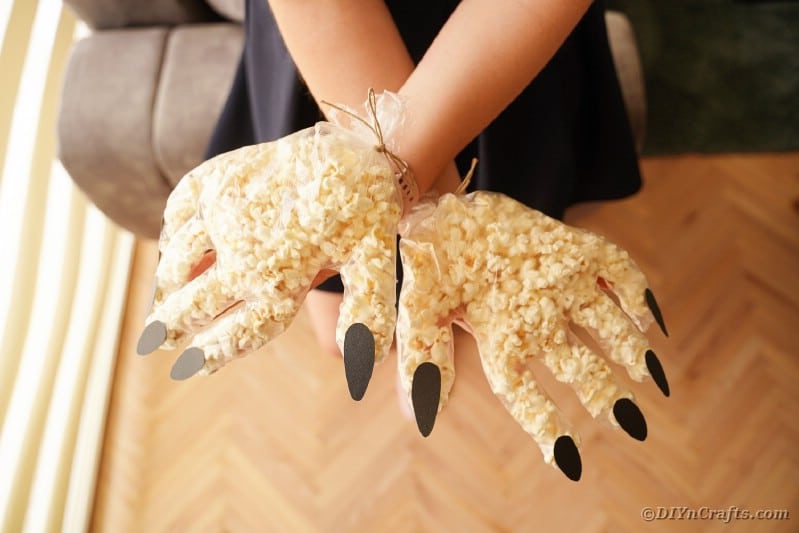 What is Best to Make Finger Nails on The Popcorn Hand?
I cut out little fingernail shapes from foam paper to just peel and stick onto the hand. This was super easy, affordable since I already had it on hand, and looks great. You could also easily paint on fingernails, use fake peel and stick nails from the Dollar Tree, or even cut out shapes from paper, card stock, or foam and glue in place.
You could even use one of these Halloween nail art designs on the gloves! These aren't just for your own hands. They can easily work with this project of on any of your Halloween creations that have hands.
Supplies Needed
How to Make a Popcorn Hand
Open the glove and gently put popcorn inside filling each of the fingers and most of the body of the hand.
Twist the end together and secure with a bit of twine. You can also use a rubber band or twist tie then cover with twine or ribbon.
On a piece of black paper, draw 5 fingernail shapes for each hand.
Cut out the fingernails.
Using tape or glue, add the nails to the tips of each finger.
Now you can gift these, hand to trick-or-treaters, or decorate with them for Halloween.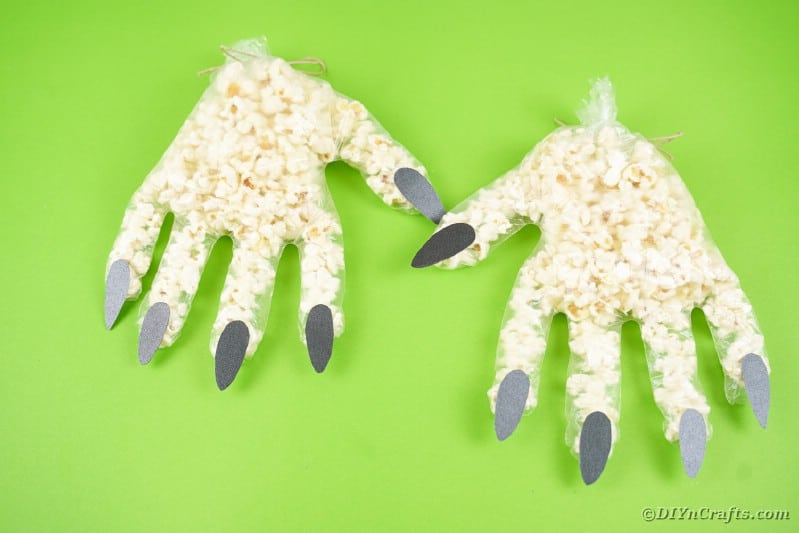 These are such great decorations or treats!
More Halloween Craft and Treat Ideas
If you need more ideas for decorating and crafting around Halloween, look no further. We have tons of great ideas to share with you including decor, kids crafts, and of course, plenty of ghoulish treats. The list below is just the beginning! Make sure to search the site for even more great ideas.
Crafting Tip

One of the best things I discovered when making a large batch of these is to use peel and stick nail color. The Dollar Tree has some super cute and easy to find peel and stick nails and nail color that is available in tons of colors. You can pick these up online or in store.
Yield: 1
Easy Spooky Popcorn Hand Halloween Treat
Make a classic spooky popcorn hand just in time for Halloween! This easy Halloween treat is a great addition to parties or treat bags!
Tools
Instructions
Fill the gloves with popcorn making sure some goes into each finger;
Twist the end of the glove and secure with twine;
Draw and cut out a fingernail shape on black paper for each finger;
Use tape or glue and add the nails to the tips of each finger;
Use for treats or decorating for Halloween.
Notes
Tie the gloves to a length of twine and use as a fun mantle decoration that guests can take apart and take home as a party favor!
Recommended Products
As an Amazon Associate and member of other affiliate programs, I earn from qualifying purchases.
Finished Project Gallery
I love how you can so easily make these in just a few minutes and have both decoration and treat.
You don't need much to make these pull together, which makes them ideal for budget decorating.
They can be super cute or super spooky. It all depends upon how you use them in your decor and at your Halloween parties.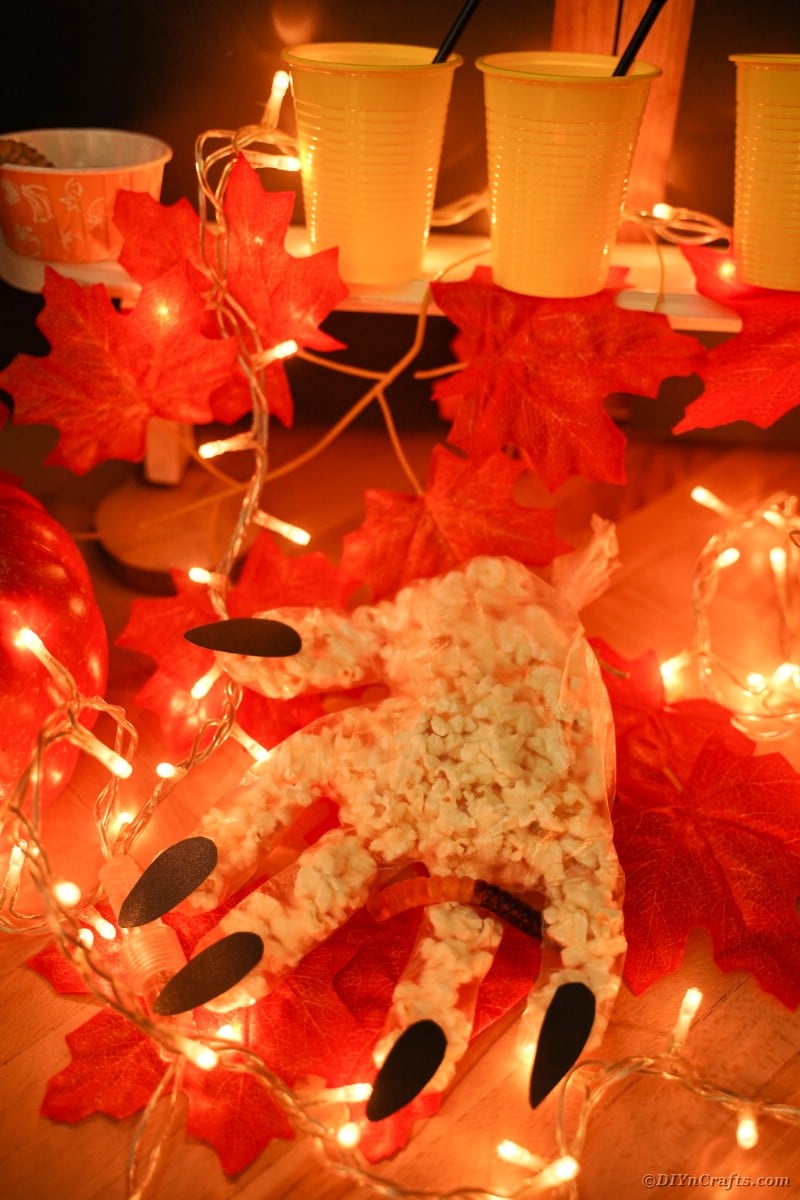 I love this project for kids to help create. They will enjoy making spooky hands too!