Halloween is nearly here and there is so much to do! From planning parties and making costumes to creating scary and delicious foods and even decorating the yard to frighten the neighbors, I've always found this a busy yet really fun time of the year. Of course, I normally do so much DIY with the house decorations and food that I rarely get time to think about my own decorating. And by that, I mean my nails.
I love manicures that match the season. I always have a little Christmas theme going on during the holidays but have never really considered Halloween manicures…until now. When you spend so much time making the perfect costume and planning everything out right down to the letter, it just seems a shame to neglect your fingernails, right? Right! And I've got a wonderful collection of 40 DIY nail art designs that you can do. Some of these only take a few minutes so even if you stay busy with your party planning and costume making, you'll have time at the last minute to pull these off. And, some of the go wonderfully with these DIY Halloween lip art designs.
Like I said, I love manicures but they can be really expensive at salons. I stopped going to salons to have my nails done when the cost got so ridiculously high. So, I started doing my own nail art and it's a really fun and relaxing way to treat yourself. You don't even have to be a real artist to pull off some of these wonderful Halloween nail art designs and they will go perfectly with any costume that you plan to wear. You should also check out these Halloween hairstyles to complement your nails and your costume.
DIY Halloween nail art is not as difficult as you might think. You can make any number of styles and designs using colors that you probably already have on hand and if you don't have them, you can pick up Dollar Store colors for about a dollar each. You're going to love these nail art designs and I hope you will share your favorite and how well it matched your Halloween costume!
1. DIY Beetlejuice Nails
If Beetlejuice isn't one of your favorite Halloween movies, then you seriously need to watch it again. Not only does it have a great scare factor, it's hilarious. If you do love this movie as much as I do, you can create your own Beetlejuice striped nails to show off your love of that ghastly ghost and his favorite holiday. Black and white stripes with a little purple thrown in create the most amazing Halloween nails!
Source: flare
2. Spooky Black Cat Nails
Nothing screams Halloween more than a black cat and you can have several of them adorning your nails for All Hallows' Eve. You don't even have to be an artist per se to create these lovely nails. They're perfect for Halloween parties and great for kids as well as adults. Just choose your base coat and use black to draw in your cats. It's much easier than it looks.
Source: divinecaroline
3. DIY Cat Eye Nails
These black cat nails aren't all cute and innocent. They look like evil black cats on your nails, complete with eyes and whiskers! You even paint the tail on your thumbnail. Overall this is a really elegant yet completely scary set of nails and they're super easy to recreate. You just need the right colors and about an hour to do the artwork. It's a great contrasting look, too and will match any scary costume perfectly.
Source:casualcontrast
4. Elegant Black On Black Checkered Nails
If you don't really want artwork on your nails, and maybe just need something elegant and classy for an upcoming Halloween party, these black on black checkered nails are perfect. You use a shiny black and a black matte coat to create them and use tape to make the pattern. These are so gorgeous and you could even add stickers or decals to them if you wanted to make them a bit scary.
Source: chloesnails
5. Black And Silver Seismograph Nails
These black, silver, and copper seismograph nails are done in metallic nail polish and they're great. The colors are perfect for Halloween and you can dress them up with decals if you want or just leave them as they are. The pattern is really easy to create and these are perfect for trick-or-treating or going to a party.
Source: lovemaegan
6. DIY Blood Splatter Nails
These blood splatter nails are super easy to do and they're great for Halloween. Bear in mind that while these are really easy, they're also pretty messy so be prepared to clean up a bit afterward. You just paint your nails white and then essentially splatter red nail polish over them by blowing it through a straw. These are perfect for getting that scare factor to add to your costume.
Source: wemustbedreamers
7. Bloody Fingerprint Nails
These bloody fingerprint nails are straight out of a crime scene and they're great for Halloween. They're also really easy to make and not nearly as messy as some of the other nail art ideas you may have seen. You just paint your nails a base coat and then dip a finger into red nail polish to make your bloody fingerprint. They're super easy and super adorable – I mean scary!
Source: sheknows
8. Adorable DIY Candy Corn Nails
Candy corn is such a huge part of Halloween – at least for me. If you want a set of nails that will get you through the Halloween holiday and all the way to Thanksgiving, this candy corn manicure is perfect. To make it, you simply paint your nails candy corn colors and use tape to separate the sections. It's pretty easy although it does take a bit of time since you need to wait for each section to dry before adding another one.
Source: thebeautydepartment
9. Charmed Halloween Nails
No matter what color you choose to paint your nails, you can add a charm to give them that scary Halloween look. I found these neat little charms on Etsy and they're pretty cheap at just under $6 for 10 pieces. That's a charm for each nail! And you can choose from a number of styles like gold skeleton hands, gold or silver skulls with jeweled bows and even some whimsical ghosts and pumpkins.
Source: etsy.com
10. Cute DIY Dotted Halloween Nails
When you just can't decide which scare factor you want or perhaps you prefer to be a bit less scary on Halloween, these dotted nails are great. They're pretty easy to do although they are just a bit time consuming. You just paint your nails a base coat and then make polka dots – use colors like white, black and orange for a nice Halloween look.
Source: instagram
11. Scary Eyeball Nails
These scary eyeball nails are sure to be a hit at all of your Halloween functions. I love these so much! They're just the right amount of scary and just the right amount of fun and whimsical. And, they're not at all difficult to make. You start with a white base coat, add your eyeball and then your embellishments. This will rival anything you can have done in the salon.
Source: gwiazdkadg
12. DIY Fang Nails
I love these fang nails. Not only are they really spooky, they're super easy to make. These would be perfect for anyone dressing up like Dracula and they won't take long at all to finish. You just draw white triangles down from the tips of your nails and then add the "blood" when those are dried.
Source: fashionista
13. Adorable Fuzzy Monster Nails
These little fuzzy monster nails are perfect for your little girls who may want something special for trick-or-treat night. They really are adorable and not nearly as difficult to create as you may think. They do take a bit of time, especially if you're creating a different fuzzy monster for each nail, but they're well worth it when you see the finished result.
Source: chalkboardnails
14. DIY Ghostbuster Nails
When you need great Halloween nails…Who you gonna call? Ghostbusters! I love these adorable Ghostbuster nails. They're so creative and would be perfect paired with a Ghostbuster costume. You could do any of the characters from the popular movie, although I think Slimer should definitely be among the mix. He's always been my favorite! Any ghosts would be simple to create, even the Stay Puft Marshmallow Man should be pretty simple.
Source: instagram
15. Cute Flying Witch Nail Art
Flying witches are such a huge part of Halloween and these flying witch nails are perfect for your self-decorating. You can use a stamp to make the witch or you can freehand it if you're pretty creative. I love the yellow on black. It's really contrasting and is such an eye catching design. If your costume is a witch, these are perfect or they'll honestly go with just about anything you want to wear.
Source: swatchandlearn
16. DIY Creepy Glow In The Dark Message Nails
These nails are just too much. Not only do you get a cryptic message when the lights are on, you get a completely different and much creepier message when the lights are off. How scary is that? They're super easy to do and you could do any number of messages to match your costume or the theme of any Halloween party you might be attending.
Source: piggieluv
17. DIY Whimsical Frankenstein Nails
I love old movies and Frankenstein is among my favorites. That's why I absolutely adore these whimsical Frankenstein nails. These are pretty easy to make. You just really need to find the right shade of green. The face is super easy to do even if this is your first try at nail art. A nail polish pen would come in really handy for making the mouth and eyes although you could do it with toothpicks as well.
Source: totalbeauty
18. Googly Eyes Manicure
These little googly eyed monsters are too cute and they're perfect for little ones who want to add a bit of scary to their costumes. They're also really easy to make. Just paint the nails black and create your little "eyes" with white and black polish. You could also paint the nails black and then just add googly eye stickers if you want something really quick and easy. Either way, these are perfect for trick-or-treating.
Source: notesfrommydressingtable
19. Eye-Popping Gory Nails
Make your friends and family cringe when you sport these gory nails. It looks as if you have ripped off part of your fingernail. Seriously, I got queasy just looking at this but I do believe it's perfect for scary Halloween parties. It would also match up nicely with zombie and other similar costumes and it's much easier to create than you may think.
20. Easy DIY Goth Fingers
To make these gothic fingertips, you literally paint all of your fingertips with black paint. This is one of the easiest Halloween DIY manicures I've seen and it's great for so many costumes, haunted houses or other Halloween party needs. Just use spray on color or actually paint nail polish all over your fingertips and nails. You could also use dark purple or black temporary hair dye to create the look.
Source: hereiamlord
21. Eerie Graveyard Nails
Graveyards are also a bit part of Halloween and these graveyard nails would be perfect for those upcoming parties. They're not at all difficult to create. You just paint your nails with a dark purple base and then add "graves" in black polish. A large moon in silver polish really draws attention to the nails.
Source: adornedclaw
22. Frankenstein Monster Skin Nail Art
These Frankenstein nails are a bit different than others because instead of having Frankenstein's face, you just have his skin. These are super easy to make, too. Just paint your nails with an appropriate shade of green and then add the scars with black polish. You can do this with a polish pen, which are pretty cheap at most department stores and Dollar Stores, or you can draw it on with a tiny paintbrush.
Source: ifeelpolished
23. DIY Spooky Halloween Ghost Nails
These little ghosts really aren't that spooky but they are perfect for Halloween. They're also really simple to do. Just paint your nails black and then add the ghosts with white polish. A polish pen would really be helpful with these or you could use a really small makeup brush to create the lines, eyes and other smaller aspects of your ghosts.
Source: naileditnz
24. Mummy Water Marble Nails
Mummies are perfect for Halloween. If you're planning to dress up as a mummy, these mummy water marble nails will perfectly match your costume. Or, you could just wear them for fun. They're pretty easy to make and they use a water marbling technique that is really gorgeous. Just add googly eyes when your nails have dried. You could also do this with black and orange if you don't want the mummy look but still want the water marbling look.
25. Ghoulish Bloody Monster Nails
These bloody monster nails are really creepy and perfect for Halloween. They're so easy to make. You just paint your nails with a base coat in green – choose a ghoulish monster green – and then add "bloody" tips with red polish. Drag lines of your bloody color with a bobby pin or polish pen to create the illusion of dripping blood. Then top it off with a clear coat to keep them looking perfect for days.
Source: rookiemag
26. Simple DIY Skull Nails
These little skulls are really easy and so perfectly Halloween. You start with a black base coat and then paint your skulls with white polish. You really don't have to be an artist to make these simple skulls, either. You just have to be able to paint lines, which you can do with a toothpick, bobby pin, or a polish pen, whatever you have on hand.
27. DIY Whimsical Vampire Nail Art
These little vampires are also really easy to create and add such a whimsical touch to your Halloween fashion. Begin with a black base coat and then draw in your vampires with white and a little red for the eyes. These are so simple and would be perfect for little girls who want something sort of scary but not over the top creepy.
Source: rubiaolivo
28. DIY Harry Potter Nail Art
With wizards, monsters and loads of other magical aspects, Harry Potter is perfect for helping you to up your Halloween fashion. This Harry Potter nail art is fabulous and it's pretty easy to replicate. You could do the colors of Gryffindor or Slytherin or just recreate aspects of your favorite characters. These are so great and they're perfect for Halloween or any time of the year if you're a true Harry Potter fan.
Source: lacqueredlawyer
29. Simple Stitched French Manicure
Sometimes you just don't have the time to create something really fancy, which is why these stitched french manicure nails are perfect. They take very little time and are so easy to do. Just paint your nails a nude or clear base coat and then paint in stitches with black polish. How easy is that? You can have these done in under 15 minutes and they're perfect for any Halloween event you may be having.
Source: cosmopolitan
30. DIY Horror Movie Nails
If you love horror movies then these horror movie inspired nails are a must. You start with a gray base coat and then create scenes from your favorite movies. I love these nails that were inspired by Poltergeist, but you could choose any movie you want. Make a black ring for a Ring inspired set or you could create Jason's mask, whatever movie is your favorite!
Source: sonomanailart
31. Horror Movie Inspired Nail Decals
These horror movie nail decals are only $5 on Etsy for a set of 20. That's two sets of nails that you could do in traditional horror movie style! These are great if you're in a pinch for time. Just stick them on your already painted nails and you're all done. You get Chucky, Jason, Freddie, and other horror movie slashers. These are perfect for scary nails if you just don't have time to create them yourself.
Source: etsy.com
32. Cute DIY Jack-O-Lantern Nails
This little jack-o-lantern is too adorable and so easy to make. You could do these for little girls to give them a great addition to their Halloween fashion or wear them yourself. Do just one to accent your other nails or add a cute little pumpkin guy to each of your nails if you have time. They're pretty simple and don't take a lot of time to create.
Source: chibinails
33. Jack Skellington Inspired Nail Art
If you love A Nightmare Before Christmas then you are going to really love these Jack Skellington inspired nails. These are so simple and you only need white and black polish. Just create your stripes and add a skeleton face on a nail or two for Jack. You could also create the swirl and do any number of other characters if you have time and are really creative.
Source: swatchandlearn
34. Friday The 13th Inspired Nails
I have always loved the Friday The 13th movies, even though they scared me quite a bit in my younger days. That said, I think these Jason mask nails are perfect for Halloween or even anytime you're planning a Friday The 13th movie marathon. The mask is super easy to create and you can have it on all of your nails or on just one and paint the others to look like blood splatters.
Source: polishpedia
35. DIY Tissue Mummy Nails
If you really want to make a statement with your nail art, these mummy nails will certainly do it. They're made with tissue paper so they actually look like mummy nails. These are a bit time consuming considering you have to tear or cut your tissue, but they are definitely worth the time. The process is really easy and they're fool-proof! You won't mess these up no matter how much you think you will.
Source: peacelovepolish
36. Easy DIY Neon Skeletons
Halloween nails don't necessarily have to be frightening or creepy. I think these neon skeletons are perfect for Halloween fashion and they're so colorful! If you just want to make a statement, these will definitely do that. They're not terribly difficult to make and are sure to draw attention. They're perfect for office Halloween parties or even trick-or-treat night for the kids.
37. Easy DIY Pumpkin Nails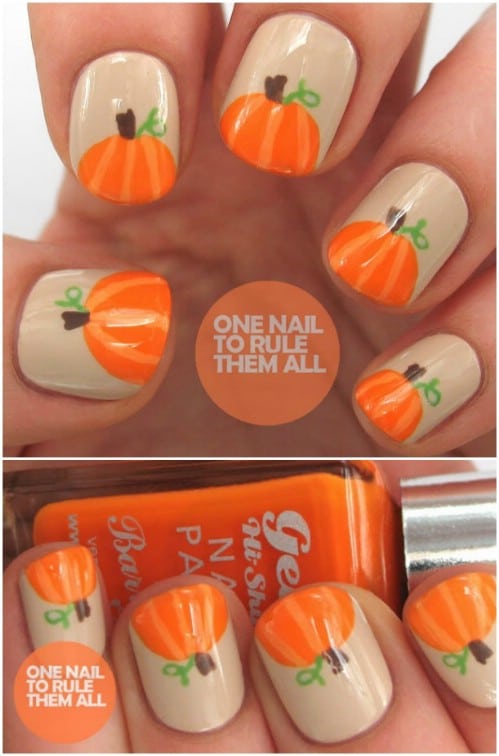 Okay, so these pumpkins would also be perfect for Thanksgiving, but I love them for Halloween as well. They're great for little ones who don't want something scary or just for anyone who wants to dress up a bit without being too gory. You can paint these on and leave them until November so you're all fashionable for weeks, and they're pretty easy to do and won't take much time at all.
Source: onenailtorulethemall
38. Splatter Web Nails
These spider web splatter nails are great. They're easy to do and pretty perfect for Halloween. Personally, I hate spiders but these little guys are totally harmless and are sure to spur some fun conversation. You just need white, red and black polish to make these and the splatter technique is really simple. Then you just have to add your spiders, which you can freehand or use decals.
Source: lacqueredlawyer
39. Spooky Witch's Brew Nails
These spooky nails look like a witch's brew and they're really adorable. The design looks like a cauldron and you can see what's inside. There's some sort of green goo along with spiders, eyes and other elements that give these nails a wonderfully fun look. You could be really creative with these and do just about anything inside the brew that you wanted.
Source: arcadianailart
40. Creepy DIY Zombie Nails
Of course zombies have to be part of your Halloween fashion, right? If you love The Walking Dead or any other zombie series or movie, these are perfect. They're also perfect for those zombie costumes and really will look like actual zombie fingernails. They're dirty and black and have just the right amount of blood dripping from the ends.
And, they're super easy to make!
Source: pshiiit