I remember when I was growing up that there wasn't a whole lot that women did with their nails.
Usually, you just painted on some conservative shade of polish for a clean look, and that was it.
Thankfully we are living in far more expressive times now, and nail art has become so much more than it ever was before!  We're seeing so many amazing colors and designs; it's just an explosion of creativity!
Jump to:
---
I want to share 100 of the best acrylic nail designs with you, but first, I realize that some of you may not actually be all that familiar with acrylic nails.
They're one of the most popular nail treatments you can get, but if you've never tried them, you may not be familiar with the benefits.
First off, what are acrylic nails? Acrylic is a protective coating which is applied using a powder polymer and liquid monomer. As the coating is exposed to the air, it dries and hardens.
Here are the benefits:
Acrylic is strong. The coating itself will stand the test of time, and will also protect your nails.
Acrylic is less expensive than gel nails.
While acrylic nails can be damaged, you can usually repair them yourself. If you want to get them removed, it is really easy.
Best of all, acrylic makes the perfect surface to paint colors and designs on! Let your imagination go wild. You can get the technician to paint designs on your nails, or you can do it yourself.
If you're looking for the ultimate acrylic nail design gallery, you've found it! Check out these stunning acrylic nail design images from around the web and get inspired!
Black and gold glitter
Instead of plain old black nail polish, why not jazz things up a bit? This acrylic nail design has a simple, sophisticated elegance to it that I just love. The gold glitter contrasts beautifully with the black backdrop. I love that there is more glitter on some nails than on others; it makes it look like the glitter just "fell into place."
Frozen nail art
Here is a similar look to the one above, except this nail art was inspired by the movie Frozen. The black base has been replaced by a light, icy blue.
The sparkles really do give the impression of ice forming on the nails. Be sure to check the source for more amazing frozen acrylic nail art!
Bold geometric designs
There are a couple of things I love about these nails. First, the bold geometric designs are simple and eye-catching.
They don't overwhelm you, but they really stand out. The other thing I think is clever about these nails is that they leave room at the bottom for a natural nail color.
This is brilliant, because as the nails grow out, it won't be so obvious that you're due in for a touch-up at your nail beds.
Dainty and feminine
I love the soft pastel delicacy of this look! Somehow it seems like if they had nail art a few centuries back, this is what upper-class women would have worn to their fancy tea parties. At the same time, the super-sharp look provides for a surprising contrast and a hint of strength underneath the delicacy.
Corn on the cob
Culinary-themed acrylic nail designs are quite popular (what better way is there to tell the world that you're a foodie?).
Of all the food-based nail designs I've seen, these corn on the cob nails impressed me the most. The pattern is simple and has some geometric appeal to it, and it's immediately obvious that it's supposed to represent corn on the cob. Really nice work!
Adorable Halloween nails
Looking for the perfect look for Halloween? These spooky nails are just so cute I can't get over it! That little spider is just adorable, and the other designs all work great together.
Stamped nail designs
This is an extremely elaborate looking style, but the intricacy is not actually all that difficult to achieve since it is done through stamping. You can learn the technique quickly and easily using a few basic tutorials. As you can see, you get a really great effect if you choose high-contrast colors.
Simple green ombre tips with dainty flowers
Here is an acrylic nail look which is simple and elegant and also understated. You have an ombre fade with pale green tips, and some pastel pink and white flowers. This is one of those looks that would still be great as your nails start to grow out.
I think you could also probably get away with this one at most workplaces since the effect is so subtle.
Black and red minimalism
I can't get over how elegant and sophisticated these nails are! With this look, each nail is painted either black or red, and then the tips are done in the opposite color. The black and red form an amazing contrast, and the lack of any other embellishment draws emphasis to the glossy finish.
The finished effect puts me in mind of Japanese lacquerware.
Simple, bright flower designs
Looking for acrylic nail designs for summer? This fun, simple, bright and cheerful design includes white and pink as base colors, and includes some cute blossom designs on alternating nails. Very nice!
Subtle chevron designs
Chevron designs are very popular for acrylic nails. This nail design includes white and pink as the base colors, and subtle chevrons with sparkles.
One reason I like this design is because it is understated. Since all the colors are close to each other, you could probably wear these to work without a problem.
Amazing translucent floral designs
Some of these acrylic nail art designs really are incredible works of art. These nails are so spectacular I don't even know where to start! I love the coppery color and the translucent effect. They definitely have an exaggerated look to them (they're almost claws), but they are spectacularly creative.
These are like nails that some kind of fantasy fairy or forest spirit would have.
Sparkly roses
If you like to keep things floral and girly, you can't go wrong with this look. The flowers are amazingly detailed (I have no idea how it was done), and the sparkles offset them nicely and add in some texture and pizzazz.
Pretty in plaid
These nails are totally awesome! She did such a neat job on the plaid designs; they look perfect. I love that purple color too; it has such an incredible shine, and the silver sparkles offset it perfect. These colors also complement the natural color used for the rest of the nail quite nicely.
Once again, this is a look which will continue to shine even as your nails start growing out. Best of all, there is a full video tutorial so you can copy this look at home!
Opalescent glamour
I have no idea what kind of nail polish colors were used to achieve this effect, but it is flat-out gorgeous. It's like her nails are made out of thin slices of opal or something. I can't imagine how cool these look under different types of lighting. They actually seem like they have some "depth" to them. I've never seen anything like this anywhere!
More subtle chevron designs
This is another simple design featuring chevrons in pastel hues, except this time instead of pale pink, we are looking at pale blue. The sparkles add a nice touch. I think this is a look that could work at your day job since it isn't too bold or distracting.
Elegant and understated
This understated look uses similar colors to the one above, but I love it even more.  We have a couple of shades of light blue-green which are very subtly distinct from one another, white, and silver. 
The patterns are simple and elegant, and the metallic silver stripes give a nice "pop" to a look which is otherwise very clean and simple.  You could probably get away with this one at work too.
Amazing aquatic tips
I'm not really sure how else to describe these nail art designs, except as "amazing aquatic tips." They just give the effect of being underwater to me with those warm blue tones and bubbles and swirls. This look is really incredible and one of the most artistic designs I have seen yet.
Subtle elegance
Here is an acrylic nail art design you could definitely wear anywhere. I am pretty sure even the most conservative day job would let you pull it off. The nails are done in a completely natural color, and the only designs are flowers and simple patterns in subtle white.
The white almost blends in with the natural color of the base. From a distance, you could miss it. But up close, you can enjoy the delicate intricacy.
Autumn sparkles
How can you get the perfect exquisite look for autumn? I have seen a lot of autumn nail designs, but many of them tend to look messy and splotchy to me (something to do with trying to combine red and orange and brown shades; often the result just looks muddy).
This is a simple, eye-catching look with a plain white base and sparkles in warm autumn hues. It instantly shouts "fall," and it looks gorgeous!
Amazing autumn/winter picture nails
How clever is this?  The nails form a picture from top to bottom.  The nail painted in black shows the earth, and the next two illustrate a tree that's lost its leaves, and the top nail a wintry sky. 
This acrylic nail design would be perfect for fall or winter, and you would get no end of compliments! 
Not only is this design clever, but it is also beautifully illustrated. I would probably have a really hard time keeping my hand steady enough to sketch all those details so nicely.
Simple sophistication
I could post pictures from So Nailicious all day long! This is a truly amazing blog with some of the most outstanding nail designs I have ever seen, most of them emphasizing simple geometric beauty. This look is outstanding, and only requires a couple of colors.
The burgundy offsets the silver beautifully, and I love the design itself, which draws your gaze toward the tips of the nails, emphasizing their shape. It just looks really sleek. Best of all, So Nailicious provides a full tutorial!
Graphic black and white nail art
I can't resist posting another favorite from So Nailicious, so I share with you the graphic black and white nail art tutorial! 
How fabulously awesome are these nails?  Once again, I am amazed at the way she uses geometric designs to emphasize the form of the nails, creating another streamlined look. 
This design would look awesome in any colors, but the black and white gradient is really eye-catching. I also have to comment that her design looks stunning with her jewelry.
Simple striping tutorial
Okay, so the main reason I am putting this one in here is because it's a great tutorial.  Basically, are you wondering how everyone gets those nice clean lines in their acrylic nail designs? 
If you are new to acrylic nail art, there is definitely a bit of a learning curve.  This tutorial will teach you how you can use striping tape to get the look you are aiming for.  Using these steps, you can achieve a lot of the looks we have shared here, including the one you see in the image above.
Sleek elegance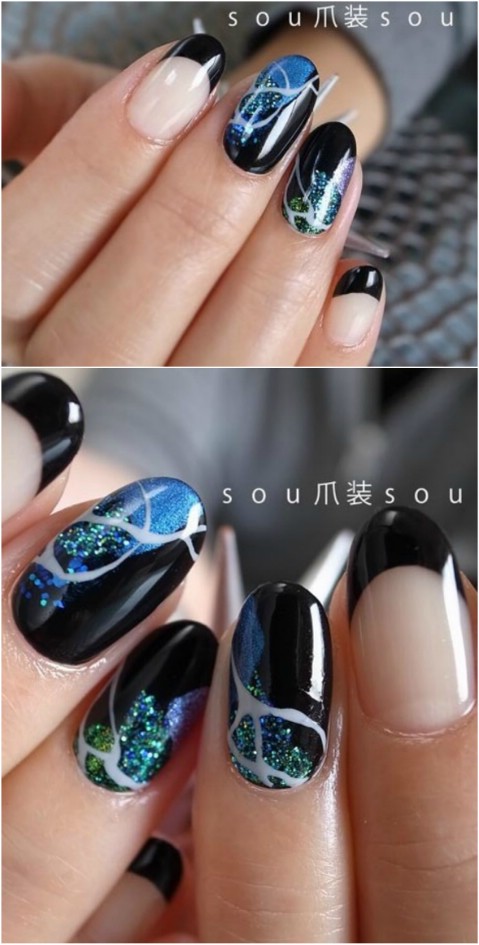 I really love polish designs that emphasize organic lines and make use of space.
I think there is a tendency to want to crowd nail designs, which is understandable; you only have so much space to work with. 
But when you leave large areas solid like you see here, it really makes the designs "pop."  It's all about how you use contrasts and a sense of balance to draw in the eye.
3D flowers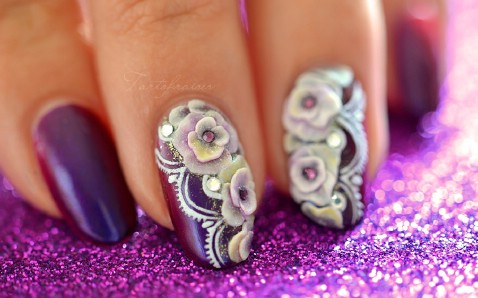 I really love these 3D looks which have literal depth and dimension to them.
Those flowers have real texture and actually stand out very slightly from the surface of the nails, like genuine ornamentation. I can't imagine how hard it is to make designs like these or how long it would take, but what is really cool is that if you click through to the source page, you can actually watch a video!
It's foreign language, but you can watch the entire application process. It's stunning watching those flowers take shape. What spectacular nail art!
Reindeer legging nail art
Here is a busy design which is just way too much fun to pass up! If you're looking for a creative design for winter which will get a ton of attention, this would be a great one to try! It was inspired by a pair of reindeer leggings. It also looks to me like those sweaters which are so popular in states like Colorado.
You'd definitely need fine control while painting those little designs. I wouldn't be able to do it!
Octopus nails
… And I was intimidated by the leggings-inspired nails above? Now I'm really intimidated.
This octopus is so skillfully rendered that it is practically lifelike. The details on the tentacles, the shading on the body, the amazing little eye, I can't get over it!
Bold use of contrast
These nails are spectacular, and make wonderful use of contrast.
That deep violet color is stunning, and I like the fact that she did most of her nails in just that one solid color. That really brings a gorgeous contrast to the two nails she did with the pretty swirl patterns. Lovely work!
Pastel nails with black tips
Really, did I mention I am in love with contrast? Okay, by now you probably can see my taste pretty clearly. Anyway, this design is another winner. The pastel colors would actually be lovely on their own, but the black stripes on the tips really make the design!
I like the cool pastel colors too; I'm not sure if it's just the lighting, but they almost seem to me like they have an iridescent shine. I don't think they do, and that probably wasn't the intention, but that's the illusion I see.
Grey and taupe metallic paisley patterning
This subtle design would probably be workplace-friendly.  From a distance, you would hardly notice the intricate paisley designs in taupe metallic polish on top of the gray base color. 
Up close though, they are quite something!  The use of the similar colors and the metallic sheen actually to me creates another optical illusion here.  It almost looks like there is a 3D effect going on, like metallic ornamentation.
Bookworm nails
Do you usually have your nose in a book? These nails are a wonderful tribute to the joy of reading!
Bookshelves full of multi-hued volumes are faithfully rendered, along with scripted words. This design is saved from being too busy by the fact that muted colors were used for the book spines.
These colors don't clash, and they aren't so bold that they distract you. A really creative and lovely design—but one which I would definitely be intimidated to try!
Turtle shell nails
The last two nail designs I shared were from an awesome blog called Copycat Claws. I can't resist sharing at least one more. These designs based on a turtle shell are awesome! The gold works beautifully with the sparkling olive green, and the patterns have a delightful geometric flair with that hint of the organic that I enjoy so much.
Incredible steampunk nails of wonder
These elaborate nails have beautiful 3D detailing and are designed in brassy hues for a steampunk style. 
They would be outstanding to wear to fairs, concerts, and other events where you want to deck yourself out in full costume.  You can be sure that nails like these would be the envy of all who meet you!
Starry Night TARDIS nails
These expressionist nails are a highly specific tribute.  If you happen to be a Doctor Who fan, you doubtless remember the amazing episode in Series 5 when Amy and the Doctor met Vincent Van Gogh. 
These Doctor Who-themed nails feature Starry Night designs based on Van Gogh's work, and of course a flying TARDIS.  Way to go geeking out!  I love it!  Of course, it's still my favorite episode, so I'm biased.
Marbled nails
I'm surprised I don't see the marbled look more often. It's pretty, it's a simple idea, and you can always refresh the look just by doing it over in different colors. No matter what colors you choose, it pretty much always is going to look awesome.
Cool blue chevrons
There are so many chevron nail designs that I could probably populate this whole list with nothing else if I wanted to!  I love the chevron nails, but I'm trying to restrain myself.  I had to post these ones, though! 
The cool blue tones rock, and it's really awesome the way there is a gradient from light on the bottom through gradually darker shades of blue to the tips.  This is an outstanding design for winter.
Posh, high-class nails
Here are some amazingly embellished nails with very cool 3D elements.  The flowers, the bows, the little jewels, they are so pretty!  This nail artist did an astonishingly good job coordinating the colors. 
The pale green bows are a faultless match for the pale green polish.  The polka dots nicely accent the look and immediately shout, "high class!"  You can see here too that these nails have already started to grow out a bit, but the cuticle beds don't look bad at all.  These nails are a work of fine art.
Embellished metallic nails
Sadly I cannot seem to track down where these originally were posted, but they have made their rounds on Tumblr and Pinterest.
These are some of the most incredible nail designs I have ever seen.  It's incredible how each nail is unique, yet the same design elements are repeated from nail to nail, so the finished look seems totally unified. 
The black and gold offset each other beautifully, and the metallic embellishments are just beautiful.  These colors also are a nice complement to the skin tone of the model.  Very glamorous!
Stunning opal nail tutorial
Remember earlier when I showcased some nails that looked like opals? Here is a tutorial that will teach you step-by-step how to do it yourself! Amazingly enough, the tutorial actually makes this look a lot easier than I would have suspected.
Much of it is done through simple sponging, and you just need to add on some foil and flakes. You topcoat everything, and you end up with this stunning sparkly effect with layers of depth. Thanks to Glitter Fingersss for posting such a wonderful tutorial.
Ocean waves
I can't help but post another tutorial by Glitter Fingersss! These nails are just awesome, featuring gentle waves in different shades of blue with just a hint of sparkle. There is a video you can watch to see how she did it. I think this would be the perfect look for summer when you're headed to the beach. Of course, it'd also be a great reminder of warmer days during the wintertime!
Gold and silver chevron nail tutorial
First things first. This is a fabulous design. It's a simple chevron with just three stripes. You get the natural nail color going through the middle, and then the gold sparkles and the silver metallic shine to offset it.
It's a clean, streamlined look which emphasizes the shape of your nails in a really flattering way. The metallic shades keep things neutral too, so these nails would look great with whatever you are wearing. Ready to learn how to do it? There is a step-by-step tutorial!
Fabulous geometric nail design
Purple is one of my favorite colors, so of course I fell head-over-heels for this acrylic nail design!
Each nail features three different shades of purple accented by black in a really cool geometric design. The designs are all roughly the same, but not 100% identical, which works really well. This design stands out, but not in a "loud" way. There is a visual tutorial, although honestly I find it pretty intimidating.
She doesn't appear to be covering each layer with anything to help her make those amazingly neat straight lines, which makes me wonder if she's doing it by eye. If so, I am even more blown away.
Splatter nail design tutorial
The splatter patterns on these nails are very pretty! The colors contrast nicely with each other, and the metallic polish really completes the look. If you've ever wondered how you can do this splatter look yourself at home, there is a handy tutorial you can follow.
Easy cross-hatch pattern tutorial
Ever wonder how people get that cool cross-hatch design on their nails? It's actually really easy! You just need some netting, say from one of those exfoliating sponges you can use in the bath. As this tutorial will teach you, you just hold the netting steadily over your finger and then apply the next layer.
Minimalist with sparse embellishments
What grabs the eye about this acrylic nail art is its utter simplicity. Most of the nails are incredibly minimalist; they have a natural color with simple white tips. But a couple of the nails are ornately embellished for 3D glam. Because the other nails are so totally simple, your eye goes straight to the embellished nails.
The effect is a stunning contrast between simplicity and complexity.
Boldly patterned "POW!" nails
If you love really bright, bold, flashy nails that instantly grab attention, you will love this nail design! The base color is a fluorescent pink that just seems to glow. The patterns and colors really jump out at you, emphasized of course by the humorous "POW" written on one of the nails. This is a bold look for those who aren't afraid to stand out from the crowd.
Beautifully blended red and black nails
There was supposed to be a tutorial available for this design, but unfortunately it seems to have gone missing. Anyway, this is a variation on your basic ombre nail design, but with a little something extra. There is a subtle flair to the design from the way the colors are blended.
Instead of simply fading evenly from one shade to the next, there is a subtle cloudy swirl in the transition. You can only see it looking closely.
It is a beautiful look and would be great in many different colors. I would stick with two or three shades to preserve the simplicity of the look and its bold impact. This would be a great look for work since the blending is low key.
Neon disco glam
These nails were done for a 1980s themed party, but to me they shout 70s. They are very cool in any case. The black base makes an awesome contrast with the bright, vivid colors, and the geometric designs stand out amazingly well. Be sure to check out the source link for some other rad ideas.
Neon nail splatter
The great thing about doing splatter art on your nails is that you don't need to be precise.
You get a really amazing design without worrying about straight lines and corners! Here is one particularly eye-catching nail splatter design. The bright neon colors are fun and quirky and remind me of elementary school art class.
Clear sculpted nail design
How awesome are these? They have the long, sharp shape, but the design is clear, so the length of the nails isn't as visually overwhelming as it can be with solid nails. It also makes for a cool transition between the natural nail color and the transparent tips. The swirl designs are very elegant and make the most of the long shape.
Pastel glam
These nails have the natural color at the base, and transition into sparkly opalescent pastel blue at the tips. There are some beautiful understated flower designs around the transition point. The light blue complements the natural nail color really well. This is a soft, graceful look which would be nice for a wedding.
Pastel lace and flowers
Here is a delicate look from Cynful Nails which incorporates some 3D elements. Soft shades of pastel lavender and pink are topped with lace patterns, flowers, and bling. When 3D elements are encrusted on nails, they can sometimes look heavy and overwhelming, but these elements don't take over the whole nail. The textures and colors are beautiful!
Sparkling sequins
Cynful Nails has many lovely designs, and it would be remiss not to post at least one more. These nails feature a natural base color, and then transition into sparkles and sequins. This design would continue to look awesome as the nails grow out. It's simple, but makes a beautiful statement.
Detailed landscape nail art
It is a real challenge to limit myself to sharing just a few nail art designs from PiggieLuv. I recommend you check out her entire gallery. These nails feature a stunningly rendered landscape with a mountain lake and clouds. The painting is quite realistic and detailed, even down to the trees on the slopes! This is incredibly impressive work, all done completely free-hand!
Epic Princess Story nails
Earlier I shared some acrylic nail art designs with you that contained images. These nails don't just showcase images, they tell a story! It's a rather amusing story too, if you follow through the panels. That prince sure chose the wrong princess to rescue! The fourth panel is my favorite in terms of design. It's super cool these all glow in the dark too! These designs are also from PiggieLuv.
3D dinosaur excavation nails
Okay, one more from PiggieLuv! As you probably figured out earlier when I shared the Doctor Who nails, I am a total nerd, so I am in love with these dinosaur fossil nails in 3D.
This is actually quite clever, since she can hold her nails together and show you a complete picture of the dinosaur fossil, but it doesn't seem strange when her nails are held apart, because fossils are often found scattered. Once more her work features astounding detail and creativity.
Winter in Paris nails
I don't think this was deliberately meant to be a winter design, but it certainly feels that way to me with the pastel colors and the silver sparkles and sequins. A lot of the elements I've shared in the other designs are brought together here, including the marbled look. On one nail the Eiffel Tower is rendered against a soft gradient. The finished look to me calls to mind pastel winter skies, gently falling snow, and all the delights of Paris.
Simple gradient with feathers
This design instantly grabs you because it features just several colors and some bold contrasts between them. The nails with the gradients include hand-painted feathers in the same hard black used for the other nails. The resulting design is just instantly cool.
Neon flowers
Gemma Lambert designs some spectacular nails. These ones use bright neon colors: yellow, green, orange, and pink. You would think such bold colors would be busy to look at, but she manages to fade them so gracefully into the natural nail color that they just seem like they belong there. Her design features graceful lines and 3D blossoms.
Monochromatic splendor
I want to share one more design from Gemma Lambert. Whereas the previous design featured bright colorful flowers and designs, this one sticks to just two colors: black and white. The bold alternating stripes and the 3D flowers really stand out.
This design is incredibly artistic and cool, and since the colors are neutral, it would look great no matter what you're wearing.
Captain America: The Winter Soldier nail art
So I am back to geeking out! These Captain America-themed nails are incredible! The design for the index, middle and ring fingers is derived from Captain America's uniform. The pinky design hearkens to the Black Widow, and the thumb design comes from the Winter Soldier. This nail design was a stroke of genius; the bold insignias work perfectly on nails and make a statement with some serious impact.
Vines and owls
Here is a cute, simple, very artistic design for nails. What I love about this design is the high contrast. The black stands out beautifully against the mint green, and the choice of white as the background for one nail instead of the mint green immediately draws the eye to the cute little owl. These designs are quite elegant; they do not overwhelm the eye with complexity, but they still give you a picture to look at.
Simple sparkly nails
This is another simple design by the same acrylic nail artist. These nails sparkle beautifully. You can make a design like this simply by layering some colorful flakes over top of a black base. You get an effect which is eye-catching without looking busy. Sometimes these abstract ideas are the best ones.
Crayon nails
This is just such a cute and clever idea that I can't get over it! Each nail is painted to look like a Crayola crayon, with a gradient of colors running from warm to cool (red, yellow, green, and blue in order). There is a nice shine to these nails, and the bold, primary colors really stand out. This was a smart idea for nails both because of its simplicity and its sense of humor. A bold, fun design!
Sea-themed green and purple nails
Stephanie Loesch is something of a web legend when it comes to crafting beautiful acrylic nail art. Her designs are very popular and well-known, so I am going to share a few of them with you in this list. Here is the first one.
These sea-themed nails are done in various shades of green and purple. Green and purple always make a wonderful contrast with one another, but also complement each other. Both shades here are on the warmer end of the spectrum.
You can see how she did the tulle trick that I linked to earlier to get the "mermaid tail" look on one nail. One thing that is cool about these nails is how each of them is different from the rest, but they all share that same common color scheme and theme. This keeps the look unified and saves it from seeming random. Beautiful work, Stephanie!
Rose-gold and green glitter
Here is another of Stephanie's lovely designs. These nails include light green and nude colors along with rose-gold sparkles and bling. Once again, we have nails where each individual design is unique, but they all work together because she has done so well keeping the colors and ideas unified.
The nails don't come across as at all busy or chaotic, even though every nail is different.
Simple nails with sparkles
Here is another set of nails which stick with a simple nude color scheme. This look is accented with sparkles in the same color and just a little bit of embellishment. The overall result is an elegant design for acrylic nails which would work great with anything you wanted to wear.
These nails might even be acceptable in the workplace (though probably worn a bit shorter).
Simple ombre pastel nails
This design by the same artist features a really simple look which still immediately calls for attention. The nails are done in an ombre gradient. Pastel pink morphs subtly into pale blue at the tips. The pastel pink should itself blend in pretty well with the natural color of the nails when they start growing out, so this look will maintain itself pretty well over time. Once again we have a look which is subtle enough you could probably get away with it at your day job.
Harvest spikes
Pink & Polished has a number of beautiful acrylic nail art designs. Kristine was looking for some unique ideas for fall, and thought of creating this sophisticated look in gold. While these nails may not immediately shout "fall," they do fit beautifully with a fall theme.
They have those same warm colors, and if you have autumn in mind while looking at them, it really works.
A lot of season-themed nails tend to look a bit gaudy, but these ones are the furthest thing from it. They look really chic and refined. A great choice if you want something for autumn which is going to really give you some glam, but which won't seem kitschy or loud.
Ombre heart nails
Usually when you see an ombre look where one color fades into another, you are looking at just one solid hue running into the next. This is an ombre nail design featuring an actual pattern fading into another color. Instead of just sparkly black fading into sparkly pink, you have sparkly black hearts fading into sparkly pink. Kristine has outdone herself yet again with another vibrant and beautiful acrylic nail design!
Fall leaves
Have I mentioned I can't get enough of Kristine's nail designs? Here is yet another that I really love! Unlike the gold harvest spike design featured earlier, this one does immediately and unambiguously announce that fall is upon us.
The nails feature black leaves on orange and red, and orange and red leaves on black on alternate nails. All are done in sparkly polish. I've seen attempts at making looks like this from other designers, but they usually are really loud and garish. Like all of Kristine's designs, this one is just subdued enough not to seem gaudy. Another sophisticated look for autumn!
Squiggly nails
Okay, just one more from Kristine. I could not resist these squiggly patterned nails! Silver and pink squiggles on a black sparkly background make an awesome abstract statement. Amazingly enough, even though all the lines are squiggly and random, nothing seems chaotic about these nails. They kind of remind me of computer cables, in an absolutely cool, cyperpunk sort of way.
Mara Hoffman dress-inspired nails
This may officially be one of the coolest things I have ever seen. Dorra over at Didoline's Nails & CO was checking out the fashion designs of Mara Hoffman on Pinterest and realized that the bold geometric pattern on this dress would also work perfectly on nails.
Using the same colors and the same basic design from the center of the dress, she recreated the look perfectly! I am blown away by how closely she managed to match the colors.
And she was right—the design lends itself perfectly to nails. How cool would it be to wear this dress and these acrylic nails at the same time? You'd get so many amazing compliments! What a cool idea that would be for attending a party in style!
French Connection dress-inspired nails
Dorra did it again—she turned another dress pattern into an amazing design for acrylic nails! I am totally in awe of this woman's incredible skills! She again managed to pick colors which appear to match almost exactly, and she recreated the design faithfully. She again chose a bold geometric design with high contrast glamour. It looks awesome!
Shoe-inspired nails
Can you tell I am a real fan of Dorra's nail blog now? This time she was inspired by an amazing pair of shoes (I really want those shoes now!). The nails are awesome for the same reason as the shoes themselves.
The colors complement each other but also have enough contrast that the striping really stands out. While I probably couldn't find (or afford) those super cool shoes, the nails I can do!
Very cool work, and as one commenter pointed out, the perfect workaround when you want some amazing shoes you will never be able to get!
Blue, pink, and gold nails
Here is another beautiful bit of nail art from Stephanie Loesch. These nails feature pink and pale blue (almost a teal color). Some nails are done only in pink, others only in blue, and others fading in an ombre spectrum from one shade to the next. Gold glitter and embellishments do a nice job jazzing it up without taking over.
High contrast chevrons
Here are some colors I would not even have thought would really work together, but they do. We have nude, a fairly bright pink, lavender, white, gold, and copper, all as part of the same palette.
The chevrons form a hard contrast with each other; the copper sparkles really are eye-catching against the pastel hues. The overall effect is as mesmerizing as it is surprising.
Maroon and gold flowers

These nails have a really beautiful color palette. Nude, maroon, gold, and black work very nicely together.
There is a lot of contrast between the darker and lighter colors, but everything works very nicely from a complementary standpoint as well.
The embellishments are beautiful, but there is plenty of simplicity in this look as well. The result is a sense of balance and artistic glamour.
Antique Valentine's Day look

These nails use a sparkly base which has a lot of different colors in it, but which falls mainly into the red area.
The sparkly base is actually so pretty I think it looks fabulous on its own. It really makes the perfect backdrop for the beautiful vines and hearts in gold polish however, and the finished look here is stunning to be sure.
Pink and silver simplicity

This is a great nail design because it has a gorgeous simplicity to it. The only two colors used are the muted pink and the sparkly silver. The two are integrated in a way which is organic, understated, and appealing to the eye. The silver embellishes the pink, but it isn't "loud" in the slightest. I think this look could be worn pretty much anywhere, and you might even be able to wear it to the office.
Heart rate nails
This is a look I have seen in a number of places now, but this is one of the best renditions of it that I have found yet. The nails are painted with a design which imitates the look of a heart rate monitor. The gradient of colors really looks nice, especially against the simple black backdrop.
These nails immediately get your attention, and probably would stand out great even from a distance. Since the concept is clever and easy to place in the real world, they would be great for eliciting comments and compliments.
Gold, purple, and red sparkly nails
If you are into rich, deep, vivid, warm colors, you will love these nails. The hues of gold, purple, and red are perfect for fall.
At the same time, they have this royal richness to them which is just instantly classy. What stands out the most about these nails though is the way the colors are so beautifully blended.
The simple gradients from purple to red which are featured on several of the nails work particularly well.
Purple, green, and white eclectic nails
These are another set of nails by the same artist who created the glamorous nails above. There really isn't much of a uniting theme here. The blue, green, and pink sparkles are featured in several of the nails, but others feature silver sparkles.
A deep, warm shade of purple is used as the base on a couple of the nails, but the others are white or sparkly green.
One nail has a pattern of vines worked in. Yet for some reason, despite all these seemingly conflicting elements, at a glance you somehow get the impression of unity. I guess it must be the gestalt principle at work!
Elegance in black, maroon, and gold
Finally, here is one more design by the same artist as the two above that I just adore! This one is much more unified than the one I shared previously. All the nails use the same simple color scheme of black, maroon, and gold.
These three colors accent one another amazingly well, and the overall effect they create together is one of total refinement.
Monochromatic lacey nails
It isn't easy to find a good way to sum up this look, but it is beautiful for sure.
The only colors used are black and white, a kind of translucent grey, and a nude color. Each nail features some combination of these colors. Several are done with lacey patterns in black on translucent grey, one features white sparkles on nude, and so on. Together they look stunning.
Wedding glamour nails
These nails were inspired by an outfit that Beyonce wore to one of her concerts. So by intent, they really have nothing to do with weddings. I still had to title them as if they did though, because they would be the perfect look for one!
The only colors are shades of white embellished with a faint rainbow sparkle from the elements adorning them. I really like the "mermaid tail" mesh look and how subtle it is with just the layers of white. The nails have a sense of depth to them.
This is a really beautiful look, perfect for a formal occasion!
Pink, white, and gold nails
These nails stand out because they feature a really simple geometric design that makes ample use of space.
Some of the nails feature a simple fade from nude to white, with or without a thin gold stripe at the tips. Others feature a simple checkerboard pattern in white and gold. Sometimes it is the simplest designs that are the best.
Basic pink with silver sparkle
If you are new to the world of acrylic nail art, it is easy to be intimidated by all the super-elaborate designs that are out there. This design is a great reminder that you don't always have to go overboard to get a really great look.
These nails are as simple as they get—just your basic pink with a single nail done in silver sparkles to catch the eye.
Learn how to make aquarium nails
Have you ever wondered how those elaborate acrylic nails with the clear "aquarium" effect are achieved?
While you might think that each nail would take an age to complete, this YouTube video tutorial shows you how you can do each nail in a matter of minutes. It is easy to follow along, and the final result is absolutely gorgeous!
Oriental tile nails
It's back to Didoline's Nails & CO for yet another amazing set of nails. These are patterned after oriental tiles.
Dorra says that she tried to create this look on her own a number of times, but was never entirely satisfied with the results. This time she managed to run into a stamping plate that helped her reproduce the look neatly on her nails. And they look fabulous!
Autumn pumpkins
If you like cute nails and are searching for something that is perfect for the fall season, you will love these adorable pumpkins! Usually when I see nail designs that feature a pattern with objects like this, I feel like they are just so busy you can't see what's going on.
But this design is pretty simple and the pumpkins look great! If you stick to a narrow color palette like this, you will get the best effect.
Autumn dry brush nails
These colors look pretty unexpected together (orange, yellow, grey, and a kind of muted grey-blue). But they work.
What they remind me of is an autumn sunset. The sun has largely set, and the muted colors of night are starting to take over the sky, but there is still a fiery glow on the underside of some of the clouds.
Juicy citrus nails
First off, this color is just awesome! It's so bold and vivacious, and it just makes you think immediately of summer.
Painting on the citrus slice patterns was a stroke of genius, since it capitalizes on how refreshing and bright this color is. This is a bubbly and effervescent look like no other!
Pretty daisy nails
If you like floral nails but maybe are looking for something that isn't so "lacey" as a lot of floral looks, you will like these pretty daisy nails.
The yellow, white, and dark blue all work really well together and give a great contrast. That contrast makes the flowers stand out vividly, and also helps to keep the look from being too busy. Surprisingly, the effect is instead one of simplicity.
Bold pink stiletto nails
This bold look in white, old, and hot pink commands instant attention, especially with the dramatic stiletto shape. The chevrons accent that shape very nicely. You would spot these nails from a mile away.
Pastel sparkles and stars
Galaxy nails are some awesome! With dozens of inspiring nails out there, it was hard to choose just a few examples of this trend to share. These nails are particularly fun because they feature the "starry" look to them, but then throw in some actual star shapes for good measure.
For that reason they almost remind me of an illustration of a nebula you'd find in a children's storybook. They are so whimsical!
Pelican Nebula Nails
These nails not only look amazing, but also have the geeky appeal of having been inspired by a real nebula! Loosely patterned on the Pelican Nebula, they feature beautiful, realistic swirls of color in a mesmerizing space-inspired design. What an awesome idea.
You could do a whole series of these inspired by different nebulas. That's a whole universe of nails, with so many possibilities to explore!
High contrast lacey nails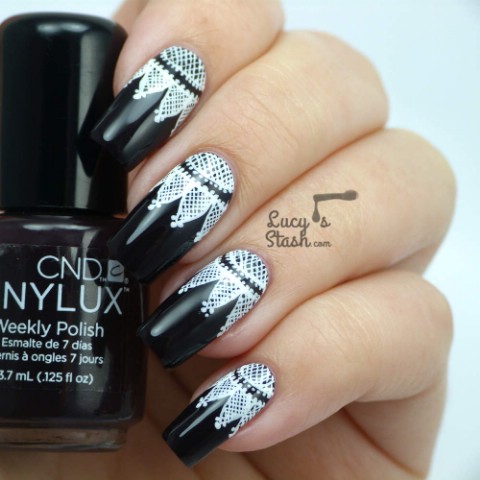 Most nails that use the lace effect feature pastel colors. Sometimes however you will see lace used in a high-contrast look like this one.
The base color looks like black in the photographs, but apparently is actually a super-dark purple. Either way, it makes the white lace patterns really stand out.
Lacey copper tips
These beautiful nails feature a dark base polish (it looks to me to be a kind of burgundy color, but it is hard to tell from the photographs) and a lacey pattern stamped on in copper over the tips. You are not going to find a style with more elegance and refinement than this one.
We hope that you enjoyed our collection of 100 beautiful and creative acrylic nail art designs from around the web!
Acrylic nail art is a wonderful hobby, and once you really get into it, it can become your passion. Many nail art designs look complicated and hard to recreate, but are actually much easier than you think! With the tutorials we have shared and all these beautiful inspiring images, you should be ready to create your own mesmerizing designs!