Owls are always fun to create, no matter what you use or what season it is around you. These decorative owls made from upcycled wood pieces are so cute and super fun to customize. I made a trio of owls to share, but you can make a single owl or dozens! I love this idea and even think they would be a great addition to an upcoming craft show or Etsy shop for a little extra income!
Decorative Owls Made from Upcycled Wood
Some people see branches left from cutting down a tree. I see a wonderful source of my next upcycling project. There are so many incredible ways to turn simple items like this into stunning home decor, gift ideas, or fun crafts with your kids. This decorative owl idea was inspired by some I have seen at a craft fair in the past and just had to make come to life.
Grab your kids to help you decorate and create your own unique spin on these owls. Use tons of different embellishments, bits, and bobbles to give each one a different personality. The best part of this is how easy it is to make them really fit your own style.
What is the Best Wood for This Project?
Ideally, you will have access to some branches from a small tree. Cutting them into 8", 10", or 12" lengths gives you a nice sized piece of wood to use as the base for this project.
Additionally, you'll want wood slices to add for the base and the face. If you don't want to cut the individual discs, you can pick those up from craft stores or even the local dollar store pretty easily and inexpensively.
The type of wood branches you use really doesn't matter. You'll want one that is no more than 6" across for the smaller choices but can make it with a large stump if you want. As with all of my projects, they are guides but not exact in process or styles.
How Can I Customize My Owls?
All you have to do is to take a glance at the ones I made to see that there really is no right or wrong when making these owls. Customizing them comes with using your imagination and what you have on hand. Below are a few ideas that I think easily fit this project and can reflect a new or unique look.
Add yarn or twine for hair around the top.
Create a simple hat, tie, or dress to go on them using felt or scrap fabric.
Add a nameplate to the base giving your owl their own name.
Use polymer clay to create your own custom eyes or nose for the owl faces.
Cut out felt or foam paper feathers to add around the face instead of using dyed feathers.
Glue beads around the "neck" to create a necklace.
Add twigs to the sides to create arms.
How do I Get These to Stand Up?
The main branch is glued or nailed onto a wooden slice base. This is usually all you need for them to stand up straight. If yours seems to be a bit top-heavy and wants to fall over easily, you can add another small piece of wood on the back as a brace. Just attach it at an angle from the back to the base or ground.
Supplies Needed
8"-12" length of wood per owl
Sticks
Acorns
How to Make Decorative Owls from Wood
On the medium-sized wooden piece, add glue and two feathers so that their ends poke over the sides.
Glue two small wooden slices on top of the feathers so they cover the tips but leave feathers on either side.
Attach large buttons onto the center of the wooden slices to create eyes.
Glue acorns or a second smaller button or acorn top onto the middle of each of the large buttons.
Add an acorn just below the eyes for the nose.
On the twig or small stick, attach a rubber band around each end wrapping around several times.
Glue this twig onto the base of the wooden slice.
Attach the large branch to a larger wooden slice with hot glue or a nail.
Glue the face onto the top of the branch at an angle.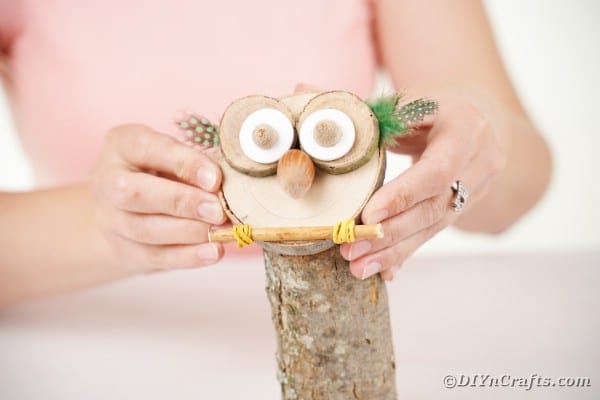 Continue with as many owls as desired adding unique looks to each face.
More Rustic Projects
I love creating rustic and wooden projects. Whether it's using a grapevine wreath, twigs, branches, or wood slices, rustic is the way to go in my book. These rustic looks add a ton of beauty to my home throughout the seasons, but I especially love how they bring the outside in during that cooler autumn season. Below are a few of my favorite choices that are stunning!
Crafting Tip

You can easily find pre-cut wooden slices online or in stores. I like to buy wooden slices on Etsy because they are affordable and more rustic. You can also often find them at Hobby Lobby or Michael's.
Yield: 3
Cute Decorative Owls Made From Upcycled Wood
Turn an ordinary branch from your back yard into a gorgeous rustic decorative owls idea for displaying on a mantle or table in your home.
Materials
8"-12" length of wood per owl
Sticks
Acorns
Instructions
Using a medium sized wooden slice, glue on two feathers horizontally on the top section of the wood so they are hanging over the sides,
Glue two smaller wooden slices over the top of these feathers so they poke out above and beside them;
Add large buttons to the center of the eye slices;
Top the buttons with acorn tops;
Glue an acorn just below the eyes;
Wrap both ends of a twig with rubber bands then glue at the base of the face;
Glue the branch to the largest wooden slice;
Attach the owl face to the branch at an angle;
Add additional embellishments or make different styles then display.
Notes
Use beads, foam paper, felt, fabric, or glitter to create even more unique owls.
Recommended Products
As an Amazon Associate and member of other affiliate programs, I earn from qualifying purchases.
Finished Project Gallery
Use different colored feathers around the eyes for a unique look.
Large plastic lids can be used as a base for the eyes. Just add beads or buttons to the center.
A stick around the hin is great on some but can be left off of others.
When grouping together, add some artificial fall leaves around the base for a full theme.