Looking for the perfect DIY project to transform your home this summer?
One of the biggest trends in home décor right now is upcycling reclaimed wood. You can search for wood and reclaim it yourself from abandoned local structures (barns, railroads, etc.), or you can purchase it wholesale.
Pallets are a great source if you are just starting out—just keep an eye on the roadside on your next long drive and you are bound to find some just lying around.
Jump to:
In the Bedroom
Rustic Nightstand
I am going to be featuring a number of reclaimed wood projects by Shanty-2-Chic. Ashley and Whitney do beautiful work and also do a great job documenting their projects so you can follow along.
This reclaimed wood nightstand has a simple, charming design and would fit in great with any décor you have in your home!
Source: shanty-2-chic
Planked Headboard
Here is another gorgeous project from Shanty-2-Chic. If your bed could use a new headboard, this is a wonderful way to introduce a touch of country living into your home.
I love how they chose to use different types of wood! The different colors and patterns really grab the eye and draw attention to the headboard. It's absolutely beautiful, and guess what—there are free plans; just check the link!
Source: shanty-2-chic
Reclaimed Wood Bookcases
Here is a brilliant idea for building reclaimed wood bookcases.
Not only does the wood make a wonderful contrast with the wall, but notice how these bookcases are recessed into the wall to save space.
This is a great design since it keeps the room nice and open.
Source: homebunch
Crates for Storage Bed
If you enjoyed the project for the reclaimed wood headboard, you will also love this project for creating crates for a storage bed.
Not only is this a great way to utilize space, but it also gives you a creative way to upcycle old wood. And it has a wonderful rustic appeal!
Source: shanty-2-chic
Salvaged Wood Mirror
There is nothing lovelier than a full-length mirror. This tutorial will teach you how you can convert your run-of-the-mill full-length mirror into something even more phenomenal using a frame made out of salvaged wood.
There is a full list of supplies and instructions if you click on the source link.
Source: salvagesisterandmister
Twin Bed (with Complete Plans!)
This amazing bed was made out of wood reclaimed from an old barn! It looks absolutely amazing, and the best part is, if you follow the source link, you will find the complete plans to build this twin bed in your own home!
Source: hertoolbelt
Reclaimed Wood Platform for Bed
Here is a unique and unusual design for a reclaimed wood bed. The frame is a raised platform on top of industrial steel legs. I have never seen a design anything like this before, but I actually think the "shelf" it provides under the mattress would be very useful.
Available on: CroftHouse Etsy.
In the Mudroom
Simple Rustic Coat Rack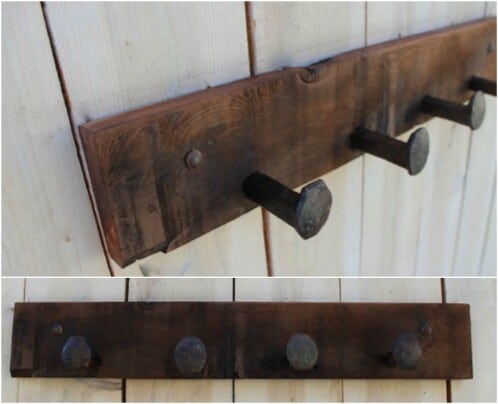 Need something eye-catching to hang your coats on when you step in out of the cold? This simple rustic coat rack is made out of reclaimed barn wood. While this is an Etsy creation and there is no tutorial, you can take a pretty good guess looking at it as to how you could make a similar item yourself.
Available on: Reclaimed Barn Wood - Entryway Furnishings
Chevron Pattern Mudroom Bench
Now here is a design for your mudroom that will really grab attention! This bench by Hammer Design Inc. includes a set of drawers with chevron patterns underneath a comfortable bench with a chevron-pattern backboard. There are hooks for bags, coats, and scarves. Everything about this design looks amazing, especially the high contrast between the dark wood and the white used for the rest of the bench and the room.
Source: homebunch
In the Kitchen
Reclaimed Wood Bar Table
This beautiful bar table is available on Etsy. It is a finished product, so there are no instructions for building it, but it appears to feature a fairly simple and straightforward design. I love the clean, polished look—but also how the artisan decided to keep the wavy shape of the original wood. This makes it the perfect meld of rustic and modern designs.
Available on: Etsy Reclaimed Wood Bar Table
Kitchen Shelf
There are no instructions for creating this beautiful shelf unfortunately, but it is absolutely amazing! The highlight is of course the really cool vintage stamp on the top. That's the focus of the blog entry; follow the source link to learn more—and check out the creator's stencil shop!
Source: knickoftime
Simple Rustic/Industry Dining Chair
These dining chairs for sale on Etsy immediately grabbed my eye with their simple modern design. The materials are all reclaimed wood and steel. Both rustic and contemporary in their appeal, they would go great with the Reclaimed Wood Bar Table I shared earlier.
Available on: Etsy - Reclaimed Wood Dinning Chair
Reclaimed Wood Serving Tray
Everything about this serving tray is awesome. The texture of the reclaimed wood is gorgeous all on its own, and the finish is quite lovely too. I also like the convenient leather straps for carrying, which really adds to the functionality. It looks very sturdy.
Source: bec4-beyondthepicketfence
Another Rustic Serving Tray
I love the tray above, but if you want something which is even more rustic, here is something with a completely different look to it. The wood here is unfinished and has a rough texture. It looks like it was just cut from the tree. Very cool!
Source: nordichouse
In the Living Room
Barn Wood Rail Road Track Coffee Table
Here is a beautiful rustic table available on Etsy. All the materials used have been upcycled, including reclaimed wood and steel from rail road tracks. It has a convenient bottom shelf which you can use to store coffee table books and other items. This looks like a wonderful table to purchase or recreate on your own!
Available on: Etsy Rail Road Track Coffee Table
Rustic Cubby
Okay, so this isn't strictly a project for repurposed wood—the cubby itself is vintage, and has been repurposed by its purchaser told hold various decorative objects. But this would definitely be a perfect idea for a reclaimed wood project!
Source: knickoftime
Wood Couch Arm Shelf
I hate having to lean all the way across to the coffee table to grab my drink while I am watching TV. Well, you can really kick back with this wood couch arm shelf! It fits right over the arm of your couch and you can have your drink right there. Even though the product is out of stock, it looks like something that would be easy to make yourself.
Source: scoutmob
Wood and Leather Lounge Chair
This Etsy item might be tough to reproduce if you have no experience with leatherworking, but I love how different it is from the other reclaimed wood projects that I have discovered. It looks very comfortable, and it would fit nicely with any décor.
Available on: Handmade Lounge Chair.
Pallet Bench
There are a number of projects in this list featured from Beyond the Picket Fence. One of my very favorites is this pallet bench. I absolutely love what she has done with painting the wood. It really makes the design stand out!
Source: bec4-beyondthepicketfence
River Table
Here is one of my absolute favorites from this entire list. These tables are designed by Pacific Northwest artist Greg Klassen. He makes all of them out of reclaimed wood. Through the center of each runs a "river" made out of glass. As you can see, the natural wavy contours of the wood mimics the weathered banks of the river. If you check out his website (which I highly recommend), you can see many gorgeous examples.
Source: gregklassen
In the Bathroom
Wood Wall for the Loo
If you want to spruce up your bathroom with some rustic décor, one way to do it is to put up some wood paneling behind your toilet. It really does give a very pleasant homespun vibe to the entire room. If you check the source link, you will find a detailed tutorial to guide you through this project.
Source: anniesblessednest
Wood and Pipe Toilet Paper Holder
Most of us have boring, functional toilet paper holders (personally I never have thought twice about mine). But why have boring anything when you can have beautiful? This wood and pipe design uses repurposed materials for an industrial look.
Source: scoutmob
Pallet Wood Bathtub Table
Do you enjoy relaxing with a good book or working on a project (maybe writing in a journal or so on) while you are in the bathtub? If so, you will love this clever design for a bathtub table which you can use while you are soaking.
Source: knickoftime
Colorful Bathroom (or Kitchen) Shelf
I just love this reclaimed wood shelf! The design is lovely and provides you with plenty of useful space. The bright colors are really cheerful, and also help to show off the texture of the old wood. Oh—and you can use it in your kitchen too!
Source: bec4-beyondthepicketfence
Anywhere In the Home
Salvaged Wood Display Shelf
Here is a lovely display shelf built out of salvaged wood by Angie over at KnickofTime.net. Not only is the shelf itself gorgeous, but the antiques sitting on top of it really work beautifully with its homespun charm.
Source: knickoftime
Drawers Into Wall Shelves
Many reclaimed wood projects are clever in that you cannot tell exactly what the wood has been repurposed from. In the case of these wall shelves, the clever appeal is just the opposite. You can tell immediately that they used to be drawers—and that is why they are so cool!
Source: knickoftime
IKEA-Style Trestle Leg Desk
Here is an IKEA-Style trestle leg desk with a twist—the surface is made from reclaimed wood which used to be part of a floor. Check the source link and you will find step-by-step instructions which help you to make a trestle leg desk of your own.
Source: anoregoncottage
Roman Numeral "Clock"
This project isn't really for a working clock, but rather for a decorative clock-face. If you are mechanically minded, I imagine you could use instructions from another project and combine them with these to make a working version. It looks really awesome regardless.
Source: littleredbrickhouse
Reclaimed Wood Photo Frames
Lots of people have family photos running along their staircase, but how many have super cool upcycled wood frames? These are very eye-catching and really contribute to a homey feel in a stairwell which would otherwise have a pretty sterile look to it.
Source: kammyskorner
Hall Tree
Looking for a convenient place to put stuff in your entry hall or mudroom, or even in your living room? This hall tree is made out of beautiful reclaimed wood and includes a desk you could use for ingoing and outgoing mail, hooks for purses and jackets, and even a space for your shoes. The inclusion of a mirror for last minute appearance-checks on your way out the door is brilliant.
Source: bec4-beyondthepicketfence
Rustic Stars
Never forget that an item does not need to be functional in your home to be beautiful! Here is a really cool idea for a simple star ornament which you can use on your Christmas tree or tack on your wall or place anywhere else where it could spruce up your space. It looks simple to reproduce, and you could use this same idea to create many other shapes!
Source: madetobeamomma
Barn Wood Shelves
These simple shelves have a look which is at once homespun and industrial. If you check the source link, you will find detailed instructions which would make it a breeze to replicate this design in your own home.
Source: chatfieldcourt
Chalkboard with Salvaged Wood Frame
Few things are as handy as a chalkboard. You can put one in your mudroom for family notes or in your kitchen for recipes. Check out this gorgeous chalkboard with a reclaimed wood frame. I just love those textures!
Source: createandbabble
Reclaimed Wood L-Desk
When it comes to desk designs, few beat the L-shape which gives you extra space for all of your stuff. But this desk is so beautiful with all the different colors of wood that I think you'd want to keep the surface as clear as possible!
Available on: Rustic L-Shaped Desk Made from Reclaimed Wood
Rustic Wood Ladder
There is a big trend right now if repurposing old ladders as shelves. Well, here is a project that teaches you how to repurpose old wood into a new ladder which you build yourself—and use to store whatever you like. This one is being used for fabric. Check the source link for the full instructions!
Source: shanty-2-chic
Vintage Bench with Drawer
Here is a lovely design for a vintage-style bench you can build which includes a handy drawer. This would work well in the mudroom, but I think it would also be perfect for a living room or bedroom—or pretty much anywhere else in the home really. Check the source link for instructions!
Source: shanty-2-chic
Outdoors
DIY Ornament Stand for Front Porch
Looking for a creative and beautiful way to display ornaments on your porch for the holiday season? This project from Shanty 2 Chic teaches how you can create a front porch ornament stand. This particular stand used wood from Home Depot, but this is such a versatile project you could easily adapt it to a slab of reclaimed wood! I imagine it'd also work great in the mudroom for holding hats, scarves, jackets and the like.
Source: shanty-2-chic
Garden Walkway
Here is a very simple project which even a beginning woodworker should be able to handle! This garden walkway is made out of wood from old pallets. The effect is gorgeous!
Source: funkyjunkinteriors
House Number Sign
Looking to replace a boring old house numbers sign? Here is an elegant idea using a slab of old barn wood. It looks awesome!
Source: loveofhome
Reclaimed Garden Shed
Why stop at constructing just one item of furniture out of reclaimed wood when you can tackle an entire building? This beautiful garden shed was created by a company that deconstructs vintage buildings and then rebuilds them using the reclaimed materials (along with additional upcycled materials). This shed is just stunning!
Source: livingvintageco
As you can see, there is nothing you can't do with reclaimed wood and a little imagination and hard work.
Conclusion
Wherever you decide to get it from, using reclaimed wood has so many benefits! It's eco-friendly for one—if you do not use this wood, it will probably end up rotting in a junkyard someday.
For another, reclaimed wood is more mature than fresh-cut lumber, which tends to make it more durable, so your reclaimed wood projects will stand the test of time.
But the main reason to use reclaimed wood? It looks amazing! Rustic interiors are all the rage right now, and this is the perfect way to capture that homespun look and feel of old America.
Reclaimed wood pieces have incredible textures and patterns. Every piece carries a bit of history with it, and you can make that a part of your home. The look that results is always very cozy and down to earth.
In search of inspiration? We thought so.
Here are 40 beautiful reclaimed wood projects you can do to spruce up your home! Most of them come with ready to build tutorials some are only inspiration from Etsy items.