Upcycled items are my favorites to use in crafting. This rustic Fall leaf upcycled jar lanterns project is so easy to make. Truly, this is one of the most simple home decor projects ever. You can use empty mason jars, globes from a light fixture or chandelier, or any clear glass or plastic jar you have on hand as a base. Mod Podge or craft glue and a few artificial leaves and suddenly you have an adorable addition to your fall table or Thanksgiving centerpiece.
Rustic Fall Leaf Upcycled Jar Lanterns
You already know that I am always up for a good upcycling project. Repurposing an item that would otherwise be trash is a must in my craft routine. For this little lantern, I grabbed a few empty glass jars from pickles that I had tucked away and one really pretty globe from a light fixture we had replaced. You can use globes from lights, lamps, or even an old chandelier if you want for this project.
I love making decorations that can be used for multiple seasons or holidays. Fall and autumn-themed items are excellent for putting out in August and using throughout the fall season up until Thanksgiving. This set of lanterns is generic enough to use at back to school season but can be added with both Halloween and Thanksgiving decor for a unique and pretty look that carries through the seasons beautifully.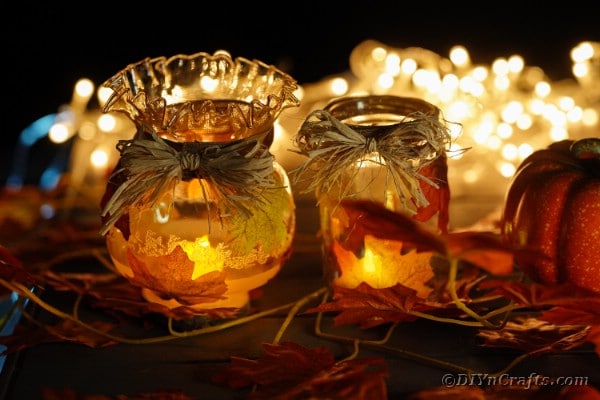 What Jars Can I Use For This Project?
As mentioned above, I used an upcycled globe from a light fixture and a mason jar. You can use many other types of jars for this if you wish. The only thing that is a must is that they are clear or transparent so that the candle can be easily seen and glow. Below are a few great ideas of jars that can be used for this project.
Globes from light fixtures
Empty mason jars missing lids
Globes from chandeliers
Empty condiment jars from pickles, mayonnaise, or olives
Glasses that have no mates or have chips
Empty jars from sauces like gravy, pasta, or pesto
Jars from dips, jams, jellies, or chutneys
What's the Best Glue to Add the Leaves to The Lanterns?
As with most of my craft projects, I reached for my hot glue gun and glue sticks to secure the leaves and ribbons to my jar lanterns. You, can, however, easily use Mod Podge, craft glue, or even something as simple as Elmer's school glue. I also love the idea of using a spray adhesive for this that will help keep all of the leaves edges down securely. There is no exact way to secure the leaves, but you will want something that will keep each edge down nicely.
When using something like Mod Podge, you can use a dab of glue underneath the leaf to add it to the jar. Then, you'll be able to brush the glue over the leaf and hold the edges down until secure. It will be a great way to create something that is solid on the outside instead of having leaves ruffling or falling off the jar.
Can These Be Washed Easily?
If you just use hot glue, the best way to wash the jar is to wipe the outside gently with a damp cloth. When using Mod Podge, you can find the waterproof version that allows you to submerge it into water. I tend to make crafts that are easy to just wipe off when needed but don't go so far as needing to really scrub them.
With something like this, a quick dusting here and there is all that you need. Then, when the season is over, you can wrap in tissue paper to store to keep it clean until next year. That makes much more sense when you are working with a multitude of different crafts to store year to year.
What Candles Are Best in Lanterns Like This?
Since this is a glass jar project, you can easily use a real standard votive or tealight inside the jar. However, I much prefer the use of flameless candles for safety. It makes it simple to set up these lanterns around the house or yard, flip the switch, and let them "burn" for hours without needing to tend the flame or add a new candle regularly.
Supplies Needed
How to Make Fall Leaf Upcycled Jar Lanterns
If using a glass globe, glue to a wooden base to make sturdy.
Glue leaves randomly around the outside of the jar.
Add a bit of adhesive over the top if desired.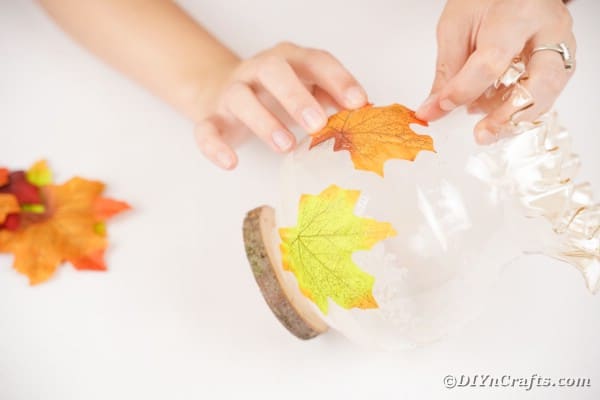 Repeat with all of the glass jars or globes.
Cut and glue a strip of burlap ribbon around the mouth of the jar or globe.
Using raffia, tie a small bow and fluff it out.
Glue the raffia to the front of the jar over the seam from the burlap ribbon.
Display with a flameless candle inside.
More Fall Themed Home Decor Crafts
If you are looking for more ideas to add to your fall home decor, you'll love the ideas I have shared here before. Below are a few of my favorites, including many upcycled and repurposed items turned into adorable or beautiful additions to your fall decor.
Crafting Tip

When crafting, check out your local thrift shop or second hand store for old glass jars, glasses, or even vases that can be used for a project like this one. Some of my favorite items have been picked up at my local Habitat ReStore. In fact, they are a great place to buy mismatched globes from old fixtures or chandeliers.

If you plan to make many of these but want something a bit safer to use around kids, you can pick up plastic jars from Dollar Tree online by the case. You can even grab spray glue and artificial leaves on occasion at your local or online Dollar Tree. That makes it so affordable and easy to find!
Yield: 1
Rustic Fall Leaf Upcycled Jar Lanterns
Grab a few old jars and make this easy rustic fall leaf upcycled jar lanterns project! This is perfect for displaying throughout the fal season for Halloween or Thanksgiving!
Tools
Instructions
For glass globes from light fixtures, glue the piece to a slice of wood to make sturdy;
Glue leaves randomly around the outside of the jar using hot glue, craft glue, or spray adhesive;
Continue covering the outside of the jars until you are happy with the appearance;
Cut and glue a piece of burlap ribbon around the mouth of the jars;
Tie a small bow with raffia and glue to the seam on the ribbon around the jar;
Add a candle and display as desired.
Notes
Use any clear or transparent glass or plastic jar for this project. Just make sure they are clean and have a sturdy base to stand up when holding a candle.
Recommended Products
As an Amazon Associate and member of other affiliate programs, I earn from qualifying purchases.
Finished Project Gallery
These are ideal for adding a few candles inside and displaying on your porch or deck for a candlelit dinner in the cool autumn breeze.
I love the added engraving on the glass globe that comes from upcycling an old light fixture.
Add them to a table or shelf in your home for a cute addition that works as daytime decoration or nighttime lantern.
You might even line your walkway with them to turn on at night and lead the way to your porch or deck.
I also love the cute addition of one of these lanterns on a stump outside or even inside as a centerpiece.
No matter how you decide to display your lanterns, you'll love how simple and rustic this look is throughout the fall season.