Wreaths are the easiest way to update your fall decor. This rustic fall grapevine wreath has beautiful fabric flowers and leaves that are simple to create and look stunning when hung on a wall, door, or mantle. This is a great idea for adding beautiful decor to your home for Thanksgiving, autumn, or just because!
Fall Grapevine Wreath with Fabric Flowers
Grapevine wreath forms are always a great addition to any decor. I love how they bring that rustic natural element to any wreath. They are also part of the always appealing farmhouse decor movement, so they never fail to look great. Adding a few DIY flowers and leaves is a fun way to customize this with something unique while also keeping the fall theme.
I love making flowers out of fabric, felt, or paper. I've even made them from yarn in the past. The addition of flowers to a wreath, box, lantern, or just on top of a package all makes the look even more beautiful. This one, in particular, is one of my favorites. It combines my favorite felt and glitter paper to create a gorgeous look that adds character, depth, and beauty to your front door.
Can I Use Artificial Leaves and Flowers Instead?
If you want something to throw together a bit quicker, you can easily use artificial flowers and leaves. Simply arrange and glue them in place just as you would the homemade flowers or leaves. I like to grab them at Hobby Lobby or Michael's, but you can also pick them up inexpensively at Dollar Tree or Dollar Tree online. They are so inexpensive and easy to locate, it's simple to keep some in stock in your craft stash.
Variations For This Wreath
While the basic premise is the same, there are a few things you can do to make this a bit more unique. As with any and all crafts and DIY projects here, I like to make sure they are something that can be easily customized if desired.Below are a few unique ways to make yours different.
Use a different or homemade wreath form instead of the grapevine option
Add different colors of flowers like reds and purples
Make a burlap ribbon bow to go beneath the flowers
Add beads, pearls, or glitter directly to the flowers themselves
Wrap the grapevine wreath with burlap or matching ribbon to go along with the flowers
How Do You Hang a Grapevine Wreath?
Since this style of wreath form isn't solid, it's easy to loop a wire or ribbon through the branches on the top and simply hang anywhere. That's part of why I love this so much. It's so much easier to hang it than a more traditional solid wreath form.
I like to use twine, ribbon, fishing line, or burlap ribbon and hang it on a nail or from a more traditional wreath hanger. There are tons of different types of wreath hangers to pick up in your craft store or online. Simple metal wreath hangers are most common. I also love the wrought iron wreath hangers, and have found a few wooden standing wreath hangers that look great on a front porch or entry way.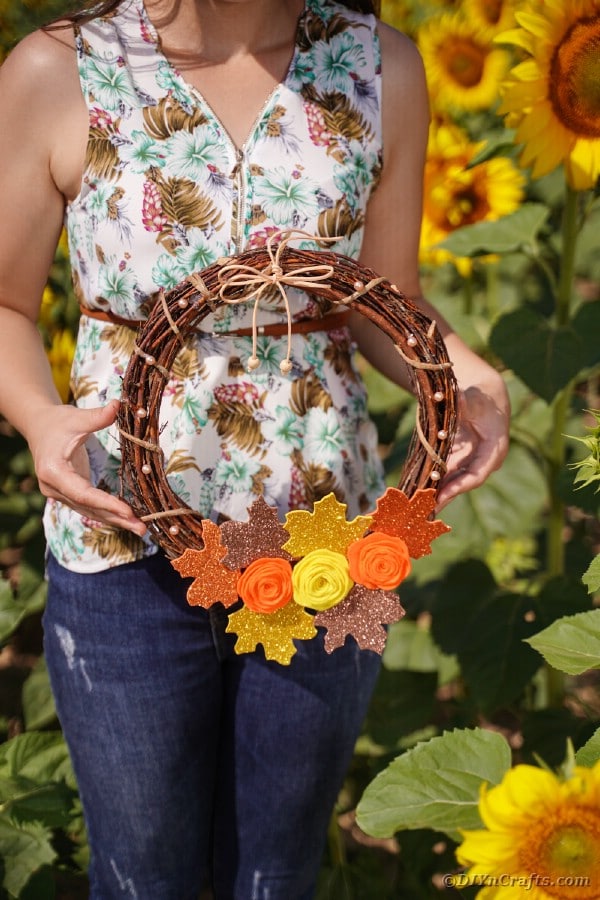 Supplies Needed
How to Make a Rustic Grapevine Wreath with Fabric Flowers
Use something round to trace a circle onto felt.
Cut out the circle, but do so not exactly, but in a wavy pattern.
Once the initial circle has been cut, continue cutting inwards in a spiral with a slightly wavy pattern until you are left with a 1" sized round at the end.
Starting with the outside of the felt "ribbon" start rolling the felt onto itself creating a flower and holding tight as you roll.
Glue the ends in place and repeat for 3-5 flowers using different colors then set aside.
Use a fake or real leaf and trace the shape onto the back of a piece of glitter foam paper. Repeat this with 5-7 leaves.
Cut out the leaves and set aside.
Glue the flowers onto the grapevine wreath side by side.
Peel the sticky part off the back of the foam paper, and then attach above, below, and beside the flowers until happy with the look.
Create a bow on twine or ribbon and tie together.
Place a bead on each end of the ribbon.
Glue the bow to the top of the wreath leaving excess ribbon to hang it with.
Glue beads along the wreath if desired.
Hang as desired from the door, wall, or mantle.
More Fall Wreath Ideas You'll Love
I love adding wreaths to the front door, and especially during fall. They are such a welcoming image as soon as you come up the walk. This project is one of many, but you'll also love the other wreaths we've created and shared before. Below are a few of my favorites that I hope you too will enjoy making and gifting or displaying around your home.
Crafting Tip

When making paper or even fabric flowers, I use my Cricut as a way to make the template or even cut the material to roll into a flower. A Cricut Explore Air 2 allows you to cut through paper, card stock, and even some thin fabrics or felt. You can easily pick up flower SVG files on Etsy or the Cricut website.
Yield: 1
Rustic Fall Grapevine Wreath with Fabric Flowers
Add this easy Fall grapevine wreath to your home decor or front porch this fall autumn. Easy to make with homemade fabric flowers and sparkling wreaths, it's a gorgeous farmhouse decor idea!
Materials
Instructions
Trace a circle onto felt;
Cut the circle out using a wavy style so that the edges are not straight;
Once the circle has been cut, start on one edge and cut inward in a spiral until you are left with only 1" round of felt;
Starting on the outside edge, roll the felt onto itself creating a flower;
Once you reach the round piece at the end, glue in place;
Repeat this process for 3-5 flowers;
Use a real or fake leaf to trace the shape onto a few fall colored pieces of glitter foam paper;
Cut out the leaves and set aside;
Glue the felt flowers side by side onto the wreath;
Stick or glue the leaves around the flowers above and below;
Cut a length of ribbon or twine and tie into a bow;
Add a bead on each end of the bow strings;
Attach the bow to the top of the wreath leaving a large loop on top for hanging;
Add a few beads or pearls around the wreath if desired;
Hang on a porch, door, wall, or mantle.
Notes
Artificial flowers and leaves can be used in place of the handmade if you prefer.
Recommended Products
As an Amazon Associate and member of other affiliate programs, I earn from qualifying purchases.
Finished Project Gallery
You can easily hang this on a wall in your home or above the brick mantle with just a hook or nail.
While you wouldn't normally hang this in a tree, it would be a perfect addition for a nice outdoor wedding or fall wedding. So pretty and rustic! It matches the outdoor theme.
Add your own style of flowers, colors, or even a nice burlap bow on the bottom with streamers hanging down.