Sometimes, I want just a little simpler project to decorate my front door. Old books are always in my craft closet for creating with, so I picked some up to make this paper rolls wreath. Instead of the more intricate designs I have made in the past, I used a few simple steps to create paper rolls with a slightly fringe style. I'm sure you'll love this as much as I did!
Paper Rolls Wreath
I've used a similar method of cutting and rolling paper to make paper flowers in the past. The slightly fringed look of this method makes just a little paper go a long way. To me, that's a must when crafting. Anything that makes it a little easier and less expensive is a plus in my book.
Instead of rolling the paper tightly into a flower, you wrap it around the wreath form loosely to create a similar look. This is super easy and adds more volume to the project making it look even better.
What Should I Use to Hang This Wreath?
I typically add a loop of twine on the back of any wreath I make so it is easier to hang. You can use ribbon, rope, twine, or even attach a picture hanger like a Command hook or similar to the back side of the wreath.
When hanging on the wall, I use the Command hooks or a small nail. Since I switch out wreaths on a pretty regular basis, I have a few specific spots I will hang them in my home. Those areas always have a nail or hook in place so I just pop the wreath into place when it is ready.
If I am hanging this on a door, whether my front door or an interior door in my home, I will use a typical wreath hanger. My preference is the nice ornate wood or metal ones for the front door as they add character. On interior doors, I will use a small thin metal hanger instead as they are a bit less conspicuous.
Can I Use Different Paper?
You'll notice in this wreath I have used book pages for the bulk of the rolls, but one section uses gold paper as an accent. So, very obviously, you can use different paper if you don't have book pages on hand.
Craft paper, scrapbook paper, construction paper, or even coloring pages you've filled in can all be used for this project. I like book pages since they are so pretty with the slightly yellowed pages and vintage look. If you prefer a more modern style, you can use nice crisp new paper and cut then roll into the shapes for your wreaths.
Variations of This Paper Rolls Wreath
As with many of the projects I have created, there are a few simple things that can be done to make them look just a bit different. Using different paper is one way as mentioned above, but that's not all. You can make it unique in many fun ways that can match your decor and personal style.
Use the same process but cut the paper strips thinner so it is a tighter fringe.
Mix and match the paper colors to create a rainbow look.
Add glitter to the edges of the paper to make it sparkle.
Tie a ribbon into a bow on the top or bottom of the wreath.
Add several lengths of streamers at the bottom of the wreath.
You can also add embellishments along the paper if you want to match a holiday or theme in your home. I love the idea of adding a different color of ribbon, or a few miniature flowers along one edge.
Supplies Needed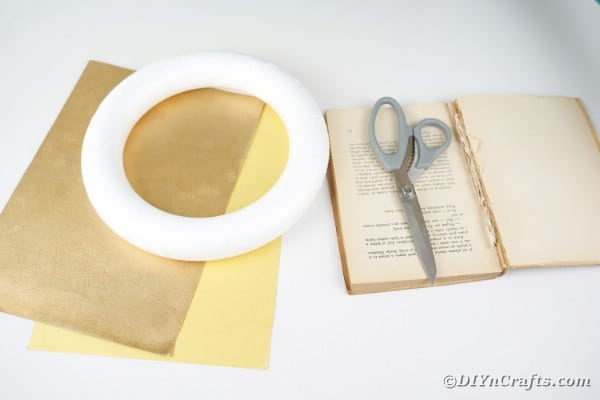 How to Make a Paper Rolls Wreath from Book Pages
Tear pages from an old book. You will need 20-25 to finish your project.
Trim the glue edge off the side so it is even on both edges.
Make horizontal cuts along one side of the page leaving about 1" of the other side of the page in tact.
Once the page has been cut all the way down the edge, you will add a strip of glue along the uncut side.
Fold the page over so the glue is against the edge you cut creating loops of paper in a long strip.
Do the same with the gold page and yellow or cream pages and set them aside.
Once the glue has dried, wrap the glued end around a wreath form and glue in place.
Continue gluing these strips along the wreath 5-6 times, then glue the alternate colored pages to the wreath.
Now, you will finish gluing all of these fringed book pages around the wreath until it is completely covered.
Add a length of twine or ribbon around the top of the wreath then hang as desired.
If you are looking for more easy wreath ideas, look no further! I have tons of great wreaths to decorate your home with that you'll love. Start with this rustic fringed old book page wreath. You might also like this folded book page wreath, or the book page wreath wrapped with flowers. There is also a stunning origami book page wreath and the burlap rose book page wreath. My favorite though is this old book page rose heart wreath. It's absolutely stunning!
Crafter's Tip

I recommend grabbing a few wreath hangers to keep on hand for all of these incredible wreaths you make. I love the wrought iron wreath hanger for my front door or a simple wood wreath stand to set on the porch. The classic metal wreath hangers are always handy and ideal for using in your home or on doors.
Yield: 1
Pretty Paper Rolls Wreath Made from Old Book Pages
This pretty paper rolls wreath is easily made in just 30-minutes using old book pages! A simple but beautiful craft for your front door!
Instructions
Remove 20-25 pages from an old book;
Cut any excess glue off the inside edge, trimming them into an even line;
Cut strips into the page horizontally leaving 1" of the paper in tact;
Add a strip of glue along the edge of paper that hasn't been cut;
Fold the page in half sealing the cut side to the uncut side of the paper;
Repeat this process with all pages, plus the gold and cream pages;
Wrap 5-6 of these pages around the wreath with the fringed end out and the glued end glued onto the wreath form;
Now, add the gold and cream pages, and continue the book pages until the wreath is covered, you can add additional sections of alternate colors if wanted;
Add a length of twine or ribbon to the top of the wreath then hang as desired.
Notes
Mix and match different colors of paper to create an even more unique look to your wreath.
Recommended Products
As an Amazon Associate and member of other affiliate programs, I earn from qualifying purchases.
Finished Project Gallery