You may have noticed by now that my favorite things to make involve wreaths and old books. This old book page wrapped wreath is a gorgeous addition to any door or room. A few pages from an old book are folded, wrapped, rolled, and put together to form a fake grapevine wreath with stunning little flower accents. If you like sunflowers, this is especially pretty and a great addition to your upcoming projects.
Old Book Page Wrapped Wreath with Flowers
In the past, I've made a few different types of wreaths that include using paper book pages for flowers. This time, I decided to use them just a bit differently. I love the look of a classic grapevine wreath form, but they can get pretty pricey in stores. So, making a similar pattern using rolled and folded paper was my vision.
The result turned out much better than expected, and I love that I was able to also include my favorite little flowers. Sunflowers bring a pop of color and to me, scream summertime. So, this is an ideal wreath for summer between the patriotic holidays. It can also be a great gift or even accent on the wall above your mantle. Tons of great possibilities.
Where Can I Source Books for Crafts?
This is often the most controversial topic on this site. Many people just hate the idea of using a book for anything other than reading. Guess what? Me too! The thing is, there are often books that have already been destroyed or harmed and unable to be used for reading. You would be surprised at what is dropped off at libraries and thrift shops.
Instead of tearing up a book on your shelf or buying books just to use for crafts, check out local places they might be thrown out or donated. Many thrift shops, libraries, book shops, and even department stores will have books that are unable to be sold or checked out due to damage. My local library lets me pick up a box of damaged books every few months at no charge.
Note: You can also simply use any craft paper or scrapbook paper. You can even use coloring books or old school worksheets. Any paper will work for this wreath.
What Can I Use for the Wreath Form?
I keep heavy-duty floral wire on hand for crafting, and it was ideal for this project. You can also pick up any circular wreath form that is thin to do this process on for a rustic look. My local Dollar Tree often has wreath forms in various sizes that I pick up at a discount and use for crafts.
Another easy and popular option is to cut apart an old wire hanger and shape it into a circle. The good part of this craft is that it doesn't have to be exact. The addition of the papers and then ribbon will help you to fill out the look of the wreath and make it more circular if needed.
Can You Paint or Stain The Paper so It Looks More Like Grapevine?
Since I like to refer to this as a grapevine wreath, you may wonder how to make it look more like an actual grapevine. It's easy to do that with a bit of dark stain or even paint. I, of course, love simple, so I skip that part, but you can switch it up.
If you want to add more color, I find that staining or painting before rolling gives a more solid look to the wreath. However, a rustic, almost antique style, comes from adding the stain or paint after you've attached the paper to the wreath.
No matter which method you choose, make sure to let it dry completely before continuing on to ad your paper flowers or accents and hanging it up on your wall or door.
Supplies Needed
How to make an Old Book Page Wrapped Wreath
Cut and shape floral wire into a circle form for your wreath.
Tear out 25-50 book pages. This will depend upon the size of the book and how many layers you want on your wreath. I suggest starting with about 25 and working up from there as you need more.
Fold the pages over vertically until about 1" wide
Glue the end of one of these folded pages onto the wire wreath, and then twist it around the wire and secure on the other end with glue.
Continue doing this until the entire frame has been covered with rolled or folded paper pages.
Add a second layer filling in any gaps from before.
Now, add a length of brown ribbon to the wreath wrapping it around at an angle as shown.
Set this aside and start folding pages to create flowers. You will need 8 book pages for this process.
Fold 6 of the book pages in half horizontally, then fold that in half again vertically then unfold it so there is a center crease.
Fold down each side toward that center crease to make a triangle.
Now, fold the edges of that inward until there is a point.
Trim around the open end to round out the edges of what will be the petals.
Unfold the flower and repeat this on all of the 6 pages for flowers. You will need those last 2 pages for a different flower type.
Trim the petals through to the center so that the center is intact, but the petals are loose and then fold them inward on themselves to make a little curve on each petal.
Glue one flower onto another at an offset angle so it looks fuller.
Now, glue a small artificial sunflower on the center of each flower and do this for a total of 3 full flowers.
Using the two last pages, make your extra flowers. Fold the pages in half vertically, then use your scissors to cut slits through creating little fringe all along the folded side. You want to leave the page still intact on the outside open edge.
Now, glue along that open edge so the folded page stays together.
Starting on one end, add a bit off glue and then roll the flower and secure at the end with glue.
Now, attach the flowers to the wreath where you wish.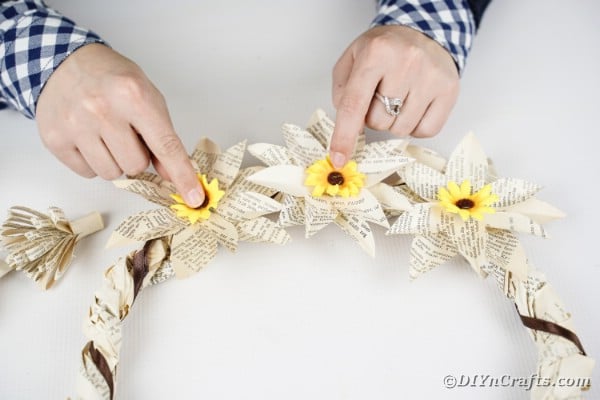 Hang on a door or wall!
More Old Book Page Ideas
Have extra pages? Make some or all of my other book page crafts! Here is a recent rustic book page burlap rose wreath. You might also like this rustic folded book page wreath, or this upcycled book page scroll wreath. If folding is fun for you, make this origami book page wreath.
Another option is to make this old book pages star wall decoration or an upcycled old book purse. They are one of my favorite crafting items because they are so versatile!
Crafter's Tip

Pick up extra wire wreath forms online at Dollar Tree's website. That way you can have some on hand any time they are needed. You can also find a variety of round wreath forms on Etsy from different crafters that may suit your needs better.
Yield: 1
Old Book Page Wrapped Wreath With Flowers
A bit of floral wire, old book pages, and glue and you have a stunning old book page wrapped wreath with flowers! I love the beautiful sunflower additions!
Instructions
Cut a 3' length of floral wire;
Using the wire, create a circle form for the wreath overlapping ends as needed;
Remove pages from your book, you'll need anywhere from 25-50 depending upon how thick you want the wreath and how many flowers you add. Set aside 2 pages per sunflower and 2 additional pages for the other flowers. I used 8 pages for flowers;
Roll or fold all of the remaining pages;
Add a bit of glue onto the wire frame, and place the end of one of the pages that has been rolled;
Wrap that page around the wire frame adding a bit of glue as needed, then at the end of the page to secure to the wire frame;
Continue this process until the entire frame has been covered;
Once you have covered the frame once, you can continue this process a second or third time overlapping any smaller areas until the wreath is the thickness you wish. I used two sets of pages;
Secure your ribbon of choice to one edge of the wreath, and wrap around at an angle gluing in place every few inches if needed until the entire wreath has been wrapped with a strip of ribbon;
When you are happy with the results, set the frame aside to work on the flowers;
Fold a page in half, then in half again;
Unfold the second fold, to then fold each side down forming a triangle on the folded end of the page;
Use your scissors to trim around the open end of the page to create a flower shape. I chose a pointed end, but you can make this rounded if preferred;
Do this with two pages per flower;
Unfold the paper flowers, and then using scissors cut down beside each petal shape, just until it is separated from the center, but keep the center in tact;
Now, gently fold each petal upwards so it is shaped;
Glue a second flower on top of the first, but at an angle so it is offset;
Top the center of these flowers with the miniature sunflower, or any artificial flower you prefer;
Fold the last two pages in half vertically and then use scissors to cut through the page from the folded side, but leaving attached on the open side;
Add a strip of glue on the inside of the page, and seal in place;
Glue on the end, and begin rolling this so that it creates a flower shape. Secure the end with glue, then fluff out as desired;
Add these flowers to one side or the bottom of the wreath as desired and fluff until happy with the result;
Now you can hang your wreath on a door or wall!
Notes
Add different accent flowers for different holidays and celebrations.
Recommended Products
As an Amazon Associate and member of other affiliate programs, I earn from qualifying purchases.
Finished Project Gallery