Skip the boring napkin holder and make this clothespin napkin holder. It is easy to make and it looks so cute on the counter or table! I absolutely love how simple it is to make, but mostly how functional. It's going to fast become one of your favorite useful craft projects.
Clothespin Napkin Holder
Napkin holders are something that you need, but oftentimes, the napkin holders are boring. I've seen many plastic utilitarian napkin holders in my life, and while functional, I just didn't like how they looked on my kitchen counter. For me, the farmhouse rustic style is much more appealing. In fact, I've made tons of great crafts with that style, so my napkin holder was obviously a great choice for the same style.
Now you can create a napkin holder that is adorable and works well. Not only can this be a napkin holder it can also be used to hold incoming or outgoing mail, magazines or important mail or papers. It's a great addition to any kitchen that has a rustic style.
If the kids want to help you make something, check out this idea for popsicle stick napkin holders! Super easy to make and a great addition to your kitchen.
Can I Paint This?
While I left the clothespins unpainted this time, you can paint them so that they match the color scheme of your room. It definitely can help them match a different decor theme, but I love that it also makes it easy to turn them into a holiday-themed napkin holder instead.
Some ideas for painting them include using basic acrylic craft paint, some wood stain, or even a watercolor for a very lightly colored option. Another idea is to use markers or even colored pencils to add color to the clothespins.
I love the idea of making them even more unique by painting them in an ombre style, or a rainbow. If you decide to paint them to look like a rainbow, you could glue some cotton balls or Polyfil to the bottom on each side. Turn it into a little rainbow with clouds!
I love the idea of making a napkin holder for every holiday and painting them different colors and themes. Just another simple and inexpensive option to add to your kitchen counter for more decor around a holiday.
Can I Use Plastic Clothespins
If you do not have wooden clothespins on hand or want to make something that is colorful without being painted, you can also use plastic clothespins. Make sure that the glue you are working with designed to be used on plastics.
They work fine for this project but do offer a slightly different look and style. You can even pick up some clothespins that are smaller and make a mini holder to use for mail or other items on your counter.
How do I Clean Clothespins?
One thing I know is a question that comes up, especially in a home with kids, is how to clean this. Clothespins are easy to clean! That's another great part about making this craft. It's easy to wipe them down with a damp cloth.
While you can easily wash them and set aside to dry in your dish drainer, I would not recommend this going into the dishwasher. It's also not exactly ideal to sit and soak in the sink for long. It won't cause it to break, but it will take longer to dry than you want and may cause some discoloration of the wood. This isn't a big deal if you don't mind, but if you want to keep that light natural wood color I recommend sticking with just the damp cloth to clean.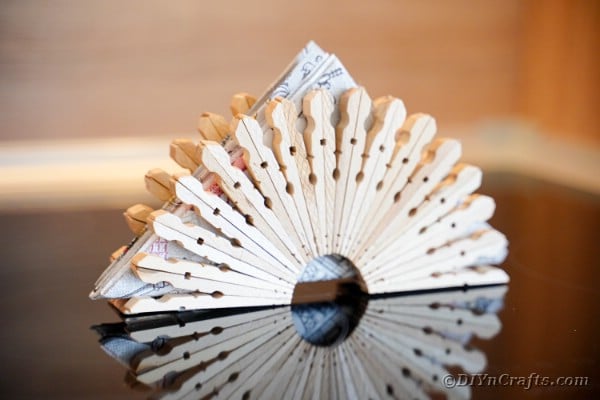 Supplies Needed
How to Make a Clothespin Napkin Holder
Take apart your clothespins removing the metal piece in the middle. You will need a total of 34 clothespins.
Once the clothespins have been separated, you will flip them so they are flat side to flat side, and glue together all but 2 sets.
Now, glue the sets together so that you have 14 glued together in a half-circle shape. On the end of each side of this, you will attach one single piece of a clothespin so the flat side is facing the outside.
Repeat this process so you have two complete half circles.
Now, you will take the other 4 clothespin pieces, and glue two side by side and then repeat with an additional two.
Glue those sets onto the bottom edge of one side of your napkin holder to create a flat base.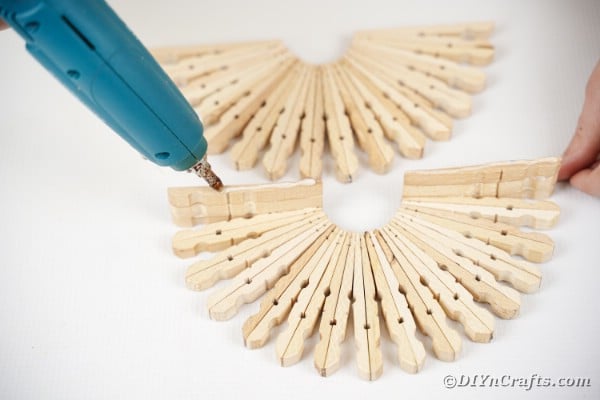 Attach the other side and let the glue dry.
Then add to your kitchen and fill with napkins!
Clothespins are one of my all-time favorite crafting tools. They are super versatile and very affordable. I've used them for this clothespin tin can planter, and this decorative clothespin lamp as great additions to my regular decor.
If you have extra and want to plan ahead for holidays, then use them for fun projects like this classic clothespin reindeer ornament. I've also made clothespin bats for Halloween, and clothespin bunnies for Easter. There really is no limit to the fun designs you can create with this little laundry item!
Crafter's Tip

When I am working with hot glue over and over in a craft like this one, I love my glue stick holder to make things easier. I can leave my glue gun in it and simply add glue to each piece as I go much easier than juggling holding it and putting it aside after each bit of glue.
Yield: 1
Rustic Upcycled Clothespin Napkin Holder
Make this adorable clothespin napkin holder to keep paper napkins handy on the kitchen counter. This is a fast and easy project anyone can create!
Materials
Instructions
Take apart 34 clothespins removing the metal piece from the middle;
Flip 30 of the clothespins over and begin gluing them to each other flat side to flat side;
Next, you will glue 14 sets together creating a half-circle then add a single clothespin piece flat side down on each side of the half-circle;
Repeat this process for a second half circle;
Next, take the 4 single clothespin pieces and glue two side by side then do the same with the additional 2 pieces;
Glue these flat pieces onto the bottom of one of the half-circles to create the base of the napkin holder;
Attach the other half circle with glue;
Now you have a completed clothespin napkin holder.
Notes
Paint the clothespins to match your decor if you want to make this just a bit more personalized.
Recommended Products
As an Amazon Associate and member of other affiliate programs, I earn from qualifying purchases.
Finished Project Gallery