Raise your hand if you have a collection of egg cartons in your craft room? I do, and that's what inspired this adorable repurposed egg carton mini Easter basket idea.
There are so many of these egg cartons on hand, I knew I had to put them to good use. What better way than to turn that little "cup" into a basket?
Check out this easy craft and have fun making them with your collection of egg cartons.
Repurposed Egg Carton Mini Easter Basket
My first experience with egg carton crafts was back in Sunday School as a child. We had one lady at our church who was a genius with crafts, and she often had fun things for us kids to make after our Bible lesson.
While we never made an Easter basket with the egg cartons in her class, we did make many other fun items. As a result, I have carried those ideas with me and referred back to them time and again.
This little basket was partly inspired by her, and partly just as a fun idea to add more cute things to our Easter decor this year. I love that this is so easy to make, and a perfect way to get kids involved in creating for Easter.
You may also want to make this adorable little hen from an egg carton for Easter. If you want more ideas for egg cartons, check out this big list of upcycled egg carton crafts. So many fun ideas for all the holidays and just because!
Can I Use Styrofoam Egg Cartons for This?
Of course, if you only have Styrofoam egg cartons, you can use those instead. In fact, it's a great way to make use of those instead of putting them in the garbage.
I am so glad to see my local markets only using cardboard egg cartons, but I know that isn't the case everywhere.
You'll use the same methods with Styrofoam as you would with cardboard, but you may want to try different glues to see which holds things together best.
Styrofoam can sometimes be a bit hard to secure with basic glues. Hot glue will melt it, so I recommend E6000 or similar for this project.
Make sure you check out this huge list of decorations for Easter to add more fun to your project list. Of course, if you want to decorate outside, this list of DIY outdoor Easter decorations is another great place to look for ideas.
Variations for Personalizing This Basket
If you want something a bit different than the twine wrapped option I created, you can definitely change it up. As always, I am definitely an advocate of making any craft custom to you and your preferences. For this idea, it's truly simple to customize in whatever way suits you best.
Use ribbon instead of twine to wrap the basket.
Paint the egg carton instead of wrapping it with twine.
Add rhinestones or sequins so it sparkles.
Glue on mini ladybugs or frogs tot he side.
Fill with coins instead of candy.
Add a pom pom to the side and ears on the handle so it looks like a bunny.
Don't miss these adorable Easter wreath ideas to add more beauty to your decor. Of course, you may also want to make some of these cute Easter centerpieces for your table. My favorite is this Easter centerpiece from an old book. So beautiful!
Supplies Needed
How to Make an Egg Carton Mini Easter Basket
Cut out one "cup" from an egg carton.
Trim off any excess material around the sides to even the top.
Now, you will glue a piece of scrap fabric into the basket so that it covers the inside cup and drapes over the sides.
Secure it on all sides with hot glue or craft glue.
Once the fabric is in place on the egg carton, you will start gluing twine around the outside of starting by covering where the fabric is glued in place.
Cover the egg cup with twine gluing in place as you go until you are satisfied and it has covered all empty spaces that aren't covered with yarn.
Now, you will cut 3 lengths of yarn, and braid them together to form the handle.
Glue your braided handle in place on the sides of the "basket".
Add a small artificial flower on both sides where you have attached the handle.
Now you can fill your egg carton basket with candy!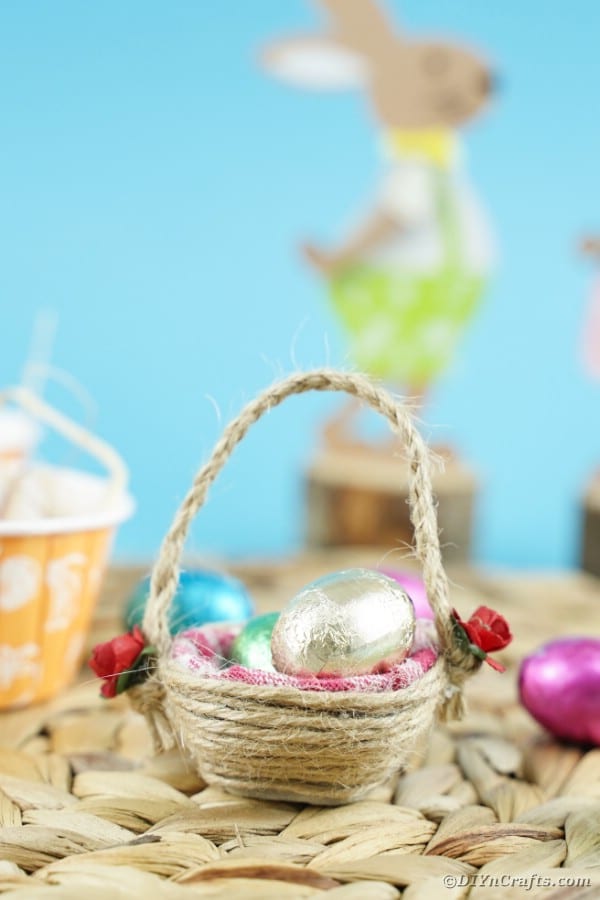 Crafter's Tip

If you don't do a lot of sewing but still want to have fabric on hand for projects like this, check out the great lists of scrap fabric on Etsy. You can find tons of small pieces perfect for this type of project at a super low cost. Plus, you are able to get a lot more variety in patterns and colors than you would just at your local fabric store.
Yield: 1
Adorable Repurposed Egg Carton Mini Easter Basket
Repurpose an egg carton and turn it into this adorable twine wrapped egg carton mini Easter basket in just a few minutes!
Materials
Instructions
Cut a cup out of an egg carton;
Trim the excess edges off to make sure the top is even;
Now you will glue a piece of scrap fabric to the inside of the egg carton cup draping the excess over the sides;
Glue the extra fabric around the outside of the egg carton cup;
Now, you will start adding twine around the outside of the egg carton cup;
Continue gluing the twine in place until the entire cup is wrapped;
Cut three equal lengths of twine and braid them to create a handle;
Glue the handle in place;
Add a small artificial flower to each side covering where the handle is glued in place;
Now you can add candy and display your Easter basket!
Notes
Instead of rustic twine, you can use any ribbon or rope if you prefer for a added look and texture.
Recommended Products
As an Amazon Associate and member of other affiliate programs, I earn from qualifying purchases.