Hot air balloons are one of my favorite things in the world. While I may be slightly afraid of heights myself, I love the idea of them, and this hot air balloon bunny Easter craft is a super easy and fun way to decorate. Simple craft supplies turn this into a cute and truly unique decoration you will be able to easily customize.
Hot Air Balloon Bunny Easter Craft
Recycling items and repurposing items is one of my hobbies. This idea was just inspired by a cute hot air balloon idea I saw online, but I just knew I could make it better and easier at home. The result of my efforts was well worth the time spent. It turned out way cuter than I imagined, and now I have another great idea to share with you!
Can I Use Different Colored Lanterns?
Yes! I I typically keep white paper lanterns in my craft room, but you can use any color you want. If you want to, you could make several of these and line them up along your mantle, or use as a centerpiece for an Easter brunch. Assign a color to each table that can easily be found with the cute hot air balloon color.
You can also use different methods for adding the circles to the lanterns. I used markers, but since a paper lantern can be super easy to tear, you could also cut out small circles of colored paper and just glue them in place on your lantern.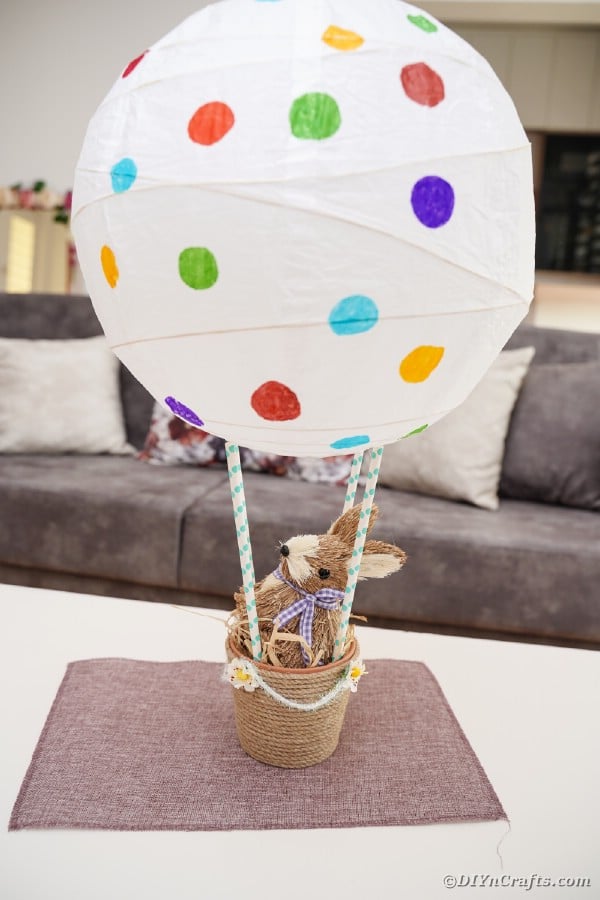 Here is another cute and easy Easter table decoration that is ideal for an easy kids craft. You may also want to consider adding these crafts to your list of Easter family traditions to carry on to future generations!
Can I Hang This From the Ceiling?
This uses a small flower pot as the basket base. While it would look adorable hanging from the ceiling, you need to make sure you are using a heavy-duty twine or rope to hold it up, and not hanging from something that won't stay up with the added weight. This is one where the rope or twine you line the basket with could be used to hang it from the ceiling. Definitely not a craft you can hang with fishing line or a simple string.
Check out these adorable Easter bunnies out of clothespins to add around your hot air balloon craft. So cute and easy for kids. Another easy addition to your Easter decor is this gorgeous DIY pom pom Easter bunny wreath.
Supplies Needed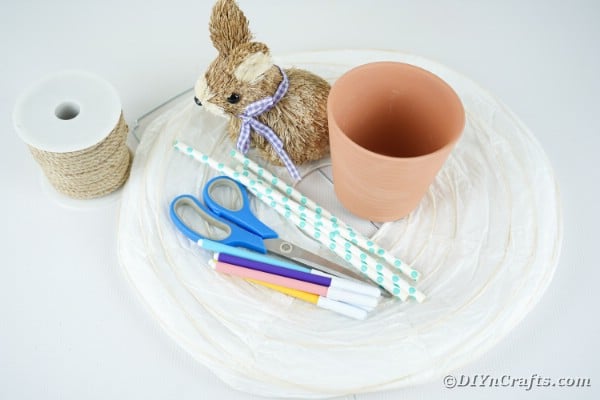 How to Make a Hot Air Balloon Bunny Easter Craft
Start by gluing twine or rustic rope around the flower pot. Start at the bottom and work your way upward gluing every few inches.
Continue gluing until you reach the rim of the flower pot, then cut the end and secure with a drop of glue.
Now, you will open the paper lantern being careful to not tear it, and start drawing colorful circles all over to decorate. Be careful, again, to not tear the paper.
Set the paper lantern aside for the marker to dry, and start gluing your paper straws in place. Glue them to the inside rim of the flower pot adding 4-5 equally spaced apart.
Cut a few lengths of yarn or ribbon and attach to the outside of the "basket" making a swoop between each straw then add a small flower or embellishment at each connection below the straws.
Stuff the inside of the basket with hay, raffia, or Easter grass.
Tuck a stuffed bunny inside the basket on top of the hay.
Now, you will add a drop of glue to the top of each straw and gently place the lantern onto the straws holding to secure in place.
Use as a centerpiece for Easter!
---
Crafter's Tip

Feel free to substitute out the plain white paper lantern with a fun colorful paper lantern option. You may even be able to find Easter pattern paper lanterns to use instead! I also love the idea of decorating with these adorable hot air balloon stickers instead of the painted dots!

Need more Easter ideas? Check out this fabulous list of Easter decoration ideas, Easter centerpiece ideas, Easter wreath ideas, and even a fun list of mason jar Easter crafts and gifts!
---
Yield: 1
Cute Hot Air Balloon Bunny Easter Craft
Make this cute hot air balloon bunny Easter craft with a simple flower pot, twine, and paper lantern. This makes a great Easter centerpiece!
Materials
Instructions
Start by wrapping and gluing twine in place around the flower pot keeping it tightly glued together and sealing in place at the top with added glue;
Now, you will set the pot aside and unfold your lantern to add colorful dots all over being careful to not tear the thin paper;
Glue your paper straws to the inside rim of the flower pot securing them with glue and leaving the bulk of the straw sticking up over the top;
Add a length of yarn on the outside of the covered flower pot as a "swoop" between each straw and accent with a flower at each straw;
Stuff the flower pot with hay or Easter grass and then tuck the bunny inside so the head is poking out the top;
Now, add a drop of glue to the top of each straw and then secure your lantern to the straws with the opening facing downward holding in place until secure;
Display as a fun Easter centerpiece!
Notes
Add different patterns or stickers to the lantern to make unique and to match your Easter decor.
Recommended Products
As an Amazon Associate and member of other affiliate programs, I earn from qualifying purchases.