This double dutch braid hairstyle is a classic that we've all worn at some point in our lives. It became more popular in recent years as pop culture celebrities began sporting it on a regular basis, but we all know it was popular when we were kids. A simple braided style like this is ideal for longer hair but can be done on almost any length of hair that will fit into a ponytail. This tutorial will break down the steps for those who are new to braiding making it easy for anyone to create.
Double Dutch Braid Hairstyle
If you've been worried about how to braid hair, this is a great choice to try. It is a bit more than basic plait, but the process really is simple. I love that it works for most lengths of hair, but mostly, I like how it keeps my hair out of my face, tightly braided, and sleek.
This is a style that is definitely more playful than some of the others we have shared. While it is beautiful, it's more of a style for everyday wear or even casual wear. I've seen this style in the gym on a regular basis, and it is definitely more popular with teens and the younger crowd. That said, anyone can wear this style and look amazing.
Another simple hairstyle that is easy to create is this easy half up half down hairstyle. It has a unique twist that makes it a bit more stylish but is a classic choice. Once you are a bit more comfortable with braids, you'll want to try this gorgeous mermaid half braid. Such a stunning style! This princess braid updo is another great style that you will fall in love with creating!
Isn't This Just a French Braid?
Technically, this is two French braids. Each side of a double dutch braid is simply a classic French braid. This style is popular for those who want more fun and childlike style. It is also much easier to create this style on your own hair versus the classic French braid. Practice this style and once you get it down, you'll see a traditional single plait French braid will be much easier to manage.
Tools I Use
Other hair tools I love:
How to Create a Double Dutch Braid Hairstyle
Begin by combing and detangling your hair then parting it down the middle to create two equal sections of hair to braid. I like to loosely tie off one side while I work on the other side so they don't get tangled.
Step 1
Once you have the hair parted, you will begin near the forehead by grabbing a small section of hair and dividing it into three equal parts as you would with any traditional braid.
Step 2
With each new cross of the braid, you will gather a small section of hair and incorporate it into the section on either side. As you move one side over on the braid, you will gather just a small section right before moving it and crossing over another section of hair.
Continue this process gathering more hair from either side and including in the braid as you move backward, but braiding downward toward the name of your neck as you go.
Step 3
Once you reach the back and nape of your neck, you will continue braiding regularly down the length of your hair from the base of the head to the end.
Once you reach the end of the section of hair, you will secure with a hair tie of your choice.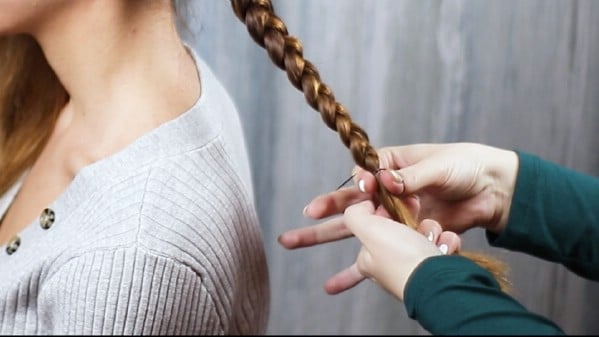 Step 4
Now you will go up through the braid against your scalp and pull slightly to loosen the braid slightly and smoothing to create a sleek appearance.
Step 5
Repeat the same process on the other section of hair.
Once both sides are braided, you can add a bow or special accent to the braids if desired or leave plain like our model. A simple ribbon tied at the end of both braids is a cute accent or a few strategically placed accent bobby pins can add a fun element to the braids.
Wear your double dutch braids every day for a fun and easy style perfect for any length hair.