Who knew wooden spoons could be so cute?! I love this idea for a cute wooden spoon bunny or wooden spoon chicken. This is a great project for taking an inexpensive wooden spoon, painting it, and making it into an adorable decoration for Easter. It's definitely a fun craft to do with kids for Easter.
Wooden Spoon Bunny and Chicken
When it comes to spring and Easter, you want the cutest decorations possible. Springtime just makes everyone happy. New flowers and new life everywhere make me want to add tons of beautiful pink, yellow, and purple in all of my decorations.
These wooden spoons are decorated in the perfect Easter theme featuring a bunny and a chick. They are easy to make and fun to decorate with, and ideal for tucking into an Easter basket. This is a paint craft that kids can help you make, and with the cute little additions, they are fun to personalize.
This plastic spoon Easter bunny craft is another fun way to use a spoon to decorate. If that isn't enough, you can check out more Easter decorations made with spoons. You can easily make many great additions to your decorations with just simple craft supplies and a few spoons.
What Paint is Best on Wooden Spoons?
When you are painting these wooden spoons you want to make you are using paint that works on wood. With all of the crafting I do on a regular basis, I discovered that not all paints work well on all surfaces.
For this project, and most wood crafts, I like using acrylics. Since they can also be used on many other materials, it is inexpensive paint to buy. It is also easily accessible in craft stores and in big box stores that have a craft department. If you want the best, reach for the Apple Barrel or DecoArt paints.
If younger kids want to help craft, you can have them make Easter chicks out of pom poms. They might also like making these cotton swab lambs. So fun for them to create, but less messy since they don't involve using paint like the wooden spoon crafts.
How Can I Display These?
There are many ways to display these around the house. Of course, I tend to add them for Easter decor, but they can remain in your home with the rest of your colorful springtime decor. Below are some of my favorite ways to add these around the house.
Add them to a vase instead of flowers, or right alongside flowers for a pretty Easter bouquet.
Tie them together with ribbon, and add to your Easter centerpiece.
Tuck inside an Easter basket along with other household products like candles, kitchen towels, or other small decor items to give as an adult Easter gift.
Stick them inside potted plants around your home as a cute little Easter decoration sticking out above the edge.
Tie two or three together with ribbon, then hang on the wall as wall art.
Check out this huge list of Easter crafts for kids and toddlers for more fun craft inspiration. Another fun idea for kids is this rustic twine Easter egg decoration or the super cute unicorn Easter eggs.
Supplies Needed
How to Make Wooden Spoon Bunny and Chicken
Start by painting one spoon pink.
Then paint the other spoon yellow, and set both aside to dry.
Now, cut out 2 ear shapes from the pink paper, and 2 slightly smaller ear shapes from white paper then glue them to each other to create bunny ears.
Attach the ears to the pink spoon.
Glue googly eyes to the back of the pink spoon.
Cut out a small triangle of glitter paper for the nose, and a small piece for a bow.
Attach these to the spoon.
Add a smile to the bunny and set it aside.
Now, you will add googly eyes to the yellow spoon.
Glue a small orange beak to below the eyes.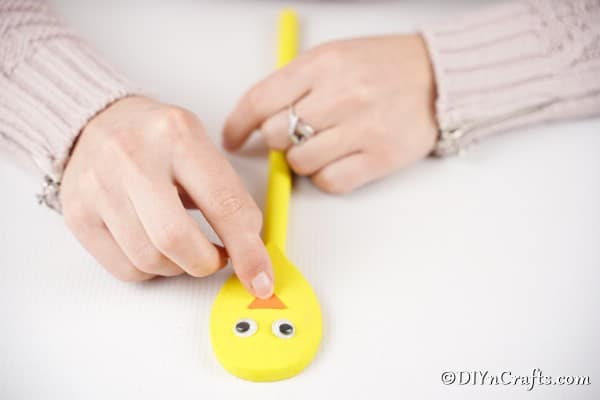 Finally, add the feathers to the back of the yellow spoon to create a chicken.
Now you can gift, display, or add these to your centerpiece for Easter!
Crafter's Tip:

Because I like to make a lot of these to decorate with and to give to others, I will grab a case of plastic mixing spoons from Dollar Tree online to stash away for later. They come in a 4pk for just $1. That makes it a great deal for making this craft in all sizes. They are plastic, but they look and paint the same as a wooden spoon.
Yield: 2
Cute Wooden Spoon Bunny and Chicken
Make these adorable wooden spoon bunny and chicken decorations to add to your centerpieces, flowers, and potted plants for cute Easter decor!
Materials
Tools
Instructions
Start by painting one spoon yellow and one spoon pink, then set aside to dry;
Now, you will use the white and pink craft paper to cut out bunny ears and glue the two colors together so they are layered as shown;
Glue the ears in place on the back of the spoon;
Now you will add googly eyes to the spoon;
Cut out a small triangle and small bow shape from the glitter paper, and attach to the "neck" and face of the spoon;
Add a smile to the bunny, and set aside;
Place googly eyes on the yellow spoon;
Cut out and glue an orange beak to the yellow spoon just below the eyes;
Glue feathers on the back of the spoon to create fluff at the top;
Now you can display this or add to Easter decorations.
Notes
You can easily use a plastic spoon if you have those already on hand. Just make sure the paint you use is good for plastics.
Recommended Products
As an Amazon Associate and member of other affiliate programs, I earn from qualifying purchases.