This adorable cotton swab lamb is a perfect kids craft for spring. I usually see these around Easter, but they are truly great fun and easy craft any time of year. Simple supplies you already have on hand easily turn into a fun little lamb decoration in minutes!
Cotton Swab Lamb Spring Craft
This really takes me back to my childhood. I loved when the teachers at school would bring out the craft supplies. A simple piece of paper, glue, and some cotton swabs suddenly become an adorable little lamb.
Who could have imagined that what normally resides in your bathroom cabinet can easily turn into a beautiful little kids craft for Easter?
If you are looking for more Easter decorations, here is a great list of Easter crafts for kids and toddlers. Another fun and easy option is this rice filled sock Easter bunny decoration. Super fun to make and always a hit with the kids.
Can I Make the Lamb Different Colors?
I recently discovered that you can sometimes find cotton swabs in pink and blue. How cool would it be to use those instead of the classic white ones to create a cute little lamb?
In answer to the question, you can easily use different colored cotton swabs if you find them. Other options are to dip each cotton swap in paint then let them dry before gluing onto the paper.
Most lambs are white, but kids use their imaginations for everything, why not change up the colors of a project like this?
Will This Stand Up On Its Own?
This really depends upon the clothespins you have for the project. Some have flat shapes that are easy to stand up and stay sturdy. Others are more rounded or uneven, so those wouldn't stand up easily on their own.
If you want your cotton swab lamb to stand up instead of lying flat, you can prop it against something or add extra support on the backside with a craft stick.
Supplies Needed
White craft paper
Multiple cotton swabs
Clothespins
Pink ribbon
Black marker
Ink pen
Scissors
Craft glue
How to Make a Cotton Swab Lamb
Draw a large oval and a smaller circle on the white paper then cut them out and set aside.
Cut your cotton swabs in half (start with 10-15 and cut more if needed later).
Begin gluing the cotton swabs onto the large oval using craft glue or hot glue and placing them close to each other to appear like "fur" on a lamb.
Once the entire body has been covered in cotton swabs, you will draw a face on the smaller circle and add a few more cotton swab tops around the top and sides of the face as shown.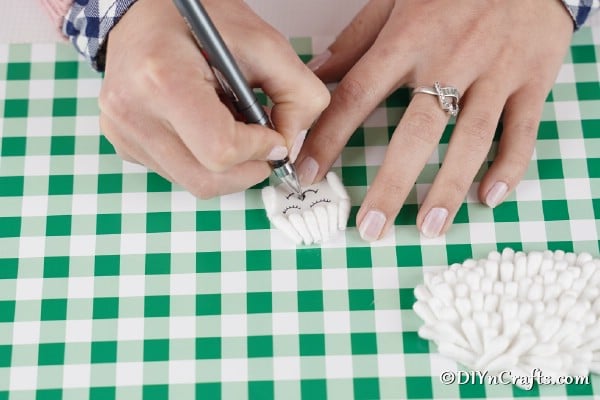 Glue the face piece onto the body of the lamb along with the pink ribbon tied into a bow.
Next, you will glue the paper lamb onto the two clothespins.
Display or use as desired.
More Fun Spring Crafts for Kids
I love having fun with the kids crafting, and when spring hits there are tons of amazing ideas for keeping them busy creating. This colorful spring butterfly craft is one of my favorites.
It's ideal for getting kids to create their own patterns, and work on cutting skills. If you prefer to get your kids outside when the sun starts shining, you'll love this list of garden crafts for kids. Some can be made indoors, but all are perfect for your garden.
Speaking of the garden, these painted rock garden markers are great for kids to help you make. Every kid I know loves to get their hands dirty in a little bit of paint.
And if the little ones are tired of playing outside, use this Easter printable matching game to keep them busy instead.
Printable Step by Step Tutorial:
Yield: 1
Cute DIY Cotton Swab Lamb Spring Craft
Turn a few cotton swabs and paper into this adorable little kids craft cotton swab lamb! A great craft for preschoolers and excellent decoration for Easter!
Materials
White craft paper
Multiple cotton swabs
2 Clothespins per lamb
Pink ribbon
Black marker
Ink pen
Instructions
Draw and cut out of white paper a large oval and smaller circle then set them aside;
Next, you will cut your cotton swabs in half and set aside (start with 15 and cut more as needed);
Glue the cotton swabs onto the oval keeping them close to each other;
When all of the lamb body is covered, you will then add a few more cotton swab pieces to the small circle and draw a face on it;
Glue the face and small ribbon bow onto the body of the lamb;
Next, glue the lamb onto 2 clothespins;
Once dry, display as desired.
Notes
Have your child write their name and the date on the back to preserve when they were made then bring them out year after year to decorate.