Are you as in love with succulents as I am? If so, this totally ingenious floating succulents planter is a great way to add them to your office or bedroom without a big expense. Can you believe this is made with just string, glue, and paper straws?! What a truly amazing idea for updating your office with an inexpensive but beautiful planter!
DIY Floating Succulents Planter
Sitting here looking at this planter, I am in awe of how gorgeous it is knowing it's just a few straws, paint, and string! What a brilliant idea, if I do say so myself! It really turns my new office space into a place I enjoy being while I work! I've always found it easier to feel energized and focused when I am surrounded by fresh flowers or plants. The fresh plant life just makes my workspace happier.
You already know I love repurposing and upcycling when at all possible. So, when this idea came to me, I knew it would be a great fit here on the blog. This is just rustic enough to look great next to my rustic rope baskets for storage. They are perfect on a shelf next to my desk. Of course, I'm no stranger to hanging or floating items. I made this floating shelf a few months ago and love how it works in any room of my house for easy storage or a place to add a small decor item.
Fun Idea: If you really want to go all out in your office space, check out this method for how to etch glass doors or panels! So fun and beautiful!
Is This Really Secure For Holding a Succulent?
This isn't designed to hold a large plant, but yes, a small succulent in a paper or plastic cup is easy to add to this floating succulents planter. I am not worried about this falling apart, and if it happens to in time, I know I can make another one for under $1 and a few minutes of my time.
I would definitely keep my plant under 1 pound if possible for this project. Just for safety and lowering the chance of something breaking or making a mess.
If you prefer a fake flower so you don't have to worry so much about tending it on a regular basis, then you might like this fun orange flowers idea. Another good idea for a fake flower is my yarn pom pom flowers bouquet. You can so easily customize the colors to fit your office space!
Can I Use Plastic Straws Instead?
You sure can! I prefer using paper straws as it is better for the environment, but you can definitely use plastic straws if you have them on hand. Remember, this project, like others I create, is all about using what you have on hand. If plastic straws are what you have, then take advantage and use them instead!
Just like I used extra items to make my own homemade whiteboard for my office, you can use plastic or paper straws for this succulents planter. If you are extra handy with crafting, you can make this fun DIY teacup flower decor to go on your desk.
Supplies Needed
Paper straws
Twine
Spray paint (I used gold)
Succulent in a small cup
Scissors
How to Make a Floating Succulents Planter
Begin by cutting four paper straws into two lengths.
Cut about ⅓ down the straw so that the bottom portion is made of ⅔ the straw.
Now, you will begin stringing your straws onto the twine. Begin with one shorter piece, then a longer piece as shown.
Next, you will add another longer piece of straw, and then bend them to shape a triangle as shown below.
Loop the twine through the inside of the straws to secure the triangle.
Continue the process adding shorter straws on the bottom, and completing a triangle with a longer straw going upward.
You will end this process with 3 triangles and four shorter straws on the bottom, leaving one loose without a triangle side.
Now, you will pull the triangles upwards and tighten the twine so they form a 3D triangle as shown below. Tighten and secure the twine at the bottom corner then tie off the end.
Cut the twine leaving several inches loose at the end as shown below.
Now, you will spray paint your planter with whatever color you prefer. I used gold.
Once the paint has dried, you will loosen one of the corners to insert the succulent in its cup.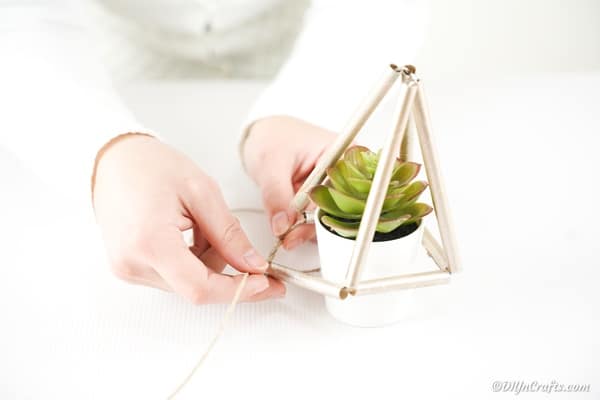 Once the succulent cup is in place, you will tie and trim off any extra twine on the corners.
Add a loop of ribbon, robe, or twine to hang the succulents planter and place in a window or hang from the ceiling in your office or home.
Printable Step by Step Photo Instructions - With Video!
Yield: 1
Genius Paper Straw DIY Floating Succulents Planter
You'll love how you can turn simple paper straws into this stunning floating succulents planter in just a few minutes!
Additional Time
15 minutes
Materials
Paper straws
Twine
Gold spray paint
Instructions
Begin by cutting 4 straws into 2 sections each. One section will be ⅓ the straw length, and the other ⅔ straw length;
Now, you will thread twine through a short length of straw first, then a longer piece, and another longer piece;
Pull these together with the twine to create a triangle shape;
You will continue this process until you have 3 sets of triangles and an extra 4th bottom piece;
Pull these together with the twine until they form a 3D triangle;
Now, you will tie the twine on the corner to secure and hold them in place;
Spray paint the straws in the color you prefer (gold is what I chose), then set aside to dry;
Once dry, insert the cup with succulent, and then tighten the twine and secure;
Display using a larger rope or ribbon in a windowsill or from the ceiling.
Notes
Make these in larger sizes by combining more straws for each triangle. Of course, you can also paint them any color you wish!